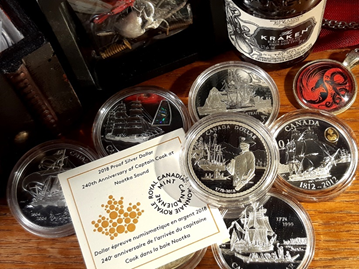 P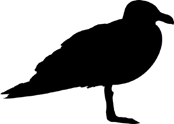 "Remember, the greater the opportunity, the fewer are those who see it." ~ Captain James Cook
An acquisition from my 2020 Christmas shopping of numismatic items on the 'Nautical but Nice list' to get for myself. The E-Dealer blinked and knocked off a chunk off the E-Store retail price but not to the @ronavel standard of buying excellence he practices. With the HMS Resolution name clearly emblazoned on the stern, I caved and clicked it to my Shopping cart since the shipping cost was at this point, minimal.
This coin commemorates the April 1778 arrival of Captain James Cook's HMS Resolution and HMS Discovery in Nootka Sound, later to be renamed Resolution Cove. While charting the Coastal region Cook's primary goal was to search for the elusive North West passage.
Establishing trade relations with local Nuu-chah-nulth people, as a dugout canoe is represented on the foreground of the coin, another important role as those with peaceful relations tend to have stronger territorial claims.
The Nautical Silver coin
2018 Canada One Dollar Captain Cook at Nootka Sound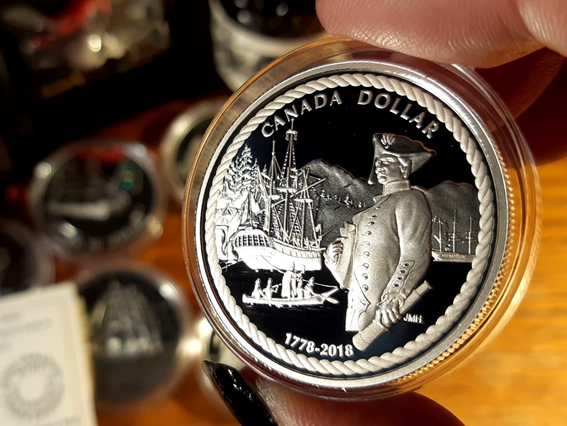 Reverse Left to Right; HMS Resolution, Captain James Cook, HMS Discovery
Background; Captain Cook's arrival at Nootka Sound by John Horton
Legend; CANADA DOLLAR, 1778-2018, JMH
0.9999 Fine Silver
Diameter 36.07mm
Original Issue Price $59.95 CAD
Mintage of 20,000
An impressive Captain Cook's portrait is predominantly featured on the right side facing to the left while holding a telescope in his left hand and his Admiralty orders with is right hand. Cook was a disciplined Officer that ran a tight ship but also was obsessed with precision and mathematics that made him valuable in his charting and surveying skills. Like Explorer David Thompson he produced amazingly detailed and precise charts that were used for decades if not centuries after publication.
On the left side is his command The HMS Resolution, a former Merchant Collier repurposed by the British Navy into a research and exploration role. His previous command, The Endeavor was impressed back into military service as a military Transport before Cook's Second Voyage. It changed use a few times in private hands but at the close of the American war of Independence the Endeavor was scuttled along with other British ships off Newport Rhode Island in 1778 to avoid capture.
2018 Canada One Dollar Captain Cook at Nootka Sound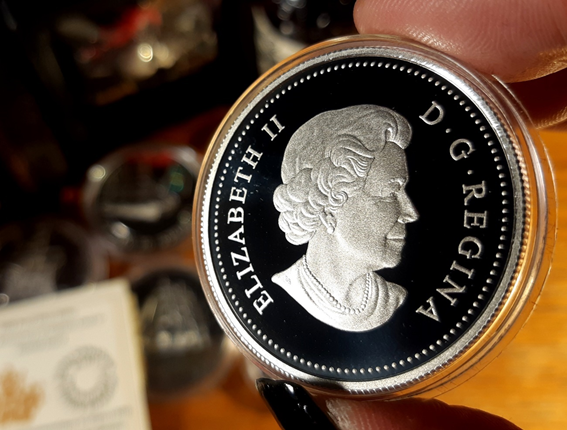 Obverse; Susanna Blunt's portrait of Elizabeth II facing Right
Legend; ELIZABETH II, ELIZABETH II D · G · REGINA
Edge; Serrated
Mintage of 20,000 Proof
Behind Cook on his right is the HMS Discovery moored not too far from the Endeavor's starboard quarter also in the process of de-rigging for needed repairs. The expedition stayed for the month of April to resupply and traded goods with the Locals. While there was a good demand for valuable Sea Otter pelts back home the expedition discovered the Nuu-chah-nulth's fondness for metal goods and that demand may have been planted by the Spanish that came a mere four years earlier by Captain Juan Pérez's Discovery of the Queen Charlotte Islands 1774. Cook reported the fruits of his trade and thus created a thriving and competitive trade with Europe such that conflict erupted between the British and the Spanish.




Ship Vital Statistics
Do you likes Stats? I know some guys like Stats as in Baseball, Car performance, Computer system specs, Crypto portfolios, etc., so why not sailing ships.
The HMS Resolution
Built by: Thomas Fishburn, Whitby
Launched: 1770
Acquired: 1771 November named Marquis of Granby
Renamed: HMS Drake in November 1771
Renamed again: HMS Resolution in December 1771
Class: Merchant Collier converted to a Sloop
Tons Burden: 462 Bm
Length: 110 ft.
Beam: 30 ft.
Draught: 13 ft.
Sail Plan: Full Sail
Compliment: 112
Armament: 12 6-pounder guns, 12 half-pounder swivel guns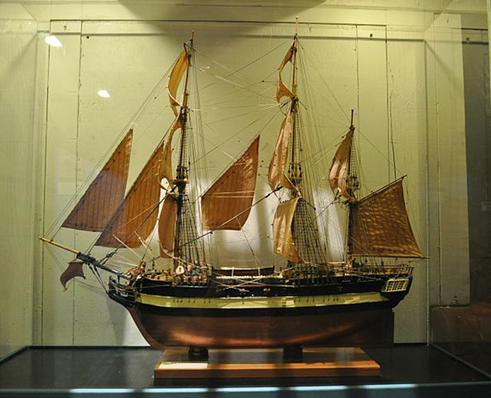 HMS Discovery by High Fin Sperm Whale under CCO 3.0
The HMS Discovery
Built by: Langbourne, Whitby
Launched: 1774 as a Collier Diligence
Acquired: 1776 January
Commissioned: 1776 February
Class: 8 Gun Discovery Consort ship
Tons Burden: 299 BM
Length 91.6 ft.
Beam: 27.6 ft.
Draught: 11 ft.
Sail Plan: Brigantine, converted to Full Sail later
Compliment: 70 as a Naval Transport
Armament: 8 Guns
Historical Trivia!
According to the Crew Manifest register of the HMS Discovery, the Master of the Ship is None other than William Bligh, famous for his command of the HMS Bounty and focus of the famous Mutiny precipitated under his command. An Island in Resolution Cove is named Bligh Island.
A young Midshipman George Vancouver of the HMS Resolution eventually becomes Captain and returned in the 1789 10 Gun Sloop version of the HMS Discovery in 1792 to explore and survey the Pacific Northwest coast.
Ready for another profound quote from Captain Cook's Journals?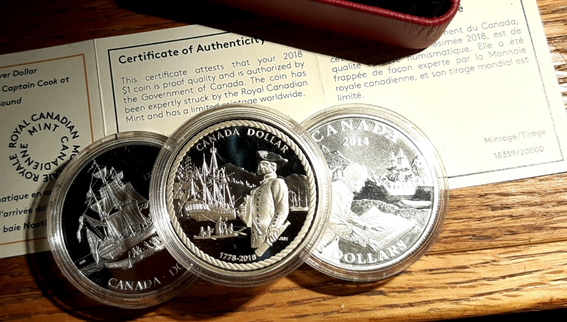 "Throughout history government has seldom hesitated from robbing its citizens in a crisis." ~ Captain James Cook
I hope yea enjoyed me Pirate Blog t'day
Thank you fer coming aboard!


The #piratesunday tag is the scurvy scheme of Captain @stokjockey for #silvergoldstackers pirates to proudly showcase their shiny booty and plunder for all to see. Landlubbers arrrh…welcomed to participate and be a Pirate at heart so open yer treasure chests an' show us what booty yea got!
References
1. My own pictures shot with a Samsung SM-A530W
P. Image under Pixabay
R. Clip art from 123RF
W. Wiki Commons
My Related Articles
Captain Juan Pérez's Discovery of the Queen Charlotte Islands 1774
2014 $15 Canada, The Pioneering Mapmakers David Thompson
2017 Cook Island One Dollar The Bounty
1977 $5 Cook Islands Commemorative Issue Atiu Swiftlet
Sources
Wiki: Captain James Cook
Numista: 2018 Captain Cook at Nootka Sound
RCM.ca Archive: 2018 Captain Cook at Nootka
Captain Cook Society: Crew Manifest
Wiki: HMS Resolution
Wiki: HMS Discovery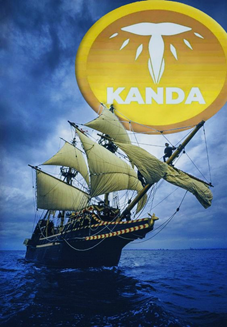 Educating Africans on the benefits of the Block chain
Join our Discord, https://discord.gg/cmbSM5B
"Et lux in tenebris to serve laboro, sum sicarius" "I work in the shadows to serve the Light, I am an Assassin"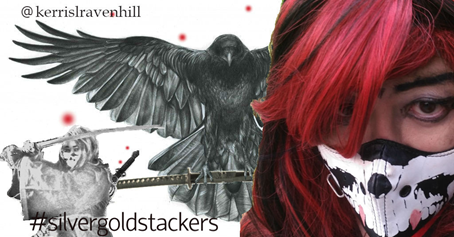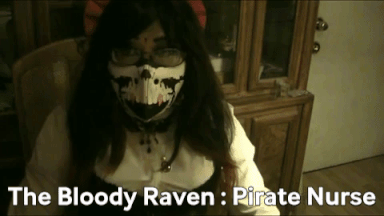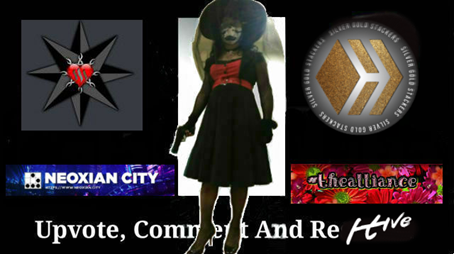 Posted Using LeoFinance Beta