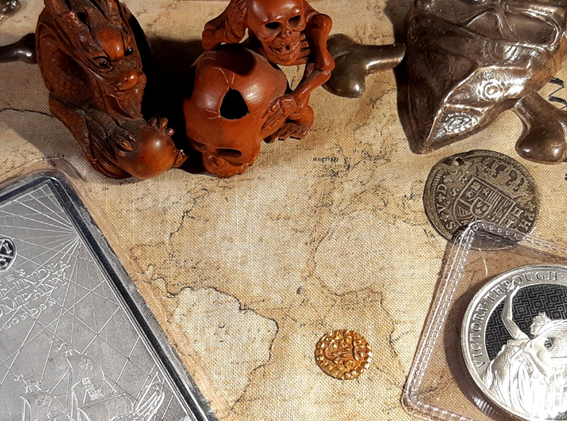 "Wait for it… wait for it…", 💀
🐲 "Wait… wait for what?"
"Blackbirds tend to like shiny things." ~ The Bloody Raven
When I first laid eye on this coin, I loved it. My immediate impression was its similarity to the Allegory of the Mexican Libertad but in reality, was modeled after the Victoria Memorial located in the mall in front of Buckingham palace. Plenty of similarities among the various countries that have immortalized their own expression of the Angel of Victory.
The 2021 St. Helena £1 Victory through Harmony
2021 St Helena £1 Victory Through Harmony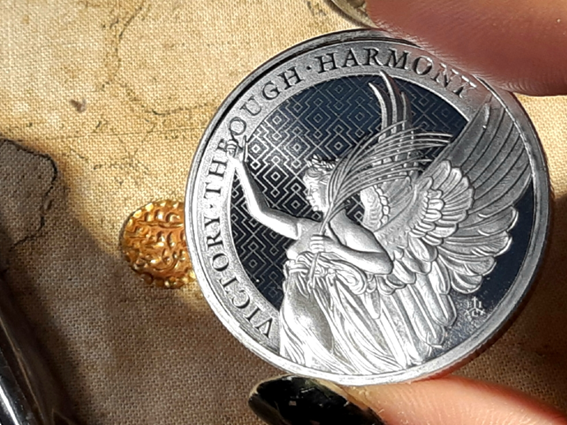 Reverse; Winged Angel of Victory Allegory facing left
Legend; VICTORY THROUGH HARMONY, E I C mark
Diameter 39mm, Thickness 2.6mm
First coin of six, in the Queen's Virtues Series
Designed by Elles Kloosterman
I managed to acquire this specimen from Nyssacat373 when he put it up for sale on his Discord channel. Yes, I did BUY this from him.
It was an instantly popular coin as evidenced by the rapid sell out from my regular Canadian web retailers before I could secure one for myself and I can see why.
The general design of the Reverse is beautifully composed. The Cameo finish of the Winged Victory is exquisite in the details in her gown, the wings and wreath then set in mirrored holographic effect EIC pattern background that just enhances this coin's Victory centerpiece. Then, the design is finished off in a legend that does not over distract from the subject of this coin to bring home it's theme.
The curious detail is the mark of The East India Company EIC Privy mark located at the 5 o'clock position behind Victory's wing.
2021 St Helena £1 Victory Through Harmony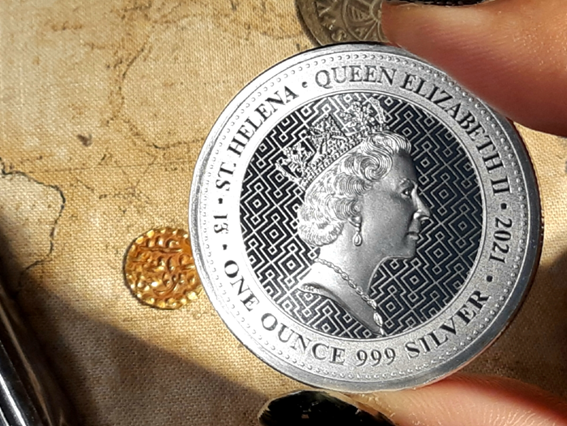 Obverse; Queen Elizabeth II facing right
Legend; ·£1· ST. HELENA· QUEEN ELIZABETH II · 2021 ·
Legend; ONE OUNCE 999 SILVER
St. Helena legal tender
Designed by Raphael Maklouf
Edge; Reeded


Surprising to me, The East India Company does continue to exist as a revitalized chain of quality retail stores, though it's namesake still lay claim to the development of trade and commerce across the globe, critically, it still has the Ghosts of Past suffering it caused within its former powers.
It is a considerably deep subject I will not delve into within the scope of this Post. However, equally surprising is that this company retails premium gold and silver bullion products of the Royal Mint.
Next, the 2021 St Helena £10 Bar
2021 £10 St Helena coin bar East India Company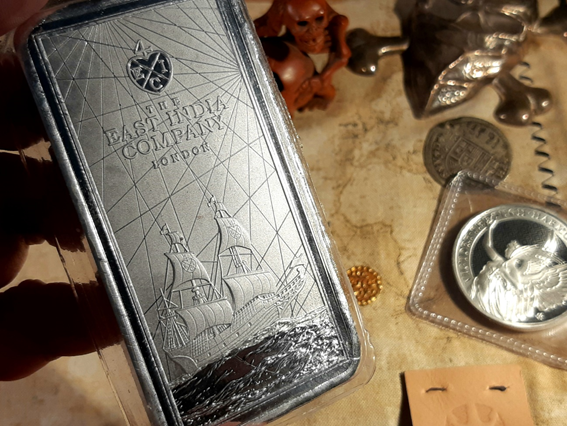 Reverse; The EIC Merchant Mark, East Indiaman ship, Navigation lines
Lettering; THE EAST INDIA COMPANY, LONDON
Dimensions; 90.5mm x 46.4mm x 7mm
Weight; 250g or 8.037 Troy Oz.
In the long history of the East India Company about 593 Sailing ships of various classes have been under the ownership or employ of the company. Any European ship operating under an EIC Charter or License were generally called an East Indiaman. By the late 18th century, The East Indiaman were the largest Merchant class ships designed for both passenger and cargo rating between 1100 to 1400 tons burden. Hardly designed for speed yet sufficiently armed to fight off pirates and privateers should the need arises. Formidable when traveling in squadrons.
However, an interesting note is the EIC at times of war arranged Letters of Marque for their ships should there be an opportunity to take enemy ships without being charged with piracy. This was first practiced in the Napoleonic war.
At the height of the EIC's influence and power, the Company not only had it's own standing army but also had Frigates stationed at Bombay Marine at it's disposal to accompany EIC or Royal Navy squadrons.
The EIC at times sold their East Indiaman Class to the Royal Navy to be converted to warships for their ability to carry large Cannon. However, a ship designed for commerce often lacked the agility needed for battle and were later converted to military transports.
2021 £10 St Helena coin bar East India Company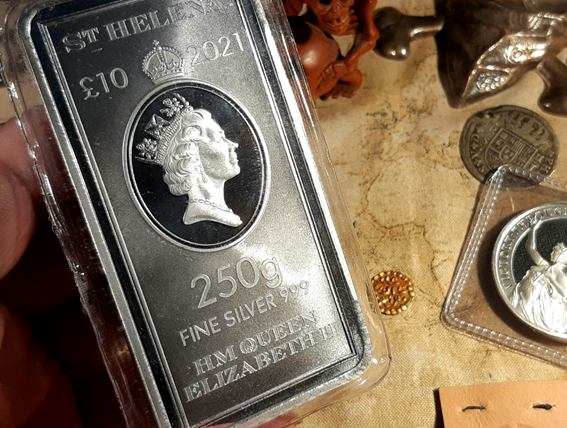 Obverse; Victoria Crown, Cameo of Queen Elizabeth II facing right
Lettering; ST HELENA, £10, 2021
Lettering; 250g, FINE SILVER 999
HM QUEEN ELIZABETH II
Edge; Plain
You can see that The EIC was the prototype to a global monopoly with the power to project its will upon others. Eventually, the excesses, scandals and outstanding financial issues bought this company to an end.
Examples of the Indiaman class ships in existence.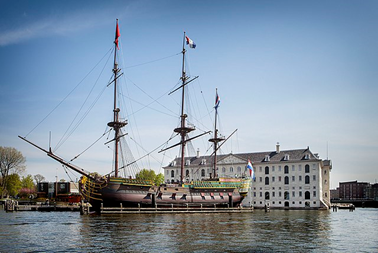 W1
The Dutch 1748 Amsterdam replica in the Netherlands Maritime Museum, Photo by E. Hartmann, Under CCO 3.0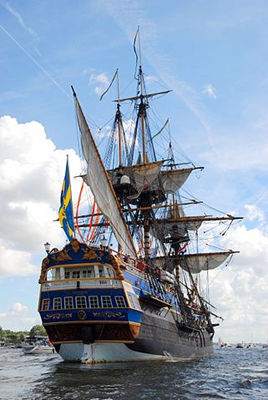 W2
The Swedish 1738 Götheborg replica in Gothenburg. Photo by Takeaway , Under CCO 3.0
Bonus Coin Feature
That little gold coin marking the position of St. Helena on the map really has nothing to do with St. Helena, the East India Company or Indiaman ships. More like traded with the Portuguese at the time and date.
Cleverly hidden in one of the packages from my order from Nyssacat373 was this pleasant gift gold coin I know he got from HK Colonial Coins. This exotic gold piece from the Malaysian peninsula has been tough to research with no entry on Numista yet or any of my usual places. So, it'd make a fine map location piece for now. Jinjin and Burt has seen something in this tiny coin but have yet come to any conclusions, perhaps a future story.
1455-1604 Indonesia Aceh Sultanate 1 Kupang ¼ Mas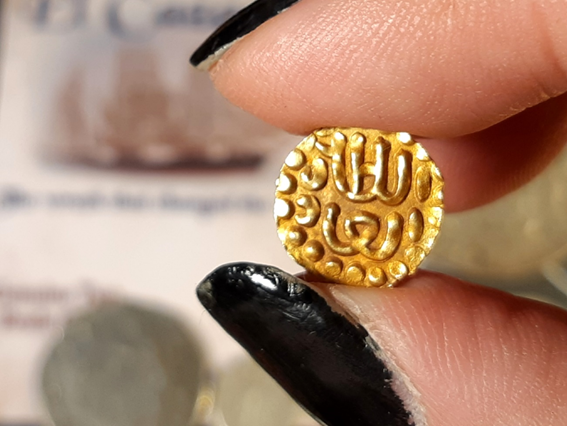 Gold, Purity unknown
Diameter 13mm
Weight 0.6g
Similar characteristics to Riayat Shah 1 Kupang
Ben of HK Colonial Coin said about this coin.
The Sultanate of Aceh, officially the Kingdom of Aceh Darussalam was a Sultanate centered in the modern-day Indonesian province of Aceh. It was a major regional power in the 16th and 17th centuries, before experiencing a long period of decline. Its capital was Kutaraja, the present-day Banda Aceh…
These gold coins were issued by two sultans… The boat shaped pattern on the obverse was from Ali Malik Al-Zahir, while the W-shaped boat was issued by Riayat Shah.
1455-1604 Indonesia Aceh Sultanate 1 Kupang ¼ Mas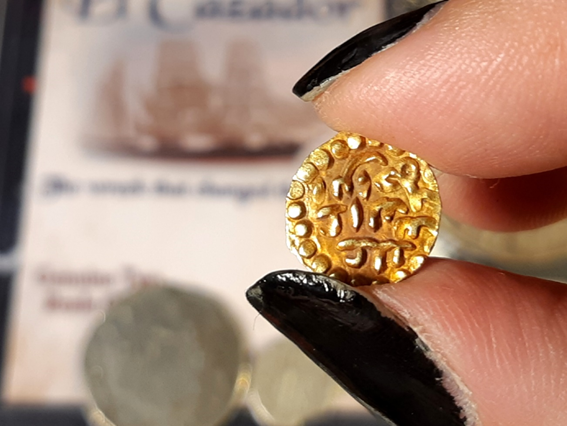 And giving credit where credit is due, Thank you @nyssacat373
💋 💋 💋
Another delightful exotic coin!
Still spicing things up, what kind of coin do you have in your Stack lately?
And thank you for coming aboard unto me pirate blog today!

The
#piratesunday
tag is the scurvy scheme of Captain
@stokjockey
for
#silvergoldstackers
pirates to proudly showcase their shiny booty and plunder for all to see. Landlubbers arrrh…welcomed to participate and be a Pirate at heart so open yer treasure chests an' show us what booty yea got!
Sources
Wiki; East Indiaman ships
Wiki; East India Company of London
Numista: 2021 St Helena £1 Victory Through Harmony
Numista; 2021 £10 St Helena coin bar East India Company
Numista; Malay 1 Kupang Raiyat Shah
HK Colonial Coins on Instagram
HK Colonial Coins on Ebay But don't go here.
Why? Because on IG, he may give you a discount if you offer Crypto as payment.
World Map Hanky from BlackFlagEDC on Instagram or www.blackflagedc.com
The East India Company store Gold & Silver Bullion Deptartment
References
1. My own pictures shot with a Samsung SM-A530W
P. Image under Pixabay
R. Clip art from 123RF
W. W1. W2 Wiki Commons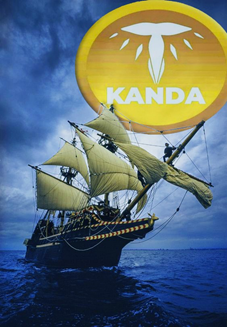 Educating Africans on the benefits of the Block chain
Join our Discord, https://discord.gg/cmbSM5B
"Et lux in tenebris to serve laboro, sum sicarius" "I work in the shadows to serve the Light, I am an Assassin"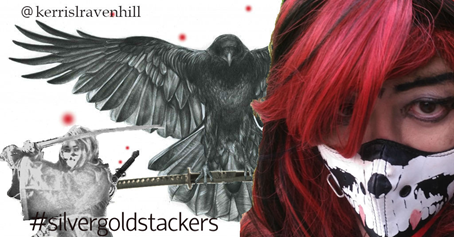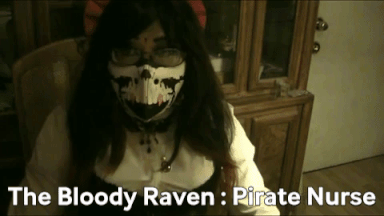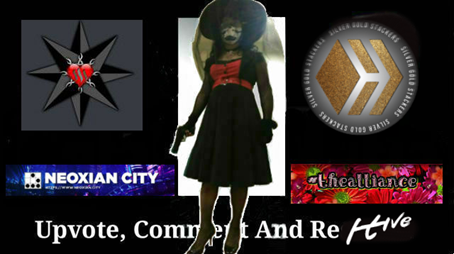 Posted Using LeoFinance Beta