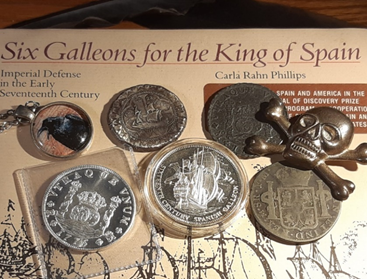 P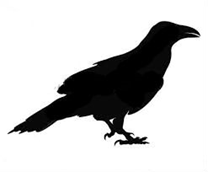 " Blackbirds tend to like Shiny Things" ~ The Bloody Raven
A beautiful round I got from a July silver sale put on by Reckless Metals on Instagram. One of four coins that I may have spared from his fiery furnace.
A side note to keep in mind is that Silvertowne is a private mint and information regarding mintage quantities or product varieties in existence is privy to the mint itself and have yet been widely published.

The Silver Round
Sixteenth Century Spanish Galleon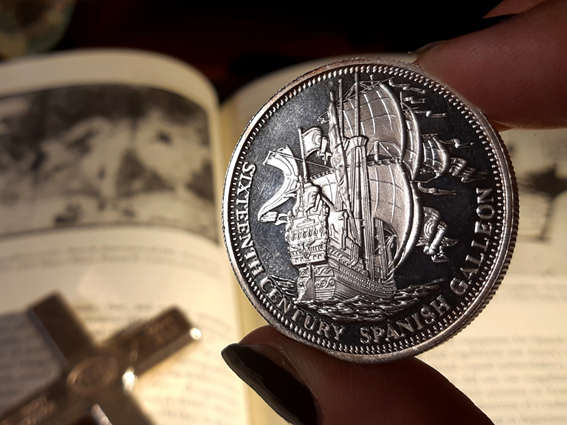 Reverse; Spanish Galleon, Stern/Starboard view
Legend; SIXTEENTH CENTURY SPANISH GALLEON
Artist: Unknown
Fine Silver 0.999
Weight 31.1g
A Night shift at the Museum
Chuck tosses the weekend security report into his Rookie's lap, "Ready for another exciting solo night?"
"Exciting? Something actually happened?" In reply, Larry drew his primary 'weapon' of choice. His Hardpoint Mark II Secure Plus SRA service flashlight. Anodized rubber finish over a rigid T6001 Aluminum construction designed to take a pounding and give a pounding in return. 'The Max SEC' magazine ad claiming the latest sophisticated Cree 3.2A electronics suite for a variety of light settings from the gentlest eye soft mood illumination to signaling-in an emergency inbound 777 from 10 miles out through a heavy fog bank.
Each unit featured; USB 2.0 port, smart Wi-Fi, Standard GPS, and ISO 9001A Satellite compatibility enhanced with remote 'Secure Disconnect'. "Security is our Business", and Larry's alternate post college career choice.
He holsters his flashlight into his belt in addition to his issued Mini-Taze and SR radio as required standard equipment. Though most of the museum is on secondary lights to save on power, the primaries are only used on opening hours of business. The flashlight was only optional.
Sixteenth Century Spanish Galleon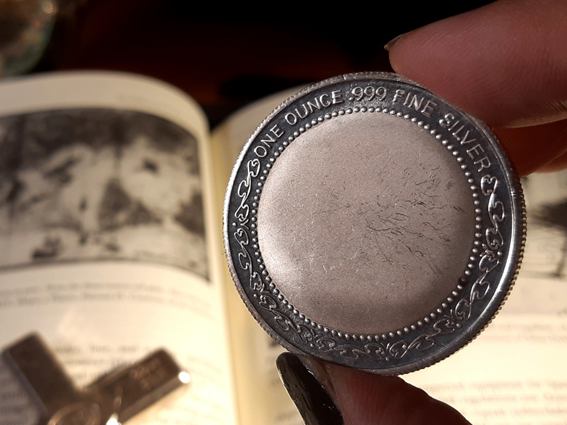 Obverse; Matte blank circle with decorative Border
Legend: ONE OUNCE.999 FINE SILVER
39mm Diameter, 3mm Thickness
Edge; Reeded
=0=
Having a place reserved for engraved messages is more NWTM's style than Silvertowne but something like this has been done between Private mints before using the same Reverse die. Regretfully, very little Mintage information is available.
Chuck gets off and slides the Security Monitor chair to Larry, "Sign in and check the evidence yourself, I think it's nothing. Maybe your fresh young eyes will see something I don't."
He sits in and gazed at the primary monitor, the symbol their Security company; a Lion head Shield with the Roman numerals MC MXCIII appeared with the log in prompt. Signing in, the screens filled with an array of interior CCTV images each set next to an IR Temperature and Motion Graphs all currently indicating Green Status, save for one bump in the Motion graph that coincide with a drop in the local temperature. "Hmmm."
Larry slides the cursor to the anomaly and the computer feeds the corresponding video segment on the active screen. The Tac-Intell algorithm usually discards minor activity attributed to pests like mice and insects. He observes some movement but not definable in either IR, Night Vision scale or under Contrast Light Diffusion.
Undefined shadows on shadows, crossing the screen appeared something like a disembodied bearded face. Perhaps a phenomenon commonly attributed to 'Matrixing' how the mind fills in the blank in a collection of semi related objects to a predetermined subconscious orientation. He shrugged his shoulder and cleared their status as Green. "Situation context ascertained Green!"
MY USED BOOK Bookstore find!
No doubt my best used bookstore find is this book collated and organized from a trove of archived documents of a private shipyard located in the Basque region of Northern Spain by the name of Martin De Arana.
SIX GALLEONS for the King of SPAIN by Carla Rahn Philips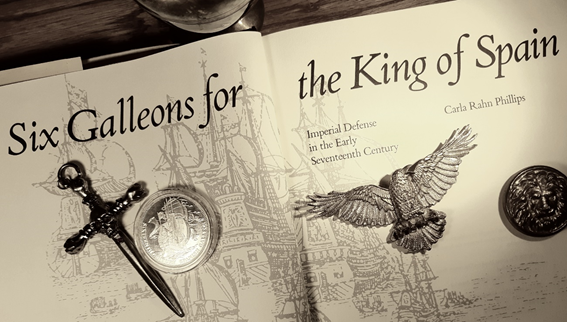 In 1625 Martin De Arana approached King Philip IV of Spain to build six Galleons according to the specific needs of the Spanish Council of War. This book details the context of Spain's economic and security needs at that time, accounting for shortages of men, materials needed and resources available. King Philip agreed to the price equivalent of 30 Ducados per tonlada/tonne (equivalent to 1000 kg).
Chuck gave Larry the thumbs up in agreement, "I'll finish my reports and be on my way out in fifteen minutes so have a good one Flash. It's zero hundred hours and here's the keys."
Larry lingered for another few minutes, straightened his uniform, and fixed the keys to his belt before leaving the Security office for his scheduled patrol.
Chuck was the more senior guard and his usual lackadaisical attitude regarding union level professionalism as a security guard is understanding. After all, very little happens at this maritime museum. A second rate one perhaps. Thefts were rare as nothing in the museum had anything that was extremely valuable monetarily. And when it does happen the argument cited was some overinflated 'out-of-thin-air' academic value and thus raising all museums on specific security standards regulations becaming law of the land.
SIX GALLEONs for the King of SPAIN by Carla Rahn Philips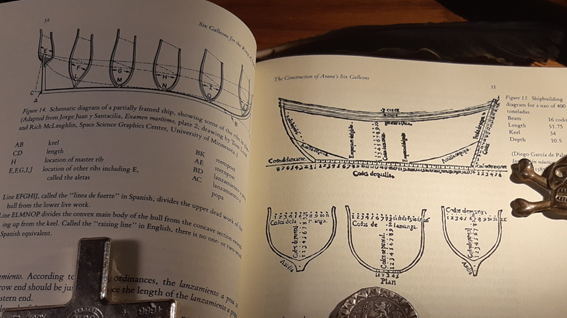 C
Six Galleons to be built suitable for warfare; two 400 tonelada, two 300 tonelada, and two 200 tonlada. Paid half in Silver and half in Copper vellon in one third installments over the course of construction. An official contract was drafted and signed on March 14, 1625.
His route took him first through the gallery rather than the lobby. There were five security routes and were randomized by some mathematical algorithm as to make patrols not too routine and predictable.
The clipboard noted the only event was the arrival of a small trove of silver artifacts on the long weekend. The results of a relaunched expedition of archeology students that were determined to follow in the footsteps of another expedition a few years earlier that ended tragically and quite unexplained.
The weekend shift guard's report had a few peculiar incidents around the new exhibit.
Friday evening one of the student team leaders behaved irrationally and tried to drive off with the trove without any explanation.
Saturday night Ms. Candice the Museum Director was examining the artifacts to catalog them into their system but she disappeared for most of the night until Security located her huddled under her desk shaking as if she'd seen a ghost.
Then came Sunday evening when Sam claimed encountering what could have been that very same ghost in Spanish armor. "This better not be one of those scare the Rookie initiations."
SIX GALLEONS for the King of SPAIN by Carla Rahn Philips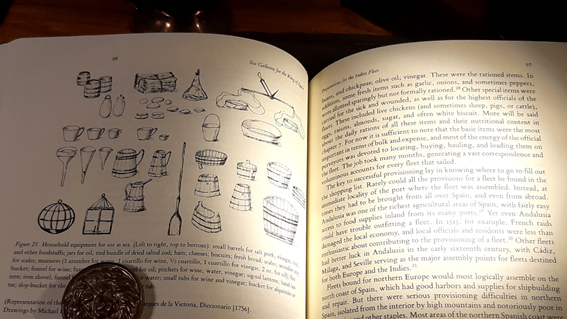 C
In a cursory overview, this book has been so far marvelous, in detailing the work, design, and the logistics of construction of these iconic ships but also underline the problems and issues of the times, dealing with government oversight, politics, economics and conflict. Despite the travails and frustrations, with agreeable compromises between the Crown, Council of War and the Martin De Arana shipyards the result is the Galleon design that saw three centuries of service.
The Spanish exhibit had a figure in 18th century armor guarding its entrance. Larry would confront the late era Spanish Conquistador and draw his flashlight in an instant flooding the entrance with blinding light.
"Who goes there! Friend or foe?" Larry feigns reaching for his Mini-Taze as his sidearm before relaxing his stance. "Oh, it's just you Senór Torres, as you were. Good job." He throws a casual salute to the lifeless sentinel, "As you where and be sure to check into the First Aid office regarding that big hole in your Breast plate." He re-holstered his flashlight and carried on into the exhibit.
The new exhibit are artifacts related to an obscure Pirate ship that haunted a swath of the Pacific Ocean from the Asia coast to the mid Pacific islands. Larry leaned over the rail of the silver coin 'El Capitan' exhibit, nothing out of the ordinary in a handful of 18th century silver coins but that two coins set aside we're unique to the Paymaster of the Spanish Galleon "El Condoria" that was sent to hunt down the Pirate vessel that for years evaded capture. That is according to the very few Historians familiar with unknown class of 18th century Galleon.
SIX GALLEONS for the King of SPAIN by Carla Rahn Philips
C
The ships built were San Felipe, Nuestra Senora de Begona, Los Tres Reyes, San Juan Baptista, San Sebastian, and Santiago. Other than Cannon and armaments that were responsible by the Spanish Military, Arana records in detail the Bill of Materials not only for construction but also outfitting, food supplies, house keeping materials with their itemized costs in Reals.
The exhibit was still in a shamble, left untended, tapped off for evidence gathering or at least until their Curator returned form the hospital from under careful medical observation.
Larry chuckles to himself tipping his cap, "So she saw a ghost. Enjoy your little vacation Ms. Candice."
Out of the corner of his eye a coin slipping off its display. "Well what do we have here?" At the same time, he felt a chill as if someone had instantly turn down the temperature.
Then he felt his hair stand on end as his hearing zeroed onto faint boot steps emerging out of the darkness behind him.
Turning, Larry could see a human outline stepping towards him.
His battered breast plate with the same hole over it's heart.
Upper limbs begin to emerge from the torso, a face becomes discernible beginning with his thick eyebrows, distinct mustache and beard.
Wide eyed, Larry's hands begin to tremble, his heart pounded, as he reached for his Tazer, "St…stop…right th…there!"
The imposing Conquistador lifted his open hand as a peace gesture and his mouth opens. "I am Capitan Emil Alonso Diego Caballerio of his Majesty Ferdinand VII's mighty El Condora." The Captain's eyes soften as he removes his helmet," Senór… amigo … please tell me …what year is this?"
I hope you enjoyed this haunting seaworthy feature
Thank you for stopping by my Pirate Blog today.


The #piratesunday tag is the scurvy scheme of Captain @stokjockey for #silvergoldstackers pirates to proudly showcase their shiny booty and plunder for all to see. Landlubbers arrrh…welcomed to participate and be a Pirate at heart so open yer treasure chests an' show us what booty yea got!
References
1. Me own pictures shot with a Samsung SM-A530W
P. Image under Pixabay
R. Clip art from 123RF
W. Wiki Commons
Sources
C. Book: Six Galleon for the King of Spain, by Carla Rahn Phillips, 1986 The John Hopkins University Press. ISBN 0-8018-3092-3
Wiki: Ducado A local Spanish version of Ducat.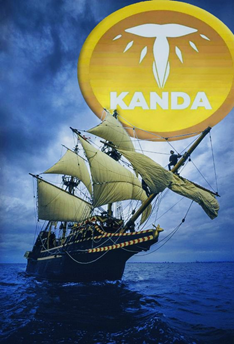 To Educate Africans of the benefits of the Block chain
Join us on Discord, https://discord.gg/cmbSM5B

"Et lux in tenebris to serve laboro, sum sicarius" "I work in the shadows to serve the Light, I am an Assassin"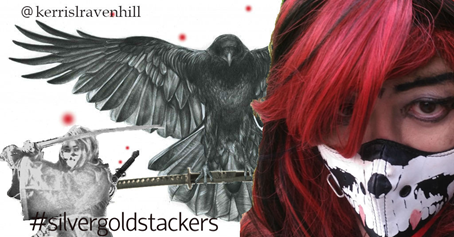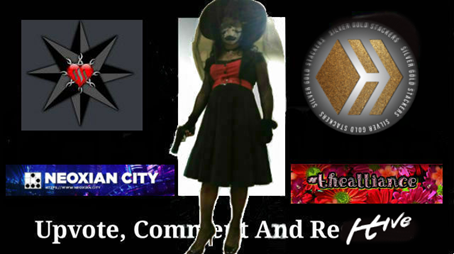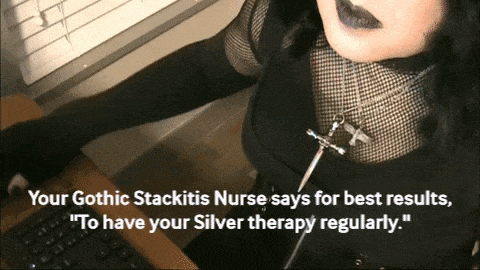 Posted Using LeoFinance Beta