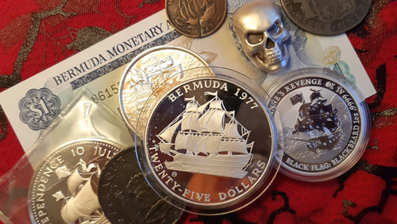 1

P
"Blackbirds tend to like shiny things." ~ The Bloody Raven
The late afternoon, last week following a visit of my Mom in the hospital I felt drained. I was at least relieved that she is doing better. The rain and the slight breeze made me feel miserable enough to form that perfect little black cloud over my head to match my black coat.
I wanted to go home, have a hot shower and bundle up with a book.
I was with a relative of mine and she offered to treat me to a quick meal before giving a lift to the Skytrain station when I noticed we were near my favorite not-so-local LCS (Local Coin store). It had the big yellow banner "Moving Sale – 25% to 50% off" I checked in my wallet $85 CAD cash. The same store Captain @thedamus had frequent successful plunders in the past. This could cheer me up and make my day worthwhile.
So I tried my luck and here's what I got!
The BIG COIN!
1977 Bermuda 25 Dollar Silver Jubilee coin (CHI)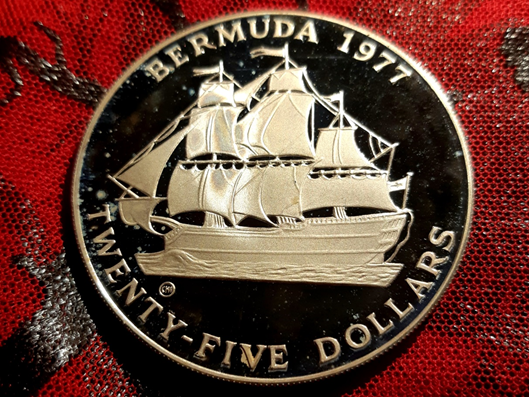 1
Reverse; Bermuda 1977, TWENTY-FIVE DOLLARS(BMD)
Sterling Silver 0.925, 54.75g
49.85mm Diameter, 3.21mm thick
Shiver me timbers, and what I spy with me unpatched eye is this lovely vintage sterling coin resting in the glass display case yet to be appreciated by any Seafaring cosplaying Captain. When asked of the price, me eye patch popped off in surprise of the wee price! "Yea gots a deal, Captain's honor!"
After some research there is no reference to any particular ship in but a generic representation and symbol of England's dominance in the era of the sailing ships.
With still some cash left I perused the display case to make my day more worthwhile and what I got could make the saltiest pirate smile. I'll save that for another post.
1977 Bermuda 25 Dollar Silver Jubilee coin (CHI)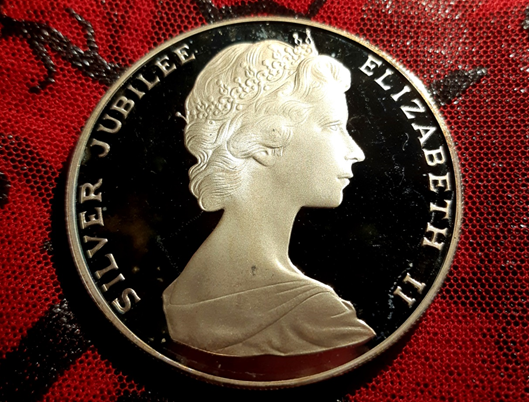 1
Obverse; SILVER JUBILEE, ELIZABETH II
25th Anniversary of the Accession of Queen Elizabeth II
Arnold Machin's 2nd Portrait
Reeded edge
Reference KM#25
Mintage of 5,613
The Total Mintage appears to be split between two makers in BU and Proof.
1977 ........ 2,312 Royal Canadian Mint BU
1977 ........ 1,887 Royal Canadian Mint Proof
1977CHI... 6,225 Valcambi Switzerland BU
1977CHI .. 5,613 Valcambi Switzerland Proof
This normally comes in a fancy plush blue case and certificate of Authenticity COA but I can make due with just the capsule. A few spots on the coin but still worth the bargain price the dealer offered me. After all, there be a Movin' Sale and I made off like a Happy Pirate! Yo ho ho! Tis a lovely addition to my fleet.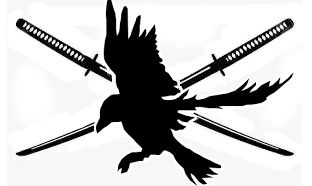 1
And now for those into the colorful Banknotes
1984 Bermuda One Dollar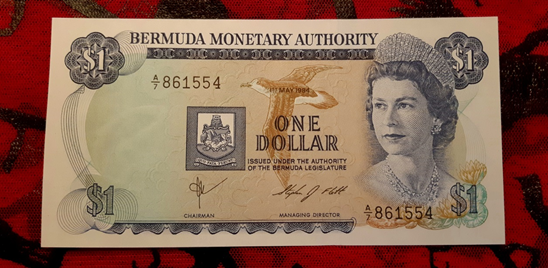 1
Front: $1, Bermuda Monetary Authority, One (BMD) Dollar
Bermuda Petrel (Pterodroma cahow,) Elizabeth Regina II
Signatures: J. David Gibbons (Chairman); Stephen J. Flett (Managing Director)
Reference P-28
This banknote is on loan to me by Mr. Punkys Dad, tis a collector's note and he told me he'd appreciate it's return in the original condition and I should NOT just fold it or cram it into my purse. Thanks PD!
1984 Bermuda One Dollar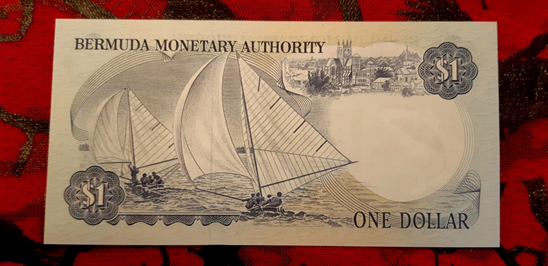 1
Back: Newport Bermuda Race
Material: 100% Cotton
Printer: Thomas De La Rue & Co. Ltd.

R
I hope you enjoyed this coin feature, thank you for stopping by my Blog today.
The #piratesunday tag is the scurvy scheme of Captain @stokjockey for #steemsilvergold and #ssg-community pirates to proudly showcase their shiny booty and plunder for all to see. Landlubbers welcomed to participate and be a Pirate at heart so Open yer Chests an' show us what booty yea got!
References
1. My own pictures shot with a Samsung SM-A530W
P. Image under Pixabay
R. Clip art from 123RF
W. Wiki Commons
Other References
Numista: 1977 Bermuda $25 Silver Jubilee
NGC Guide: 1977 Bermuda $25 Silver Jubilee
Valcambi Switzerland: 1977 Bermuda $25 Silver Jubilee
Banknotes: 1984 One Bermuda Dollar
SSG
"Et lux in tenebris to serve laboro, sum sicarius" "I work in the shadows to serve the Light, I am an Assassin"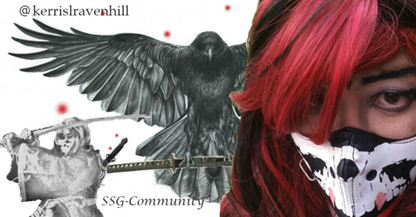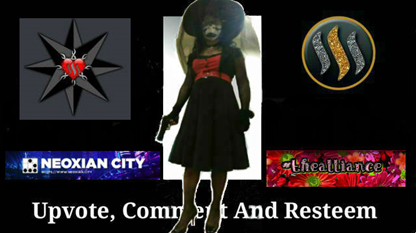 ---
Posted via Steemleo | A Decentralized Community for Investors