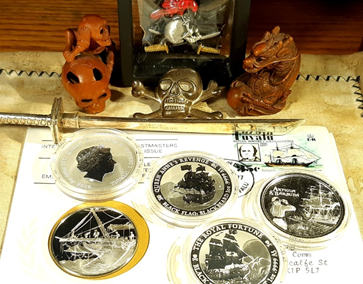 P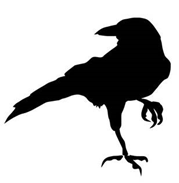 "Black birds tend to like shiny things." ~ The Bloody Raven
Despite my recent Dogecoin windfall and the plunge in Bullion paper prices, my Local Coin stores (LCS) are out of bullion again before I was ready.
A mere 24 hours and half tube of 2021 silver Maple Leaves slipped my clutches this time. With some extra cash already set aside for this quarter's Dollar Cost averaging the strategy has not yielded me another good opportunity early this 2021. Restocking is expected in about a week at one LCS.
Until then, one Tuvalu coin or more precisely, a medallion came in the mail just 48 hours ago and may stave off my Stackitis symptoms until they are back in stock.
For those Philatelic inclined it came as a Medallic First day cover card.
The Medallion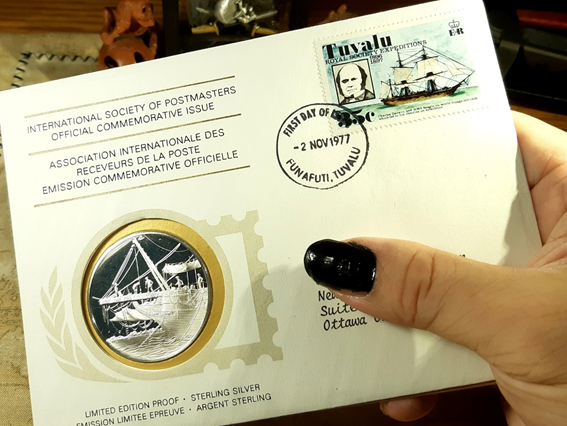 An Ebay acquisition at a more than fair price with no more than $3 above spot for this pretty seaworthy Sterling silver medallion. The deal was made better by acquiring another similar medal that I will show later.
1977 Commemorative Series: Expedition to Tuvalu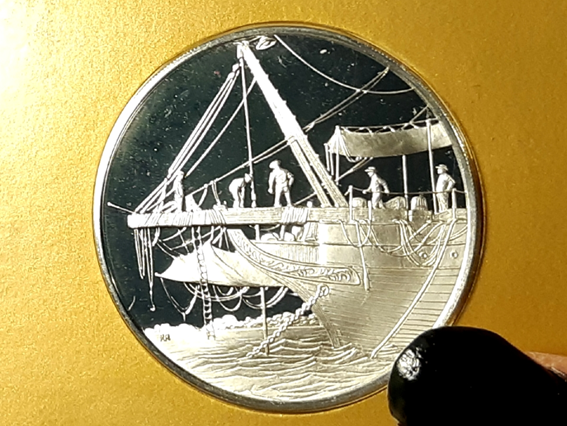 Obverse; An anchored ship, Tuvalu in the background
Inscription (Engraver initials Richard Renninger) RR
Weight 19.66g, 0.925 Sterling Silver
Diameter 38.5mm, Thickness 2.2mm
Eleventh Medal of 12 for 1977
Actual issue date was in 1978
The Obverse illustrates the 1896-1897 Royal Society of London's Expedition to Tuvalu. The HMS Porpoise is anchored in the lagoon off Funafuti Tuvalu to collect and examine bore samples of coral to prove or disprove the Charles Darwin's geological Theory who was in Tuvalu on an earlier 1831 to 1836 expedition. This expedition was led by Sir Tannatt William Edgeworth David and G.H. Halligan under Professor William Sollas of Oxford University.
1977 Commemorative Series: Expedition to Tuvalu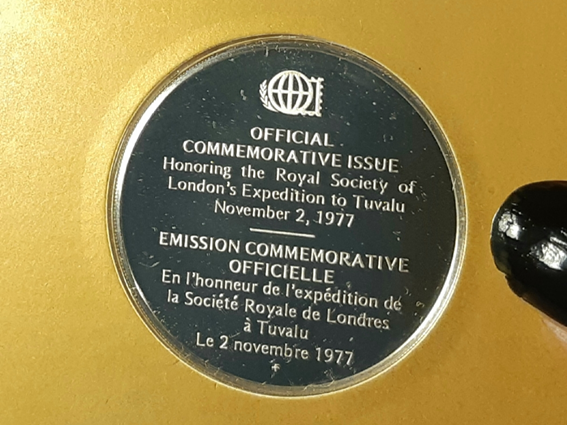 Reverse; UN Logo
Inscription; OFFICIAL COMMEMORATIVE ISSUE, Honoring the Royal Society of London's Expedition to Tuvalu, November 2, 1977
EMISSION COMMEMORATIVE OFFICIELLE, En l'honneur de l'expédition de la Société Royale de Londres, à Tuvalu, Le 2 novembre 1977
Classification; Exonumia/Token
Mintage Unknown
The Franklin mint U.S.A
Edge; Reeded with lettering SILVER 925/1000 JP 78 P
While we familiar with the HMS Beagle of Charles Darwin, not a lot was known about the HMS Porpoise research ship. Details are difficult to find about this research vessel, likely a private ship but it should not be mistaken for the Archer Class British Naval cruiser of the same name, and ships well into the age of Ironclad Warships.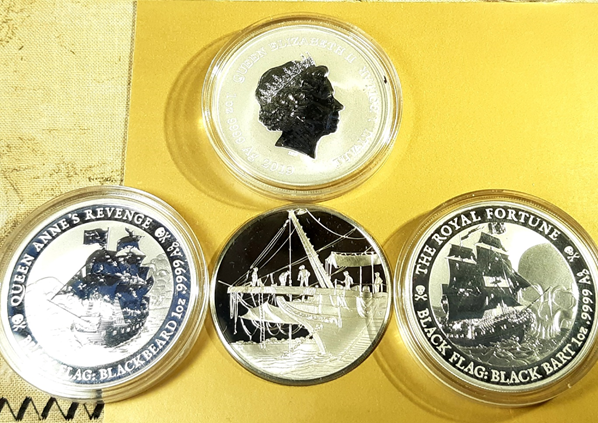 Should I find a capsule or leave it in the original bland cardboard holder?
This medal represents one of 36 commemorative sterling silver medallion set released by the International Society of Postmasters, 1975 to 1978, with a C.O.A and stamped envelope from the celebrated country.
Though I enjoy collecting/stacking the Sailing ship theme in my silver coins, this International Society of Postmasters is no doubt in my mind a lovely silver medal and to add a bit of a mystery. I still have yet to find the mintage numbers of this Tuvalu medal.
I've already got me un-patched my eye out for the next Tuvalu coin from the Perth Mint. It's coming soon! ⚔
2021 Tuvalu 1 oz Silver Black Flag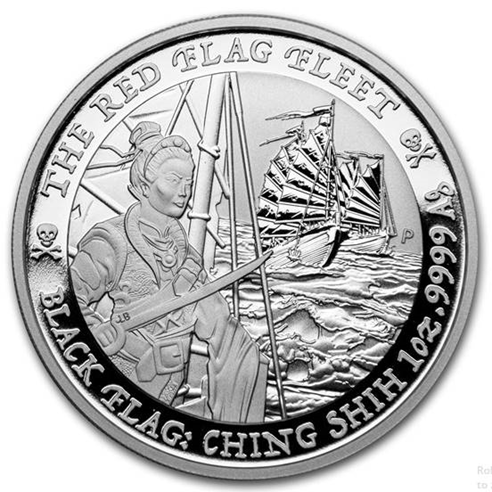 A.
Reverse ☠
2021 Tuvalu 1 oz Silver Black Flag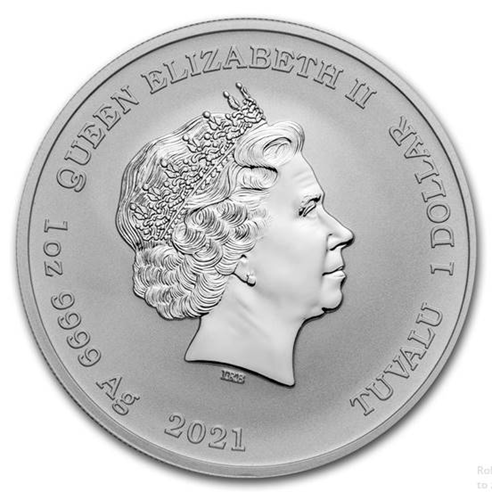 A.
Obverse ☠
I hope yea enjoyed me little Pirate Blog t'day
Thank yea fer coming aboard!
The #piratesunday tag is the scurvy scheme of Captain @stokjockey for #silvergoldstackers pirates to proudly showcase their shiny booty and plunder for all to see. Landlubbers arrrh…welcomed to participate and be a Pirate at heart so open yer treasure chests an' show us what booty yea got!

References
1. My own pictures shot with a Samsung SM-A530W
P. Image under Pixabay
R. Clip art from 123RF
W. Wiki Commons
Sources
Expedition to Tuvalu
Wiki; History of Tuvalu
Web; Franklin Mint Silver medals
A. Apmex; Ching Shih and the Red Flag Fleet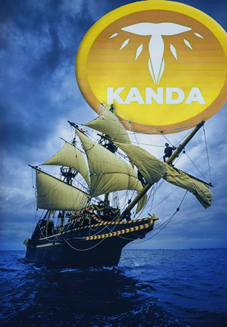 Educating Africans on the benefits of the Block chain
Join our Discord, https://discord.gg/cmbSM5B
"Et lux in tenebris to serve laboro, sum sicarius" "I work in the shadows to serve the Light, I am an Assassin"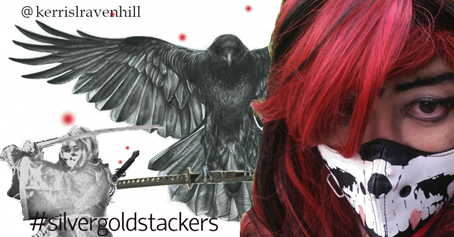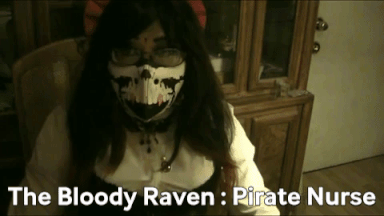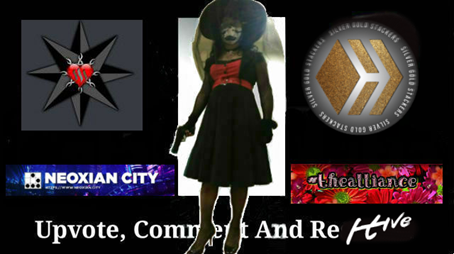 Posted Using LeoFinance Beta