---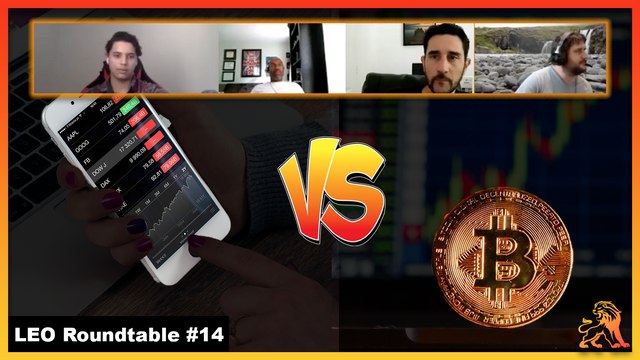 This episode of the LEO Roundtable was a journey. We kicked it off talking about the stock market and how everyone and their mother seems to have become an overnight day trader.
From there, we talked about crypto adoption. Why are so many average people flocking to the equity markets to "gamble" with their extra time and stimulus money rather than going to crypto where they can work "against" the establishment and have an easier signup process (as opposed to opening a brokerage account).
@scaredycatguide (Mitch) posed a great question: is this an indication of the nascency of crypto and why mass adoption is further than everyone expects?
We then dive into some talk about social media platforms and consumption of media. We analyzed some options trades since we've all seem to fall deeper into the rabbit hole over the past several episodes. I showed off the Tastyworks platform and how I use it to analyze options trades before I enter a new position.
We ended the show analyzing cryptocurrencies: BAT & HIVE along with Ethereum and some talk about DeFi and Bitcoin.
In This Episode:
0:00 Why Are the Masses Flocking to the Stock Market Instead of Cryptocurrencies?
3:52 We (on the roundtable) All Believe that Crypto is Here to Stay. Are the Returns Inevitable and Just a Matter of Time?
15:30 Social Media Platforms, Audiobooks and Podcasts
30:31 Options Trading Update: What Happens to the Market if Biden Wins?
37:10 Iron Condor on IWM
38:17 TSLA Analysis and Short
43:52 SQ Analysis and Credit Spread
53:35 SPY
59:40 Using the Tastyworks Platform for Analyzing Options Trades & Viewing IV Rank
1:11:40 JPM Put Credit Spread
1:14:48 ZM
1:18:00 BAT Cryptocurrency Analysis
1:21:05 HIVE Crypto Analysis
1:24:25 MakerDAO CDP Vaults with BAT
1:28:00 Ethereum, Wrapped Bitcoin and DeFi
1:31:02 Pending Post/Curation Rewards on Hivestats.io
1:35:00 Gap vs. Intraday Trading and Neal's New Strategy
1:43:00 Bitcoin & Correlation to Equity Markets
---
Listen & Subscribe to the LeoFinance Podcast!

Our Community:
LeoFinance is an online community for crypto & finance. We run several projects that are powered by Hive and the LEO token economy:

---
▶️ 3Speak