---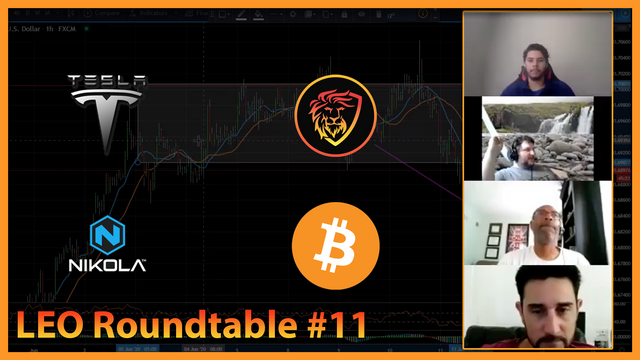 For the 50th episode of the LeoFinance podcast, we hosted another LEO Roundtable podcast. We kicked it off talking about the popular dollar milkshake theory and continued on to analyze the price of the USD now and in the near to long-term future, drawing in analyses on other major fiat currencies across the globe.
Following a logical progression, we analyzed Gold and Bitcoin after our talks about fiat currencies. Moved on to talk about the S&P500 and where the entire equities market is headed during these turbulent times.
The Hertz situation is one that is extremely interesting. We talked about the company, the stock price and why Robinhood traders jumped in and pushed the stock up to $6 following news of bankruptcy. Hertz is also currently in talks to be able to sell worthless stock to investors.
The Tesla and Nikola conversation was also fun. We talked about the share prices and competitive advantages of these two companies as they attack the titans of the automobile industry with clean energy vehicles.
One of my favorite parts of the episode is when we talked about the basics of options trading and how one can earn an income from selling options contracts. I thought this was a very interesting strategy and ended up testing it out by selling an SQ put after the show.
We closed it out talking about the LEO token price, the crazy rally that we've seen recently and the future of the entire LeoFinance community. We also talked about dCity and personal strategies for building an income in the SIM token.
---
Listen & Subscribe to the LeoFinance Podcast!
---
In This Episode:
0:00 Dollar milkshake theory and where the USD is headed in the next 1-10 years
5:00 Analysis on AUD, CAD and other currencies as indicators for USD value
28:30 Gold Analysis
30:00 Bitcoin Analysis
34:45 SPX Analysis
38:30 Hertz Analysis: Why did Robinhood traders start a buying frenzy on a dying company?
41:00 XOP
46:00 TSLA Vs. Nikola
52:35 Options trading basics: creating a "dividend" by selling calls/puts
1:05:30 More SPX Analysis alongside other major indices
1:25:50 LEO Token Analysis and community updates
1:53:20 dCity Breakdown: Talking about game fundamentals and personal strategies to build a profitable city

Our Community:
LeoFinance is an online community for crypto & finance. We run several projects that are powered by Hive and the LEO token economy:

---
▶️ 3Speak