---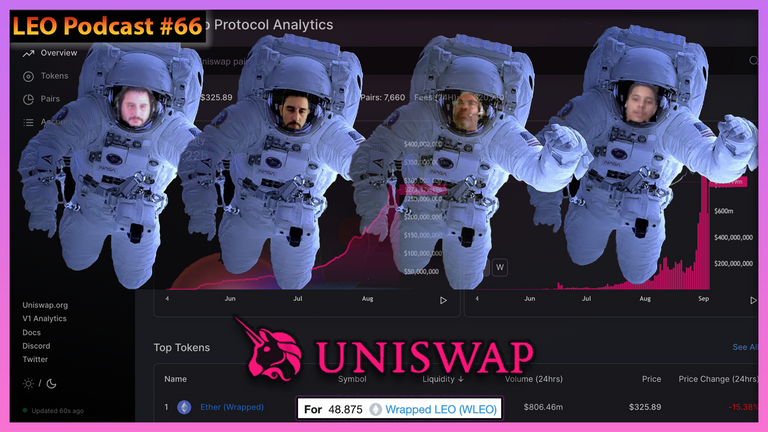 This episode of the LEO Roundtable podcast was streamed live yesterday. We talked about the basics of Ethereum and explored the UI of Uniswap while preparing for the upcoming wLEO launch event.
wLEO represents our community's breakout into the world of crypto beyond just the Hive eco chamber. Hive provides a lot of opportunities and the blockchain technology is unparalleled in terms of allowing our community blogging interface to serve on-chain content and distribute LEO tokens to users who create and curate that content.
With that said, the Hive-token protocol that we're using doesn't allow us to be easily listed on exchanges outside of Hive. This is why the wLEO bridge is so valuable to our community. The wLEO bridge allows us to step outside of Hive and get listed on nearly any exchange in the crypto space — this is because wLEO is a LEO token equivalent (essentially acting as a pegged token) and is built using the ERC20 token protocol on Ethereum.
ERC20 is the most commonly used token protocol in crypto and will allow us to easily get listed on Decentralized Exchanges and even Centralized Exchanges moving forward. This is one of the many long-term goals behind the LeoFinance project and we're finally seeing it come to fruition. In the latest roundtable podcasts, we've been meeting to talk about the upcoming launch and prepare ourselves and everyone else for what's about to happen as our community unleashes itself onto the world of crypto through Ethereum.
In This Episode:
0:00:00 Ethereum Wallets — MyEtherWallet, Exodus, Metamask
0:05:38 Basic Info About Uniswap
0:09:38 What's a Realistic LEO Price When We Launch on Uniswap?
0:19:00 Hardware Wallets - Ledger vs Trezor + Metamask Integration
0:21:51 Navigating Uniswap Tokens/Pairs
0:26:05 Expectations for Liquidity Pool Returns on Uniswap
0:29:35 What's the Point of Listing LEO on Ethereum Exchanges with wLEO?
0:31:41 The Importance of Having Deep Liquidity On Uniswap
0:32:50 How to Navigate the Liquidity UI of Uniswap
0:35:13 Becoming a Market Maker: Why You Need 50% / 50% ETH and wLEO
0:41:57 The Huge Opportunity Cost of Selling LEO Now vs Waiting for the Liquidity Pool Launch
0:45:01 How Much ETH Do You Need for the Liquidity Pool?
0:49:54 How Do Liquidity Pool (LP) Tokens Work
0:57:51 How Are Hive Power Delegators Earning LEO for Delegating to @leo.voter on Hive?
0:59:05 Uniswap LP Case Study
1:03:50 The LEO Community Stakeholders Are Essentially Presale Investors and Our "ICO Event" Is Listing on Uniswap/ETH DEXes
---
Listen & Subscribe to the LeoFinance Podcast!

Join Our Hive Community & Earn LEO Rewards!
Earn LEO + HIVE rewards by creating crypto/finance-related content in our PeakD community or directly from our hive-based interface at https://leofinance.io.
---
▶️ 3Speak
Posted Using LeoFinance Beta