Hey friends, good morning and happy weekend. I am so excited today as I took another bold step in my play2earn gaming journey on the Hive blockchain. My determination to get serious with Hive started with engaging the splinterlands game. I am happy I took the decision and I have no regrets. I have grown from just writing about Splinterlands game to learning about the game. I started playing the game months ago and I have significantly improved in skills as far as the gameplay is concerned.
---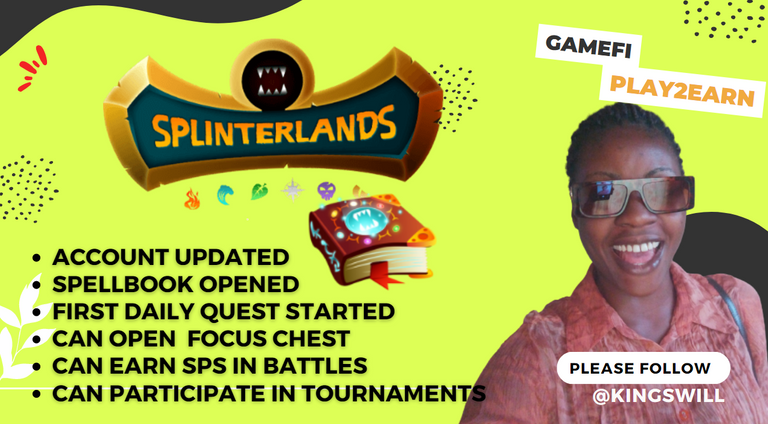 ---
I am happy that over the past 7 months, I have made some significant investment engagements in the splinterlands game including buying cards to buying other assets like SPS, GLX and staking them for good earnings so far. I have also upgraded my cards to higher levels for better gaming experience. In all of that, I've been sitting on the fence since I was still using on free to play mode. Today, I successfully updated my Splinterlands account by purchasing the Spellbook that was valued at 10.07 HBD.
Below are the screenshots of the processes I took to have my account updated.
---


1. Click on Buy Spellbook
---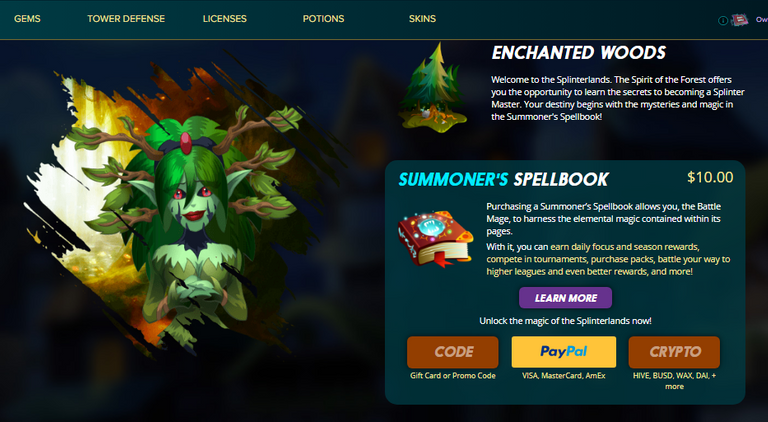 2. Click the payment option from "code, Paypal or Crypto". Mine was Crypto
---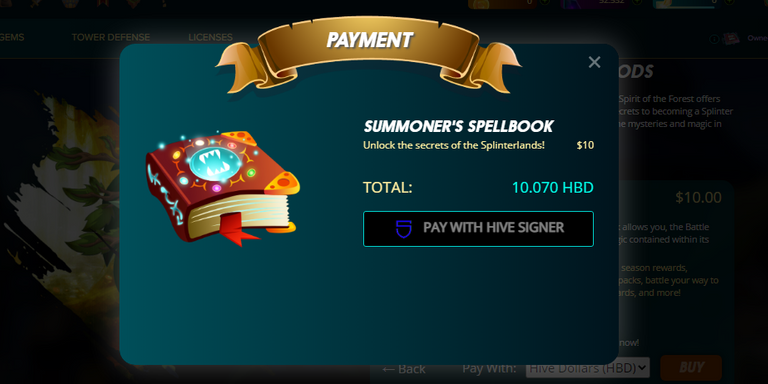 3. Select the crypto you wish to pay with and confirm that you have the sufficient balance in your wallet, then click the payment authentication method. Mine was Hivesigner
---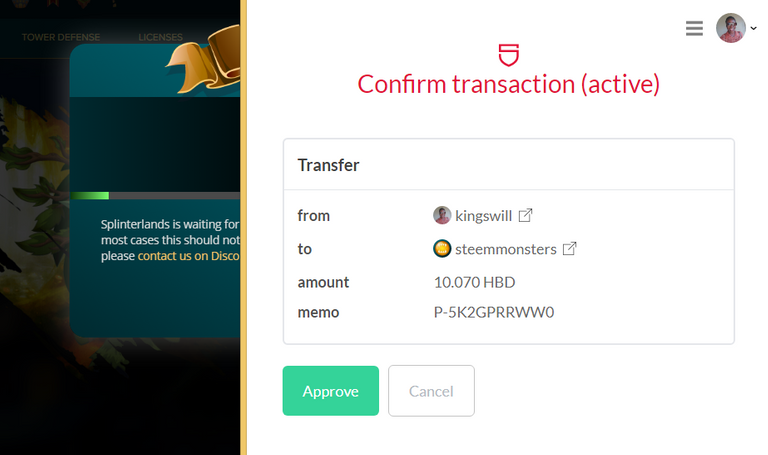 4. Confirm your transaction and approve payment
---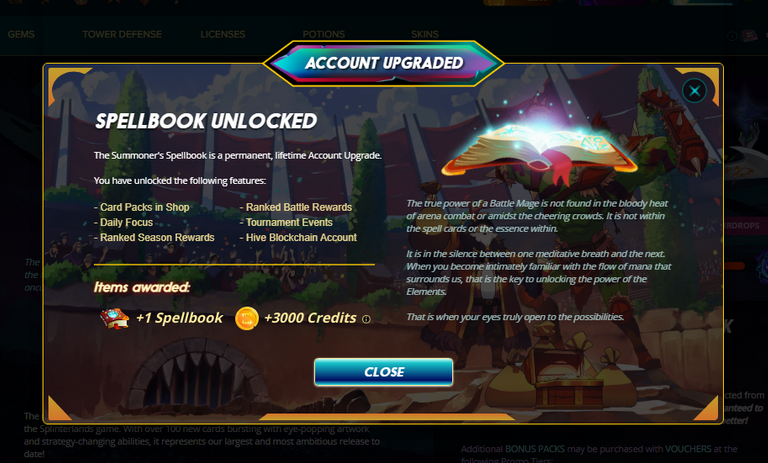 5. Wait for the blockchain to confirm transaction then this page above pops up to show that your Spellbook is unlocked.
---
How happy I am because I am able to unlock more possibilities in the Splinterlands game and that means more fun and more rewards. Unlocking the Summoner's Spellbook is a permanent achievement in the splinterlands game and some of the features unlocked are:
Received +1 Spellbook
Received +3000 Credits
I can now buy Card Packs in Shop
Successfully opened my first Daily Focus
I can now receive ranked season rewards
I can now receive Ranked Battle Rewards
I can now participate in Tournament events
I have a new Hive Blockchain Account
I can now earn SPS in battles.

Above is a screenshot showing I successfully opened my First Focus Quest. With this upgrade, I am left with one option of building up my card deck on daily basis as I look forward to a better gaming experience in the future.
I can't wait to start playing tournaments and getting to experience higher leagues for my battles. I have been looking forward to buying some Chaos Legion and Tower Defense packs but could not due to the fact that I did not upgrade my account. With this, I will be able to get a few packs of Chaos legion and Tower Defense before they go out of print. This is really a whole new level of journeying in the splinterlands gaming environment.
I sincerely appreciate every splinterlands player and curators from @bdvoter and @steemmonsters that have been supporting my contents. The encouragement has been massive and I look forward to more of it even as I do my part to also add more value to the game and get my friends to join.
---
---
---
---
Thank you again to all the creators and developers on Hive. Thank you all my teachers here on Hive. Thank you for those who mark my scripts with their upvotes. I am happy to see that I am growing in understanding this environment, but more interesting is that I am paid to to learn on hive.
Thank you all, I love you.
I am @kingswill. Let's meet and greet.
---