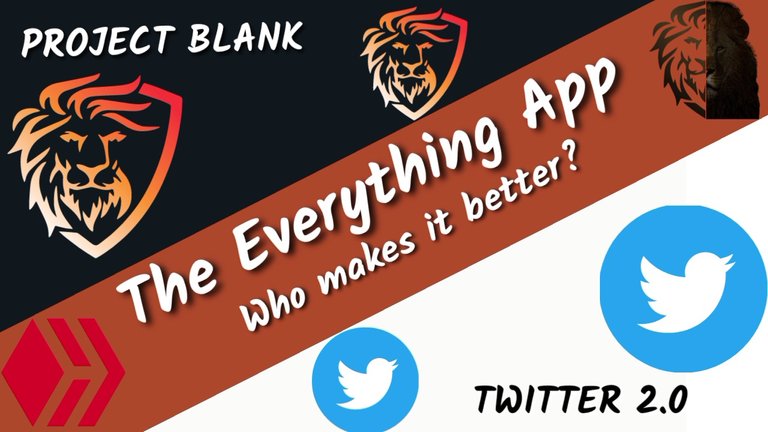 ---
☆ WHISPERS
---
On October 4th 2022, Elon Musk made a Tweet about his desire to create X, the Everything app, following his purchase of Twitter. This tweet placed the whole social media and blockchain world in frenzy. Different analysis and projections were made about the undefined App, as well as the potential features it may have.
Elon did, however, hint at some of the features it will have: redesigning or rebranding the advertising system, long-form tweets, the already-implemented Blue verified, and the creation of a payment mechanism.
The idea of implementing payment system spurred many crypto "warriors" to place some buy orders for Dogecoin, Elon Musk's favorite meme coin. By doing this, the value of Dogecoin skyrocketed, making people FOMO into buying the coin.
However, since Elon Musk hasn't made any official statement about the mode of the payment system, the question still remains, will Elon integrate crypto (blockchain) as the payment system of Twitter or will he stick to the traditional means of payment?

---
☆ UPDATE ON ELON MUSK'S THE EVERYTHING APP
---
Few hours ago, Elon Musk made a Tweet which he captioned "Slides from my Twitter Company Talk."
In this tweet, he shared 4 images: the first two images show the data analysis of the increased activities in Elon Musk's Twitter; and the last two images give us a glimpse into X, the Everything app.
Oh, sorry, X now has a name.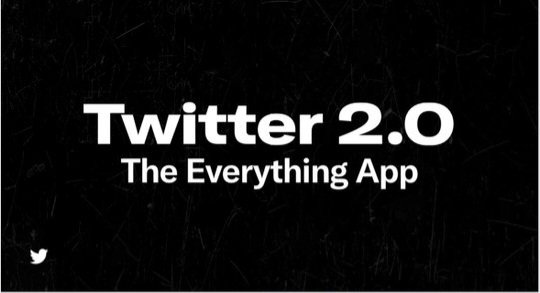 Twitter 2.0: The Everything App
Finally, Elon has shown us what he intends to put forward as the Everything App. These are the features which it possesses: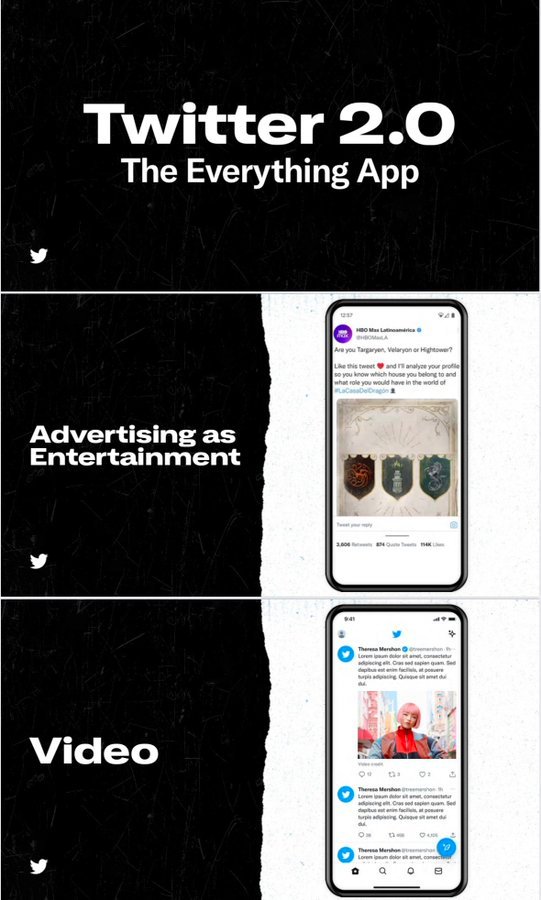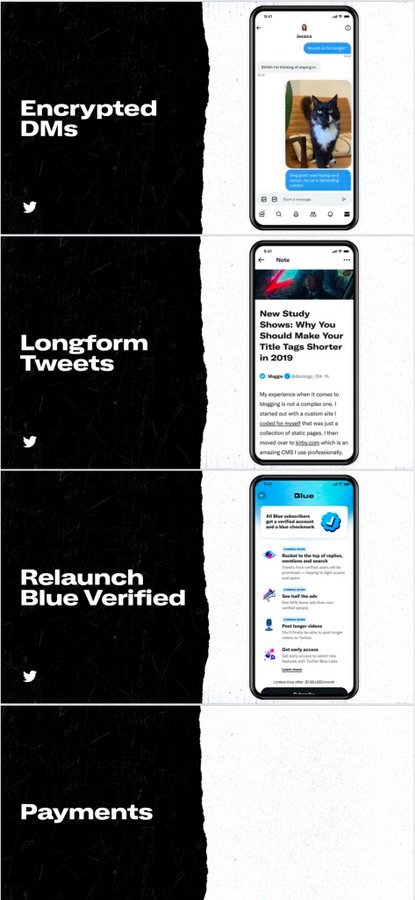 ---
Advertising as Entertainment: Recall, we spoke about his intention to reshape or rebrand the advertisement system. However, we need to understand better about how this will work; will it be personalized ads such that twitter still uses your data to feed you with ads? Is my data still safe with twitter?

Video: Obviously, Twitter, as it is today, accepts Video uploads. However, from the whispers of Elon, I presume the Video aspect will be lucrative and beneficial for content creators. But, lets keep watching to see what it offers.

Encrypted DMs: The integration of encrypted DMs aid to provide security and privacy for direct messages sent between users.

Longform Tweets: This is one of the most celebrated additions to Twitter, as it will be beneficial to those who prefer to write long post instead of being restricted to 280 characters tweet.

Relaunch Blue Verified: Oh well, with a subscription of $8 per month you can get the blue verified tick on your twitter profile, granting you privilege to certain activities. (Don't ask me the privileges, because I don't know…lol)

Payments: ...
Yes! That is Elon Musk for you. He left the payment section blank!
Is this to put us in suspense? Or to make us buy more Dogecoin? Or did he encounter any challenge with the integration of blockchain/crypto because of the FTX saga?
Very soon, we shall know!

---
☆ THE LION ACCLAIMS HIS THRONE
---
When Elon Musk spoke of his Everything App, there was a loud laughter in the Lion's Den.
You wanna know why?
Well, Elon Musk presented his Everything App as something that was never heard of; as a "new creation"; a "new initiative." But, here in the Lion's Den, we are fully aware that Elon is far behind.
The Leoverse has been in existence for more than two years, and from the time of its existence till this moment it has witness massive growth and developments in all ramifications.
With the official release of LeoThreads on August 4th 2022, Leofinance presented itself as a worthy Twitter Killer, although it was at its beginning stage. However, with the massive updates witnessed, and the quest to present all features of the Leoverse into one single app, we see the King, Leo, standing up to acclaim its position as the king over the animals, including the birds (tweeter).

---
☆ "PROJECT BLANK" – THE EVERYTHING APP
---
Presently, the Leoverse is undergoing massive restructuring of the Leofinance.io UI to show forth this "Everything App" that Leo already has. (You can read more about it here)
You heard that, right?
Leofinance already has all the features to bring forth the Everything App into existence, however, this hasn't been direct and intentional before. But, with what is being created under Project Blank, Leofinance sets to put the following features into one single app (The Everything App):
Social Media – Microblogging and Long form of blogging
Finance – Earning from content, micropayment and investments (DeFi)
Security - data is secured and all content are saved in the blockchain
Privacy - You don't need KYC to be on board.
Freedom - You own your account and have the freedom to do whatever you want. It is censorship resistant, and no one can suspend or terminate your account.
Web 3 (Blockchain) - It is built on Hive Blockchain; fast, scalable and feeless
Create and joining Communities - You can join communities that interest you.

---
☆ TWITTER 2.0 VS PROJECT BLANK
---
In an attempt to compare the Everything App as pushed forward by Elon and that of the Leoverse, we shall look at certain themes and features in a tabular form.
| Theme | Feature | Twitter 2.0 | Project Blank |
| --- | --- | --- | --- |
| Service Provided | Web Service | Web 2.0 | Web 3.0 |
| | Centralized or Decentralized | Centralized | Decentralized |
| | Censorship Resistant? | No | Yes |
| | Ownership of Account | Partial ownership of account (account can be suspended or terminated at any time) | Full ownership of account (can neither be suspended nor terminated) |
| | Freedom | You are free to do whatever Elon wants you to do (lol) | Total freedom |
| | Privacy | No privacy of data; it collects your data and could sell them | data are private |
| Social Media | Microblogging | available (Tweeter) | available (leothreads) |
| | Characters allowed | 280 | 250 |
| | Image view | Grid Mode | Carousel mode to be implemented |
| | Long form of blogging | available | available |
| | Direct Messages between users | Available and secured | Not available |
| | Video Uploads | videos can be uploaded directly | videos can only be uploaded via 3rd party (3speak and Youtube) |
| | Edit already posted content | Still working on it | successfully implemented |
| Finance Related | Possibility to Earn from content | Yes, for Celebrities and influencers | For everyone |
| | Payment Method | Not known yet | Cryptocurrency |
| | Investment possibilities in the service | None | Numerous |
| | Presnece of DeFi | None | Yes |
| | Staking possibility | None | Leo Power, Cub |
| | Incentives | nothing official yet | all accounts can incentivize others with their Leo Power (and hive Power) |
| Application | Android Application | available | still building |
| | IoS Application | available | still building |
| | User Interface | easy to comprehend | app being redesigned to improve user interface |
| | Web view | available | available |
| | User Interface | easy to comprehend | undergoing redesign |
| Other Features | Person Profile and personalized info | available | working on it |
| | Re-posting other user's posts | Retweet available | re-thread not yet available |
| | Conducting Polls | Available | Not available yet |
| | active daily users | > 100,000,000 | < 100 |
| | Special benefits to special users | Twitter blue grants special privilege | All users have same privilege, however your stake increases your financial rewards |

---
As it stands now, the Everything App envisaged by Twitter 2.0 and that of Project Blank obviously has different amazing and unique features. However, we may not be quick to fully place one above the other since they are both under development at the moment .
However, for the fact that Project Blank is built on a web3 Decentralized blockchain, it has a high position over the centralized Twitter. This is owing to the fact that with the Decentralized web 3.0 that Project Blank offers, you own your account (cannot be terminated or suspended), blockchain is immutable and you are absolutely free.
Even the bird in Tweeter is not entirely free!
---
Although, Twitter still has the numbers and the popularity, can Project Blank succeed in surpassing at least 1/100th of Twitter's active daily users?
Time will tell!
However, I have some questions to @leofinance @leogrowth. I believe these questions, amongst many others, are what we should expect from potential Microbloggers who aren't interested in the fight between Centralized or Decentralized services or the web2 - web3 saga. However, they just want a good Microblogging app that provides all the features they need, and many more:
Will Project Blank integrate the possibility to send direct messages between users?

Aside 3rd party services, will it be possible to upload videos directly on the app?

---
Twitter images from Elon Musk's tweet
Logo Collage property of: Hive Learners, Ecency, Leofinance, Hive, 3speak and Ksam.
Designs created and edited with Canva Mobile App
Images are screenshot of Twitter and hive.io.
---
I AM KSAM
---
I may not be your favourite author, but you can journey with me to help me develop my writing skills. I am always open to criticism, correction and learning 🥰.
Posted Using LeoFinance Beta