Using Connext
If you've never used a cross-chain bridge or don't even know what that is... It's a platform that allows you to move assets from one blockchain to another. For examply, moving ETH from the Polygon blockchain to the Arbitrum One chain. Cross-chain bridges are slowly becoming incredibly important as more and more different chains are born. It's crypto nerd heaven. They're definitely not new, but I've used some good ones and some really bad expensive ones. You never really know what you're going to get when you're trying out a new bridge, but I have to say... Connext is my new favorite.
I had used it in the past when it was called xPollinate when I was doing a lot of degen shit on the xDAI chain (now Gnosis) and Harmony. It's so weird when I talk about this shit because it sounds so long ago. I guess that's just because in the crypto and blockchain space, everything moves at 10x speed from the regular world. Anyway - I've been using mainly the Leo Bridges to move funds between Polygon, Hive, and BNB Chain lately since I've chilled out on my yield farming. I haven't really been exploring many new chains as I should just because I've been focused on other things.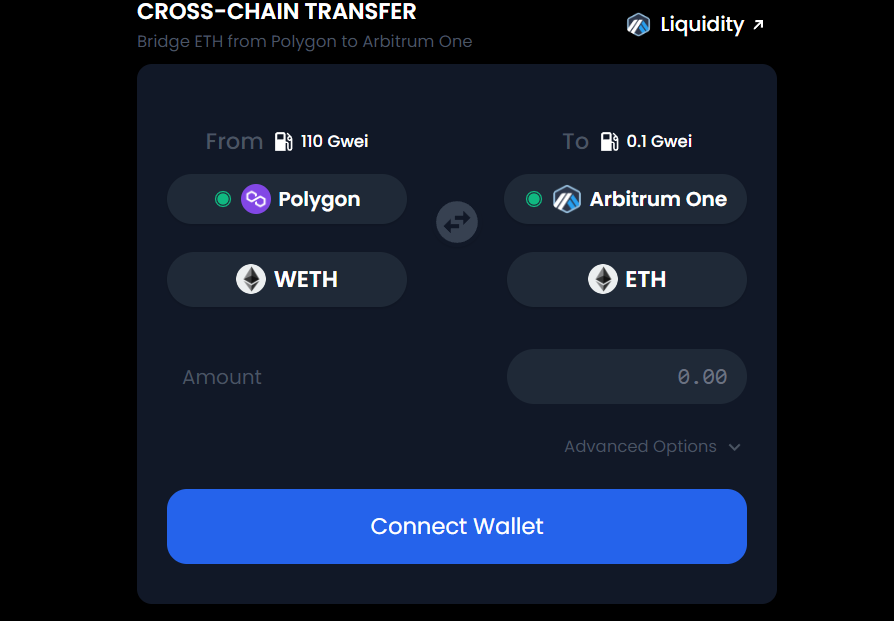 Every now and then, you discover a little piece of alpha and you just have to act on it. @anomadsoul told me about this project called Morphswap, which is a new cross chain bridge that just launched. When I say new, I mean very new. Use at your own risk, don't go buy the token just because I'm talking about it. Very risky. After grabbing some of the MS tokens, I knew I had to dip my toes into the cross-chain liquidity pools. Just taking a scroll through the different options on the platform, I saw insane yield percentages up to 150,000% for various pools.
Yield farming has its risks, especially on a brand new platform and a highly volatile token - so my strategy here is a little different. I decided I would provide liquidity to the MS (Polygon)/MS (Arbitrum One) pool as the APY was somewhere around 900% and I don't have to worry about 2 fluctuating tokens. It's just the Morphswap token on 2 different chains. Knowing little to nothing about Arbitrum, I assumed that I would need some tokens on that chain for gas fees. Turns out the tiny gas fees on Arbitrum are just paid in ETH. Easy enough.
I just needed to move some funds to Arbitrum One and I was good to go. Without ever touching a centralized exchange, I was able to trade bridge my HIVE to bHIVE on BNB Chain, Swap for ETH on BNB Chain, and the bridge straight to Arbitrum One. The power of decentralized exchanges and technology! Fuck the system. Here's what the Connext part of that looks like.
Head to the Connext Bridge, select the chains and token you want to bridge.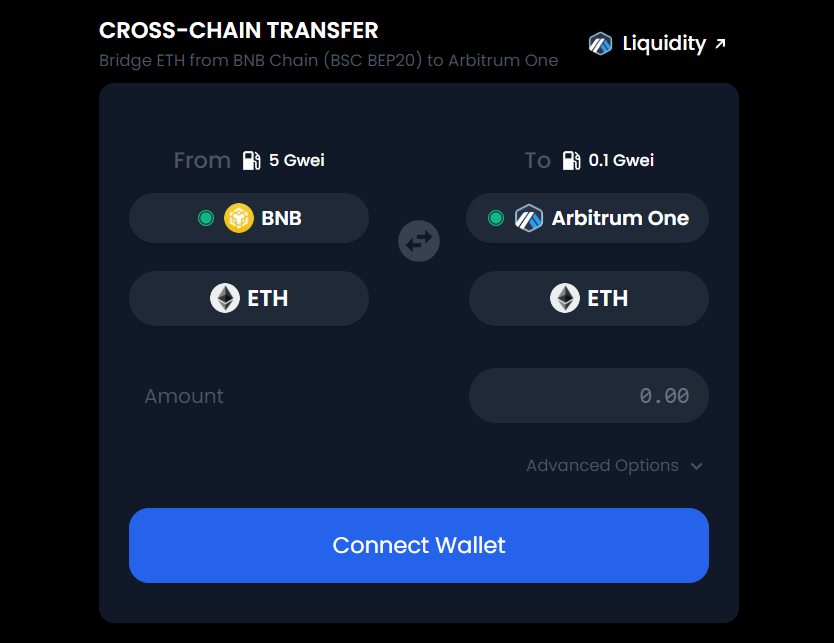 Enter the amount to bridge, and click Swap.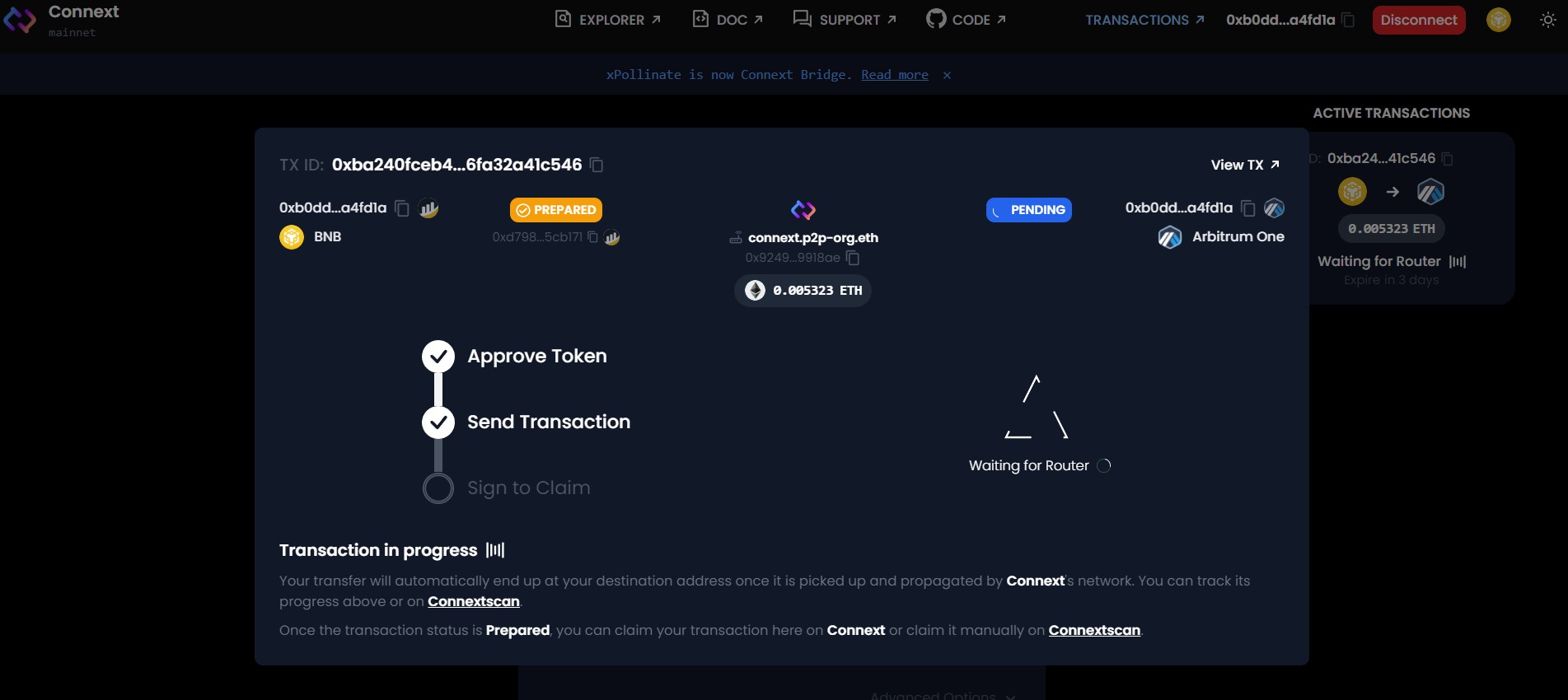 You'll be presented with this beautiful UI that shows the progress of your assets being bridged. Depending on the chains and network activity, your UI will update with a Sign to Claim button.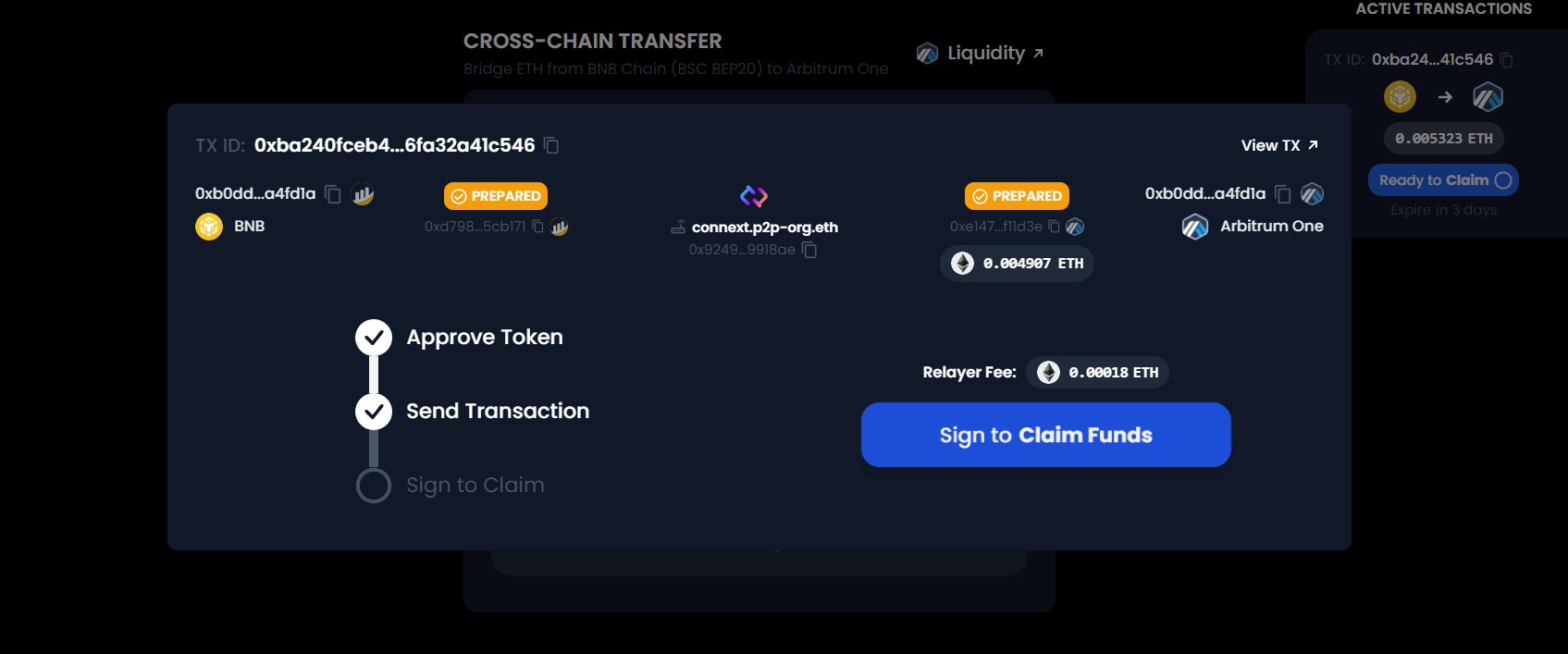 After clicking Sign to Claim, you're pretty much done. Your tokens will appear in your wallet in a few seconds. Talk about easy.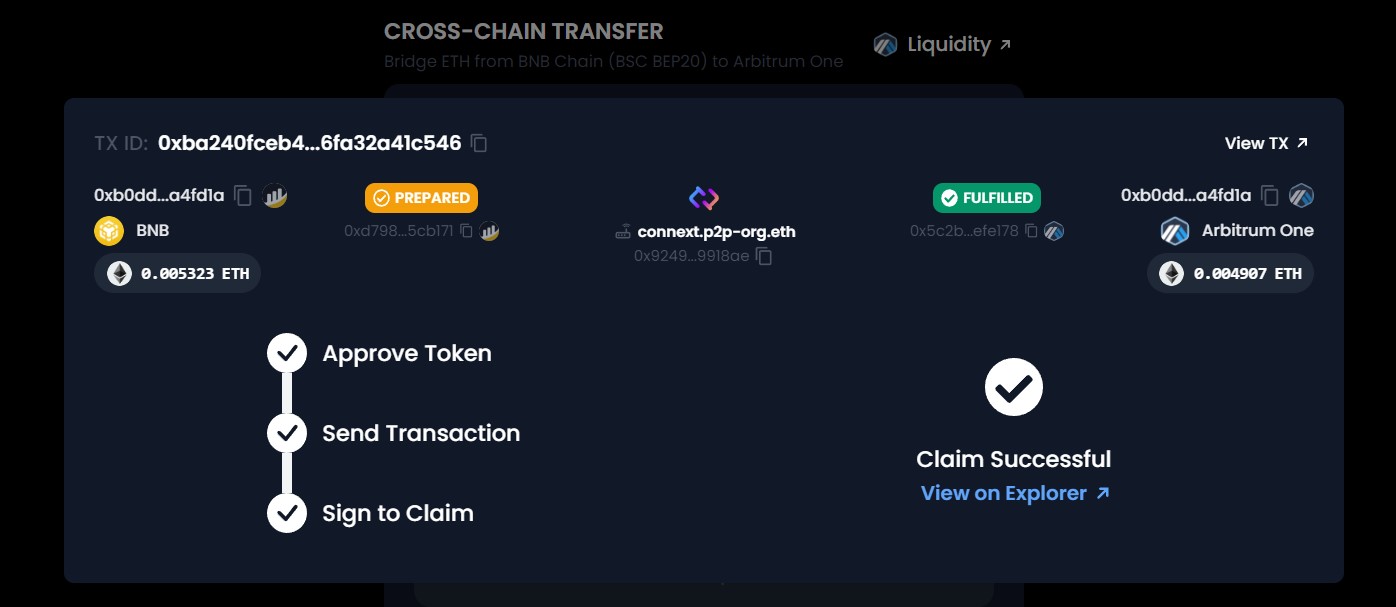 So in just a few clicks, I was able to move funds all the way from the Hive blockchain, which I earned from creating/curating content... To the Arbitrum One chain to do degen shit in a super new DeFi platform. Thinking back to how complicated it used to be to move funds across different blockchains is pretty wild, and that wasn't very long ago. Anyway - now you know how easy it really is to get involved on different chains. It all starts here on Hive for me.
I love how cheap the transactions are on Arbitrum One, but there's just not a lot of stuff that interests me going on with the chain. I checked dapp websites and found that it's mostly just NFT stuff and DeFi. Nothing wrong with that, but was hoping to uncover some kind of blockchain game gem. Oh well, it is pretty new and it's always good to be diversified. Maybe one day they'll do an airdrop or something. Who cares, I'm getting insane yield now by providing cross-chain liquidity.

Thanks for reading! Much love.
Wanna learn about all kinds of things you can do with the crypto you earn blogging on Hive? Check out my index - Learn Crypto Stuff for some fun educational crypto stuff.
Posted Using LeoFinance Beta