The Inevitable Will Happen
A new monetary system is coming. Historically this has happened every 40 years. This new system has always ripped the people off and enriched the governments. Luckily for us, we are no longer ignorant to what is going on. If the governments are the ones that benefit, lets look at what they are doing. There is clear accumulation of wealth in the form of gold by a large number of countries. Those countries are: Russia, China, Japan, Germany, Austria, Venezuala, Ecuador, Netherlands, Turkey, Iran, Iraq and many more. This is really alarming evidence evidence. Here are some of the potential outcomes: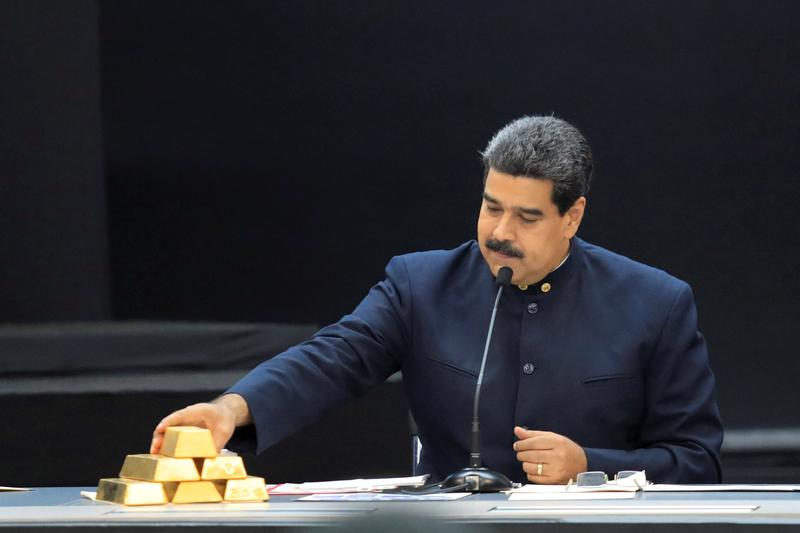 Source
Multiple Reserve Currencies:
Yet where is the anchor to this system? The anchor will keep exchange rates stable and thus more stable international trade. Previously, the anchor was the Dollar which was anchored to Gold. Yet, as we are aware, the US's anchor to gold was removed by President Nixon in 1973.
Special Drawing Rights (SDRs):
Essentially, these are an IOU for money. This is no different that the system that we have today. Currency is created from a swapping of IOUs from the Treasury and the Federal Reserve through the banks. SDRs are in essence the same yet have a different name. More of the same.
Gold:
Gold has a brilliant track record. It has been stable money for 5000 years. Gold is a sound money due to its properties. Technology enables us to overcome issues of portability and more.
Chaos:
Perhaps chaos is a catastrophic word yet there may well be ruin with a complete economic meltdown. Rioting and looting on the streets, every man for himself. This however does let the free market figure it out for itself. The resulting chaos could facilitate a return to gold and silver. Perhaps even a return to bartering too. Most significantly, we will see a total loss of faith in paper currencies, perhaps in sovereign issuers too.
Crypto:
Crypto does offer a solution to the problem, a brilliant one at that. The elephant in the room here is that Governments and central banks are unable to control and manipulate these currencies. What fun for them is that? Where will they get the money to fund all of the wars and rob people of their purchasing power through inflation?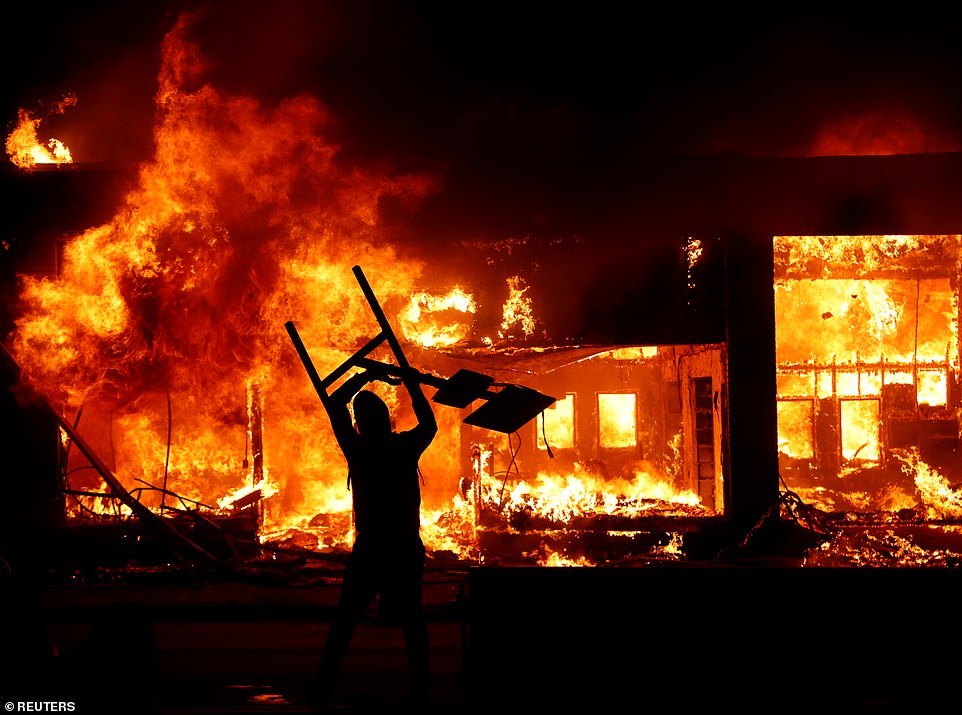 Source
How high can gold go?
To account for all of these trillions of dollars that are being printed, gold could reach at least $8,000. These aren't just fancy numbers picked out of the air, so let's do some math.
Historically, a suitable ratio of gold in central banks backing their currency has been 40%. This is a conservative one at best, arguably the backing should be at 100% but that is unlikely given the huge amounts of currency in ciculation. Taking the US as the first example, the US have roughly 8,134 Tonnes of gold.[1] Given today's gold price of roughly $1870 per ounce, and that there are 35,274 Oz in a tonnes, this would result in a gold price of $65,962,380 per tonne. Given that the US owns 8,134 tonnes of gold this results in a total price of their gold reserves to be $536,537,998,920 ($536.5 Billion). However, the currency supply of the US Dollar is around $5.5 Trillion [2]. This is only considering M0 and M1. Therefore, what we see today is that the gold backing the US currency supply is at a less than 10% ratio. If we were to see this increase to a healthier 40% we would see the price of gold increase 4x. This could see gold close to $8,000 per ounce.
Let's take the UK as an example too. The UK has an estimated 310 Tonnes of gold owned by the Bank of England. (This is not to be confused with amount of gold they have in their vaults. The Bank of England hold other countries' gold on their behalf but do not own that gold.) The price of Gold is around 1,390 Sterling per Oz. As there are 35,274 Oz in a Tonne, this would equate to a 49,030,860 Sterling per Tonne Gold. This would put the UK's gold reserve at 15,199,566,600 (15.2 Billion). The currency supply of the UK (M4) is 2.11 Trillion.[3] This leaves the UK Gold/Currency ratio at 0.7%. To reach a 40% backing, the price of gold in the UK would be 571x higher per ounce! This would cause a 794,285 Sterling Per Ounce of Gold. This sounds rediculous but the maths is sound.
There may reach a point where people aren't concerned with the dollar price of gold. This is because of the loss in faith of the US dollar as noone sees it as valuable. Just think of the Zimbabwe Dollar for some context. Hyperinflation is nothing new!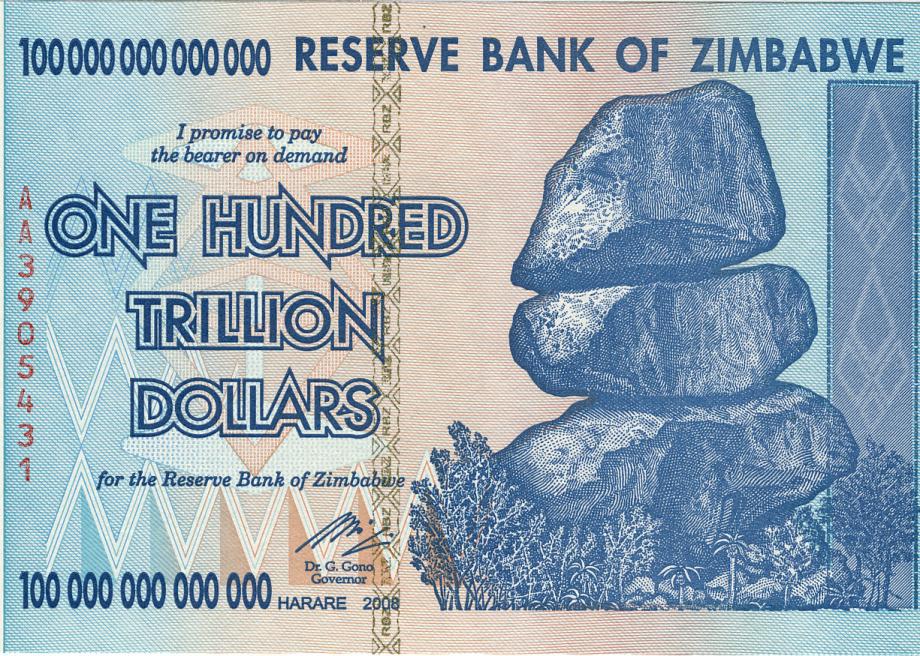 Source
There is an opportunity for the greatest wealth transfer in history and this will not happen again in our lifetime. There were more millionaires created in the great depression then any other time in US history. This COVID pandemic, financially, has been the worst financial seasons in history. This is kept very quiet in the news, however. Educate yourself and be diligent.
What's important to note isn't necessarily the numbers on the screen when you look at your bank account or the dollars in your pocket. What is important is the value of the assets that you have. When I think of something like bitcoin, I think of how valuable it is: transparent, immutable, borderless, open, programmable sound money. The positives go on and on.
If you were on the Titanic ship and you knew it was going to sink, would you get into the lifeboat nice and early? Maybe close to the side by the water and close to the food supply? Maybe even grab a blanket while you're at it! Or are you going to wait until the ship has hit the iceberg, is already going down and you have to jump off the side of the boat and hope and pray that you can swim over to a lifeboat that may or may not have enough room in it! The choice is yours.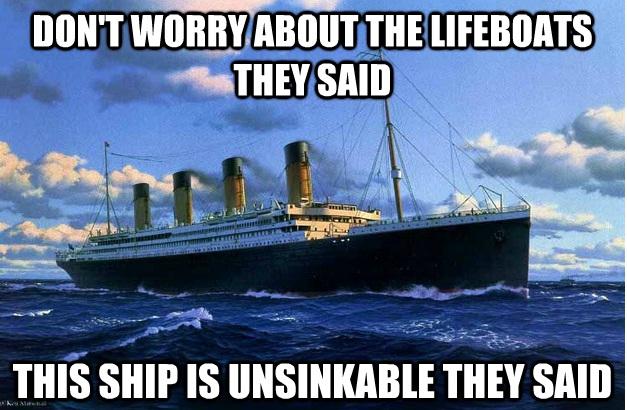 Source
---
Financial education is really important, especially right now. COVID is happening and there are significant health and social reciprocations. Yet it is important to understand the financial implications too and what is going on behind the scenes. Please continue to read my blogs about financial education and crypto as they come out. This is aimed to educate people who know nothing about these topics with the aim of having some protection when an inevitable financial collapse happens.
Currently, if you are new to this, you are not too late. The talk in crpyto is that if you aren't already in you are too late. This is not true. This is not true for gold or silver either. There is still an opportunity to educate yourself and make appropriate decisions for yourself!
Please upvote, reblog, and comment! I look forward to your thoughts on these topics too as I want to get this discussion going! Thank you.
---
Posted Using LeoFinance Beta