We are planting again
Another dCrops season begins, and this time around I'm better prepared since I went on another shopping spree the last couple of days. I'll make sure to provide another shopping report for those interested, as it is a good way for me to keep track of my purchases and get my hands on the necessary data in order to reach safe conclusions regarding the performance of my investment.
The Beta edition rollout is roughly a month away now, and I honestly can't wait to see what the future has in store for the project. The creator of the game shared some spicy sneak peeks in the game's official discord server a couple of days ago, giving us a taste of Beta edition magic. I have to admit that I'm quite excited about the way this game is evolving. Hopefully the new edition will add a ton of value to the previous one and make me a very happy man.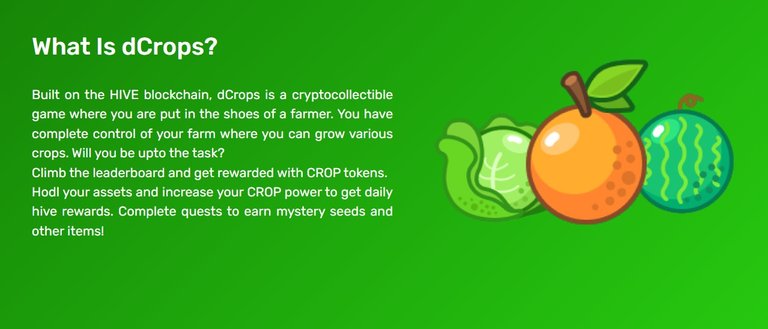 Source: dcrops.com
The upcoming implementations have been reason enough for me to try and get my hands on as many Alpha NFTs as possible, and as a result, I've spent more than 300 HIVE buying up seed NFTs from the market as of late. I've now almost reached my goal of maximizing output for every season; in fact, I only need to buy another 16 seed NFTs for my fancy crop factory to reach full capacity. 6 more Radish NFTs and 10 more Garlic/Carrot NFTs and I'm all set.
Once done, I will start stacking ammo for the upcoming Beta edition sale, as I will be looking to buy as many Beta packs as possible. I've learned my lesson this time around though, and will try to just buy the NFTs I like directly from the market instead of opening packs. I've realized that unopened packs bring a much higher ROI in the long run, plus I prefer to just take luck out of the equation anyway.
Let's get to it
Season 29 it is, and it's Spring season. Even though this is probably my worst season of the game, all farmlands are occupied and will stay that way until at least day 10, when I will get the pleasure of harvesting my Cauliflower crops. I'm holding 64 of those bad boys though, so it kind of hurts to just leave 64 land plots completely empty for 5 out of the 15 days of the season, thus I will use some Mystery Seeds combined with Speed-Gro upon harvest and hope 5 days will be enough for most of those to produce crops.
After all, those Mystery Seeds were earned as quest rewards, and considering the fact that I can't exchange them for anything for the time being, I guess it won't hurt to just take my chances.
Here's a close-up view of my CROP factory: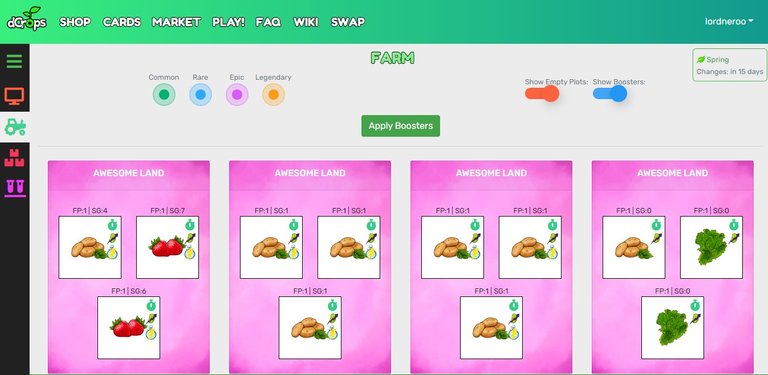 And here's the full story: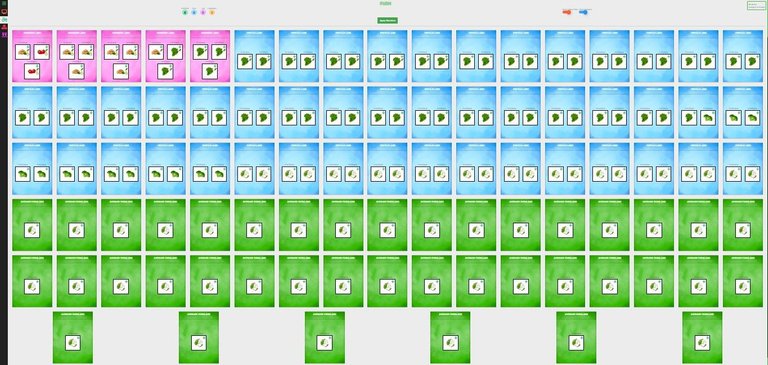 Holy moly!
I decided to start the season by planting 2 Legendary, 8 Epic, 64 Rare and 73 Common NFTs. Applied a ton of Speed-Gro on the first 3 land plots to take advantage of my legendary NFTs' special ability to keep producing till season ends, and also used Ferti-Plus on the first 17 land plots in hopes of scoring some 2-star and 3-star quality crops on my Epic and Legendary seeds.
It is worth noting that all boosters used this time were earned through last season's reward chest. I made sure to start a new quest and also rerolled some of the sub-quests I was dealt before planting anything, so more boosters and reward NFTs are on the way.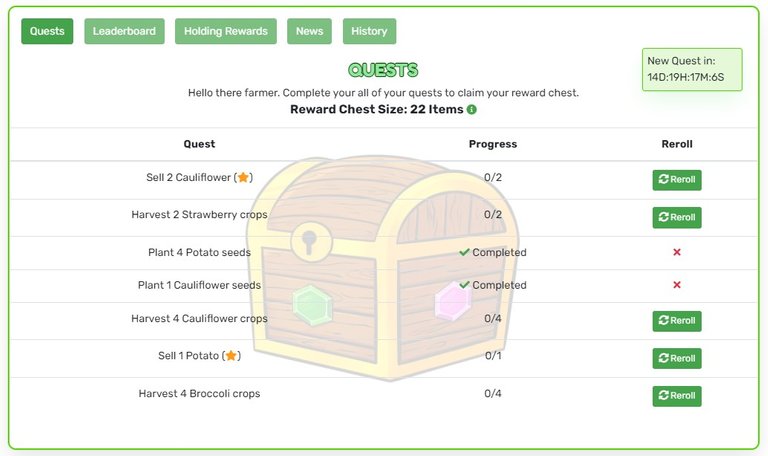 Spring season breakdown
This time I am planting 2 Legendary, 8 Epic, 64 Rare and 154 Common seeds. As mentioned, not my best season of the game, but it's going to be another quite productive season nevertheless.
Lands:
5 Awesome (Epic)
46 Fertile (Rare)
40 Average (Common)
Seeds (S):
Strawberry (Legendary): 2
Potato (Epic): 8
Cauliflower (Rare): 64
Kale (Common): 68
Broccoli (Common): 86
Base selling price (B):
Strawberry: 7
Potato: 10
Cauliflower: 24
Kale: 7
Broccoli: 7
Quantity produced (Q):
Strawberry: 4
Potato: 7
Cauliflower: 1
Kale: 2
Broccoli: 2
Expected share rewards (E) (minimum):
E = Σ[Si x Bi x Qi], n = 5 =>
E = (2x7x4x5) + (8x10x7) + (64x24x1) + (68x7x2) + (86x7x2) =>
E = 4,532
Once again, please bear in mind that this is the minimum amount of shares to be earned; I will score more shares if I get lucky and harvest some 2-star and 3-star quality crops, not to mention the fact that my Potato seeds have a +25% chance of producing multiple crops on harvest. Furthermore, I will use my Mystery Seeds on day 10, and no one knows in advance what they will turn out to be.
Final thoughts
The #play2earn movement is here to stay and will keep getting bigger with time. Hive is hands down the best blockchain in the space when it comes to supporting dApps of all sorts effortlessly, and it comes as no surprise that it already offers some of the best #P2E games out there. dCrops is one of those hidden gems you wouldn't want to miss.
We are just getting started.
---
Join the fun
Haven't tried dCrops yet? You can sign up using my referral link - it's mandatory! xD
Want to stay tuned with the latest developments? Follow the game's official blog on the Hive blockchain.
Looking for more info? Join the game's official discord server.
---
Never forget!
NFA - DYOR
I'm just a random guy with opinions. This is by no means financial advice. Just my personal thoughts and experiences.
Have a good one everyone!
@lordneroo
Posted Using LeoFinance Beta