As we are nearing the end of Season 30 in dCrops, and with the Beta Edition Presale less than four days away, I just managed to complete my Season Quest after harvesting some Watermelon. See, those bad boys take twelve days to produce crops, which is the main reason why I won't be buying more of those in the foreseeable future.
Apart from the Legendary Raspberry seeds, Tomato and Wheat #NFTs are the MVPs for the summer season. My crop factory has now reached full capacity across all seasons, but if I ever were to engage in land expansion, those are the seeds I would try to add more of to my inventory.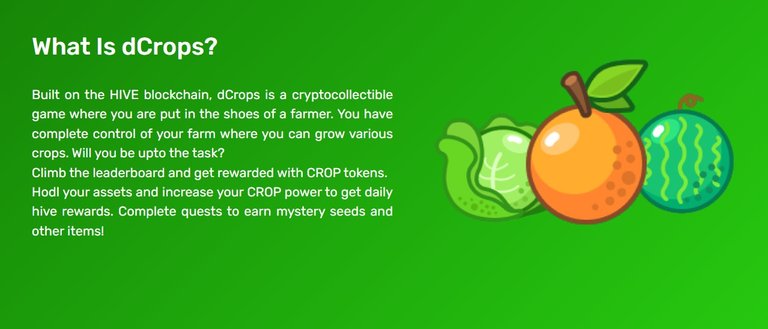 Source: dcrops.com
Tomato seeds keep producing till the end of the season, and Wheat seeds take only 4 days to produce. These attributes are extremely important and boost production significantly. Anyway, enough with my irrelevant gameplay tips, let's get down to business.
Season 30 Quest Rewards Breakdown
Less than four days to go for Season 30. Once again, this time around I did reroll all sub-quests I didn't like in order to only have to work with seeds and crops from the ongoing season. Keep in mind that you need to do this at the start of each season, before planting anything.
Did I just share another tip again?
After completing the last sub-quests, I was rewarded with a chest containing 20 items in total. I hate to say it but no, still no Rare, Epic or Legendary Reward #NFTs for me. Oh God.
I guess Lady Luck won't dance with me.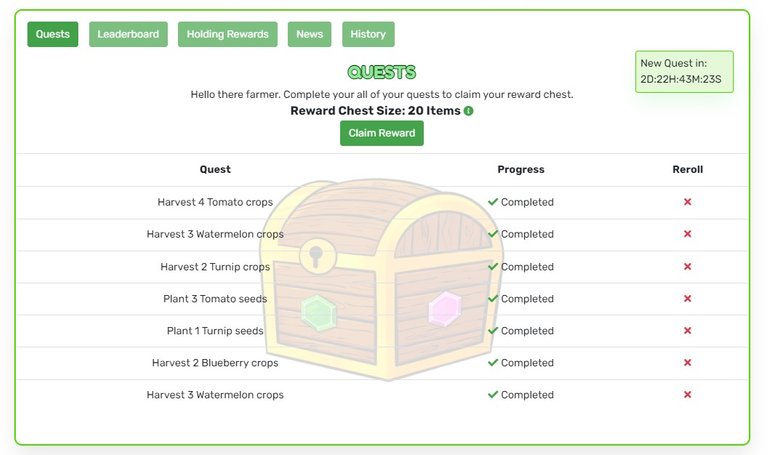 Here's a quick breakdown of the goodies in my loot:
1 Speed-Gro
9 Ferti-Plus
8 Mystery Seeds
2 Stone NFTs
Total value of Speed-Gro: 30 $CROP / 0.13 $HIVE
Total value of Ferti-Plus: 225 $CROP / 1.01 $HIVE
Total value of Mystery Seeds: 320 $CROP / 1.44 $HIVE
Total value of Reward NFTs: 6,000 $CROP / 4.00 $HIVE
Total value: 6,575 $CROP / 6.58 $HIVE / 3.08 $USD
Not bad at all.
Yes, you can have a look at those babies: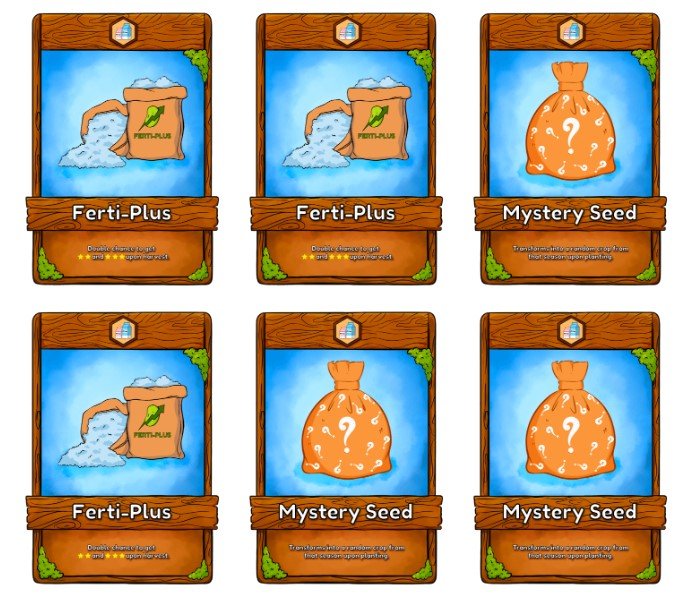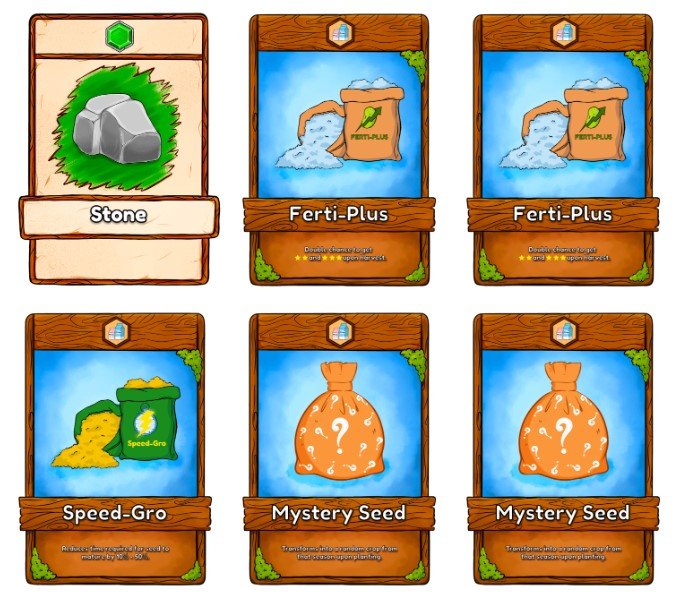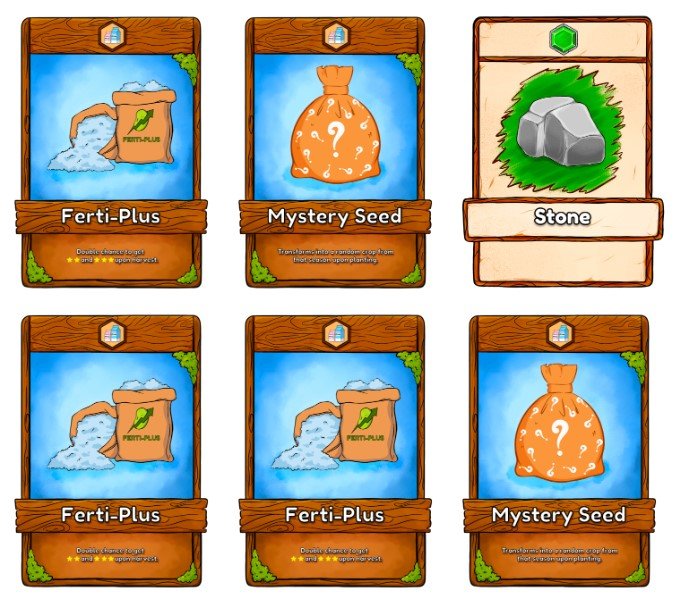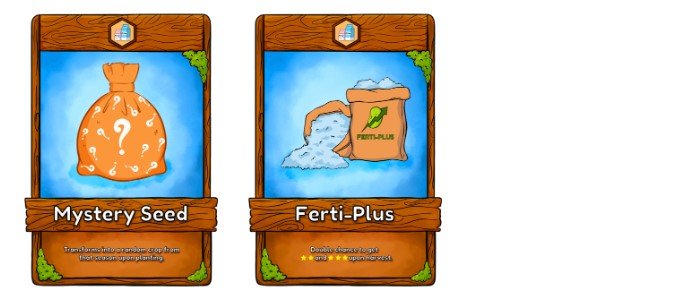 Thoughts and Plans
Not enough space nor time to use those 8 Mystery Seeds at the moment, and I'm afraid that this is going to be the case next season as well. I'll just keep them around for the time being since there's not much one can do with them besides planting them. Maybe I will manage to combine them with some Speed Gro come Season 32.
There's always space for more Speed-Gro and Ferti-Plus, so not only will I be using all earned boosters on my Legendary and Epic seeds next season, but I will also buy some more Speed-Gro to go with that. I've mentioned it before, but here goes another gameplay tip:
If you're planning to apply boosters, remember to do so before planting anything for them to take effect.
Once again, no plans in particular for my Reward #NFTs, since I need to know all the necessary details regarding the Beta Edition expansion economy and mechanics in order to reach safe conclusions. July 25 is only a few days away though, so I can wait.
Don't miss the Presale
Exciting times ahead. dCrops is coming out of Alpha and I can't wait to play with the new implementations. This is your chance to join the farming madness on the blokchain. You can read the Official Announcement for more information.
Too busy? I've summed up all the relevant deets in a recent post:
Presale starts on July 25
Each Beta pack costs $3
You can pay with HIVE, SWAP.HIVE, HBD, SWAP.BUSD and CROP
Presale will last for 30 days maximum, or until 100k packs have been sold
Presale packs will be sold at a 10% discount
All presale packs will be eligible for a limited-edition promo card
Bonus packs included for bulk purchases
Each unopened Beta pack adds 2k CROP Power to your stack
Top 3 presale buyers will be offered a chance to contribute to the design of 1 NPC character each
Happy farming and I will see you around!
---
Join the fun
Haven't tried dCrops yet? You can sign up using my referral link - it's mandatory! xD
Want to stay tuned with the latest developments? Follow the game's official blog on the Hive blockchain.
Looking for more info? Join the game's official discord server.
---
Never forget!
NFA - DYOR
I'm just a random guy with opinions. This is by no means financial advice. Just my personal thoughts and experiences.
Have a good one everyone!
@lordneroo
Posted Using LeoFinance Beta