Time to get busy
With the market showing signs of relative strength and some of the best alt projects scoring significant gains over the last 24 hours (I'm looking at you, RUNE and MATIC), I've decided - besides probably a million other things - to step up my Splinterlands hustle and engage in battles a lot more frequently. As a result, yesterday's Focus Quest was possibly the most rewarding daily Quest I've ever completed.
Quest Rewards breakdown
My loot consists of some DEC, three Potions and a bunch of Common and Rare NFTs, and I think it's safe to say that it was a good day at the office taking into consideration the fact that I'm only competing in Silver III with less than 16k active Collection Power.
Have a look: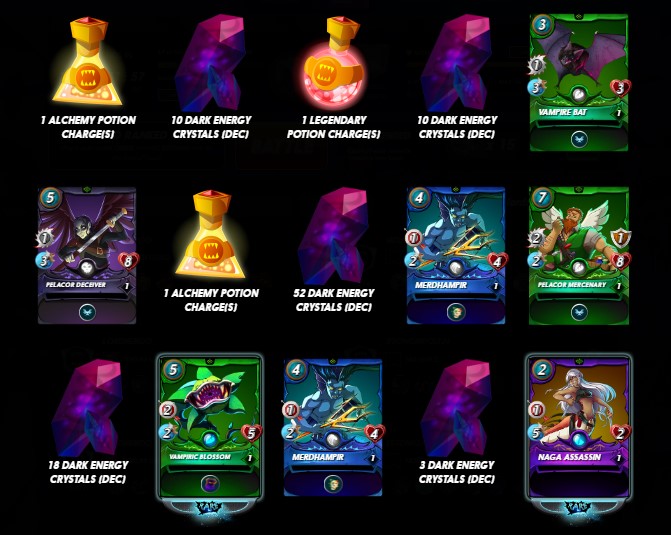 93 DEC
2 Alchemy Potions
1 Legendary Potion
5 Common NFTs
2 Rare NFTs
Total market value of NFTs: $0.09
Total burn value of NFTs: 65 DEC
Collection Power added: 65
Between the lines
This may not look like too much, but in reality it's an increase of roughly 0.35% for my total Collection Power, and it took less than 2 hours of my time while I was chilling with friends on a Sunday evening. The more I spend time playing the game, the better I realize that now is the time to plan and build. The #Play2Earn frenzy is no joke, and I've got a feeling that even though it has already achieved great success so far, Splinterlands is just getting started.
But hey, that's just me.
My total Collection Power is now 18.34k, and with the rate at which I'm earning chest rewards on both a daily and a weekly basis, I think I might be able to unlock higher Leagues sooner than expected. I've said it before and I will say it again: the new rewards system has made the game a thousand times more interesting.
Splinterlands is now more #P2E than ever.
Thinking forward
Last season was a total fluke as far as I'm concerned, as I was way too busy playing online poker to participate. I've got a feeling it will be more of the same this week considering that the MicroMillions officially started yesterday, and even though these are tournaments with higher variance, there's way too much prize money involved to ignore. However, I will definitely make sure to step up my crypto grind and look to build more instead of just buying with fiat.
I need MOAR!
Final Thoughts
Even though most seem to think that we are in a bear market, which I'm not going to argue in this post, it's still evident that the space is currently booming. There's a lot of progress being made on a daily basis and a lot in the works, which is pretty crazy considering that we already have access to a plethora of options and opportunities as the product of what has been roughly thirteen years of blockchain development.
We will always have to research and weed out the trash, but the #P2E industry is primed for success, and I believe Splinterlands will keep shining as the years go by.
But then again, that's just me.
---
Join the fun
Haven't tried Splinterlands yet? You can sign up using my referral link - it's mandatory! xD
Want to stay tuned with the latest developments? Follow the game's official blog on the Hive blockchain.
Looking for more info? Join the game's official discord server.
Never forget!
NFA - DYOR
I'm just a random guy with opinions. This is by no means financial advice. Just my personal thoughts and experiences.
Have a good one everyone!
@lordneroo
Posted Using LeoFinance Beta