Hello friends and readers of my blog, there is no doubt that the macroeconomic situation since the last FED announcement has not changed, it is even estimated that in the following months the economic and financial context may worsen, now, in the case of the cryptocurrency market the scenario seems to have reached a point of equilibrium in the price action.
When I say that I believe the cryptocurrency market seems to have reached a break-even point in price action, I put it that way by assessing the rise that most of the major cryptocurrencies have had by market capitalization, specifically Bitcoin has been hovering between $21,000 and $24,000, while our local Hive currency between $0.55 and $0.60.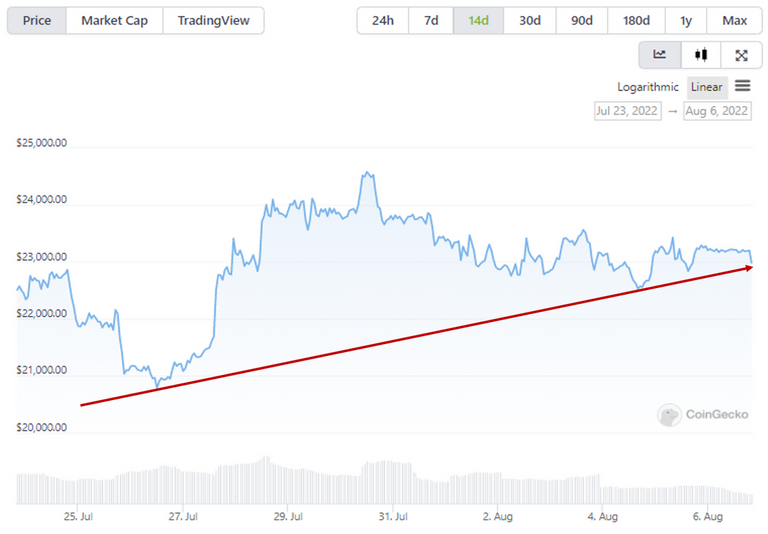 What I am trying to express is that at least in the short term a price breakout may develop that will probably lead us to a new bull market for Bitcoin, this if we consider that the current structure seems to indicate a move in the direction of $30,000.
We must take into consideration that Bitcoin managed to overcome the famous and very important 200-period moving average after two months down, and this action according to experts is the seventh time in its history that it does so, and this has always been the prelude to a major recovery that trigger impulses in the short term.
What has been described so far seems to indicate that we are in an accumulation zone, therefore, there are high probabilities of creating conditions in the short term to put an end to the bear market and enter a zone of important bounces that will somehow allow us to recover optimism about the future of the cryptocurrency market.

SOURCES CONSULTED
CointeleGraph
Bitcoin price: weekend volatility 'expected' with $22K level to hold.
Link

OBSERVATION: