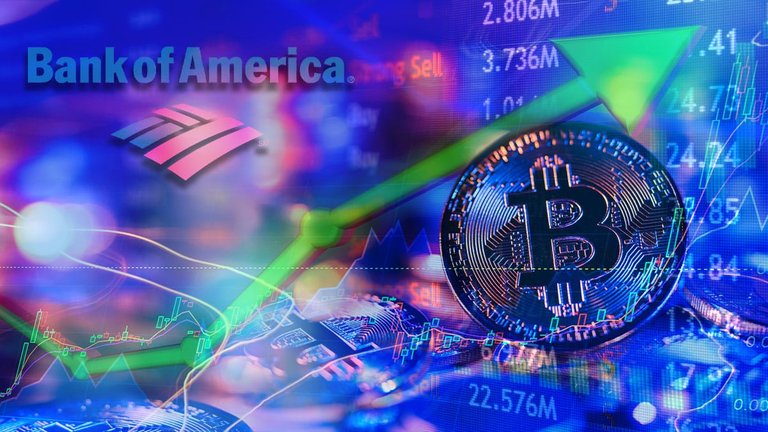 Hello dear readers and followers, today we will talk about the recent report of the prestigious financial institution "Bank of America" on cryptocurrencies and digital assets, where they have pointed out that there are bullish factors in the cryptocurrency market, among which they cite the incoming flows of stablecoins to Bitcoin, as well as the increase in outgoing flows of Bitcoin from the exchanges.
According to Bank of America executives, the downward selling pressure is shifting towards a predominantly buying sentiment, an element that has undoubtedly been appreciating in the last two weeks, so an increase in price action in the coming weeks is not out of the question.
Among the conclusions of the Bank of America executives, they infer that although the cryptocurrency market is "unpredictable", it is capable of creating value and claim to disagree that blockchains and applications do not have an intrinsic value.
According to Bank of America executives, the four major stable currencies by market capitalization (USDT, USDC, BUSD and DAI) have experienced three consecutive weeks of net inflows to exchanges totaling $1.4 billion.
These flows of stablecoins to exchanges could be considered bullish, in contrast to the inflow of volatile cryptocurrencies, such as Bitcoin or Ethereum, the research notes.
The flow of stablecoins to the exchanges indicates that investors are entering with intent to buy. These inward flows of stablecoins are most notable against the most recent notable increase in outflows of $437 million, which occurred in late June and early July.
Another bullish indicator mentioned by Bank of America executives is that the flow of bitcoin out of exchanges has continued. Glassnode published on June 29 that BTC inventories on exchanges continue to decline and have reached, as shown in the graph below, 12.6% of Bitcoin circulating.

SOURCES CONSULTED
JournalTime
3 Bullish Signs In Bitcoin That Suggest A Change In Trend, According To Bank Of America.
Link

OBSERVATION: