Hosted by MrFreeman & PopeBlack on the Alter DApp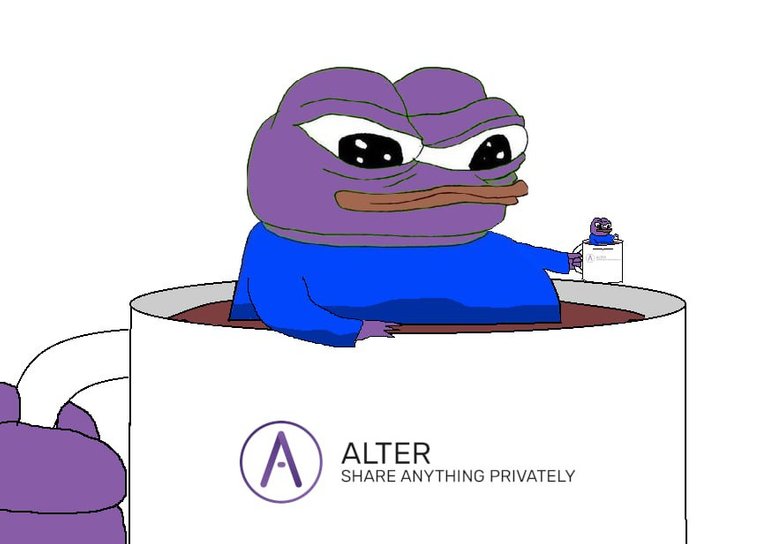 Q: Could you please introduce yourselves and tell us a bit about your backgrounds?
MrFreeman: Thanks for the question! My personal background is in finance and management. I've built several startups before, one with project consulting as a side-hustle, and after that I built my own KYC/AML automation platform. When it comes to my co-founder, Alexey, he has more than 20 years of experience as an engineer and full-stack software developer. He was one of the first people to start a private, bare-metal server setup in the Baltic States back in the early-1990s. We both have worked on a project for some time, that is how met.
Q: Can you tell us more about the origins of Alter Network and the problems it aims to solve?
MrFreeman: Alter is a safe and private communication platform that offers a wide range of mini-services inside of it. Similar to Slack and Discord, but with additional file management. Every user owns his or her own private key, using the same approach as a mnemonic phrase. We are utilizing the Secret Network to store confidential data on-chain, such as IDs, Aliases, and Private and Public Keys (this is optional - if a user wants to connect with the Kepler Wallet, they can maintain two ways of logging in). The metadata of the messages is saved on-chain on the Secret Network. After doing our research, we understood that the market lacks any true private solutions where everyone can feel safe and no one is looking over your "shoulder."
Q: How does Alter Network differ from other blockchain platforms and what unique features does it offer?
MrFreeman: In general, we have combined two things on our side: use of the blockchain for Web 3 users via the wallet and use of smart contracts, but in a very well-managed user experience. This way, the gas costs are handled on our side, while the users are enjoying safe communication! Utilizing the Secret Network smart contracts gives us a lot of advantages when it comes to safekeeping private information (connected a bit to the previous question's answer).
Q: Since Alter is pushing user privacy adoption, there will be nefarious people who will attempt to get access to users' data and violate their privacy, while seeking to harvest information, messages, and conversations, to mention but a few things. How is Alter working to tighten its security measures to avoid issues and threats such as these?
MrFreeman: First of all, the platform, itself, is built in a way that if ALTER is compromised, the users' data will never be able to be decrypted, since the users' private key is stored on the end-users side, in addition to the decryption & encryption that takes place on the end-users' device. Furthermore, the hacker then will need to hack every single users' personal device to access all of the historical data, which I would say is nearly impossible. (P.S. there are no 100%, sure-fire guarantees, even from doctors. A mass wave of a virus that infects every Internet-connected device would be the way to attack Alter).
Q: Seeing what you guys are building, there will likely be competitors in the future who will offer similar solutions. How do you guys plan to remain the best and be on the front lines of private communication?
MrFreeman: The best way is to deliver the friendliest user experience with the highest standards of the privacy, along with easy integration and user on-boarding.
Q: Could you walk us through a use-case for Alter Network and how it could benefit users?
MrFreeman: In terms of a communication platform, we are offering users privacy and data protection, as well as an easy-to-use interface that offers such high-grade security. There are always two things that you must balance: user experience with privacy & security. When it comes to high-end infrastructure for data-encryption and privacy, one of the biggest use-cases is multi-chain & multi-platform integrations, while providing such access to any application on the Web 3 and Web 2 side.
Q: What is the role of the $ALTER token within the network and how does it provide incentive to network participants?
MrFreeman: The $ALTER token is the access token for the Alter platform, and is used to pay for subscriptions, increasing file management storage capacity (from 50 Gigabytes), and soon, to incentivize a referral program. $ALTER tokens are accruing value from the validation carried out by other networks, and, with the buyback and burn, is deflationary and tied to the product's success. We recently announced our token update here on our official blog.
Q: Is the Alter Network planning to expand beyond the Cosmos Ecosystem, for example, supporting more EVM-compatible wallets such as MetaMask and Trust Wallet?
MrFreeman: Yes
Q: What is your roadmap for development and adoption of the Alter Network, and what milestones are you most excited about reaching?
MrFreeman: We have published our roadmap on our blog. The attention is focused on improving the user experience, adding mini features and concentrating on integrations so the ALTER platform can be easily-adopted throughout the Web 3 space. One of the most exciting upcoming releases is actually the ALTER SDK integration package that will enable an easier connection with our infrastructure.
Q: How does Alter Network address scalability, privacy and security concerns, particularly as the network grows and handles more users?
MrFreeman: Good question. We are actually the only platform that currently supports 700 users completely with End-to-End Encryption with perfect forward secrecy setup for the users. So far, Signal and Session are not able to support such large numbers of user in the same way. Our challenge is always to improve the speed of encryption, since everything around that happens on the end-users' device, including decryption.
Q: Do you have plans to improve community navigation on the Alter DApp?
MrFreeman: Yes, we will be improving the community on-boarding method and joining process, as well exploring ways that we can make public group chats more accessible to the people.
Q: What partnerships or collaborations is Alter Network currently working on or planning for in the future?
MrFreeman: Alter is increasing collaboration with almost all Layer-1 blockchains within the Cosmos Ecosystem, from providing the SDK and whale chats, to expanding Stake-To-Access. One of our upcoming partnerships that is really big is yet to be announced, so we are very excited about the future of Alter!
Q: How does Alter Network plan to engage with and grow its community, particularly in terms of education and awareness?
MrFreeman: We have already finished the planning stage of new marketing strategies. In the upcoming days you will see a lot of new engagement based on our efforts, raising the business-development ladder as well getting the information out about ALTER through different social media platforms. Additionally, we will collaborating with a platform that has an access of over 130,000 users.
Q: Are the ALTER team well-experienced to be able take this business to the next level?
MrFreeman: Yes, we have recently on-boarded a strong business-development specialist as well a dedicate marketing professional that are setting up our execution plan throughout different platforms. We prefer to view ourselves in the best light possible, of course, but there is always room to grow in the Web 3 space. The landscape is always changing quickly, especially in terms of technology and products that can be utilized and complimented by the Alter platform. When it comes to the developer side, our team has an average of 8 years of experience.
Q: Being the first Web 3 privacy-focused communication platform, what are the biggest challenges the team has faced in building this wonderful project?
MrFreeman: Web2 users, because they are very connected with and dependent upon the username + password era. This reminds me of the same period in the banking industry, when industry members began giving out code calculators to access the internet bank. The majority of people just didn't wanna use it and preferred to visit the physical bank branches. I think the "wallet" experience and popularity will soon become more popular than the username and password way of accessing applications online. We need to make it easy to onboard with a web-based wallet and create other alternatives to those wallets, while taking into account the privacy and user experience aspect. As mentioned before, we have improved and used encryption libraries and improved the UI speed for encryption and decryption of data on end-user devices. We built our smaller tester, and so far we have tested on 14 different computers and 20+ mobile devices.
Q: What do you think sets Alter Network apart from other blockchain platforms and networks?
MrFreeman: The team, for sure, since we have lots of experienced and highly-responsible people working on Alter. When it comes to the use of the Secret Network, there are no other privacy-based networks that can offer programmable, private smart contracts with that technology. Using hardware encryption, private & confidential computing will offer the next generation of private communications methods.
Q: What can we expect to see from Alter Network in the near future, and how can we stay updated on your progress?
MrFreeman: Follow us on Web 2 and Web 3 social networks, check-in on the OG Channel on Alter DApp. There are always new updates and info "leaked." Definitely keep your eyes opened for the next announcements! Visit https://comms.alter.network to learn more (P.S. new website coming!!)
Q: How do you intend on improving the UI of this alter app?
MrFreeman: We love our communities feedback and we always try to fix any issue ASAP. At the moment we are looking into improving the user experience, which will be one of the major things we are working to achieve in 2023.
Q: I get the privacy idea, but is it possible for us to be able to set a nickname instead of this code as our username, so that it would be easier to identify one another?
MrFreeman: That will be added, users will be able to make their username "private" or "public."
Q: How many Stake-To-Access users are there currently?
MrFreeman: So far there are 1,010 wallets connected.
Q: What is the distribution schedule of the $ALTER token?
MrFreeman: It is available in one of our blog posts here.
Q: What other chains have been reached out to as additional validators?
MrFreeman: At the moment, Osmosis Network, Quicksilver Network, Archway Network, Atom Network, Sentinel Network, Stride Network, and the Omniflix Network!
Q: Is Storj a set-in-stone storage provider or will others be tested and/or added?
MrFreeman: No, it was chosen because they have the best integration at this time. So far, only Storj supports S3. We are working towards integrating IPFS into our platform.
Q: What is the status of the Alter-to-External E-Mail Bridge Protocol?
MrFreeman: We are planning to add this later on once we finalize the more important parts of existing features.
Q: Will we be able to import contacts files?
MrFreeman: Yes, for an example, .txt file formats.
Q: Will the ability to add profile pics be enhanced?
MrFreeman: We are already working on that and it should be included in the upcoming update.
Q: Will user profile pages be added to?
MrFreeman: Not in the expected product update.
Q: Will Link Previews, Videos, and Picture Messages be added to the Alter DApp?
MrFreeman: We are already working on that and it should be included in the upcoming update.
Q: Are there plans to test other Video & Audio Chat apps within ALTER other than Huddle01?
MrFreeman: Yes, of course. At the moment, Huddle01 was the most viable option to use.
Q: What are the current uses for $ALTER tokens and what other use cases have been proposed or tested?
MrFreeman: Subscription payments. Incoming: ALTER Pay / Increase file storage / ALTER ID unique name selling and buying / Staking to earn additional rewards from the validator commissions
Q: Were there plans to get $ALTER listed on Decentralized Exchanges such as Crescent Network and ShadeSwap, as well as derivatives such as StakeEasy and Stride?
MrFreeman: Yes, that is in progress.
Q: Will we have a standalone Alter APK for Android and a functioning Linux desktop App?
MrFreeman: Yes, we have already incorporated that into our roadmap, and as for Android, it is currently in-development.
Q: Will ALTER have a QR code-scanning function for additional login options other than the risk of private key being keylogged on PC/laptop/mobile device?
MrFreeman: Yes, there will be a better alternative for logging in.
Q: Integrations for StarShell web wallet & remaining logged in via Fina Cash after switching back and forth from another mobile app?
MrFreeman: Yes.
Q: How does ALTER differ from Session, in terms of the back-end blockchain, storing messages, and the use of Huddle01 vs Session's Onion-Routed video/voice messaging?
MrFreeman: We're not using public, large data center infrastructure like Session does. Our routing is not involved in the following countries: Germany, Saudi Arabia, or the United States. If you check more closely where the messages are being routed on Session, there will be always these three countries mentioned. They are members of the Five Eyes global surveillance network.
Q: What is the status of Trivium Pay? Will there be other payment options for purchasing ALTER membership and access?
MrFreeman: ALTER Pay will be integrated in the upcoming upgrade, so very soon. No other payment options will be available in the near term.
Q: Were there plans to integrate in-app P2P private payments via $ALTER, $sXMR, $SHD, $SILK, etc?
MrFreeman: All supported tokens from the Secret Network will be usable via the ALTER Pay feature.
Q: Does Alter have an advertising and marketing budget, plan, and/or strategy?
MrFreeman: We have revived a better plan for marketing activities using Crew3, as well partnering up with a incentivization platform, and listing in different social platforms about our product. Focus on integrations will be a massive growth vector for Alter.
Q: Has ALTER made progress in Search Engine Optimization – specifically in getting higher up on Google Search results, Presearch, Brave Search, DuckDuckGo, or Bing?
MrFreeman: No, we are not using any SEO for our website and we have disabled any tracking cookies possibility on our website due to privacy reasons. We don't stalk our users and we are sacrificing our public profile and awareness for that.
Q: Are there plans for Alter's YouTube channel and any other visual media platforms?
MrFreeman: Cointelegraph.com is one of our targets to use.
Posted Using LeoFinance Beta