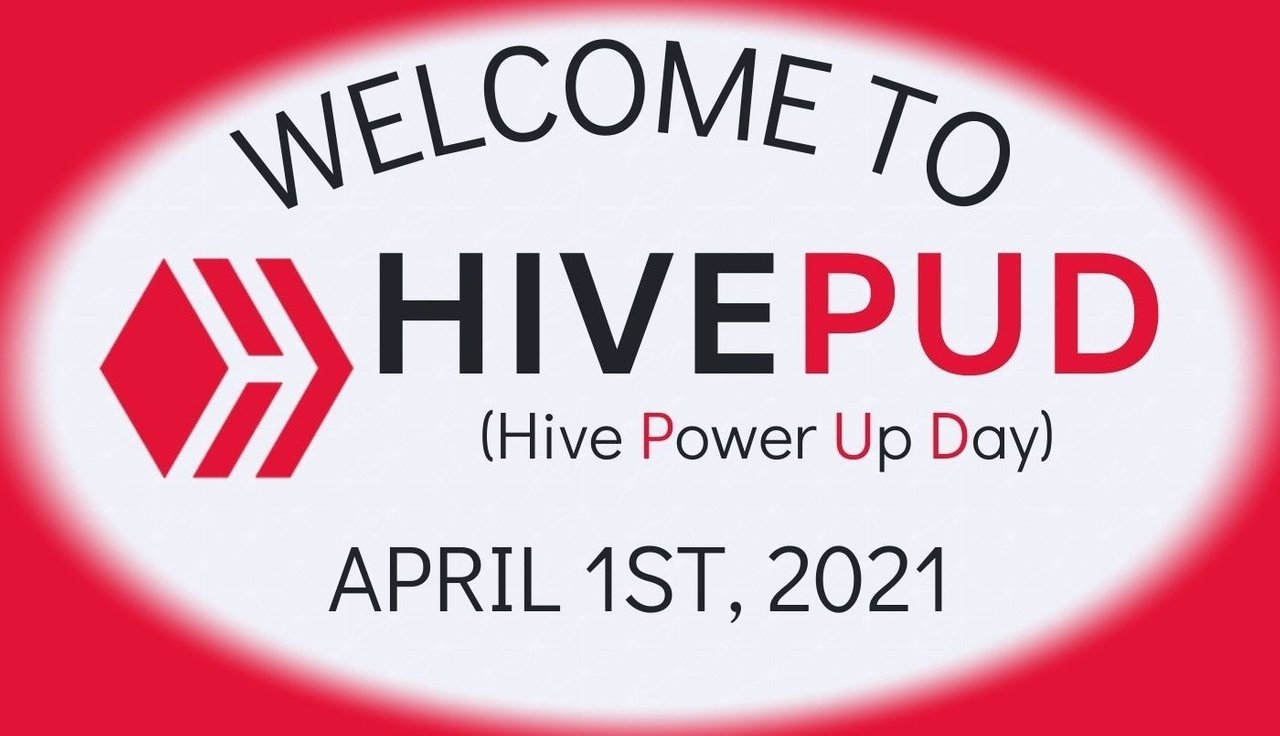 Image Source
It's here folks! We all know that "every day is power up day" but the first day of the month means another chance to get your mitts on some pretty amazing HIVE related prizes as @traciyork and the team bring the goodies! For those of you who don't know or have only just joined the HIVE network recently, you can stake your HIVE tokens in a process called "Powering Up" which makes your account have a little more influence on several things such as voting for witnesses who keep the chain running, proposals that add to the HIVE ecosystem, voting and curating content.
If that's not your cup of tea then you can always delegate or lend your staked tokens out to projects who will give you a return OR if you really don't want to do anything, you can just leave your stake and it will pick up about 3% per year. For me, I try to do a combination of all these things and have been staking HIVE for over 3 years, buying it when it was bargain basement prices over the last few months and with the crazy price movements over the last few weeks, it seems like it was worth hanging around for! But what about those prizes? Well, Traci had the full list in her post here and here's a screenshot of Your Top 3 prizes to whet your appetite (nods to Q 😉👉)!
Prizes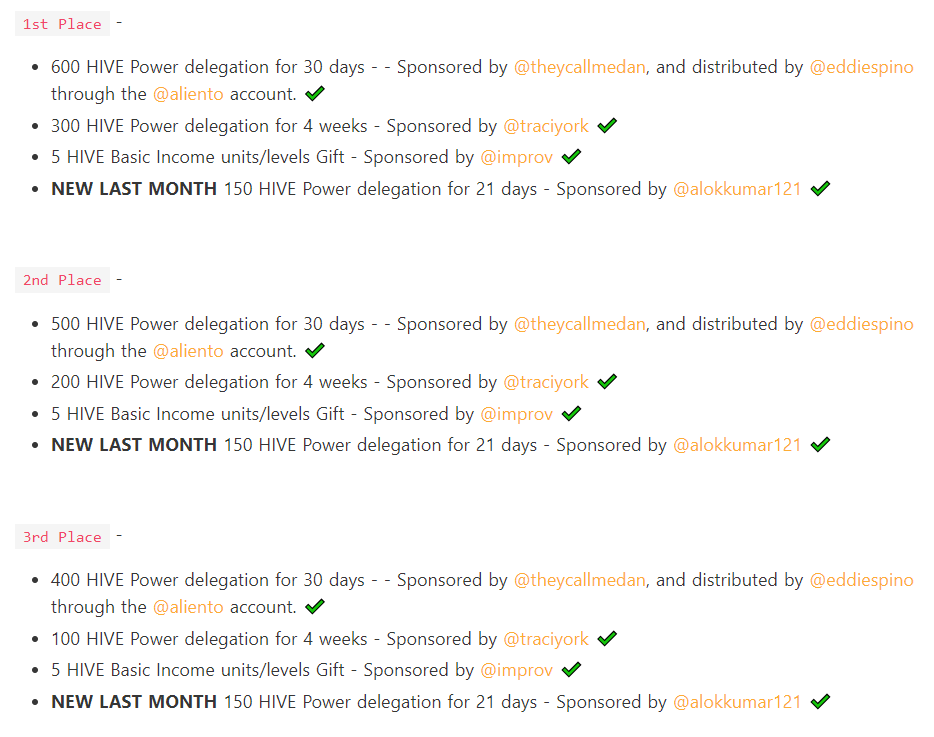 ---
Chipping Away
I'd been stockpiling some HIVE from my leases just so I could have enough to power up the requirement of 10 for the @hivebuzz badge as I'm a bit of a collector and then popped on to Hive-Engine so I could buy some tokens and stake those as well as place various orders and hope they fill! I've not been able to power up the dizzying heights of 1,000 like in previous months and but still chipping away daily!
Anyway, Proof of PUD:

---
Staking Tokens
Right now, I'm looking mostly at the VIBES token as music is my main passion, sharing tunes from Trance music to Drum & Bass and I'm nearly at 1,000 VIBES staked which isn't too bad seeing as it's only been going for a month! I'll be doing my Unofficial Ranks update in the next couple of days to see how things have changed. I recently did a post on the CTP and LEO tokens but happy to do the ranks for various communities - they are quite popular and good fun to do, plus it encourages staking to get to the next level!
---
LEO
LeoFinance has been the talk of the town with the huge output of projects with their LEO with CubFinance and branching in to DeFi, making things really accessible and easy to get your head around, well, as easy as it can be! Plus with Project Blank and LeoFi platforms to come, there's plenty to look forward to for the LeoFinance community!
---
CTP
CTP continues to help entrepreneurs tokenise their content and harness the power that staking has on long term growth which is cool - my CTP tokens have shot up no end since getting involved and enjoying the energy that Jon and the team brings to it all!
---
LOTUS
LOTUS gets a mention for the awesome work they are doing with tapping in the health industry and I bought some LOTUS Miners that have been getting to work.
LOTUS and CTP are also working alongside HUSTLER to build an online ecommerce store which is pretty awesome too where you can actually use your tokens to pay for goods. Keep an eye on those developments too!
There's so many other tokens that I seem to have picked up here and there and I apologise if I haven't mentioned your token/project here! I staked a few and then delegated tokens out to brofi and amr008 who are far better curators than me! I stake what I can but there's so much going on with HIVE and Hive-Engine that you need a 48 hour long day to stay on top of it all!
Anyway, that's me! How about you? Are you getting involved with HivePUD and staking some HIVE for those prizes? Any tokens that you're also staking? Let me know in the comments below!
Stake it easy
Nicky
P.S. Full information and criteria to qualify for prizes is here
---
I'm not a financial advisor and this isn't financial advice. Speak to a professional, qualified advisor if you're unsure about how to spend your money
Posted Using LeoFinance Beta