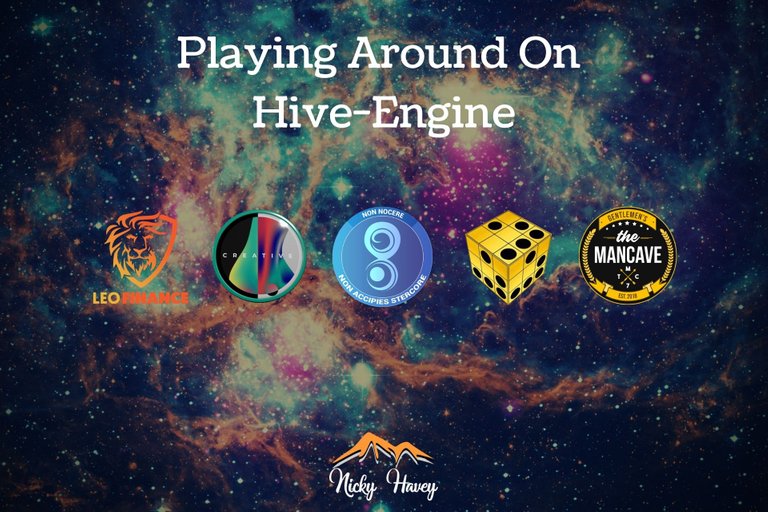 Galaxy Image Source
Hive Engine
For most of the time over the last year, Hive-Engine has been well over my head as I was just focused on getting to my goal of Orca on HIVE (hurray for making it)! Now though, after hearing about LEO from a few friends and in my feed, I thought I'd check out what's going on and dive in to this other galaxy where niche topic communities are looking to bring like minded people together using some form of rewards mechanism with their own token.
Hive Engine interacts with the HIVE chain via a 3rd party as a so-called "side chain". It's a place where you can exchange HIVE for tokens that are related to a specific community, with these specific communities having their own front end and rewards mechanism.
---
2nd Layer
These tokens are called "2nd layer" because they are built on top of the first layer, which is the HIVE chain. If you make content around a specific topic or have a certain interest and there's a token & front end for it, get yourselves involved with that community! It has the added benefit of posting to your own HIVE blog as well if you do it from that front end, which some have found beneficial as it suddenly becomes possible to be rewarded with two or more tokens instead of just HIVE, AND you have an active and interested user base to interact with.
Even if you feel your content doesn't fit in to a specific niche, there are general purpose ones as well that look to curate content and I hope to shed some light on what's out there from my brief foray in the second layer! These are just some of what's out there that I'm aware of at the moment.
I'm not a financial advisor and this is not financial advice, do your own research

Financial and crypto related content with a very interactive community, sharing their knowledge and experiences around a variety of different cryptocurrencies, including HIVE. I don't always post crypto related stuff but as crypto is one of my interests, I try to interact with the posts and share tidbits like my guides from time to time.
This is for the creative arts and art lovers out there which is where I usually share my music using the #creativecoin tag but a whole host of arts such as photography, painting, music, drawings and so on is what you can find here (although last update from that account was in April so not sure what the latest is).
A general content token to help support new accounts find their feet and grow for the long term. This was one of the first tokens set up on Hive Engine to help provide an additional token called PAL to reward content on top of HIVE - PAL stands for "Peace, Abundance, Love" and they have all kinds of shows going on to get involved with.
Still finding my feet with this one myself but I recognised a few names in the Discord which looks to be a fully fledged organised city, looking to curate well crafted, original content whatever the genre that gets shared in their spotlight newsletters and rewards in their token, NEOX.

Something totally different to what I've been accustomed to with posting rewards, BRO is a token that you buy and just keep - you don't, and can't, stake it. By just keeping it, you'll get daily dividends across a variety of different tokens that they are involved in depending on how much BRO you hold. I joined the Discord about 2 weeks ago called the Man Cave whilst sitting in my own man cave music studio, love it!
---
Slowly Buying Up
I've been slowly loading up a bit on these additional tokens and set my account to follow the curation trails of the main curation accounts as they are manually curating, to give a boost on people's content. This then increases staking rewards and so who knows, maybe I'll try to get to Orca on these ones, whatever the amount is - guess I'll have to do some more calculations on how to figure those levels out!
What about you? Are you playing around on Hive Engine? Have you got any other tokens and projects you're involved with or are you still yet to head over to this Hive Engine galaxy?
Let me know in the comments!
Nicky
Posted Using LeoFinance Beta