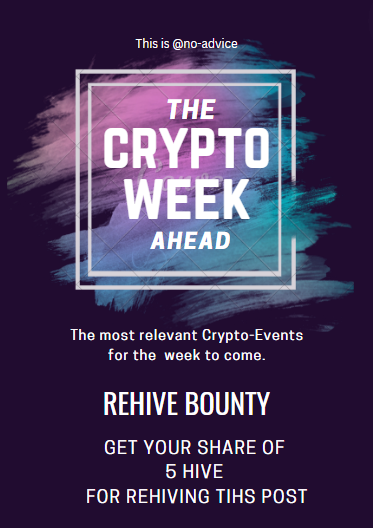 Welcome Leofamily,
to the next issue of the "Crypto-Week ahead". Every Sunday we will look at the upcoming Crypto-Events for the week to come. So lets directly start into the new week
---
Monday, 28th of November
Blockchain Week 2022 in Bangkok, Thailand
Nov.26th-27th in📍Bangkok
AdaSwap ASW: Mainnet Launch
deployment of our mainnet 28
FTCrypto & Digital Assets Summit in London, UK
Dcentral in Miami, USA
the LARGEST #web3 conference
---
Tuesday, 29th of November
Polkadot Developer Conference in Lisbon, Portugal
Decipher 2022 in Dubai, UAE
Decipher is a must-attend conference for anyone interested in Web3 and blockchain. Sessions will take place across 4 stages and dive deep on the industry's most relevant topics: unlocking blockchain interoperability, the future of DeFi, sports, gaming and the metaverse, how blockchain can drive civic & social impact, the regulatory landscape, ESG & sustainable tech, and more
OKX will be the 6th largest among the exchanges where FLOKI is listed
Shido: Shido Card Launch
We have received well over 1000 applicants for Shido MasterCard! We are thankful for the huge interest. Shido MasterCard is free to issue and receive. The most exclusive and versatile Crypto Card entering the market. Launching very soon! 🔥 Apply Now 👉 shidowallet.io
Infam INF: NFT Avatars Collection
New huge NFT Avatars collection from Infam_platform 🖼 Soon Infam will launch a mint of 10,000 NFTs with strong utilities onPolygon Network. Only 2,000 participants will be able to join whitelist until 27 november More details: infam.io
---
Wednesday, 30th of November
Bitfinex will be the 13th largest among the exchanges where Huobi Token is listed
Grove GVR: GroveSwap Launch
GroveSwap goes live this month, and we're looking to list quality BEP20 / ERC20 projects. Take advantage of: 🔹️Increased Exposure/Volume 🔹️Inclusive Marketing Packages 🔹️AMA with our CEO @JohnGh87 🔹️Integrated API 🔹️24/7 Support Apply here 👇 form.jotform.com
RocketX exchange RVF: XDEFI Wallet Integration
Multi-Chain wallet xdefi_wallet coming soon to rocketx.exchange ✅ 100,000+ users ✅ 15 Blockchains ✅ Bitcoin Network $RVF SelfCustody
Version 1.1.8 is currently being tested by our #brave100. Looks like this version will very soon be available for you in the Google Play Store. Check out our website www.befaster.fit ‼️ look forward to new features
HashBit HBIT: HashBit Smart Chain
Proof of Authority (POA), 100,000 TPS, Smart Contracts. It will be launched very soon and will be released with the Bridge #BEP20<>#HBITSmartChain!
Walken WLKN: Walken Runner Launch
SafeZone [OLD] SAFEZONE: Listing on CoinTiger
CoinTigerNewListing SAFEZONE/USDT will be available on CoinTiger soon Contract Address: bscscan.com Official website: safezone.finance
Kryptomon KMON: Listing on MEXC
LATOKEN will be the 3rd largest among the exchanges where Betterment Digital is listed
BOMB Chain and Mobile App launch dates announced. Be the first to find out when our revolutionary app and blockchain will launch: www.bombmoney.com
---
Thursday, 1st of December
DigiByte DGB: New DGB/USDC Trading Pair on LCX Exchange
Step.App - FITFI: STEP APP CONFERENCE in Tokyo, Japan
Join the Step App team and their global ambassador Usain Bolt as they host the first ever STEP APP CONFERENCE to celebrate the launch of their highly anticipated move-to-earn App in Tokyo, Japan.
---
Friday, 2nd of December
---
Saturday, 3rd of December
---
Sunday, 4th of December
WhiteBIT WBT: Marathon Trinidad Alfonso in Valencia, Spain
This year WhiteBIT partnered with Valencia Marathon Trinidad Alfonso.
---
Rehive Bounty
This post has a Rehive bounty of 5 HIVE.
Every Account that rehives (reshares) this post until next Saturday, will get its fair share (proportional to the number of its followers) on the 5 HIVE.
Results for last Rehive bounty:
The following users have rehived the last post nad have been given the indicated amount of HIVE.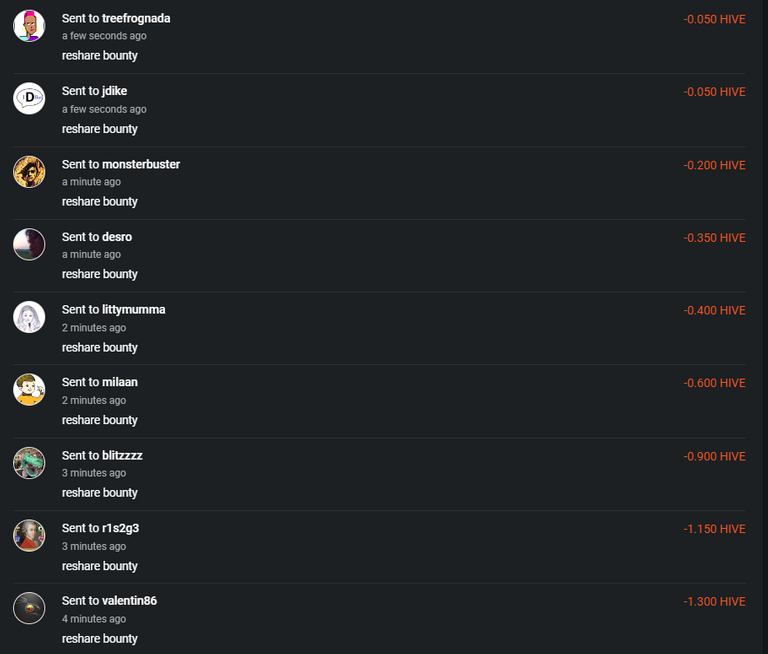 Posted Using LeoFinance Beta