Insight on NFTs/NFTY
Non Fungible Tokens (NFTs) are digital assets that represent objects like art, collectible, and in-game items. They are traded online, often with cryptocurrency, and are generally encoded within smart contracts on a blockchain. NFTs over the years have grown with massive sales recorded in 2021. Recent NFT trends include generative artwork, fractionalizing valuable collectibles, and participation from big brands into established communities.
NFTY Labs is a foundation focusing on the growth of NFT ecosystems by building open-sourced, community-based tools that will unlock inherent utility and value within NFTs. NFTY Lab's goal is to create new applications that offer new utilities for NFTs, and we aim to do this by utilizing a core feature of all NFTs: ownership.
Checkout more on NFTY community here👇 Here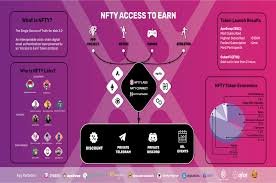 NFTY Weekly Giveaways: "It's believed that the reward for hard workers is more work", as the NFTY community has adopted the principle of encouraging efforts, and commitment, through community Giveaways. Community engagement and fun activities are routinely organized to test participants knowledge with rewards given to winners and runner up and support as at were necessary.
Indeed a fun fill week I must confess, other notable activities that thrilled the week include #NFTYLabs & HUSL AMA a tour on Metaverse, @Dbcryptosphere listed as @mogulofficia_ contest winner with a $200 giveaway, @chainlink Meetup organized in LA, CoinF x NFTY AMA and a meet and greet program organized by NFTY on discord. For more updates subscribe to the NFTY Newsletter.
Follow the community to benefit from the numerous Giveaways and investment opportunity created.
NFTY Network: NFTY Connect: NFTY Labs: Discord NFTY Labs Twitter: NFTY Network Twitter: ANN Channel: Medium: Raddit: