Honestly, I feel most crypto critics have been hurt as kids because hurt people tend to hurt other people and enjoy it, maybe that's why they like chaos or enjoy creating chaos in the crypto market because of the way they are always on Michael Saylor's case knowing that if we definitely affect some people's sentiment about the market, which could lead to some people selling off at a huge loss, makes me wonder if they have jobs or something important to do with their lives and time rather than trying to hurt people or bring someone else reputation down by creating Fake and Unnecessary news about then and at the same time to cause panic or fear in the market mostly for newbies who give in to the BS.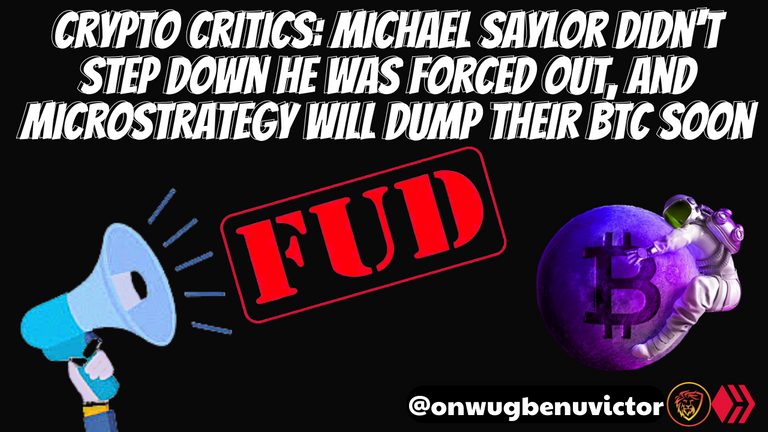 Speculations About Micheal Saylor's Role In The Company And Their Bitcoin Situation
First, it was Microstrategy will soon be receiving margin calls to the lie about the company's Bitcoin holdings being liquidated to Bitcoin made Michael Saylor quit in shame or was forced out of the company or that the board of directors made him step down after 33 years of running his company successfully, and also they can't wait to see the look on his face, other Bitcoiners, and Crypto holders faces when the executives of MicroStrategy starts dumping the company's Bitcoin holdings, the funny thing here is Michael Saylor is still part of the company's executives, I watch an interview when he confirmed that he still has the controlling shares in the company.
The company MicroStrategy has only separated the roles of Chairman and CEO, making Michael Saylor just the Chairman of the company now. But that doesn't change anything about their Bitcoin holding situation because Michael Saylor made it clear that he wants to focus more on Bitcoin acquisition strategy and related Bitcoin advocacy initiatives. make Bitcoin his priority, so the rumors about MicroStrategy dumping any Bitcoin are not true. Let's now forget that Jack Dorsey was the CEO of Twitter and later resigned to focus on Bitcoin and now Microstrategy's former CEO Michael Saylor has followed the same footstep and stepped down as the CEO of Microstrategy to focus on Bitcoin, in my opinion, it is just a personal decision and not more.
THANKS GUYS FOR READING MY POST.
PLEASE FOLLOW ME ON:
Discord: onwugbenuvictor#3447
Twitter: @VictorOnwugbenu
Posted Using LeoFinance Beta