Being on a longer vacation gives more time to think about different topics... One of them is of course work... I have a kind of guilt that I have taken a longer vacation (over a month), but on the other side, I have an excuse for doing that... I have worked my ass for the rest of the year, working 10-12 hours per day... every day... Okay, a bit less on weekends, but still working then, too...
Regardless of all those facts, I still have something inside me that always keeps me on tip of my toes... The hardest thing for me is to relax... And I'm aware that that is very bad as it's hurting not just my mind, but also m body... It's like living under continuous stress, and from my personal experience, stress is a major cause most of the illnesses... It's amazing how many bad things we can avoid just by removing stress... And the main tool for doing that is to relax...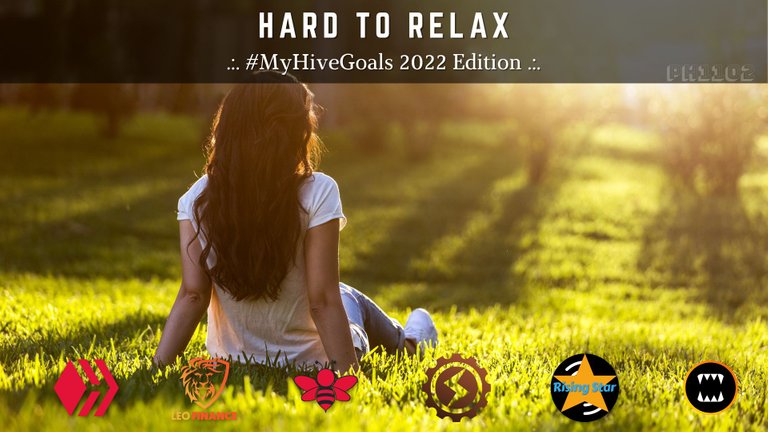 Created in Canva.com
Yesterday, I was sitting with my friends in the bar and we were talking about a similar topic... To be more exact, we were talking about 2 different types of jobs, one where you work for a company, and the other one when you work for yourself... There are many pros and cons for both types, but what we all agree on is that working for a company is always "living in a fear" of losing a job... It's contradictory how you "feel a safety net" when you work in a company, but on the other side, you can be fired anytime and lose everything...
On the other side, when you work for yourself you can fire yourself... lol... You can fail in some tasks/jobs, but you can always continue working, creating new ideas, etc... The level of stress (and type of stress) is probably different for these two jobs, but it is present in both... But... When you work for yourself you can lower those levels as you should work on yourself every day... not just on YOUR JOB, but on yourself, as you are the main tool for your job!
From my personal view, I'm probably in that group where "you are your worst boss", and I push myself too much, being unable to relax even when I'm on vacation... After reducing my weekend work, this will be my next big thing to work on... To be able to relax and enjoy... You should do the same as you deserve to relax!

Let's get back to the #MyHiveGoals and numbers for the last week... The whole of this whining is about the guilt I feel for not creating more content on HIVE... 😃 As a direct result, I don't get precious author rewards that can build up my HivePower much faster than curation...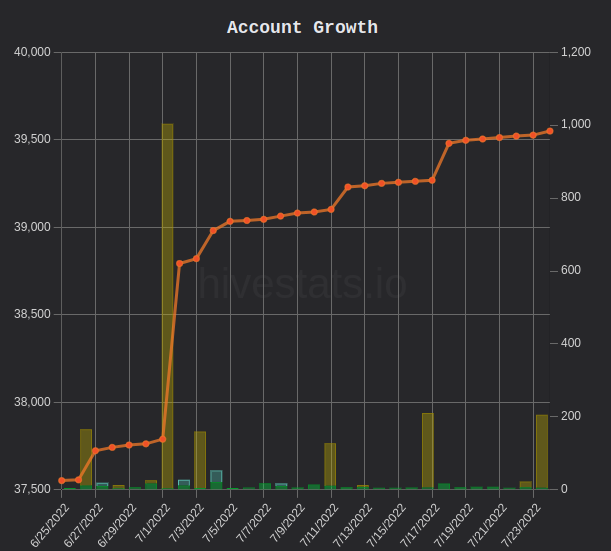 screenshot from hivestats.io
I'm still tweaking my HivePower growth strategy... Until now, I'm still not doing enough to reach my ORCA goal, as I'm losing pace week by week, and that's not good... On top of my 1K #HivePUD monthly powerups, I will try to power up at least 200 HIVE per week... When my curation rewards come in, it should be in total, over 2K HivePower per month... If my calculations are right, I should do around 2.2K every month to reach my goal... The daily grind is on! :)

In the last report, I said that I suck at my LEO Power goal, and that helped a bit to accumulate more than my weekly average this time... I have staked 93 LEO tokens in the last 7 days... I wanted to participate in the LeoPUD event, but I can't wait with my staking... lol... I suppose that I will never reach that minimum that you need to participate... :)

There isn't too much to say regarding my WORKERBEE token goal... I have bought a small number of tokens, but I didn't stake them yet... It wouldn't make a big difference, so I will wait a bit more... Price did go down a bit and it's a play of cat and mouse who will snap first... Sellers drop the bigger amounts of tokens for a cheap price, or buyers buy for a market price... :)
I did a slightly better job with my BEE POWER goal this week and narrowed the difference between my current stake and monthly goal... Also, the price of the BEE token went a bit up, which was nice to see...

GAMING GOALS
If you are playing the RISING STAR game, you have probably noticed that there currently we have a lot of interesting NFTs for collecting... In the last report, I mentioned the FTB6 card, the mighty Risers card that is probably the most valuable card in the game... I have blended it and my next goal is to blend the special, animated NFTs, from the "Summer Breeze" mission... Also, I'm collecting Festival wristbands again, as I want to blend basic FTB cards and keep them...
As you already know, I have reached my SPS tokens goal and changed my staking habits... In the past, I was staking over 200 tokens per day, but today, I'm doing around 100 as my airdrop isn't as big as before... I get a bit more than that per day, but I'm accumulating funds in the DEC:SWAP.HIVE pool again... Until the next CL packs purchase... :)

It's time to update the numbers and put them into the spreadsheet until the next week! So, freshly updated numbers for #MyHIVEGoals, on July 24th, 2022 are: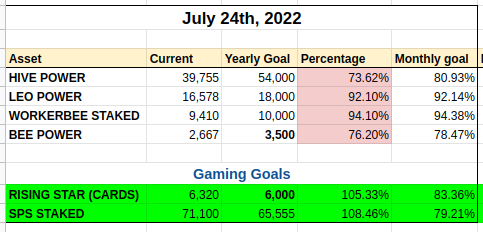 Join us in this awesome #MyHiveGoals and let's grow together! You can find the original post about the challenge by @robwillmann here.
Thank you for your time,
~ph~

The link to my initial 2022 Goals Edition is here...
These are my initial goals for 2022 created on January 2nd, 2022: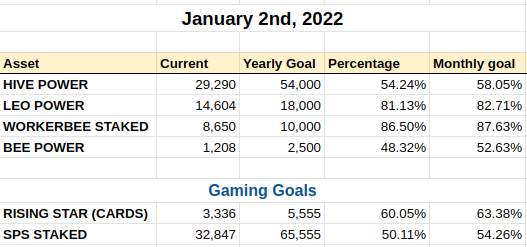 Update 06.02.2022.
BEE POWER 2500 --> 3500
RISING STAR NFTs 5555 --> 6000

If you want to support my witness, you can do it by voting for @ph1102.ctp here https://tribaldex.com/witnesses, or just scan the QR code down below...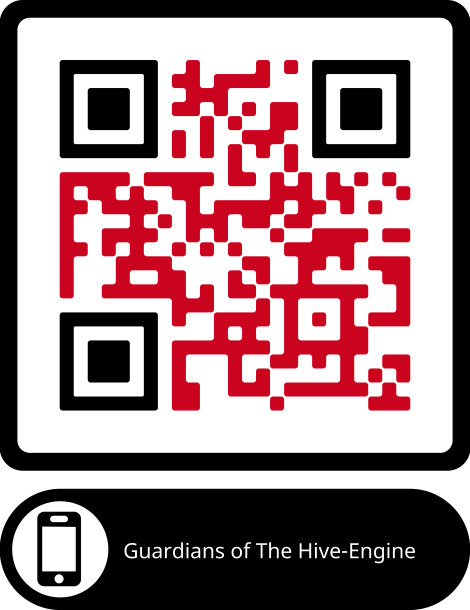 Don't forget to follow, reblog, and browse my Hivepage to stay connected with all the great stuff!
You can also find me on LEO Finance .:. Twitter .:. LBRY
Posted Using LeoFinance Beta