SOURCE
I have to say now in May, bitcoin may never be alone in the race to the top. When you have two other
pseudo friends rally with you, the game is on. 2021 is the year where decentralization in finance is hitting
in all cylinders. BTC dominance is dropping around 44% and Ethereum is moving quite well. The gas fees being
high have not deter a bit this vertical motion. We are entering an area where it will be a three race to forever
finish line.
I tried to put BNB where it should be. It is in third place for a reason. It is a good copy of Ethereum riding the
low fees situation quite well. Innovation always amazes folks. While back it was ICO craze but now if you do not say DEFI
you are living under a rock. I have to say it is still fresh and this trend just commences to move the market higher
than right now. BNB is helping the late comer like me to learn and benefit from it.
May is the fifth month of the year.
Pandemic is somehow cooling off.
May be we are learning to live with it. Inflation
is more rampant than ever.
The words I am hearing from most folks,
where can I invest? People can always invest as long you remain
focus and put your funds where you can get the best return.
The same can apply to crypto. You need a little patience.
I am not going to far if I take for example Hive token.
January first if you hold 1000 hive.
The value was in USD $110 in 01/01/21
If you take take that same amount of Hive today 5/3/21 in USD, it is $630.
Just holding Hive not even power up or use it to curate.
Not a bad deal for a token that a great community is holding and pushing.
IF you did power it up it will be more cause you will earn
more due to inflation and other means possible.
I keep thinking Hive future is too bright to explain in one post.
Ethereum and BNB is fueled to grow by design of defi.
Since we are all connected all these tokens do pair with Hive on the exchange.
I neve expect BNB to rise. In crypto everything can
happen. Do not even hesitate to see BNB reaching $1000 in May.
May starts in high note for many reason. Nature cannot stands emptiness.
Something will fill the void the minute the vacuum is activated.
If you are new to crypto, you tried to find the next best thing, just cool off.
You have it in front of you. Manage what you have and hold.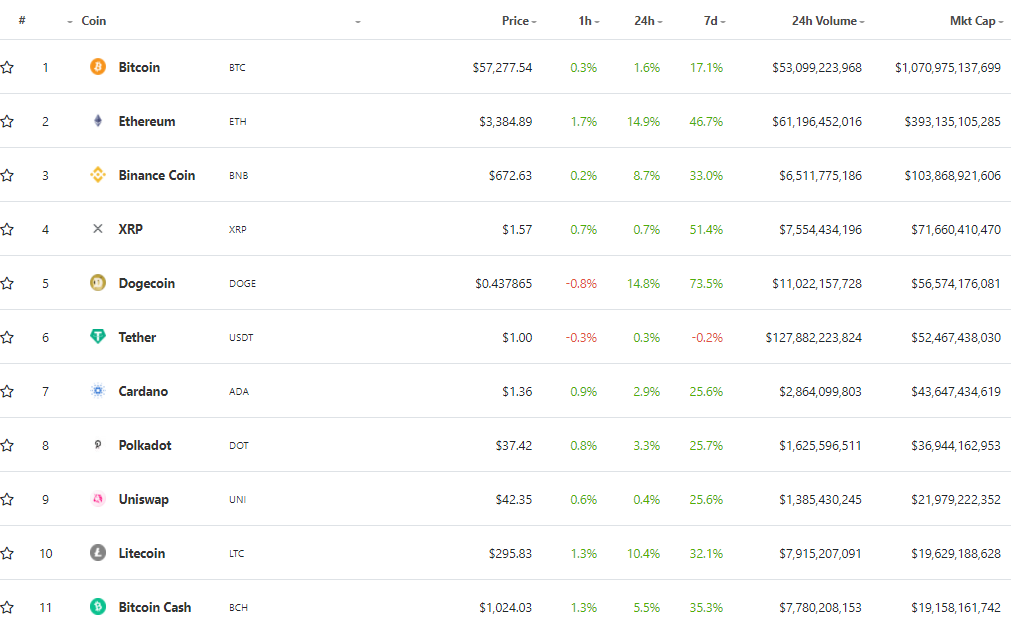 source
From this list you might hold quite a few. Keep holding and if profit comes to take, act on it.
This market is being timed everyday. It is no longer a race of bitcoin or ethereum, etc...
This race is more like a marathon. Personally I like a token with a plan. Last time I check
there are more than 7000 choices. #defi is part of the equation. Having a token where you can build
on top of it will help you maintain a hedge long term.
The success of many lions and Hivers can be seen by how they roll. Most of them keep buying and posting.
One thing I see that work for the successful, first they believe. They continue to buy. They timed the market
to get the best on their investment. They focus to accomplish the tiny move where most Hivers collapsed.
If you can make it here, Hive, you should be able to make it everywhere.
The problem is, there is no other place like Hive.
Keep stacking them


Posted Using LeoFinance Beta