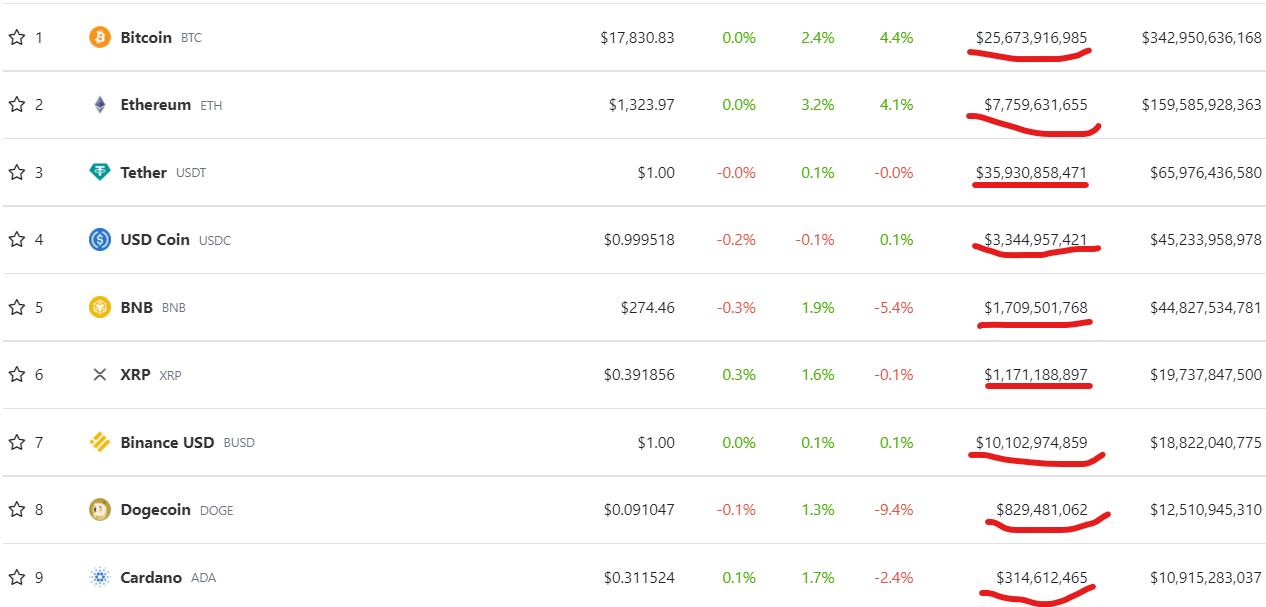 source
Lately it is shortcoming to start talking about the financial market and think you can omit cryptocurrency. It has become a fervent branch where the ability to do business is reshaping.
There is a lot of cleaning going on. Some even blame the inflation on cryptocurrency.
At least crypto is in their mind.
As you can denote clearly these are the top tokens with a stream of liquidity. If you are a trader, you probably touch base with one of them. later I will be getting more for #LPUD, I will have to exchange one the the tokens you see here. It has become the way around in crypto to comprehend the existence of each of them.
You do not need to fully use them depending on your jurisdiction, the knowledge never hurts.
Believe it or not they are the gatekeepers for most of us. This is why decentralization is key going forward. Hard to eradicate all #CEX, but they will be on the lookout. I read some great news yesterday about #leofinance. The power has been given to everyone to speak their mind while using #leofinance.
This community is growing where only strict financial matters can hold the real growth they have talked about. I mean you are about to see what they are building with YOU in mind.
LEOFINANCE
Since #Leofinance is all about you. It is more than ever to pay attention. It cannot be build by itself. Your expertise and dedication will make this community a place to be. Right within #CUB FINANCE, they privileged the option to go in and out for Hive and HBD. Since it is an ample service, it is working like a charm. Many will see in it the opportunity to fill the #LP to earn more #CUB.
Others will see the power of decentralization by taking this route and acquire other tokens. This is where #DEFI is at it best with Hive in mind. Hive is the first going around with Leo. It makes sense to have a strong layer-2 where Hive can pull liquidity in and out.
Again this is the power of YOU. In order to get it going it needs a lot of Hive and HBD ready to keep the engine going. Where #LEO stands then? As I am writing you can see Leo will benefit by being the notion to remind everyone where we are heading. Liquidity is everything. Using this route is a learning that can empower the user to see how efficient #DEX can be. #Leofinance is another avenue for #hive to be Hive and you get rewarded for using #Leofinance UI. It is business at its best.
Hive needs all its UI like #peakd, #hive.blog, #ecency, etc... to grow. It will ease up the entry for everyone.
Keep in mind as it grows, everyone benefits. As long you are a holder, you prioritize aiding others first before you earn. No questions about making profit. Being in crypto is all about profit. It is all about how big you want to go. Real crypto blockchain with a connected platform tells you everything. If you go big you reap quicker, you go right in your limit you grow as they grow.
#Leofinance is situated in a good position where the whole crypto world is about to define the next step. While #leo tokens is only 5 cents still, you can do your homework and see you can contribute to your own good. It is a lot easier to jump in when you see the value rises. In that case you are waiting room the good bargain can pass you by. Some folks like to FOMO. Do not forget if you do not risk, you risk everything.
You still have less than 24 hours to plan for #LPUD.
If you know what #Leofinance can do, jump in. If you do not know continue to read who are posting and keeping this space relevant.
HIVE
Hive is the quiet one in all of this. Quiet in the way of seeing value climbing. I keep saying that Hive is all about generic growth. If you really understand how crypto works, #hive is pure on what at works. There is no gimmicks with the value you see. The liquidity is flat due to constraint surrounding crypto. Hive is all about you and I. Layer-1 is maintaining a strong blockchain while layer-2 is bringing efficient product to tap the speed underneath.
One key point for Leofinance is the smooth update timing to keep the growth coming. At least we know the team is not waiting. It is the same for Hive. There are constant upgrade you and I hardly understand clearly. Lately I saw the version 1.27.2 popped up. I did quite a few search and it is related to resource credit. Another one is on the way to maximize the way you can interact with the blockchain. According to the post 1.27.3 is on the way. I have to say #Hive has eyes everywhere.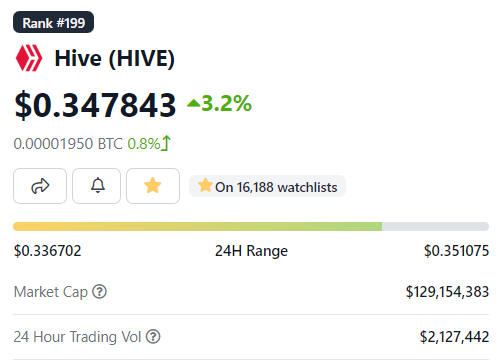 source
I used to make a big deal why #hive is not back to top 100 tokens. I understand being there is not about only value. It is about the amount of token you have. With one billion token with valuation of 35 cent, easily we could reach it. The most important factor for many, #Hive is strong enough by our work. So wherever the market cap like #coingecko puts us, is irrelevant to the real value at bay.
You can be top 100 but it is for a short time. Some tokens has no real value. You know too well where I am heading. Somehow they survived. How about Hive? With more than enough use case, constant growing in social media, gaming, NFT, DEFI and a lot more. I enjoy the slow growth since volatility is at its minimum.
We need transaction to keep the flows open. We need stability to keep holders stress free. #hive is a social media blockchain with more to give for the betterment of WEB 3.0. Every time I pause to think of what we can do with this blockchain, only time can tell.
This is why you see layer-2 are hard at work to fully grasp the benefit of it.
It is hard to see a flower bloom unless you sit right in front it.
Every passing day brings another experience for #Hive.
Hope you see beyond the bear curtain and imagine what will become the minute the bull roar.
For the past 12 hours it has been raining. It is still raining. I know soon it has to stop. I can wish to stay dry in between. If I get wet I will manage. I can wait for the Sun to come and another horizon will bring more optimism to what we all hope for.
Hive is all about what you hope to accomplish.
The more you focus at it, the more it becomes clearer to your needs.
As the first pic shows, cryptocurrency is about you what you wish to follow.
Keep this community in our mind. We are alive.
Posted Using LeoFinance Beta