Here we go again, we do this every year, but its fun to do because we just love evaluating how much worth we have just for the fun of it. In 2015 I knew iPhone 6 but didn't know Ethereum, crypto currency was obviously not as popular as it is now and bitcoin was that coin people were getting to know at that time. If you knew ethereum in 2015 you must have done your intensive research about crypto and in a way, you must have come across ethereum and decide to invest in it at that time. So if you are feeling really bad for not spending your money on Ethereum dont worry about it, its not your fault, who spends $1k on some dumb internet money that no one knows or cares about. Would you have spent $1k on an internet dumb money that the government is against? So lets move on. But if you had invested and gotten 875 ETH what is the guarantee that you would still have it till today?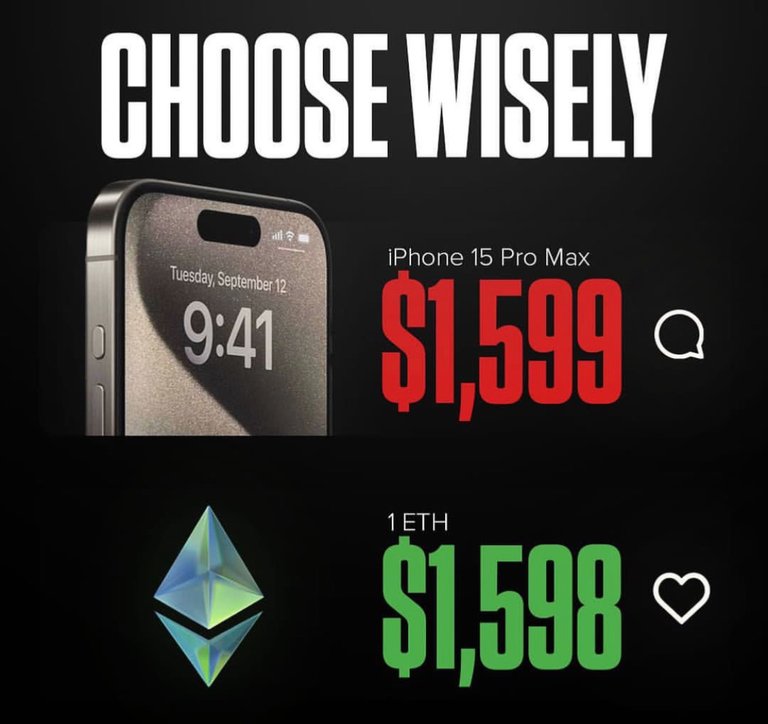 InstagramApple is known for always releasing new model of iPhone every year even though we know that they are all the same and not worth it, but then, people will always buy it. We most times feel more comfortable buying liabilities than an asset because we know that with the liability we are completely making up our mind that we are spending it on pleasure and experience rather than on an investment. But the moment you invest it on an asset, you start getting attached to the progress of the assets value. So if you had the opportunity of spending your money on ETH or iPhone would you? With an iPhone you must have felt good owning an iPhone and using it, because it must have made you feel cool, but now we know that the value of Ethereum progressed to $1,600 today, all of a sudden every one is regretting they didn't buy ETH in 2015. But if ETH flopped no one would talk about it.
Now the iPhone 15 is out, and it cost at least $800 to get one that is half of 1 ETH, so having 1 ETH means you have 2 iPhone, what is the difference between iPhone 15 and iPhone 14? Or the rest of other iPhones? So in my opinion, if you are already feeling bad for not getting ETH in 2015 for $1k when it was cheaper, think about Hive, $1k of Hive will be 3,448 Hive right now, so why not get that, because in few years time when the value of Hive spikes to a big price, we will feel what we are feeling for ethereum now later.
Posted Using LeoFinance Alpha