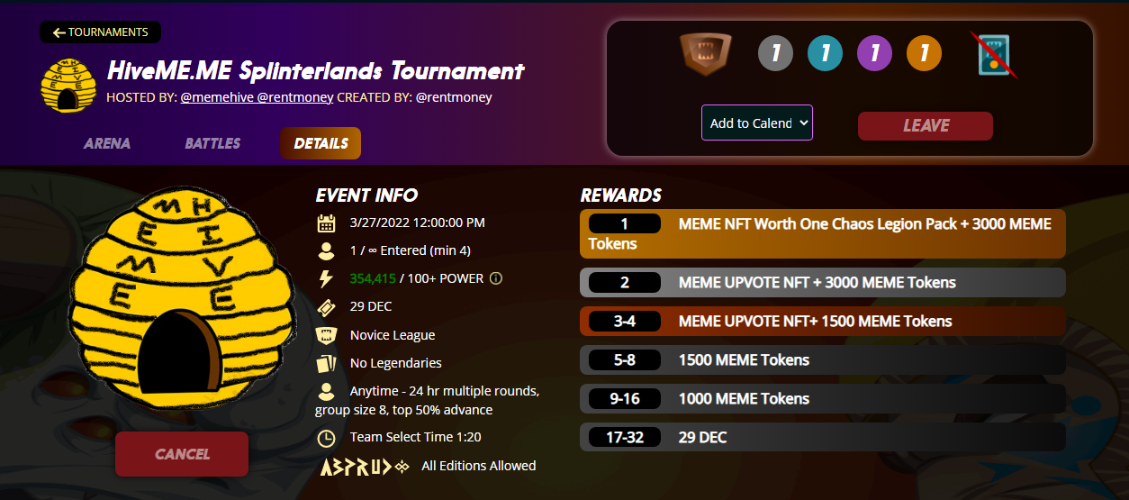 Another One Million Chaos Legion Booster Packs have sold and that means the Splinterlands community is getting another airdropped card to add to their ever growing collection of awesome Splinterland NFT's. The NFT dropped this time around will be known as Carnage Titan. At Level One it sports a two attack with three speed. It has a massive amount of armor (Seven) and a massive amount of life (Eight). Playing this card in battle will cost you Eleven Mana. Everyone who has purchased at least one Chaos Legion Booster Pack from the official Splinterlands marketplace has a chance at receiving one of these NFT's. However if you want to be guaranteed to get airdropped at least one of these bad boys you would of needed to have purchased at least 525 Chaos Legion Packs. One in every 25 airdropped Carnage Titan will be gold foil.
How To Claim Airdrop
Go to Splinterlands.com
Notice popup at top corner
Click the Claim icon located on popup
You will be brought to a new page
Click "Check For Rewards"
Your rewards (if any) will be displayed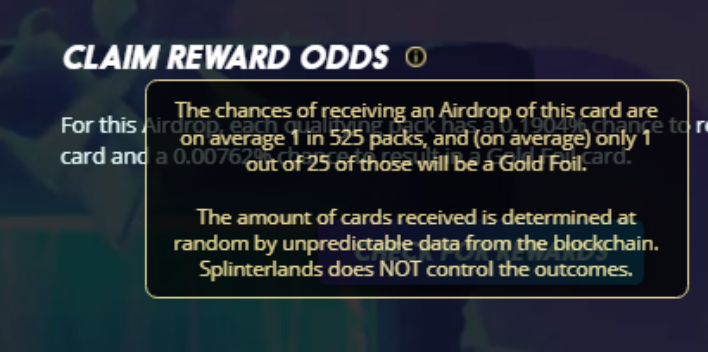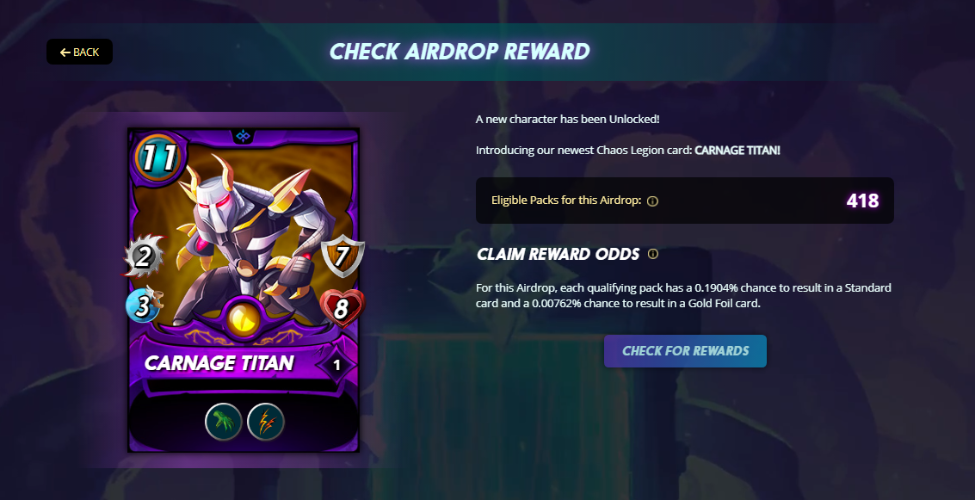 Main Account Claim
Alt Account Claim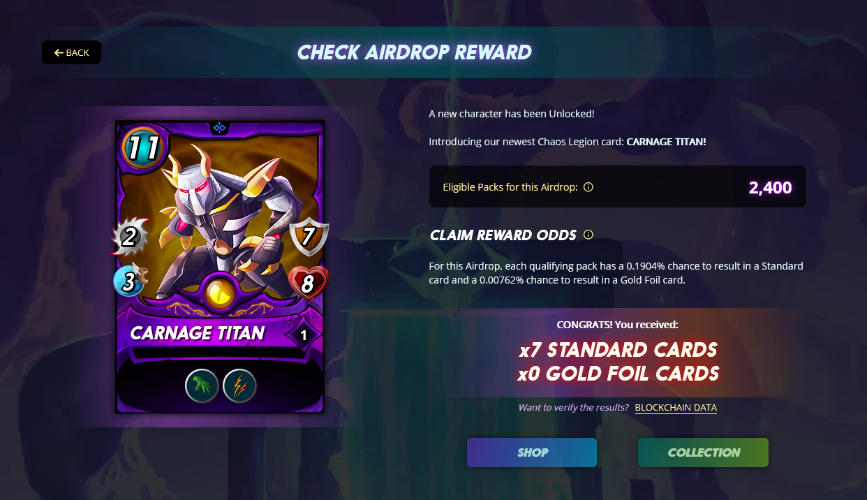 I purchased just 418 Chaos Legion packs on my main (@rentmoney) account and didn't manage to get an airdropped card. I did plan on upping my Chaos Legion total pack purchase to the 525 minimum but I didn't get around to doing so. Luckily I also purchased some Chaos Legion Packs on an alt account. My Alt account purchased 2,400 Packs and ended up with being rewarded with Seven dropped Carnage Titan Nft's. That is almost double the amount my alt account should of gotten so even though my main account didn't get lucky, overall I would consider this a win. Unfortunately no cards turned gold. I have my fingers crossed that I get some gold once the Legendary Summoners are airdropped. Did you make your claim yet? If so let me know how you fared below in the comment section.
HiveMe.ME Meets Splinterlands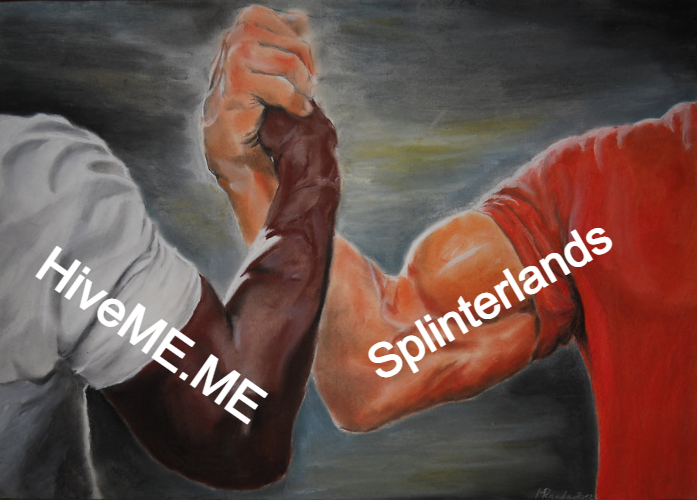 I am excited to announce the first ever HiveME.ME Splinterlands tournament. This tournament will be played on the last Sunday of this month (March) and will be a 24 hour anytime tournament. Power Requirements will be set at a low rate of just 100. The USD worth of prizes is estimated and will likely fluctuate before payout. Keep in mind payouts are done manually so please allow up to 48 hours after tournament completion for transfers to take place. If you did not receive your payout after 48 hours please leave a message on any of @rentmoney blog posts. This tournament will be played at the Novice level and will exclude Legendary cards.
Tournament Lobby Description
Welcome to the first ever HiveMe.Me Splinterlands tournament. Buy in is just 29 DEC with no SPS restrictions. The First place winner will be rewarded with some MEME Tokens and a HiveMe.ME NFT that can be traded for a Chaos Legion Booster Pack. Places 2-4 will be rewarded with A HiveMe.Me NFT that has utility + varying amounts of the MEME Tokens that can be traded on Hive Native Dex's such as Hive-Engine, TribalDex and LeoDex. Places 5-16 will be rewarded with MEME Tokens. Places 17-32 will be rewarded with their buy in back. Did you know that you can create your own NFT's on https://www.hiveme.me/ (NFT creation has never been so easy). This tournament is a 24 hour anytime tournament to be played at the Novice Level (Everyone is welcome to join), Good luck on the battlefield.
Tournament Register Link:
https://steemmonsters.com/?p=tournament&id=58397cea59702ea39322865031f8fae2ec37e146
---
First Place Prize NFT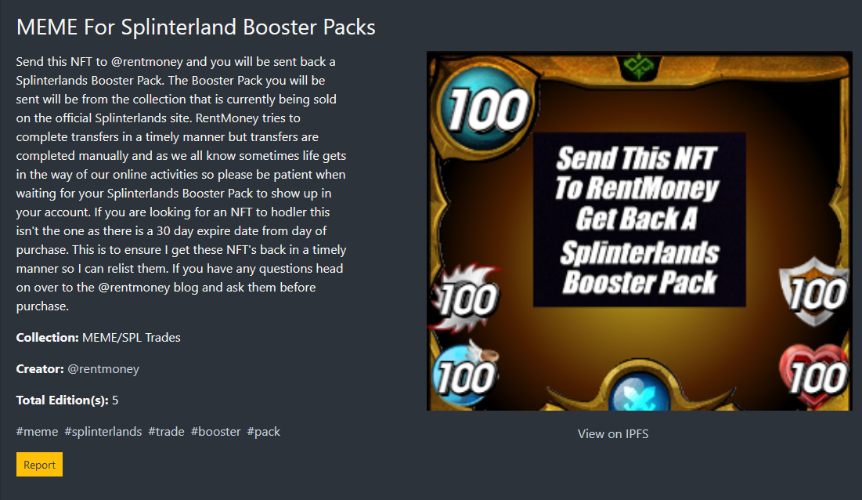 ---
Second-Fourth Place Prize NFT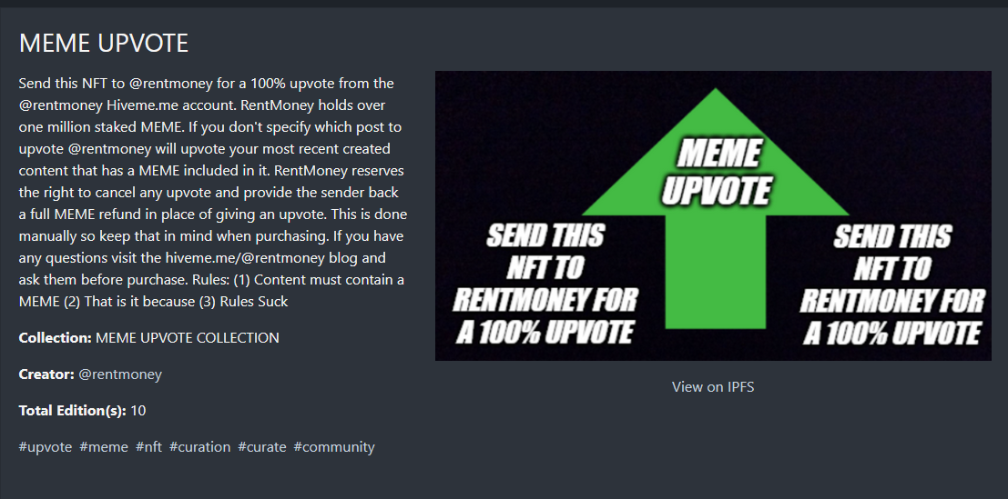 ---
HiveME.ME NFT MarketPlace:
https://www.hiveme.me/nfts/market
---
---
What Is Splinterlands?
Splinterlands is a blockchain game built on the Hive Network. The game itself utilizes NFT's for game play. These NFT's can be won in battle and/or purchased from the official Splinterlands marketplace or many other secondary markets. Game play rewards players with cryptocurrency and in game assets. Click here to get started with Splinterlands.
---
---
Watch A Splinterlands Battle Below
https://steemmonsters.com?p=battle&id=f9525f6dc69433c5f35470817a4c862530cb3300&ref=rentmoney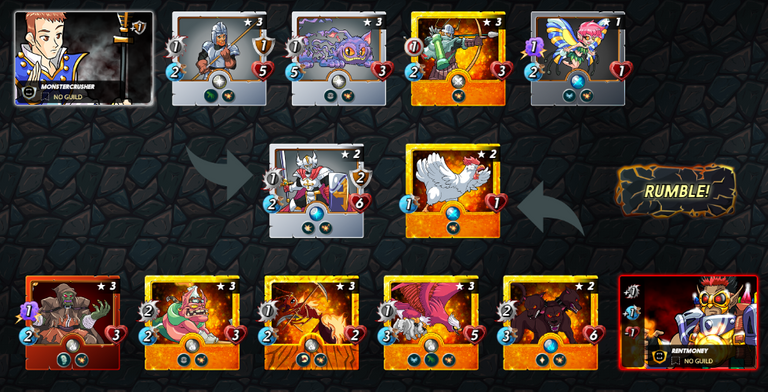 ---