I finally got around to swapping some BUSD for UST, transferring that across to the Terra Network and staking said UST to the Anchor protocol for a tasty 19% annual return...
UST is a fully decentralised, algorithmically stabilised stablecoin which maintains its $US peg due through seignorage via buying and burning Terra, the token that secures the wider Terra Network.
You can find out more about how all that works here, but suffice to say for now UST is an attractive option for a stable coin to hold if you're uneasy about the risks of holding fiat-collateralised stables such as USDT/ USDC and BUSD, if indeed any of them actually collateralised.
Below is just a quick guide on how to get started staking UST:
Downloading and installing the Terrastation browser wallet application.
Bridging across from Binance Smart Chain to the Terra Station wallet.
Staking UST to Anchor.
It really is THAT simple!
The above covers how I got my UST to Anchor, there are other ways, this is just one of them, see further links below for other posts with a broader coverage of some of these stages.
NB I've only stake $15, I always move around relatively small sums when I'm trying out something new±
Downloading and Installing TerraStation Browser App
I visited the Chrome store to download and install the Terrastation Browser Wallet.
If you're used to other browser wallets it works in a very similar way, you create a password, generate a new wallet (or recover an already existing one if this isn't your first time), back up your keys and then you're good to go....
It works with both Chrome and Brave and is straightforward enough: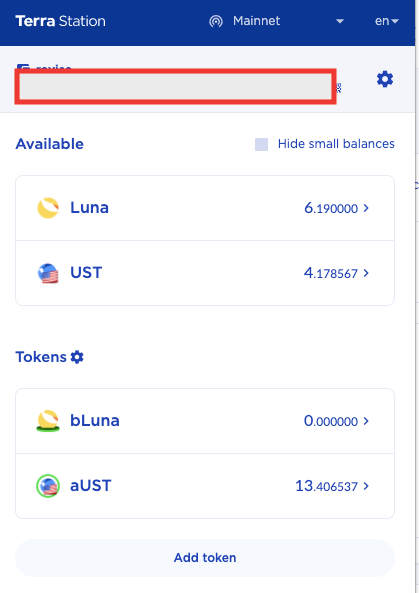 The screenshot above shows it with some of the assets I've got - when you stake your UST it shows up as aUST in your wallet, not that you can do anything with it, the 'tokens' section above is basically your savings account on Anchor, so when you stake Luna (the liquid token) it becomes bluna (the bonded token).
I transferred the Luna from Binance but the UST I transferred from BSC....
Bridging UST from Binance Smart Chain to Terra
Another VERY simple step in process.
Once you have swapped some other tokens for UST on Binance Smart Chain (you can use good old Pancake Swap for this) you can then use the Terra Bridge to send that UST from BSC to the Terra network.
All you need to do is to connect BSC via MetaMask and the type in your TerraStation wallet address.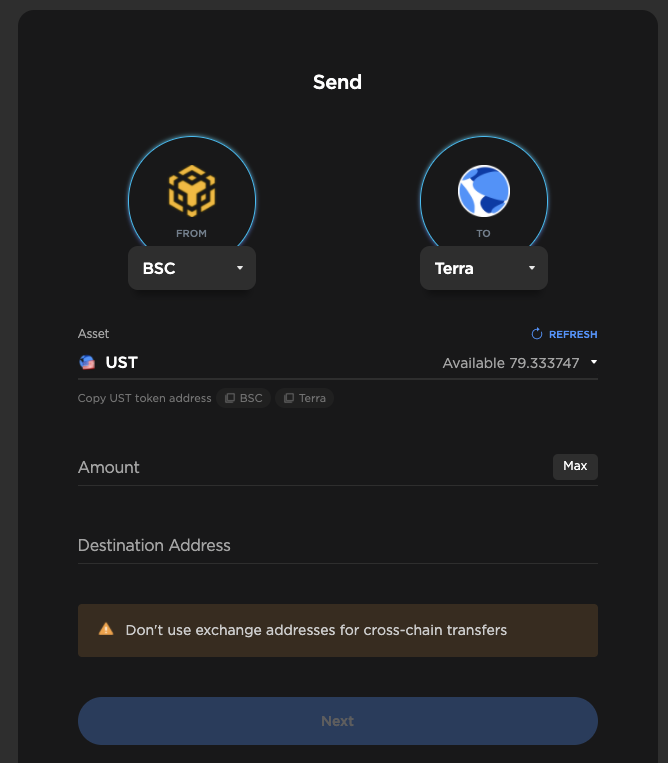 The fees are minimal and it takes just a couple of minutes to transfer over.
Interestingly I couldn't add UST to the TerraStation wallet first of all, but it added itself once I'd transferred the money over.
Staking UST to Anchor
This is the simplest step of all...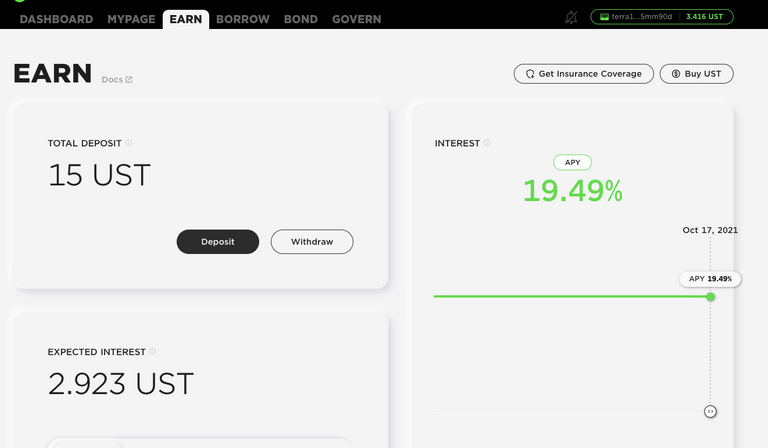 You just need to got to the Anchor Web App and go the 'earn tab' then connect your TerraStation Wallet and click deposit.
That's it - UST staked and earning you 19% a year! As I understand it you earn rewards in Anchor token, which you can also stake.
Final Thoughts
This was a very simple process, quite fast transactions and reasonably cheap TX fees.
I also like the clean interfaces of both the TerraStation Wallet and the Anchor Protocol, and I can foresee myself staking plenty more UST going forwards!
I also staked some actual LUNA too, although I'm not sure that was a good idea (a luna-tic idea GROAN), I don't think the returns are that great?
Find out More
Three ways to get UST to anchor
Posted Using LeoFinance Beta