Hive is a Blockchain platform that provides web 3.0 application development opportunities. Hive has a thriving ecosystem of applications, communities and individuals leveraging the blockchain and Hive's decentralized structure.
Currently with all the digital revolution going on, there is a building process towards the quest to develop and consolidate systems in web 3.0. Now let's look at 5 important reasons why building on Hive can be a valuable opportunity.
Hive es una plataforma Blockchain que provee oportunidades de desarrollo de aplicaciones de web 3.0. Hive cuenta con un próspero ecosistema de aplicaciones, comunidades y personas que aprovechan la cadena de bloques y la estructura descentralizada de Hive.
Actualmente con toda la revolución digital que existe, hay un proceso de construcción hacia la búsqueda de desarrollar y consolidar sistemas en la web 3.0. Ahora veamos 5 razones importantes por la que construir en Hive puede ser una valiosa oportunidad.
Spanish
Estoy publicando este post para dos públicos por lo cual lo encontrarás en dos idiomas español e inglés.
English
I am publishing this post for two audiences so you will find it in two languages, Spanish and English.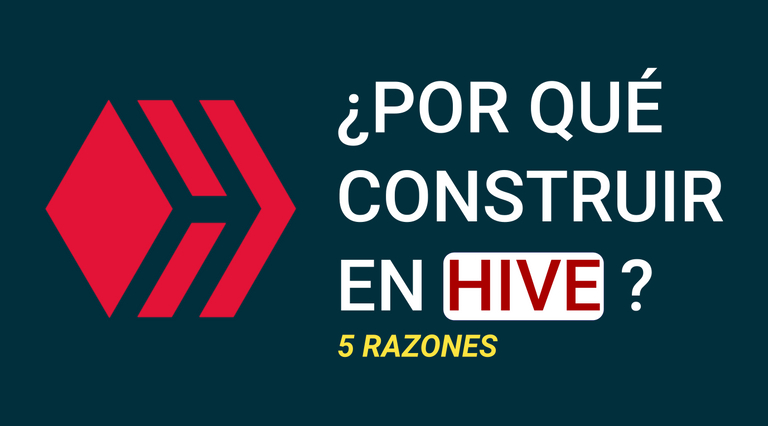 ---



1: Ser uno de los primeros en construir / To be one of the first to build

El ecosistema de Hive tiene poco tiempo, Hive se origina de una bifurcación de Steem el 20 de marzo del año 2020 y desde ese momento se ha enfocado en mejorar continuamente la plataforma. Tener una de las principales aplicaciones te da la oportunidad de crecer, aprovechar a lo usuarios más antiguos y los que están llegando y así como los que puedes traer para validar tu modelo de negocio, hacer los ajustes necesarios y poder consolidarte dentro de la Blockchain.

El hecho de que haya comunidades existentes y sistemas en funcionamiento hace una valiosa oportunidad, en Hive aún falta mucho por hacer así que posiblemente no se te haga tan difícil encontrar un océano azul y ser pionero en Hive.

Hive's ecosystem has been around for a short time, Hive originated from a fork of Steem on March 20, 2020 and since then has been focused on continuously improving the platform. Having one of the leading applications gives you the opportunity to grow, leverage older and incoming users as well as those you can bring in to validate your business model, make the necessary adjustments and be able to consolidate within the Blockchain.

The fact that there are existing communities and systems in place makes it a valuable opportunity, in Hive there is still a long way to go so you may not find it too difficult to find a blue ocean and be a pioneer in Hive.

---




2: Oportunidad de emprender/ Entrepreneurial opportunity

---


Fuente | Empresaria / Businesswoman


Si nunca has creado nada anteriormente, un startup, un emprendimiento, aquí en Hive puedes empezar a explorar, desde la creación de un blog, creación de comunidades, hasta desarrollar una app, y si deseas también puede postular un testigo y ser parte del equipo que soporta la plataforma.

Las oportunidades son diversas, incluso hay traders de la moneda, y personas haciendo estudios y analizando como se desarrollamos en Hive. Así que bien, son tantas opciones que seguramente encontraras alguna que llame tu atención.

If you have never created anything before, a startup, a venture, here at Hive you can start exploring, from creating a blog, creating communities, to developing an app, and if you want you can also apply for a witness and be part of the team that supports the platform.

The opportunities are diverse, there are even currency traders, and people doing studies and analyzing how we develop in Hive. So well, there are so many options that you will surely find one that catches your attention.

---




3: Ser referencia en el sector / To be a reference in the sector

Al construir en una plataforma tan novedosa puedes ser referencia en el sector, incluso partiendo de Hive muchas de las aplicaciones están logrando una expansión hacía otras plataformas, logrando ampliar su propio ecosistema y también el ecosistema de Hive.

Uno de los ejemplos que t epodo sugerir analizar es Leofinance y splinterlands, ellos lo han hecho genial.

By building on such a new platform you can be a reference in the sector, even starting from Hive many of the applications are achieving an expansion to other platforms, managing to expand their own ecosystem and also the Hive ecosystem.

One of the examples that I can suggest to analyze is Leofinance and Splinterlands, they have done great.

---




4: Ampliar tu red de contactos / Expand your network


Fuente


Es casi imposible construir en Hive y no ampliar tu red de contactos, estamos conociendo a personas nuevas, a líderes de proyectos, inversores, expertos en Blockchain y más. Ser parte del ecosistema y construir en Hive te brinda la oportunidad de conocer a más personas relacionadas con el área Blockchain.

It is almost impossible to build on Hive and not expand your network, we are meeting new people, project leaders, investors, Blockchain experts and more. Being part of the ecosystem and building on Hive gives you the opportunity to meet more people related to the Blockchain area.

---




5:Minimiza tus miedos al explorar nuevas tecnologías / Minimize your fears when exploring new technologies


Fuente


Esto es genial, y quizás también lo puedas adquirir en otro lugar, al explorar en una plataforma novedosa como Hive te brindas la oportunidad de conocer un sistema económico nuevo, un modo diferente de relacionarnos y aportar valor. Además de estar construyendo parte del grandioso futuro que vendrá estás mitigando los miedos al cambio y a explorar las nuevas tecnologías disruptivas como Blockchain.

Hay muchas más razones para ser parte de Hive y construir en el ecosistema. Lo más importante es comprender que es una plataforma en construcción constante, cada vez llegan más proyectos y más personas haciendo el ecosistema más grande, lo que sea Hive en el futuro depende de todos los que somos parte de Hive.

This is great, and perhaps you can also acquire it elsewhere, by exploring a new platform like Hive you are giving yourself the opportunity to learn about a new economic system, a different way of relating and providing value. In addition to building part of the great future to come, you are mitigating fears of change and exploring new disruptive technologies such as Blockchain.

There are many more reasons to be part of Hive and build into the ecosystem. The most important thing is to understand that it is a platform under constant construction, more and more projects are coming and more people are making the ecosystem bigger, what Hive will be in the future depends on all of us who are part of Hive.

.

Translated with www.DeepL.com/Translator (free version)

. .

---








Otras redes:
My website
3speak.online| Instagram | Youtube Vlog | Youtube Blockchain

Posted Using LeoFinance Beta