Welcome to the weekly update post for @spinvest-leo, where I (@jk6276) record on chain for transparency our transactions for the week, and update @spinvest investors with our progress.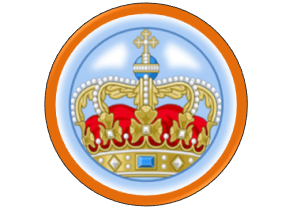 Well, what a week it has been. Lets take a look at what impact this market has had on our positions.
---
First, some notes on strategy...
With the win of the SPS/BNB generator lottery I figured it's be a good idea to update you on the strategy here.
@silverstackeruk has sent over a few hundred SPS from @spinvest which I have staked in game.
Twice a week, I claim the daily burst from the EMP generator.
The LP tokens for SPS/BNB remain liquid in the wallet (I tested putting them into the CUB kingdom, but it seemed that rewards were not accruing (SPS rewards that is).
Each day, I claim farming rewards in Splinterlands, and now staking rewards also.
Stake half of these SPS, send half to Hive engine.
The SPS and vouchers sent to HE get traded to HIVE, and then sent to @spinvest for dividends.
Add to that, claiming GLX airdrop and staking rewards, and fully compounding for now while APR is crazy high for the new Genesis League token.
So the dividends funds from this flow will be from the SPS/BNB liquid tokens (which will grow over time) giving SPS farming rewards, and from staked SPS.
I hope all that makes sense.
On to the Details:
---
BSC activities.
EMP Money.
The recovery of the EMP eco-system overall has stalled this week, with the peg declining a bit, and the prices of all main assets dropping with the market turmoil this week.
Farmed around $14 of ESHARES from the EMP/ETH farm.

This was almost half last weeks return, due to falling USD values.

Swapped it all to BNB (small change of routine here, just for ease I'm going to swap all earnings to BNB for all BSC activities, and then send income to Spinvest for dividends at the end.

I also deposited all the remaining ESHARE/BNB LP tokens into the Reactor contract, so this asset will drop of the balance sheet, but we have a share of the contract. Here is what the share looks like now: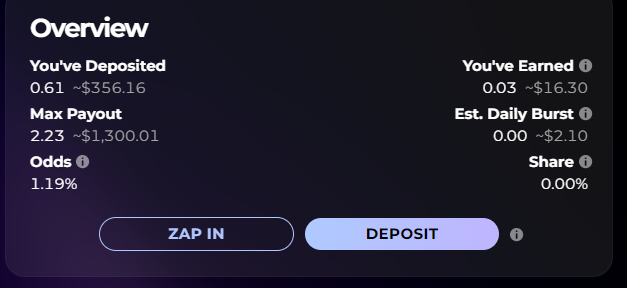 The SPS/BNB Generator looks like this: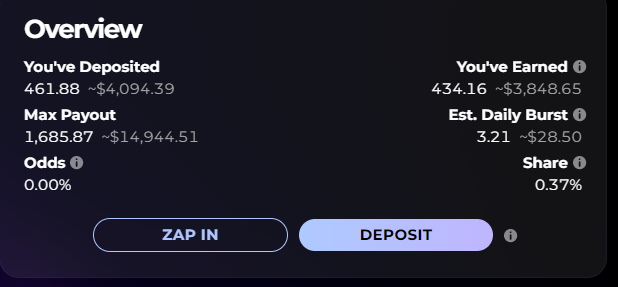 Asset value this week:
EMP/ETH farm - $1151 (down $470 - giving up all of last weeks gains)
ESHARE/BNB - $0 (fully deposited now into the Reactor contract)
---
CUB Finance:
Farmed around $9 in CUB (down $3 from last week).
Traded to BNB
Asset value this week:
CUB/bHBD - $842 (down $125)
CUB/bHIVE - $663 (down $242)
Hit hard by HIVE price drop, and CUB dropped also.
---
So, for the earnings, I traded half of the earned BNB to bHIVE - received 26.26 (to go for dividends)
Remaining BNB traded to SPS this time, and unwrapped to Splinterlands to be staked.
---
---
Game Tokens
Splinterlands
Staked the SPS sent from Spinvest.
Claimed farming rewards, and staking rewards daily.
Sent half to Hive engine, compounded half back into stake.
The half sent to HE (with a small amount of vouchers) traded to HIVE - 7.182 HIVE
Plan is to build up staked SPS as much as possible, There is a lengthy airdrop of the new GLX token for the Genesis League game being launched. This airdrop effectively boosts the APR of staked SPS.
Asset value
SPS/BNB LP - $584 (down $57)
SPS staked - $25 (new position)
The pool is down in $$ terms, but we have more pool tokens than last week, thanks to the EMP contract. This will grow over time, growing the SPS farming returns gradually each week.
I am expecting the SPS/BNB farm, SPS income and now GLX growth (see below) to be the main driver of this wallet moving forward.
---
Genesis League Sports.
We have started to receive the daily airdrop for staked SPS tokens. In addition, I traded some HE random stuff to buy a few GLX. It is a tiny start, but with high early APR, and steady growth for the SPS stack, should build over time. To begin with, no dividends, just 100% compound for now. This will change at some point in the future.
Asset value this week:
GLX stake: $4 (new position)
Just the beginning days of a new asset for us.
---
POLYCUB
Out of time to transact, and I have a stuck TX in metamask and have to go to work soon. Will compound earnings and sort it out after work tonight.
Asset value this week:
USDC/POLYCUB - $620 (down $96)
vexPOLYCUB - $98 (down $34)
Not a good week.
---
HIVE
Made about 24 HIVE from post payout in LEO and HBD.
Asset value this week:
HIVE power - $164 (down $67)
---
Summary.
All up this week, I sent 58.268 HIVE to @spinvest as this wallets contribution to the weekly dividends. Value currently of $20.
This is a different process, but I figured it would be easier for @silverstackeruk moving forward if I do all the conversions and just send him HIVE instead of some HBD, some LEO, and some SPS.
Goal is to grow this over time.
Asset values this week:
EMP/ETH - $1151
CUB/bHBD - $842
CUB/bHIVE - $663
subtotal: $2656
SPS/BNB LP - $584
SPS staked - $25
GLX staked - $4
subtotal: $613
USDC/POLYCUB - $620
vexPOLYCUB - $98
subtotal: $718
Hive power: $164
subtotal: $164
Total assets: $4151
Down: $1360 from last week.
Rough week, but these weeks happen in crypto.
Posted Using LeoFinance Beta