Welcome to the weekly update post for @spinvest-leo, where I (@jk6276) record on chain for transparency our transactions for the week, and update @spinvest investors with our progress.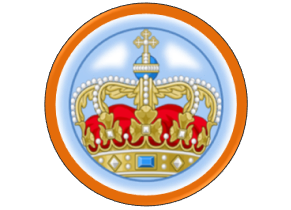 Going back to a post style report this week, as there has been a bit going on for this account, and explaining what I have been doing, mainly with EMP, will be easier in a post than a thread.
---
EMP.
The peg is still broken, and seems to become a little more broken each day. Now, this is either a major opportunity, or a sign of failure. I don't know which way it is going to go, but feel the best course of action for this account is to stick with it. @spinvest has removed all its investments in the platform, which were significantly more than those run in this wallet, so keeping a little on the table in case of a recovery is probably the smart play.
From the last full update post a month or so ago, the value of these funds is down around $600 (25-30%) which is not good, but not the end of the world in a bear market. Time will tell how this hold plays out.
Claimed around $16 in farming rewards.
Swapped half to BLEO, half to BNB.
Received 150 bLEO - worth $8 for the dividends.

Asset values this week:
ETH/EMP - $1065
BNB/ESHARE - $326
The other thing I have done in the last week is participate in the "Generator" contract, with some of our SPS/BNB LP tokens (farming SPS on Splinterlands). This contract is the first of EMP's new "Detonator as a Service" arrangement. I put roughly half the LP units in, and have adopted a 2/3 compound approach. This means that each day, I log on and for 2 days compound earnings, and every third day I claim them, to build back the SPS/BNB LP units over time. The deposited units don't appear on the Debank details page, so I will just have to include screenshots to keep you updated.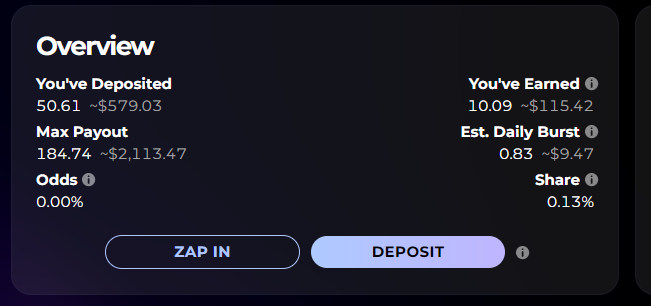 The long term goal here is to grow our SPS/BNB LP position steadily over time. The funds deposited in this contract are gone from our wallet, but compounding 2/3 of the earnings, and claiming 1/3 over time should serve us well. This contract is not reliant on the peg function of EMP, and earnings are unrelated to the main LP's on the platform.
Time will tell if this move is wise, but I think it is a risk worth taking.
---
Cub Finance.
CUB stable coin confirmed... The price of CUB is still $0.021, where it has seemingly been for weeks now. This is a really promising sign, as a token that is primarily a "farming" token, holding its value is a patchy and down-trending market is a strong performance. I definitely have more confidence in CUB for the long term than I did even a month or two ago. Great to see.
Claimed around $10 in farming rewards.
Traded half to bLEO and half to BNB.
Received just under 100 bLEO, worth $5 for dividends.

Asset values this week:
CUB/bHBD - $828
CUB/bHIVE - $773
The CUB/bHBD is basically unchanged from a month ago, and CUB/bHIVE being down a little, reflecting the drop in price for HIVE over the month.
CUB feels like it is on very solid ground now, and I'm glad we have stuck with it.
---
Splinterlands.
As outlined above, the SPS/BNB LP position has changed a lot, with a portion of it deposited into EMP. Long term my goal is to steadily build this position into one of this wallets biggest holdings
Claimed a little over 100 SPS, worth around $8
Sent it to BSC, traded half to bLEO and half to BNB.
Received over 70 bLEO, worth $4 for dividends.
At this point I compounded the spare BNB back into this LP position, as it is the primary target for growth for me at the moment.

Asset value this week:
---
Polycub
Claimed a bit over 100 unlocked POLYCUB, worth around $5
Traded half to pLEO
Received 50 pLEO, worth $3 for dividends.
Compounded remaining back in to the USDC/POLYCUB pool.

Asset values this week:
USDC/POLYCUB - $739
vexPOLYCUB - $147
Will be interesting to see how POLYCUB performs compared to CUB. The two different models will be interesting to watch play out. My money is on CUB to outperform, but I am happy to maintain the Polycub position incase I am wrong.
---
HIVE
Sent around $2 of value to @spinvest from post payouts (and the small @leo.voter delegation).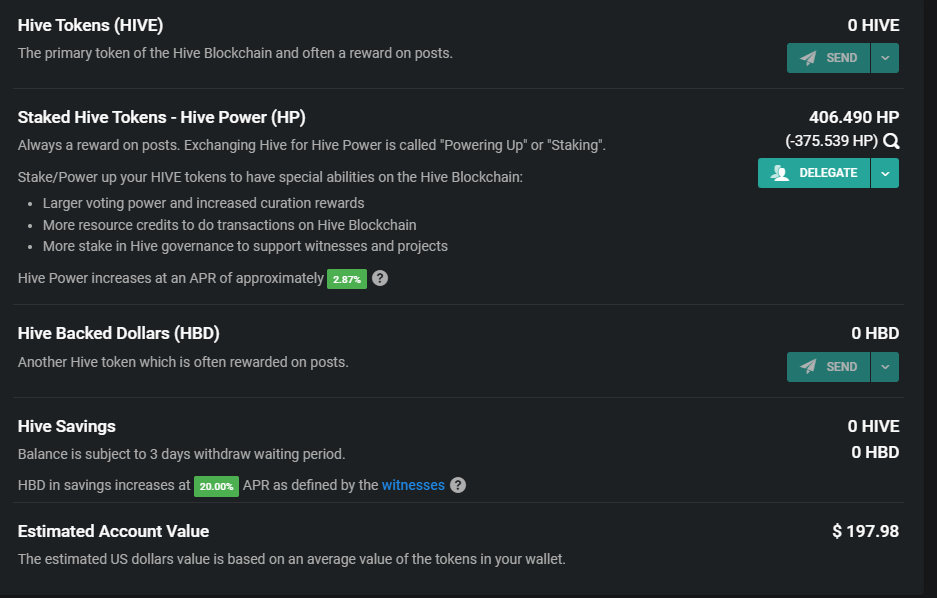 Asset value this week:
---
Conclusion.
Overall, this wallet is treading water in the current market. Trying to stick to plans to build our number of tokens for when the next rally comes. @silverstackeruk handles the big wallet @spinvest, and keeps things fairly conservative. I see this wallet as aiming to build income flow for dividends, and maybe take a few more risks. The main play currently is to build up the SPS/BNB position.
Asset value this week: $4640
Sent for dividends: $20
Sent from post payouts: $2
Thanks for reading, feel free to share any suggestions, comments or criticisms.
Cheers,
JK.
Posted Using LeoFinance Beta