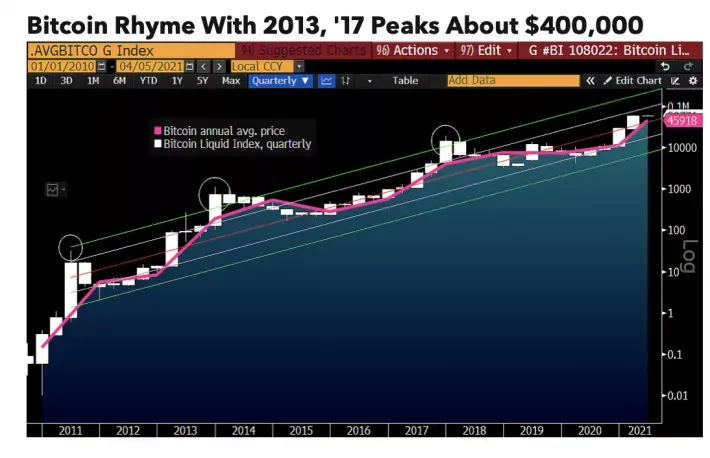 Omkar Godbole reports in coindesk.com, citing analysts at Bloomberg Crypto, that Bitcoin could go as high as $400K.
"Analysts at Bloomberg Crypto argue the largest cryptocurrency might be due for a run analogous with the steep rallies of 2017 and 2013, following prior "halvings" on the blockchain network."
"Our graphic depicts bitcoin on similar ground as the roughly 55x gain in 2013 and 15x in 2017," Bloomberg Crypto noted in a monthly report published this week. "To reach price extremes akin to those years in 2021, the crypto would approach $400,000, based on the regression since the 2011 high."
Will the Bitcoin price reach $400K before the end of this year?
Source credit and full story - https://www.coindesk.com/bloomberg-bitcoin-400k-prediction
Poorman's Bitcoin - Free Bitcoin - Related Links:
https://peakd.com/hive-167922/@successforall/poor-man-s-bitcoin-free-bitcoin-is-it-too-late-to-invest-in-bitcoin-never-too-late-because-it-is-free-even-at-usd50k-usd100k
https://leofinance.io/@successforall/poor-man-s-bitcoin-free-bitcoin-cg7j8
How to build your own bitcoin mining pool for free:
https://peakd.com/hive-167922/@successforall/poor-man-s-bitcoin-why-i-use-crypto-tab-browser-as-my-free-bitcoin-mining-pool
Posted Using LeoFinance Beta