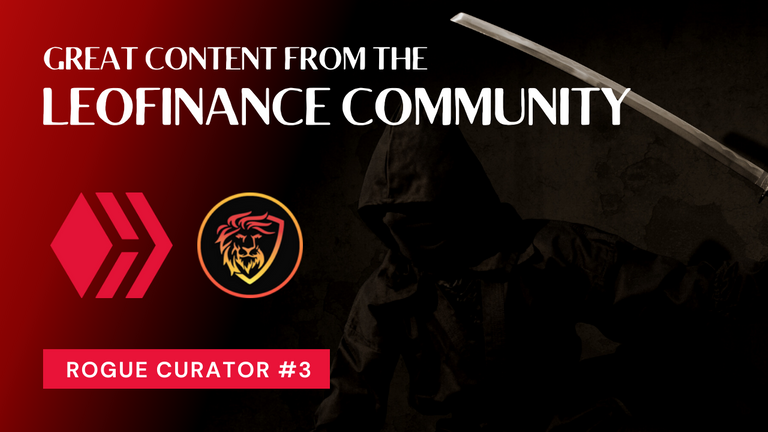 Time for another edition of 'Rogue Curator'!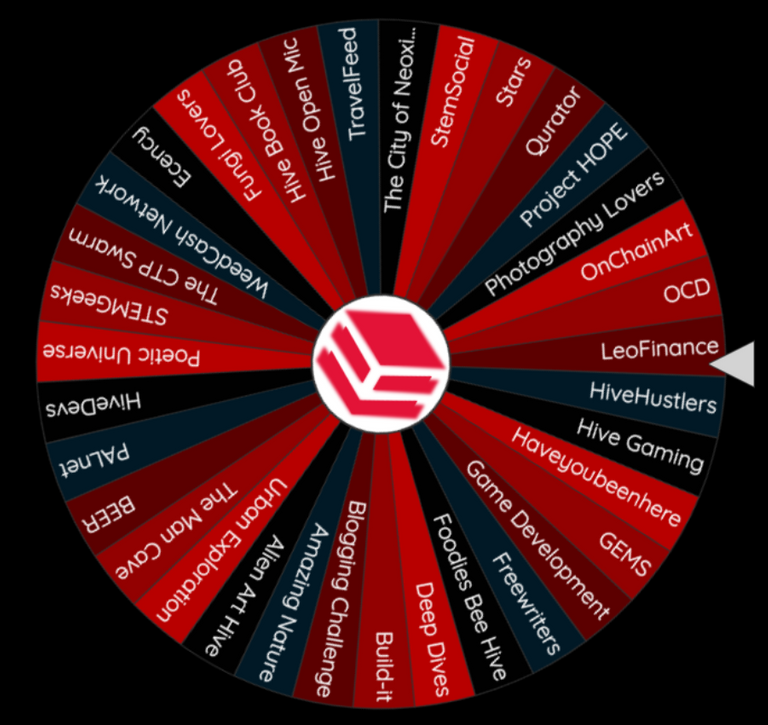 This is the first time I've had to re-roll the wheel I use to select which community I'll be curating.
It initially landed on HiveHustlers, but unfortunately there just isn't enough content being published at the moment to justify a curation article. Hopefully the next time the wheel lands on them, we'll have some more entrepreneurial content to showcase!
After spinning the wheel a second time, it landed on LeoFinance, so here I am to find a handful of great content/authors from the last week to promote and support.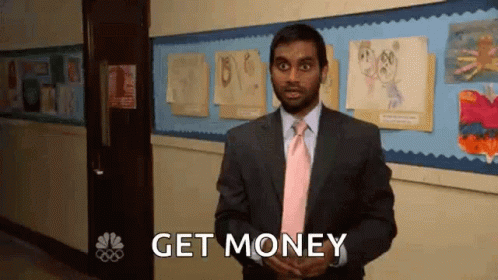 Crypto, Fiat, Investments and more!
LeoFinance is the Hive community to read and talk about making (or losing ☹️) money, but it's not just about blogging. LeoFinance has a growing network of apps and partnerships to help everyday people learn, earn, and invest!
If you want to publish your own content to this community, it will need to be based around the finance space (Crypto, investments, business, etc.), and I would recommend doing so from their custom frontend at leofinance.io to open yourself up to potential perks.
Let's jump right in to the content I've found this week!

The markets are almost entirely red right now!
Not unlike nearly everyone else, @whatsup woke up to his wallet looking a lot slimmer than it was a couple days ago... Bitcoin took a bit of a dive over the last 24 hours, and by "a bit" I actually mean as much as $10,000 per coin 😩
No longer a "crypto noob", @whatsup doesn't seem to awful worried about the current state of affairs, though, stating:
"One of my favorite things about Hive/Leo is the community rather than the investment, because when I was a noob in 2016 I hung out with people who had been in crypto longer than me. They remained calm and even laughed when projects or the entire market went up and down."
READ MORE HERE!

Hang on tight and don't let those fears get you...
When in doubt, don't always be so quick to cash out.
@rok-sivante writes about his journey with altcoins, and how he slowly converted his BTC holdings into altcoins that after due diligence, felt would outperform Bitcoin in the long-term.
He explains his belief that while Bitcoin will likely continue to rise in value, there are greater opportunities to grow one's net worth with the right altcoins, and how if you're confident in what you've invested in, have a little patience and you're likely to see them grow much faster than something with a market cap as large as Bitcoin.
READ MORE HERE!

Do you have what it takes to run your own business?
2020 saw millions of people losing their jobs as the Coronavirus pandemic impacted numerous industries across the world and many people began thinking about starting their own businesses.
Unfortunately, though, many businesses are started because someone sees the potential for profit, without understanding much about the industry itself. @kenechukwu97 talks about a few of the things required to start a successful business, and points out that many businesses that are started for the wrong reasons are doomed to fail.
READ MORE HERE!

2020 also saw a surge in the 'Gig Economy'!
@chronocrypto wrote about their recent experience with running DoorDash orders, turning it into a full-time gig, and how hard they're working to reach their earnings goals working 10 to 11 hours per day!
They explain how this type of work will allow them to earn much more money than they were before, and says they could soon be earning $2000 per week!
If you're looking for a bit of inspiration to kick your own hustle into gear, @chronocrypto's got you covered!
READ MORE HERE!

Let's end with something a bit more "traditional".
Real estate is one of the oldest investments, but just like any other, it's not always sunshine and profits. Real estate is a very localized industry though...
@taskmaster4450le wrote about how many parts of the real estate market are on fire, while others are seeing massive problems. They explain that there's an exodus occuring from urban areas, and even from particular states, which all create down markets in one place, and booms in the other.
If you're interested in what could be causing all this, this post from @taskmaster4450le does a good job of telling the story.
READ MORE HERE!

Who doesn't like money?
I have to admit it was very difficult finding just 5 posts for this article. The LeoFinance Community is absolutely booming, and it took a lot of scrolling to find articles spread over the entire week. I could easily write a daily curation post like this for this community if I wanted.
I truly love to see a Hive community become so big! If you're interested in anything finance, LeoFinance is definitely a community worth taking part in!
As usual, each author chosen to be included in this post will earn 10% of its rewards!
Thanks so much for reading! Now go do something awesome!


Community Leaders: I'm available to write weekly curation posts on a more "official" basis! Click the banner above to get in contact, and let's work something out!