Good day Hiveians!
Join me in analyzing the crypto markets!
And while nobody knows how long it will last, I have outlined a potential market low for BTC the other day at around 12k. If we assume this scenario plays out, where would Hive's price be relative to that?
We know that altcoins generally tank harder when BTC takes a dive. 12k BTC would mean another 27% correction. Since BTC also dropped this amount on November 8th and Hive dropped about 40% we could roughly assume the same numbers. Hive could easily push upwards to about 40 cents in the next weeks, however (and get rejected at the daily resistance . If so, then this bigger correction would push price back to about 25 cents.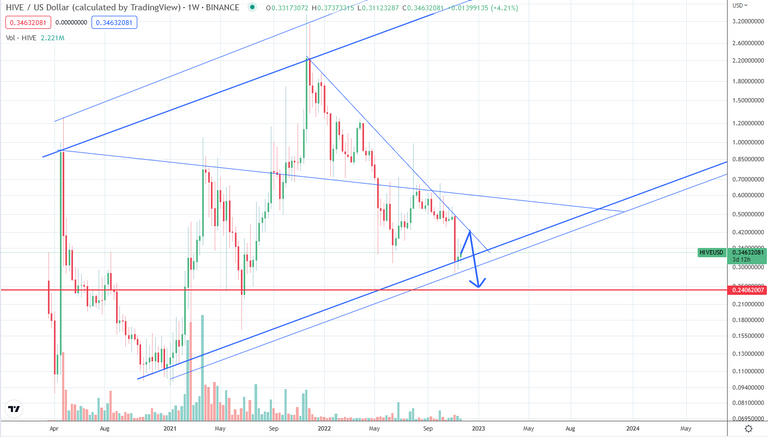 As we can see, there is some historic price support at these levels. Nevertheless, we would break out of the newly established parallel channel. We could therefore establish a new channel again, or alternatively stay in the old one by just producing a wick instead of a closing candle on the weekly chart.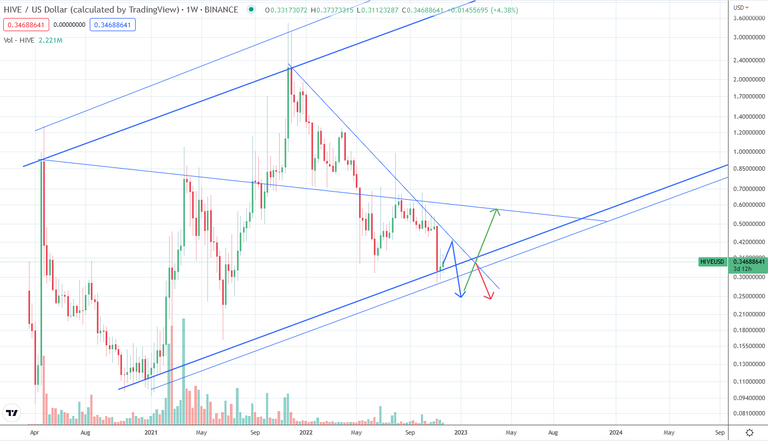 Going to 25 cents would mean a price recovery of about 50% since the last low of 16 cents in June of 2021. It would also be almost a 93% correction since the ATH. Enough for the end of a bear market? I think it is likely once these lower lows finish, that we will see a stark increase in price again similarly to what we saw in in the beginning of 2021 or in the summer of that year: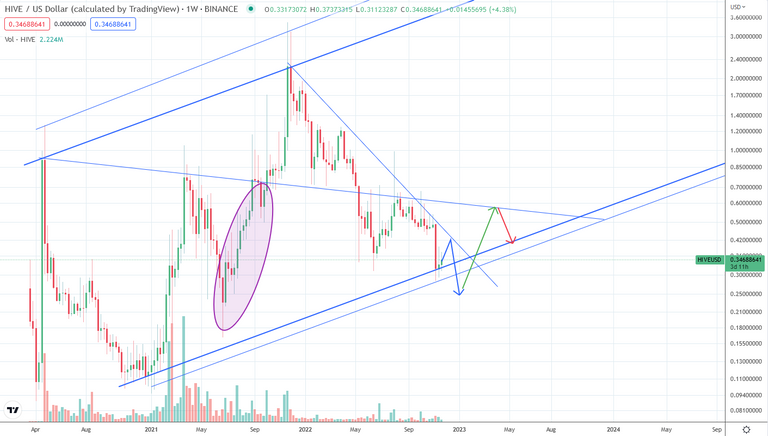 Even at around 35 cents currently, Hive is obviously undervalued from a fundamental point of view. Every week some new project gets announced or a major update is put forth - the level of development on Hive is truly remarkable. Once this downside movement ends, the potential upward pushes are very great as alone for 2023 the upper boundaries of the price channel would suggest a price of about $5.
---
As a general reminder: Please keep in mind that none of this is official investment advice! Crypto trading entails a great deal of risk; never spend money that you can't afford to lose!

⛅🌦🌧🌦🌧🌨☁🌩🌦⛅🌧☁🌤🌥🌪🌧🌨🌩⛅🌦☁🌤🌥🌤⛅🌤⛅🌦⛅

⛅🌦🌧🌦🌧🌨☁🌩🌦⛅🌧☁🌤🌥🌪🌧🌨🌩⛅🌦☁🌤🌥🌤⛅🌤⛅🌦⛅