DEC is once again under its peg
But we have seen it reach peg 2 times briefly in recent times and there is reason to believe that it will actually trade very near to its peg in the near future for longer periods. The last time we had a look at DEC, it was trading just a bit below 0.001. This was due to the LAND hype we got entering LAND 1.0. Before that we got the RUNI event which brought price also almost back to peg. Price has not decreased as much as in the before after a coming close to its peg. It was still about a 25% drop over the last weeks, but price seems to be recovering again. Overall this is the picture: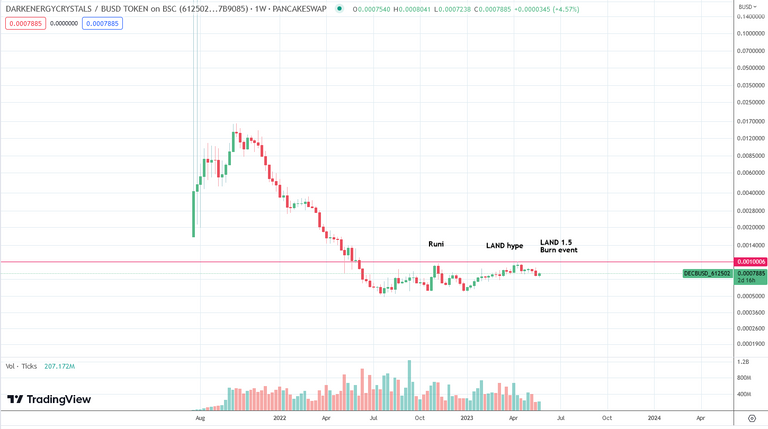 June is going to be important:
5 year Burn Event in which there will be prozes for burning DEC and DEC-B
LAND 1.5 at the end of June which will soak up massive amounts of DEC and DEC-B
Soulkeep is launching its open beta
Every one of them is already a massive news to the DEC ecosystem. But all 3 combined is going to bring DEC back to its peg with high certainty. The question is rather, how long can it hold its peg? In this regard I think we have to assume that it will not trade perfectly at peg since there is still a lot of DEC in circulation. The SPS/DEC flywheel can only start once this DEC runs out and players will have to convert SPS>>>DEC. This is when we can expect DEC to be more sustainably at peg.
Buying DEC now seems to be a very good trade atm. with it trading at 0.0078 it is more than 20% under its peg. This means that there is a similar profit opportunity at the moment. With the crypto markets rather weak atm it could be a relatively way way to make some profit over the next weeks. This might be the last big discount opportunity before LAND 1.5 and 2.0 rolls out soon. Personally I also haven't reached my target of about 600k DEC, so I will have to buy some.
---
As a general reminder: Please keep in mind that none of this is official investment advice! Crypto trading entails a great deal of risk; never spend money that you can't afford to lose!

⛅🌦🌧🌦🌧🌨☁🌩🌦⛅🌧☁🌤🌥🌪🌧🌨🌩⛅🌦☁🌤🌥🌤⛅🌤⛅🌦⛅

⛅🌦🌧🌦🌧🌨☁🌩🌦⛅🌧☁🌤🌥🌪🌧🌨🌩⛅🌦☁🌤🌥🌤⛅🌤⛅🌦⛅