I remember sometime on Hive when a project "A-dollar a-day" was created to help reward users from vulnerable areas, especially African countries, with at least $1 daily. many were beneficiaries of the scheme which lightened many families who were living below the one dollar threshold. Truly, those families still exists and they are even enjoying poverty that has become a regular in their daily affairs. This post looks at a different direction.
With the trends on blockchain gaming, GameFi and play2earn still making rounds, it is imperative that leisure is the new way to earn especially in a world like ours that is already filled with pain and troubles. Hive blockchain can now boast of several games that are making users richer on daily basis and added with the fact that reports as this can earn extra Hive and ONEUP alongside other related tokens for game players and lovers.
Some weeks ago, the Rabona game team saw the need to review the on its referral system and updates were made in this post and this post and we saw the resultant effect on the economy of RBN token as well as the earnings of players who bring in new players in this report. I'm glad that I joined the league of the users that are earning the mouthwatering referral rewards in this new tokenomics and it really fares well giving more motivation to tell our friends and loved ones about the games we earn from on Hive.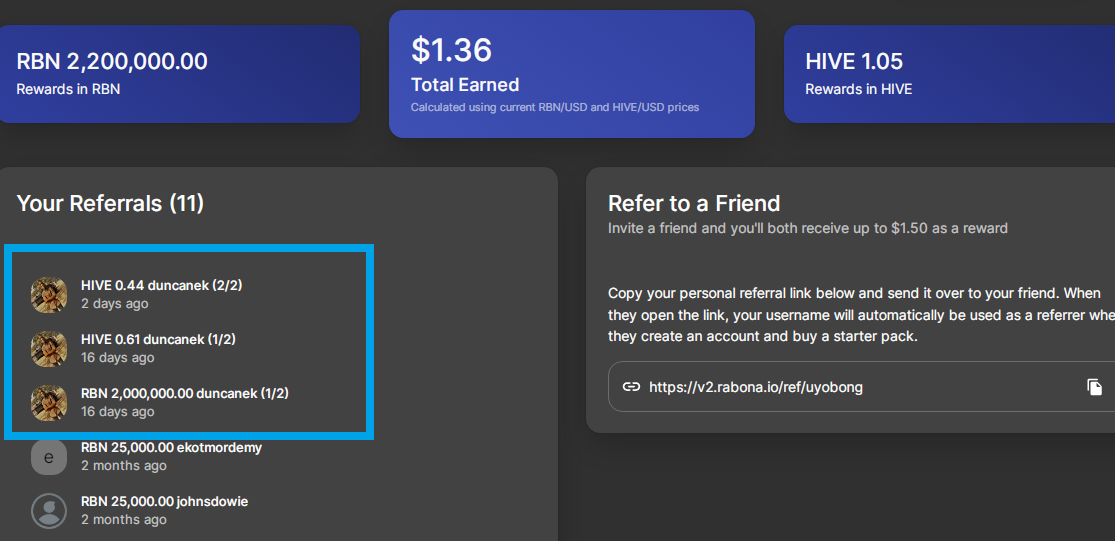 Altogether, I have brought in Eight (8) new users to the Rabona game from inception, but the last one - @duncanek made me $1.3 richer over the last 16 days. As shown in the above screenshot, the first part of the reward was paid in RBN (2 million) and HIVE (0.61) paid two weeks ago.
Amazingly, yesterday, I received the second batch of payment still on same referral, this time 0.5 HIVE, summing up my total referral earning to 1.11 HIVE which is equivalent to $1.3 in today's exchange rate plus the 2 million RBN token received at first.


Transaction ID
It could really be surprising that one could become awesomely rich by getting friends and family to start playing Rabona soccer manager game which is quite easy to play. This is what inspired my "One Friend- One Dollar" title for this post implying that we get richer by a dollar each time we have our friend join Rabona soccer through our link. I didn't tell you that my referral @Dunkanek also received 0.4 HIVE plus additional RBN tokens for joining. It's really a novelty as we didn't have that when joined this game.
Let's set the ball rolling. Join now with my referral link and start up with 5 million RBN, 0.4 HIVE rewards while you earn RBN tokens daily in the easy-to-play blockchain soccer management game.
Assume you are able to get one friend join Rabona game daily for the next 30 days. These would happen:
You would be above $33 richer
You would have helped spread more RBN to more accounts, thus, stabilizing the token value
You would have helped your friend join the league of play2earn fun workers smiling to the bank each day.
This is just the beginning of the future. More people would access wealth through crypto and even fun work would be rewarded. No more an era of 9 to 5 rigorous/boring office work, its time we make money from what makes us happy and play2earn games are here to make that happen.
Having cashed close to $200 from Rabona yet, my journey just begun and I see a greener future...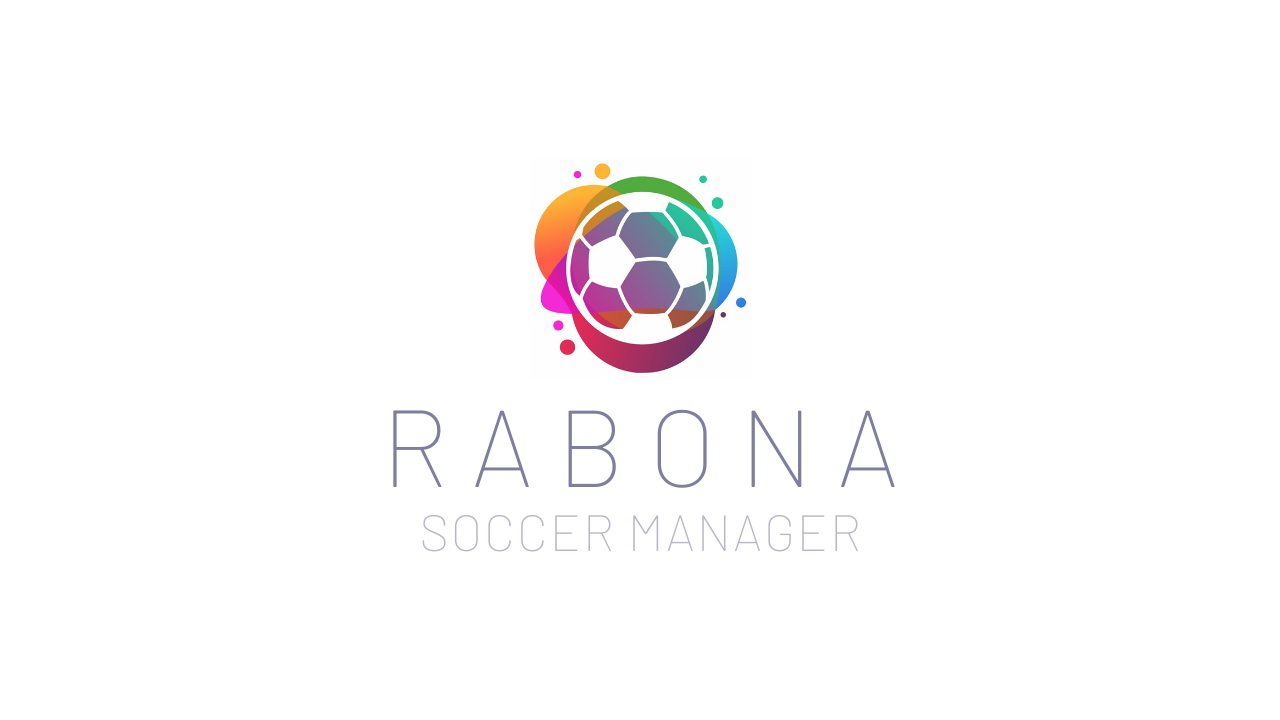 What is Rabona?
Rabona is a massive-multiplayer online soccer management game built on the Hive blockchain. Decide how to build and develop your team, take on the role of the head coach of your team, and manage the financials of your club. Lead your club to the top of the league, and become the champion!
Join Rabona game with my Referral link, get free 5million RBN PLUS 0.4 HIVE
What is Hive?
Hive is an innovative and forward-looking decentralized blockchain and ecosystem, designed to scale with widespread adoption of the currency and platforms in mind. By combining the lightning-fast processing times and fee-less transactions, Hive is positioned to become one of the leading Web3 blockchains used by people around the world. source
What is Hive-Engine?
Hive-Engine is a smart contract platform on top of the Hive blockchain. It allows communities and businesses to build their own tokens, which are then built on top of the technology provided by Hive. This is the ultimate layer 2 solution. The token created on Hive-Engine is then immediately tradable with Hive on their exchange.
About me...
I am a called teacher, a serial entrepreneur and a Graduate of Agricultural Engineering. Nigeria is my root and a place full of opportunities. I dropped out of a Master's Degree programm due to funds, yet I do not regret growing the courage to start my business from the scratch. Today, I've built layers of Businesses on the Hive blockchain in terms of Curation and it's a sustainable passive way of earning crypto while learning.
I am your favourite Hive Tribes Promoter and Curapreneur!
I am @Uyobong.
Let's connect on Twitter
Posted Using LeoFinance Beta