Google hat mich dazu gedrängt, einen Cookie-Consent-Banner auf meiner Website zu installieren, sonst könnte man ab 2024 in der EU keine Anzeigen mehr schalten. So könnte man das Cookie-Dilemma lösen.
Finde die Cookie-Banner in der EU ziemlich sinnlos, da sie eigentlich nichts an der Datenschutz-Situation ändern, sondern nur lästig sind.
Jeden Tag muss ich immer wieder einige Cookie-Banner wegklicken. Das nervt. Stimme meistens zu (einfachste Option), verwende einen Ad Blocker und hab früher sogar selber einen Ad Blocker entwickelt.
Nicht alle Banner werden automatisch im Browser geblockt oder wenn ich den Ad Blocker kurzfristig deaktivieren muss oder eine InPrivate/Incognito-Session starte.
So könnte man das Cookie-Dilemma lösen. Anstatt dass jede Website einzeln um Erlaubnis fragt, ob sie Cookies und personalisierte Werbung anzeigen darf, könnte man doch im Browser eine Einstellung hinzufügen, personalisierte Werbung zuzulassen oder abzulehnen und der Browser könnte dann die Weitergabe der Cookies aufgrund dieser globalen Einstellung verwalten.
Problem gelöst. Oh wait. Das gibt es bereits. Seit 30 Jahren in jedem Webbrowser. Man kann im Browser einstellen, ob man Cookies von Drittanbietern zulässt, Cookies komplett blockt oder sie nach jeder Sitzung automatisch löscht. Problem gelöst. Dann müsste nicht jede Seite extra nachfragen, sondern man löst es über eine allgemeine Einstellung, die dann standardmäßig für alle neu aufgerufenen Seiten gilt und man kann die Einstellung pro Site, falls notwendig, manuell anpassen. So wie das auch die letzten 30 Jahre der Fall war.
Was sagt ihr dazu? Nerven euch die Cookie-Banner auch? Blockt ihr Cookies von Drittanbietern generell?
ps. Google arbeitet schon seit einiger Zeit an einem alternativen Cookie-Modell, das die Interessen der User direkt im Browser verwaltet und so die Datenschutz-Problematik umgeht.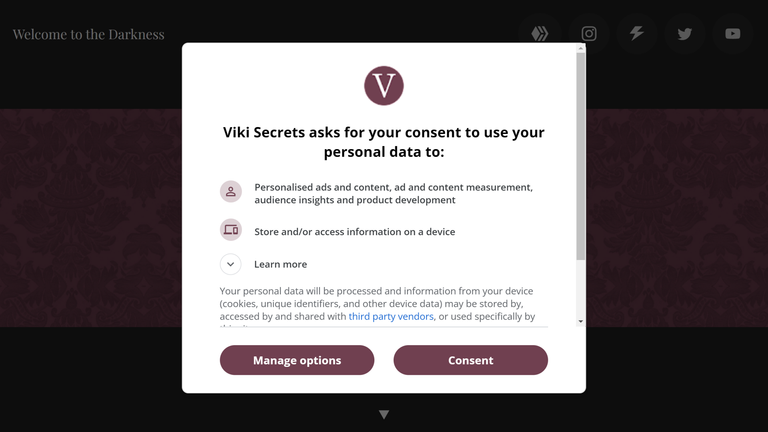 Cookie banner for users in the EU and UK
English
Google has urged me to install a cookie consent banner on my website, otherwise you would not be able to run ads within the EU from 2024. So you could solve the cookie dilemma.
Find the cookie banners in the EU pretty meaningless, as they don't really change anything about the privacy situation, but are just annoying.
Every day I have to click away some cookie banners again and again. This is annoying. Agree mostly to cookies (easiest option), use an ad blocker and even used to develop an ad blocker myself.
Not all banners are automatically blocked in the browser or when I have to disable the ad blocker for a short time or start an InPrivate/Incognito session.
This is how the cookie dilemma could be solved. Instead of each website individually asking for permission to use cookies and show personalized ads, why not add a setting in the browser to allow or deny personalized ads and the browser could then manage cookie storage based on this global setting.
Problem solved. Oh wait. This already exists. It's been in every web browser for 30 years. You can set the browser to allow third-party cookies, block cookies completely, or automatically delete them after each session. Problem solved. Then you wouldn't have to ask each site separately, but you solve it via a general setting, which then applies by default to all newly accessed pages and you can manually adjust the setting per site, if necessary. Just like it has been the case for the last 30 years.
What do you think of the proposed solution? Do the cookie banners bother you too? Do you block third-party cookies in general?
ps. Google has been working for some time on an alternative cookie model that manages the interests of users directly in the browser and thus avoids the privacy issue.
Live your Secrets and Hive Prosper 🍯
xx Viki @vikisecrets