Ich habe auf dem neuesten Altcoin-Video von @louisthomas einen Hinweis auf Hive gepostet (da im Vorschaubild HIVE erwähnt wurde) und kurz darauf habe ich eine Antwort von einem Identitäts- und Krypto-Betrüger (wahrscheinlich ein Bot) bekommen, der den gleichen Namen und das Profilbild von Louis geklaut hat, aber natürlich nicht der echte Louis Thomas ist.
Die Betrüger bedanken sich meistens für das Kommentar und bieten dann Anlageberatung oder versprechen Gewinne.
Eine andere Masche bei Twitter ist, dass ein prominenter Fake-Account verspricht, Kryptos zu verdoppeln, wenn man dem Betrüger einen Betrag schickt. Die Verdopplung findet natürlich nie statt.
In einer zweiten kryptischen Nachricht wird man dann aufgefordert Kontakt zu einer WhatsApp Nummer aufzunehmen, was man natürlich nicht machen sollte.
Die Nummer wurde etwas verschleiert gepostet, damit sie von YouTube wahrscheinlich nicht sofort erkannt wird.
Ich habe das Kommentar gestern bei YouTube gemeldet, aber YouTube hat es immer noch nicht entfernt. Wenn es nicht Covid-bezogen ist, reagiert YouTube nicht so schnell, nicht wahr 😂
Habt ihr auch schon so ein Scam-Kommentar bekommen oder gesehen?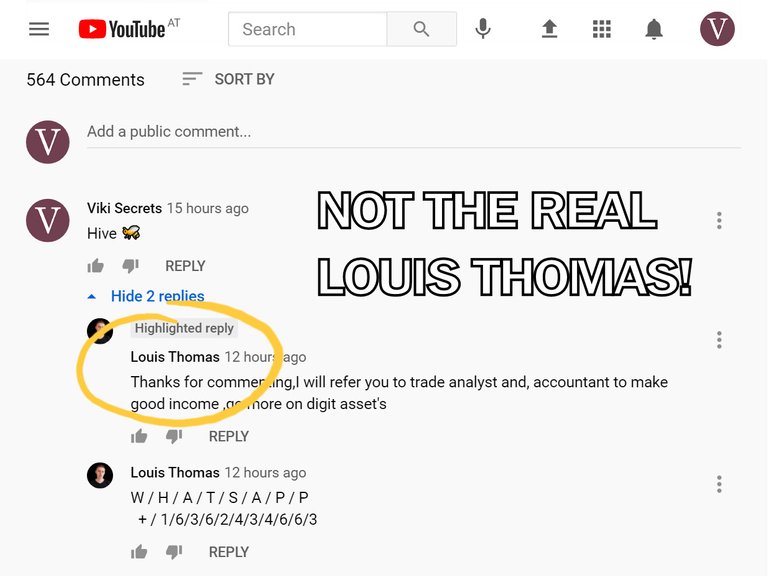 Crypto Scammer on YouTube
📽 Comment link: The End of Altseason, or Just the Beginning?
Video credit: @louisthomas
English
I posted a shout-out to Hive on the latest altcoin video by @louisthomas (since the thumbnail mentioned HIVE) and shortly thereafter I got a reply from an identity and crypto scammer (probably a bot) who used the same name and stole the profile picture from Louis, but of course is not the real Louis Thomas.
The scammer usually thanks you for the comment and then offers investment advice or promises profits.
Another common scam on Twitter is that a prominent fake account promises to double your crypto balance if you send the scammer your crypto. Of course, the doubling never happens.
A second cryptic message then asks you to contact a WhatsApp number of the scammer, which of course you should not do.
The number was posted somewhat obfuscated so that it probably wouldn't be immediately recognized by YouTube.
I reported the comment to YouTube yesterday, but YouTube still hasn't removed it. If it's not Covid-related, YouTube does not react so fast, right 😂
Have you received or seen such a scam on YouTube too?
Live your Secrets and Hive Prosper 🍯
xx Viki @vikisecrets