"Shame on ZDF Info" (Schande über ZDF Info): Das deutsche Staats-Fernsehen hat eine Anti-Tesla-Doku mit inkorrekt zitierten Tweets produziert 😂
Hab mir die umstrittene ZDF Info-Dokumentation über die neue Tesla Gigafactory Berlin in Deutschland angeschaut, war ziemlich wirtschaftsfeindlich und negativ gegenüber Elon Musk und Tesla eingestellt.
Es sind praktisch nur Kritiker zu Wort gekommen und es wurden sogar Tweets von Elon Musk inkorrekt zitiert.
Darauf hin hat, Elon Musk persönlich "Wow, shame on ZDF Info!" getweetet.
Was sagt ihr zur Doku? Berechtigte Kritik oder einfach nur Propaganda gegen Tesla? Würde man den Ressourcen- und Wasser-Verbrauch auch bei der deutschen Autoindustrie derart kritisieren?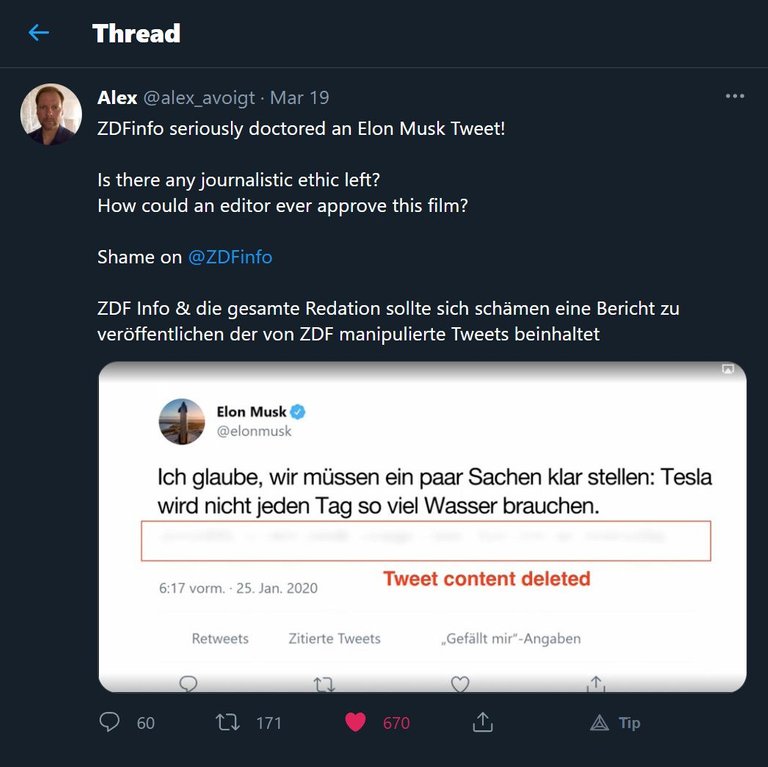 English
Watched the controversial ZDF Info documentary about the new Tesla Gigafactory Berlin in Germany and am surprised how anti-business and hostile the documentary was towards Elon Musk and Tesla.
Basically, only critics had their say and even tweets by Elon Musk were quoted incorrectly.
In response to that, Elon Musk tweeted "Wow, shame on ZDF Info!".
What do you think about the documentary? Justified criticism or just propaganda against Tesla? Would the consumption of resources and water also be criticized in this way in the German car industry?
Sources
[1] "ZDF Info" Shares Fake Elon Musk Tweet In Anti-Tesla Documentary https://evobsession.com/zdf-info-shares-fake-elon-musk-tweet-in-anti-tesla-documentary/
[2] ZDF Info Doku: Turbo, Tempo, Tesla – Elon Musk in Brandenburg