Denkt ihr, dass @splinterlands ein Unicorn werden könnte?
Ein Unicorn ist in der Finanzwelt ein Startup, das eine Firmenbewertung von über 1 Milliarde Dollar erreicht bzw. diesen Betrag bei einem Exit realisieren kann.
Das so etwas extrem selten bis gar nicht eintritt, brauche ich euch nicht sagen. Einhörner sind schwer zu finden.
Andererseits ist im Kryptospace und auf hoher See alles möglich.
Derzeit gibt es auf @coingecko ungefähr 80 Coins, die diesen Unicorn-Status inne haben. Auch Steem war einer dieser Coins und zu seinem Höhepunkt mehrere Milliarden wert, der unsägliche Exit von Ned brachte aber nur einen Bruchteil von dem ein.
Splinterlands ist laut State of the DApps derzeit das Nummer #1 NFT-basierte Game im Kryptospace und hat einen unglaublich erfolgreichen Track-Rekord.
Um das Unicorn-Niveau zu erreichen, müsste sich der Karten-MarektCap verzwanzigfachen (20x) bzw. der neue Governance/DeFi-Token SPS verzehnfachen (10x).
Das wäre im Kryptospace auf alle Fälle drinnen, genauso wie ein Verlust um 99%.
Was denkt ihr, könnte Splinterlands noch ein Unicorn werden?
Splinterlands Cards MarketCap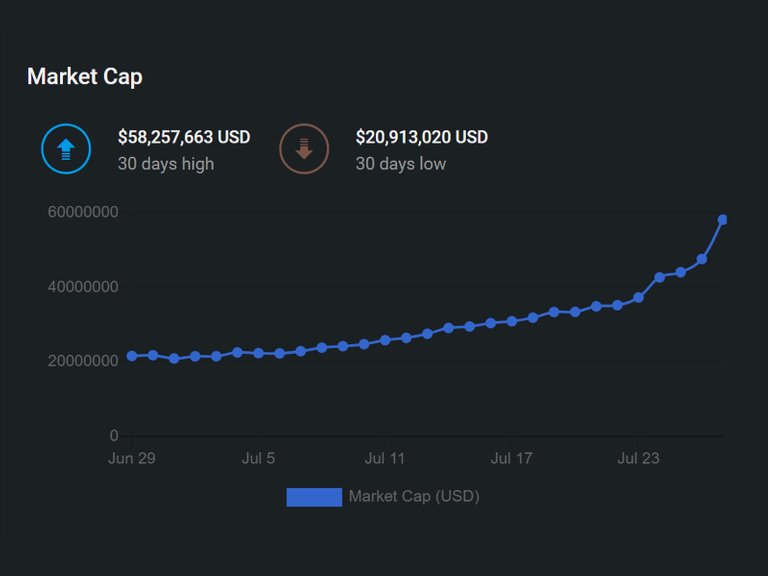 Source: https://peakmonsters.com/dashboard
Splinterlands MarketCap (2021-07-29)
| Asset | MarketCap |
| --- | --- |
| Splinterlands SPS Token | $132,901,480 |
| Splinterlands Cards (NFTs) | $58,257,663 |
| Splinterlands DEC Token | $3,494,454 |
| Splinterlands SPT Token | $392,657 |
Sources: @peakmonsters, @splinterlands, tribaldex.com
English
Do you think @splinterlands could become a unicorn?
In the financial world, a unicorn is a startup that reaches a company valuation of more than 1 billion dollars or can realize that amount in an exit.
I don't need to tell you that something like that is extremely rare to never happen. Unicorns are super rare.
On the other hand, anything is possible in crypto space and on the high seas.
Currently, there are about 80 coins on @coingecko that hold this Unicorn status. Steem was one of them, also worth several billion at its peak, but Ned's unspeakable exit brought in only a fraction of that.
Splinterlands is currently the #1 NFT-based game in crypto space according to State of the DApps and has an incredibly successful track record.
In order to reach Unicorn levels, the card market cap would have to increase twentyfold (20x) or the new governance/DeFi token SPS would have to increase tenfold (10x).
That can definitely happen in crypto space, as well as a 99% loss from here.
What do you think, could Splinterlands become a Unicorn?
Sources
[1] Splinterlands https://splinterlands.com/
[2] Splinterlands Airdrop: Players of the #1 NFT game Splinterlands get an airdrop every day for the next 364 days. Insane amounts paid out on Day 1 🤩 https://peakd.com/hive-167922/@vikisecrets/splinterlands-airdrop-players-of-the-1-nft-game-splinterlands-get-an-airdrop-every-day-for-the-next-364-days-insane-amounts-pa
[3] PeakMonsters Dashboard https://peakmonsters.com/dashboard
[4] What is a Unicorn: definition, origins, and current known "unicorns" https://snov.io/glossary/unicorn/
[5] SPS (Splinterlands/Splintershards Token) https://www.coingecko.com/en/coins/splinterlands
[6] @stateofthedapps State Of The DApps ranking https://www.stateofthedapps.com/rankings
Live your Secrets and Hive Prosper 🍯
xx Viki @vikisecrets