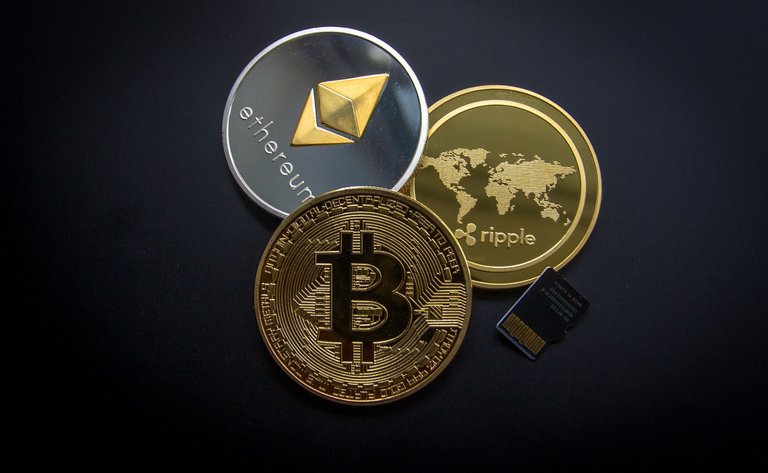 source
---
How is the development of cryptocurrency in Indonesia?
---
The growing development of cryptocurrencies among people almost all over the world makes the government of countries inevitably have to accept or refuse to legalize crypto assets in their country. In Indonesia, recently BAPPEBTI (Commodity Futures Exchange Supervisory Agency) has given official approval to several Cryptocurrency Exchanges, this provides security for investors and traders because these Exchanges must comply with the rules applied by the Indonesian Government through BAPPEBTI.
BAPPEBTI noted that currently, there are more than 12 million people in Indonesia who are crypto asset investors. Unfortunately, investors or traders who carry out legal cryptocurrency transactions from BAPPEBTI will be subject to VAT (Value Added Tax) and PPh (Income Tax).
---
Which Crypto Exchanges are legal in Indonesia?
---
Some of the exchanges that have successfully met the criteria from the Government are from Indonesia, like Indodax, Pluang, Pintu.Id, and several names are still not very familiar to me. The following is a complete list of legal cryptocurrency exchanges in Indonesia released by BAPPEBTI:
---
| Exchange | Web |
| --- | --- |
| PT. TUMBUH BERSAMA NANO | nanovest.io |
| PT. KAGUM TEKNOLOGI INDONESIA | www.ptkagumteknologiindonesia.com |
| PT. ASET DIGITAL BERKAT | www.tokocrypto.com |
| PT. ASET DIGITAL INDONESIA | www.incrypto.co.id |
| PT. BUMI SENTOSA CEMERLANG | pluang.com |
| PT. CIPTA KOIN DIGITAL | koinku.id |
| PT. COINBIT DIGITAL INDONESIA | coinbit.id |
| PT. GALAD KOIN INDONESIA | www.galad.id |
| PT. GUDANG KRIPTO INDONESIA | www.gudangkripto.id |
| PT. INDODAX NASIONAL INDONESIA | www.indodax.com |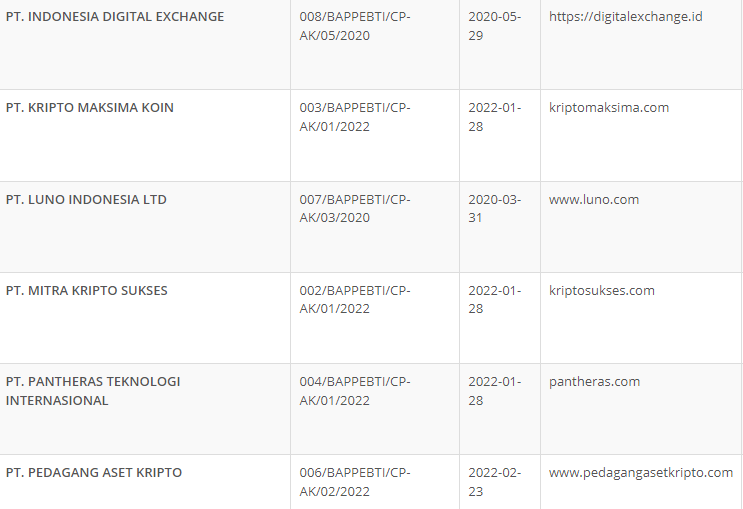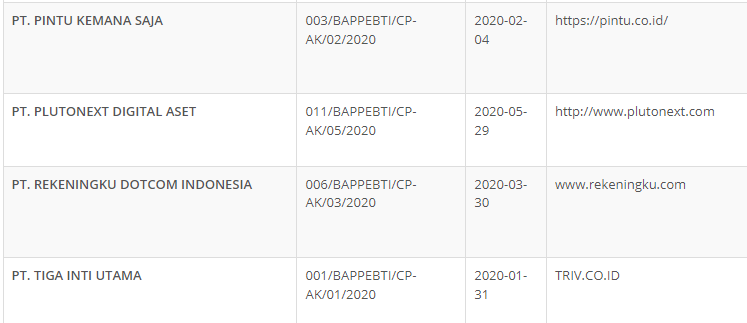 source
Here are just a few lists of legal cryptocurrency exchanges in Indonesia, sourced from the BAPPEBTI website. For a complete list, you can access the LINK.
---
Although there are several well-known cryptocurrency exchanges that are considered safe by other countries, they are not included in the list of Legal Exchanges from the Indonesian government, Like Binance, Bittrex, Mexc, and other exchanges that have been legalized in many countries, even though they are not official in Indonesia.
---
Final Thought
---
Even though the cryptocurrency market is currently moving from the fall in prices in the last few months, it does not reduce public investment interest, as evidenced by the growing cryptocurrency exchange in Indonesia.
When there are more and more cryptocurrency exchanges in Indonesia, the government has not yet created an Indonesian cryptocurrency exchange, so there is no direct exchange from the government that oversees the trading of crypto assets like the Indonesia Stock Exchange (IDX).
---
Disclaimer: Every investment decision is in your hands. Learn and Analyze before trading crypto assets. @workaholic666 is not responsible for profits and losses arising from your investment decisions. DYOR
---
Posted Using LeoFinance Beta
Posted Using LeoFinance Beta