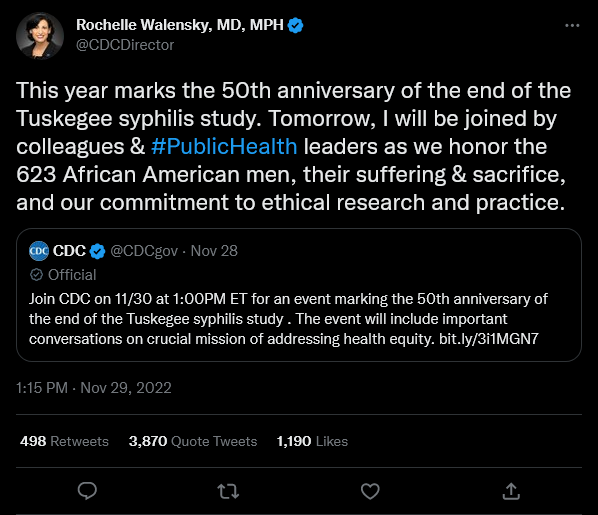 This tweet is a few days old now, but it was only just brought to my attention, and I can't even with this. To hell with these ivory tower holier-than-thou control freaks and their disingenuous talk of "sacrifice."
If you don't know what this is all about, click here for historical context. This is just one example of why so many people don't trust their claims to "ethical research and practice" in the first place. The "trust the science" crowd has a long history of treating people as science experiment subjects without their knowledge or consent.
Of course, none of this proves, or even necessarily supports, any current conspiracy theories regarding COVID, mRNA vaccines, chemtrails, etc. but it does discredit any insistence that conspiracies just don't happen, or would be quickly revealed to the public if they existed, or that people would be properly held accountable once such injustice is uncovered.
Just remember that while not everything a government functionary says is necessarily a lie, a lot is half-truth and deflection. Additionally, sometimes they are outright lying to you, and not for your own good.

HIVE | PeakD | Ecency
If you're not on Hive yet, I invite you to join through PeakD. If you use my referral link, I'll even delegate some Hive Power to help you get started.