There are so many projects here on Hive. One of the most recent ones we've been asked to participate in is the Hive Wiki (created with !LUV by @crrdlx) which is patterned very closely after wikipedia.org. We invite all Hive based projects to check it out and to start contributing.
Here is our first attempt at our Wiki-page. Enjoy! (Also, a big "Thank you" to @crrdlx for LUV and Hivebits! You are a rare breed we're proud of here in Hive)
---
Psyber-Decks
With Psyber-X now being played by our Founders, we have been looking to our partners who are developing Psyber-Decks. Things seem to be going smoothly on that front. If you're a wallet watcher, you may have seen some LVL being moved around a couple wallets as we continue testing the ability to wager LVL in the Splinterlands inspired game.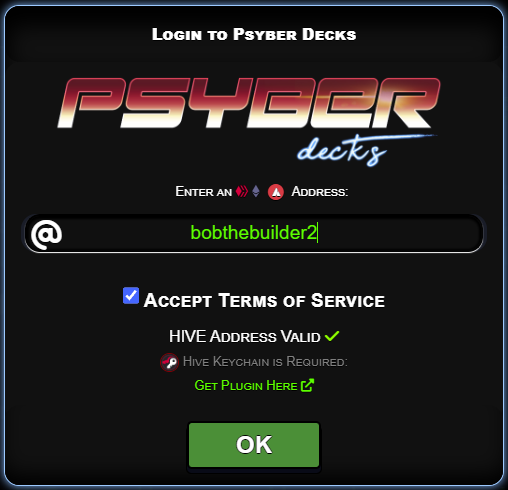 Once we grant access to our Alpha users, at first sign in, you'll have to accept the "Terms of Service." Because this is a risk based game, you could lose whatever is wagered. In its alpha stage, LVL will be the only thing wagered; however, as the game development progresses, there will be a
hard core mode
option available where players can wager the NFTs they're playing with, too. This mode will not be for the faint hearted.
Until then, **Psyber-Decks** will allow you to challenge other players for LVL or for practice, though the amount of practice rounds may be limited per day.


When signing in, you'll see that you have access to your NFT inventory as well as the ability to enter into a battle.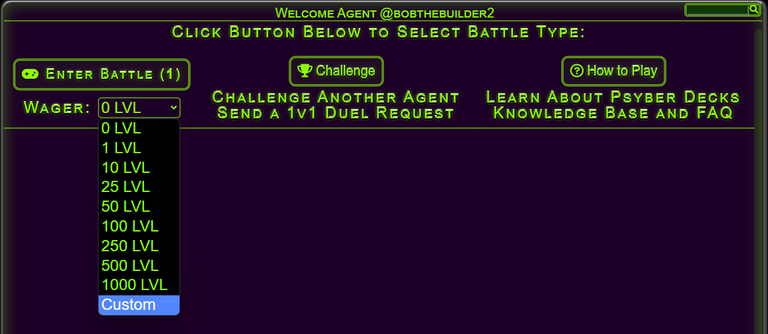 Starting a battle is fairly simple. You can wager as little or as much LVL as you'd like. There's an option for Custom, so if you'd like to go for 10,000,000 LVL, you can (just be careful not to lose!). We've already pre-filled some of the amounts for you ahead of time for ease of use. Have an foe always lurking in your streets? Challenge them specifically to a Duel. You can take them out in the maps of Psyber-X or Psyber-Decks!
Finally, we have a "How to Play" section for those wanting to understand the dynamics of the game.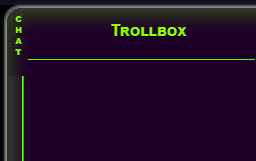 We have developed an ingame chatbox called the "Trollbox." Here, you can taunt your enemies or congratulate them on a game well played. You could also invite them in a gentlemanly manner to the "Free-For-All" fields of **Psyber-X** to fight it out with weapons instead of cards. It doesn't matter to us how you fight it out...just get the game on!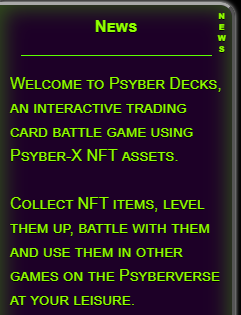 If you want to know the latest in **Psyber-Decks**, we have the News section for you.
We reserve this area to be news about anything, really. Who knows? Maybe we'll announce the next Czar of Russia, President of the United States, or Ambassador to Mars. We don't know what will happen, but something most certainly will and you'll hear about it here first...or much later than anyone cares to learn. We're not journalists, after all...we're game makers.
---
---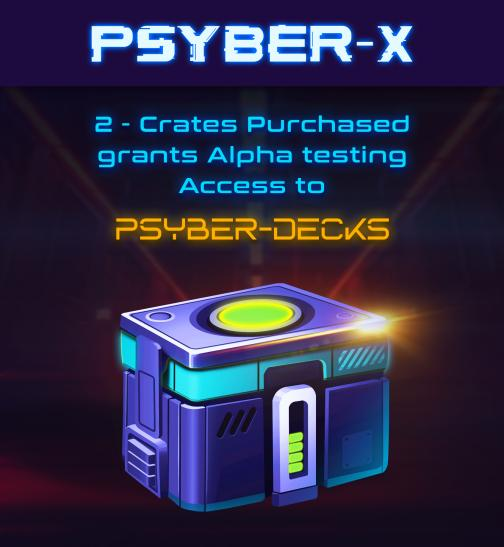 Psyber-Decks is a mini-game being developed to use Psyber-X NFTs. If you'd like to be able to play the game before anyone else, you simply need to buy 2 Psybercrates at http://www.psyberxmarket.com for the Alpha testing access.
---
---
Are You Ready to Play Psyber-X?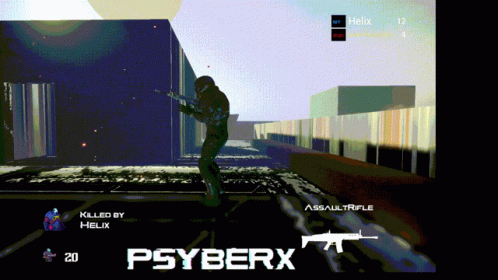 If you're ready to play, there are 3 passes that will allow you that privilege currently. They are the Bronze, Silver, and Gold passes.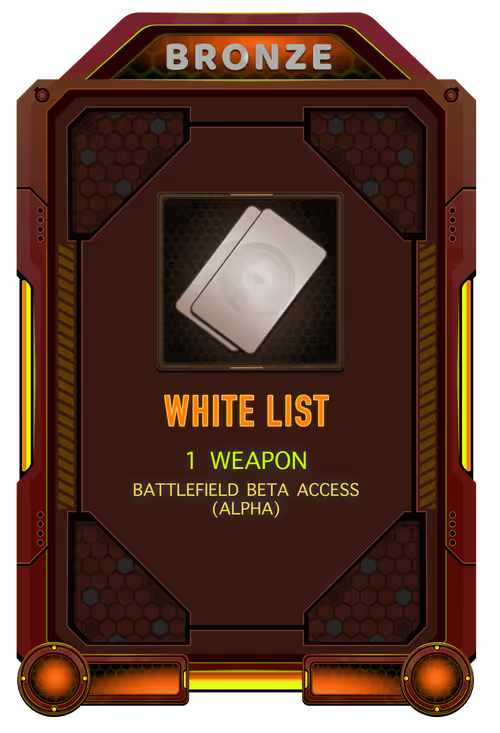 The Bronze pass is 1.5 avax to mint (less than $20 USD in today's value. Just a few months ago that would have been $50). It comes with a Legendary weapon and access to the pre-alpha/Alpha. There are a limited number of these passes, but this is a guaranteed way to get a Legendary NFT. @bobthebuilder2 bought one just for the weapon.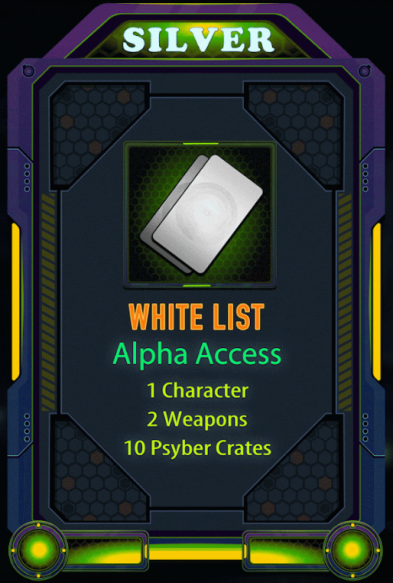 The Silver pass is 0.05 Eth and comes with 10 Psybercrates ($50 value), 2 Legendary Weapons (value depends on market), 1 Character (value depends on market), and access to play the pre-alpha/Alpha.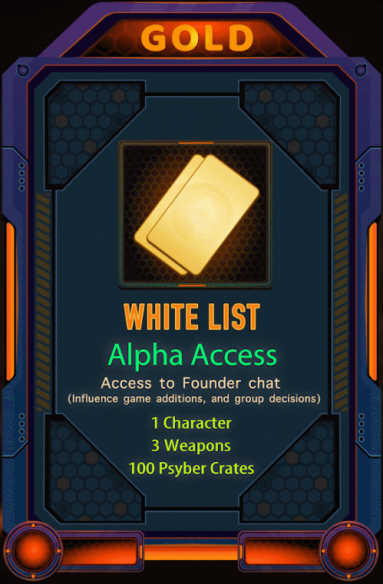 The Gold pass is 0.3 Eth and comes with 100 Psybercrates ($500 value), 1 Character, 3 Weapons, and access to play the pre-alpha/Alpha and recognition as a Founder.
Once purchased, notify us on Discord and we'll give you the instructions on how to download and play Psyber-X. We look forward to playing with you! If you are not able to buy any of the passes, LVL is available on the Hive Engine
---
---
Notable Posts:
Official Lore Stories
Informational:
---
---
Financial Links
Buying Level 1 (LVL)
Hive
Buying NFTs
Myria Passes
Avax Passes
---
---
Social Links
---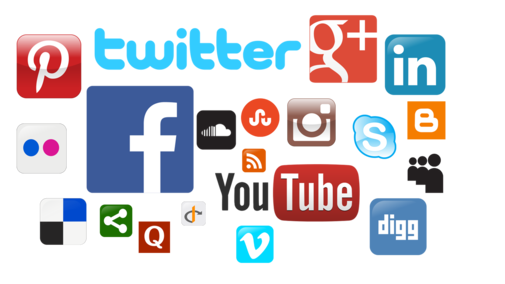 Psyber-X on Pimp Media

PsyberX on 1UP Zone

Hive account @psyberx

Twitter account psyberxofficial

Official Psyber X Discord Chat

Official Youtube account Psyber X

Official Facebook page Psyber X

Our Instagram account PsyberXofficial

The official Psyber X TikTok

Telegram Chat Invite
The Gaming Studio Royal Reptile Twitter

NftShowroom Psyber X Collection

Psyber X Blog on Reddit

Official 3Speak PsyberX Account

Whatsapp Chat Invite

Line App Chat Invite
---
*There is nothing in this post that should be construed as financial advice. If you are looking for financial advice from a blog post, you're looking the wrong place. Talk to someone who has a fiduciary responsibility to look out for you if that's what you're looking for. Be responsible!
---