I woke up this morning with a hangover I have not experienced in a while even though I drink regularly. It probably means I had a good night out at the city.
Trains can be one track minded.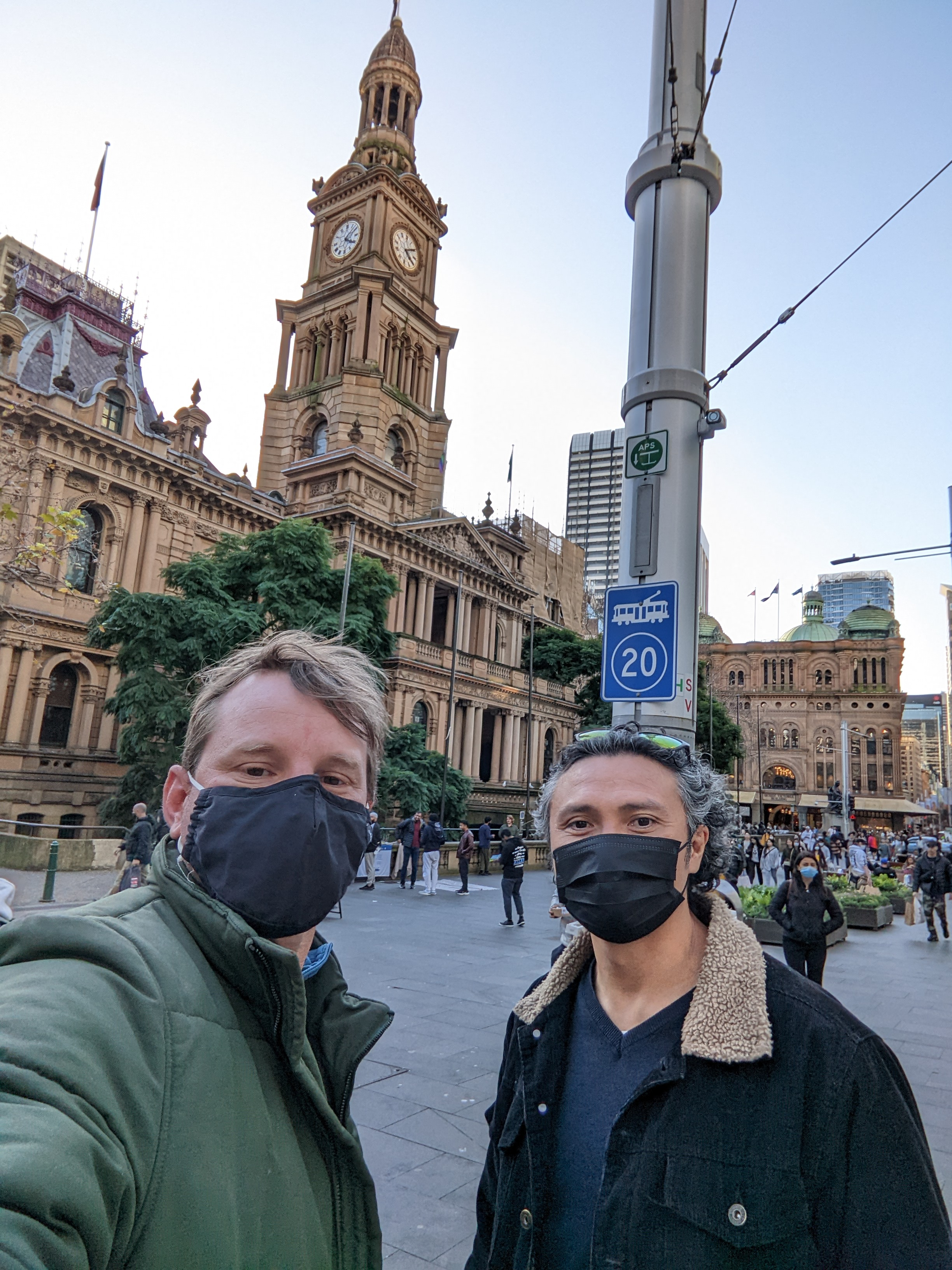 Arriving at ten to three in the afternoon we had to get off the train and catch the tram from Town Hall to Circular Quay. It was not a burden since we are not carrying heavy luggage with us. Plus this was the whole point of a pub crawl, to get to destinations and enjoy a beer along the way.
Wow the view from the drivers point is actually very nice.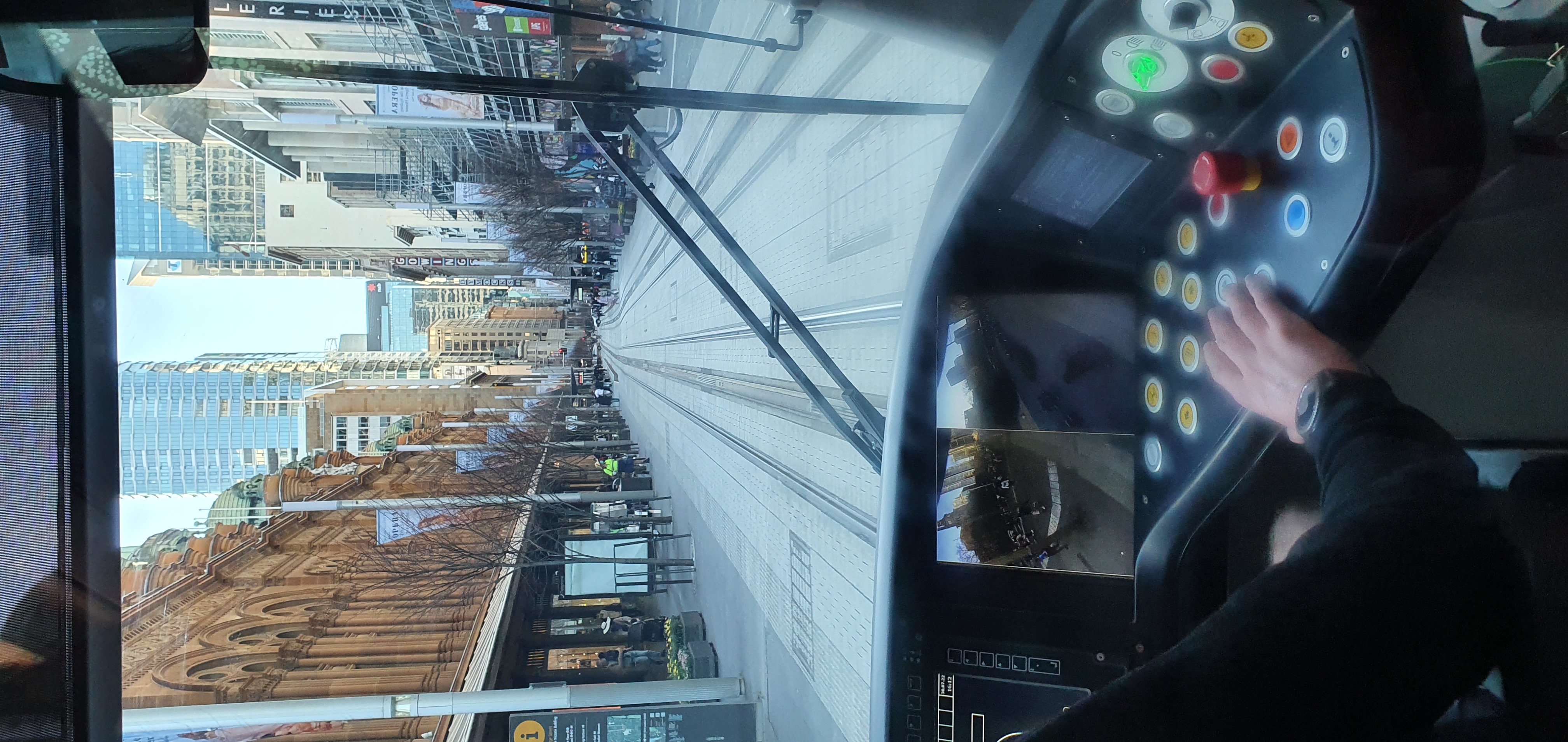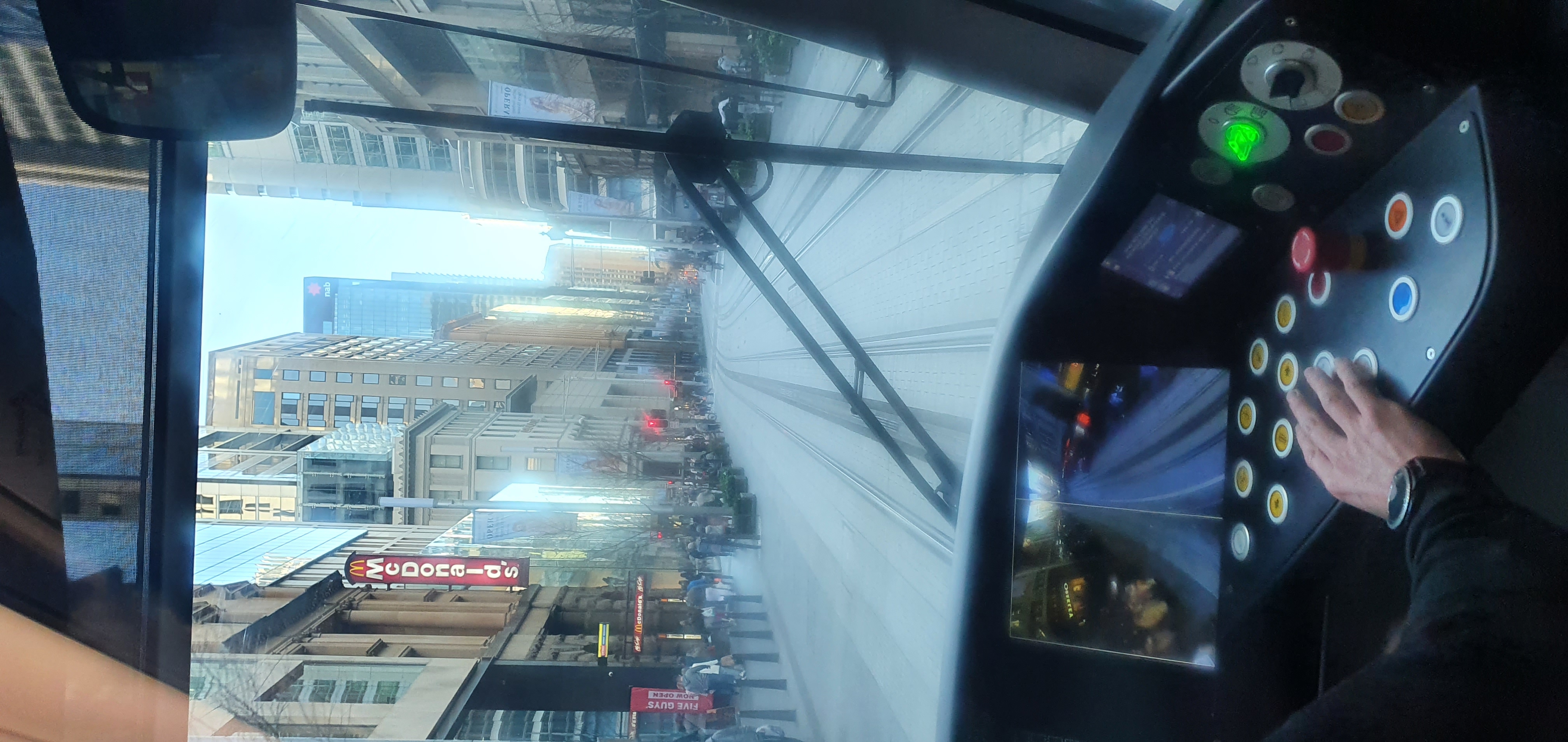 I was frantically wiping my phone camera lens when I saw how blurry parts of the photos were but I soon discovered the cockpit glass door was the cause of my predicament so I was not going to solve this problem any time soon. Still the city looks good. No cars within this part of the CBD shows how clean and streamlined the place can be. Clean too.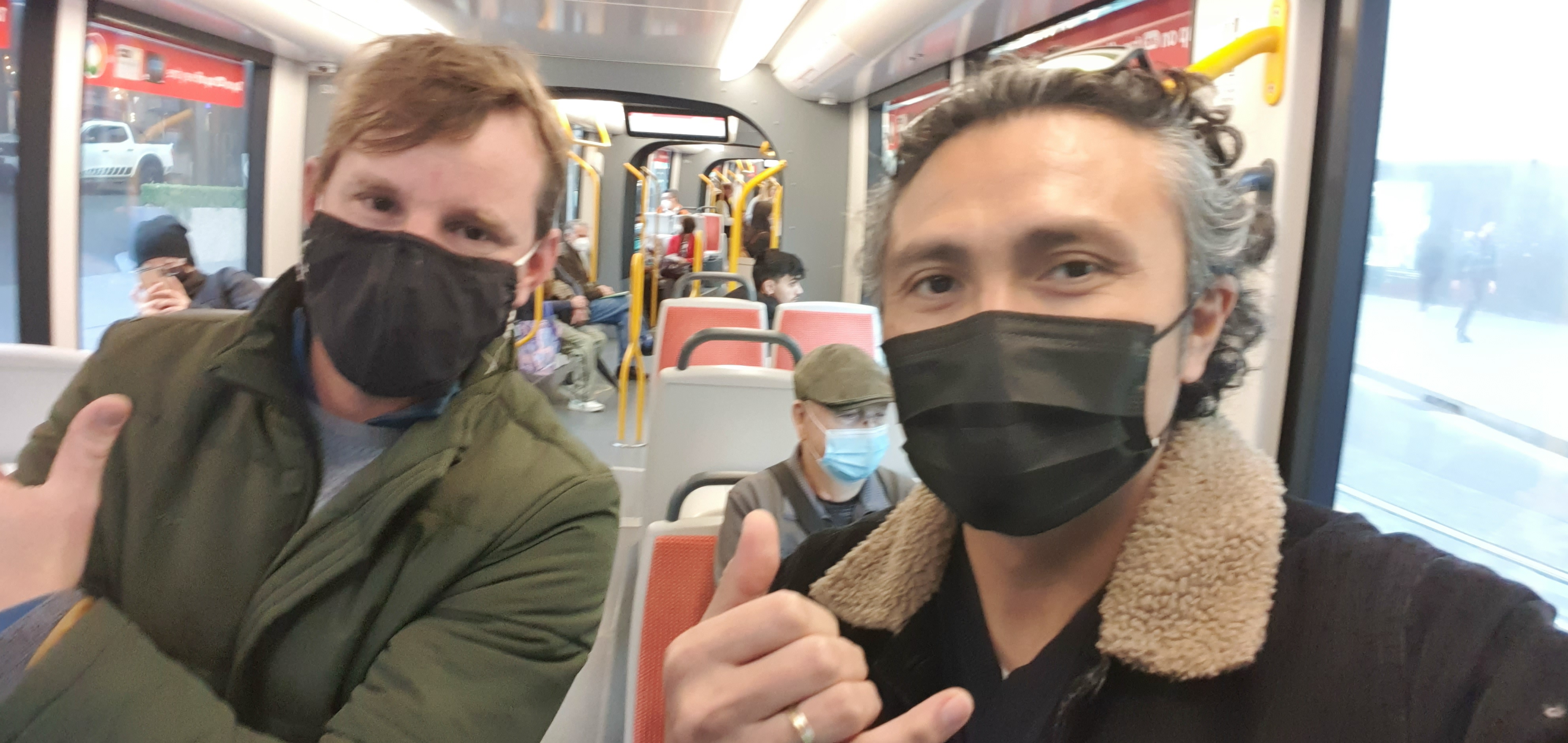 The trams were not crowded even though this was replacing the trains in the city circle. We look ready and willing.
At the opera bar.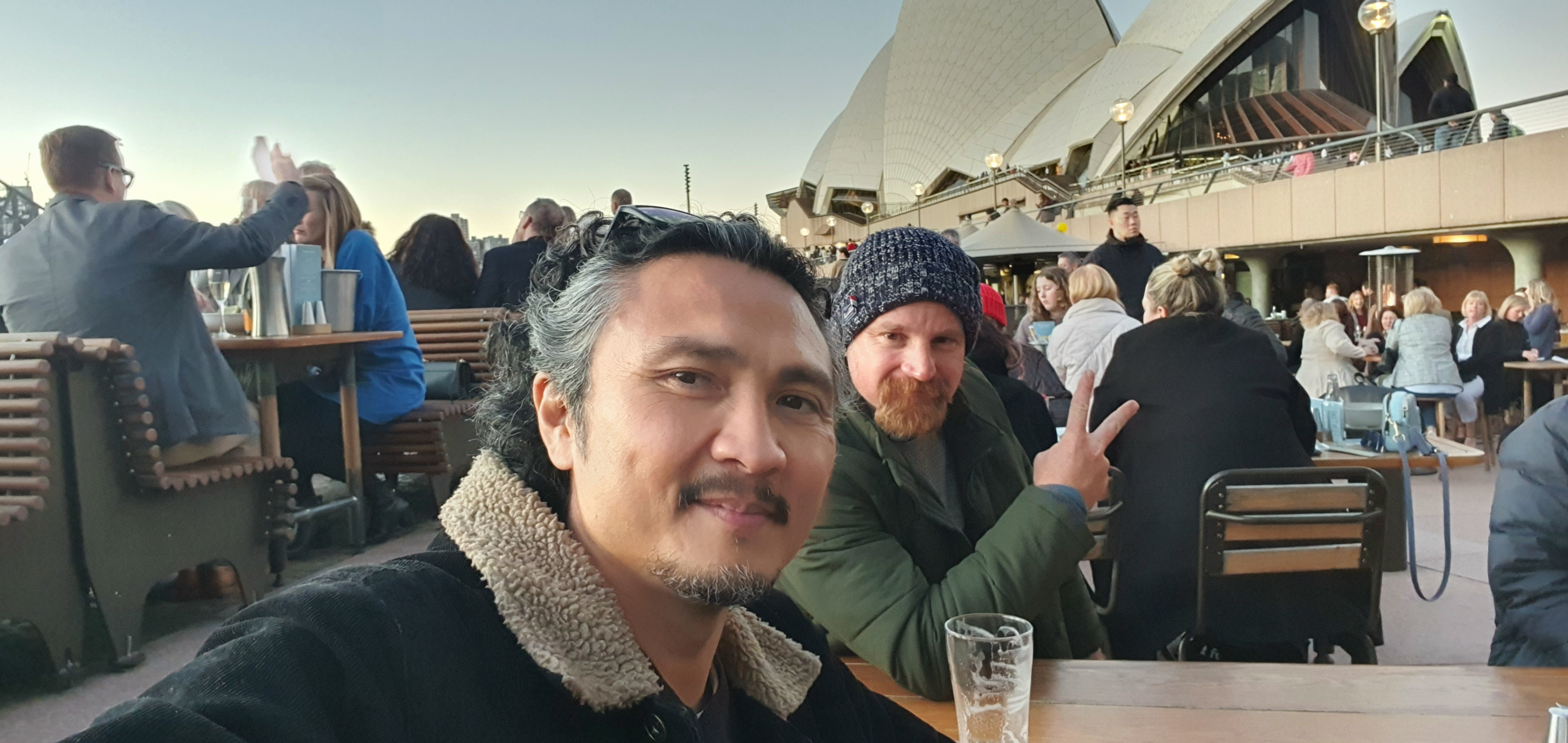 The place has the views and the ambience electric. The price is not something to be desired but it is well enjoyed from the setting of the place. Table service. Warm sun. Laid back vibe. One thing that gets a negative for me is the schooner in the place are called pints. But everything else is positive. You can actually have a good legible conversation because the place is not drowned by loud music, even with a live band performing. They are in the background.
Francais is here in Sydney.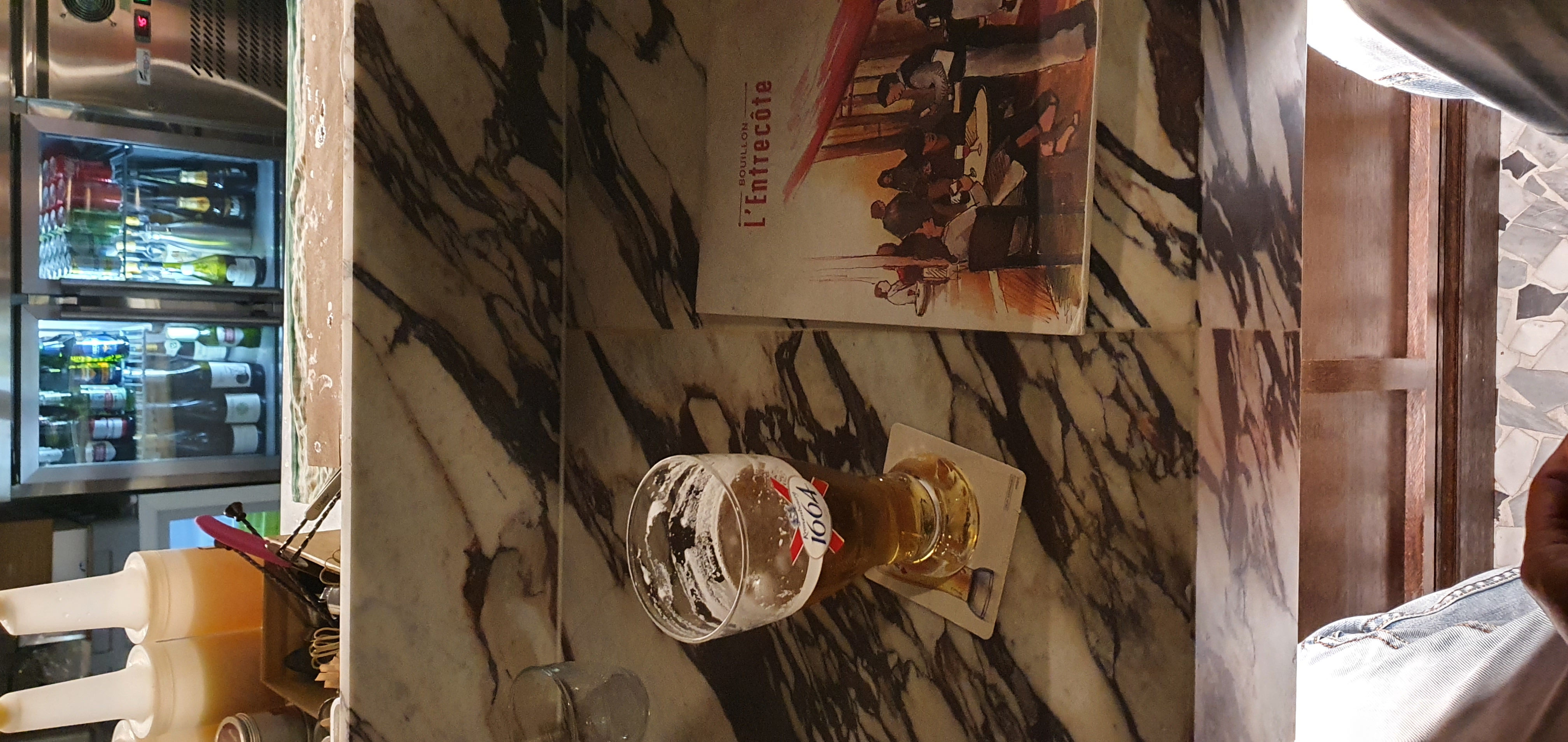 We left the Opera Bar and headed south into the CBD to start the crawl. Visiting an inconspicuous pub we had our beer that was uneventful however as we were walking away from it we noticed this little restaurant with a bar so we thought, heck it's got a bar so this should be included in our excursion. We soon discovered it was a French restaurant playing old classic French songs on vinyl, soft and gentle, inviting patrons to a good conversation. I actually wanted to stay there but decided it is best to keep going and come back another time with the missus.
Another pub, another beer.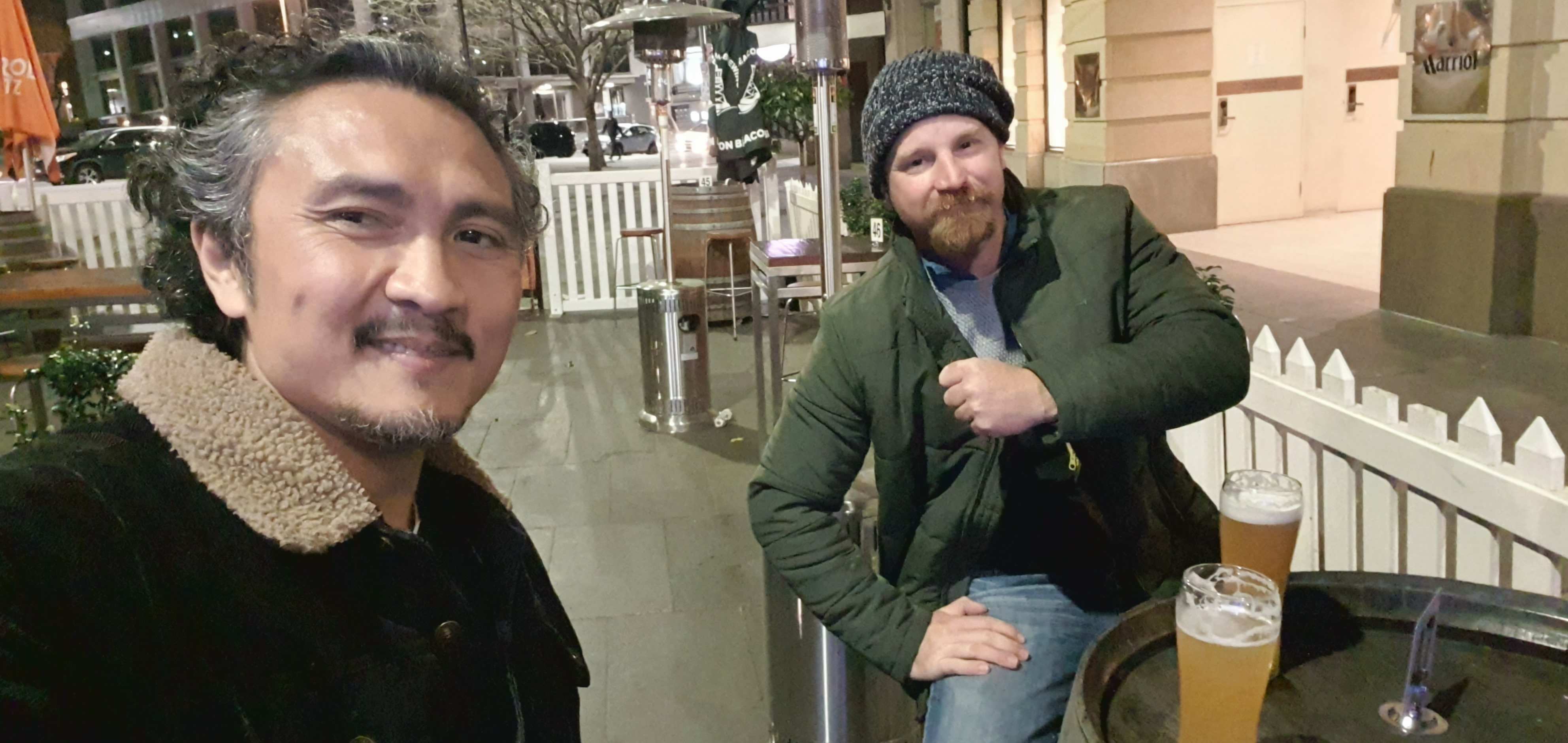 By this count we are on our fourth beer. An outside beer pavilion with lots of patrons in front of us. Yes the back seats are empty but trust me the place was full up in front of us. One standout memory I have of the place is that Van Damme is the bouncer for the pub. Okay. Not really him but he was French with that unmistakable Van Damme hair cut. He even sported a nice leather jacket to complete that VD look.
From here we tried to enter another pub and the bouncer there refused us entry sighting us being too drunk for the place. Four beers mate. Bloody ethnic bouncers. One that really strikes me is the growth in Muslim bouncers in Sydney. People that don't touch alcohol and probably has a dislike of people drinking it are the ones guarding a pub. How are they able to know shit.
Little rant.
We just turned around and left the place, I guess they don't want paying customers. Their lose.
We got in no problem.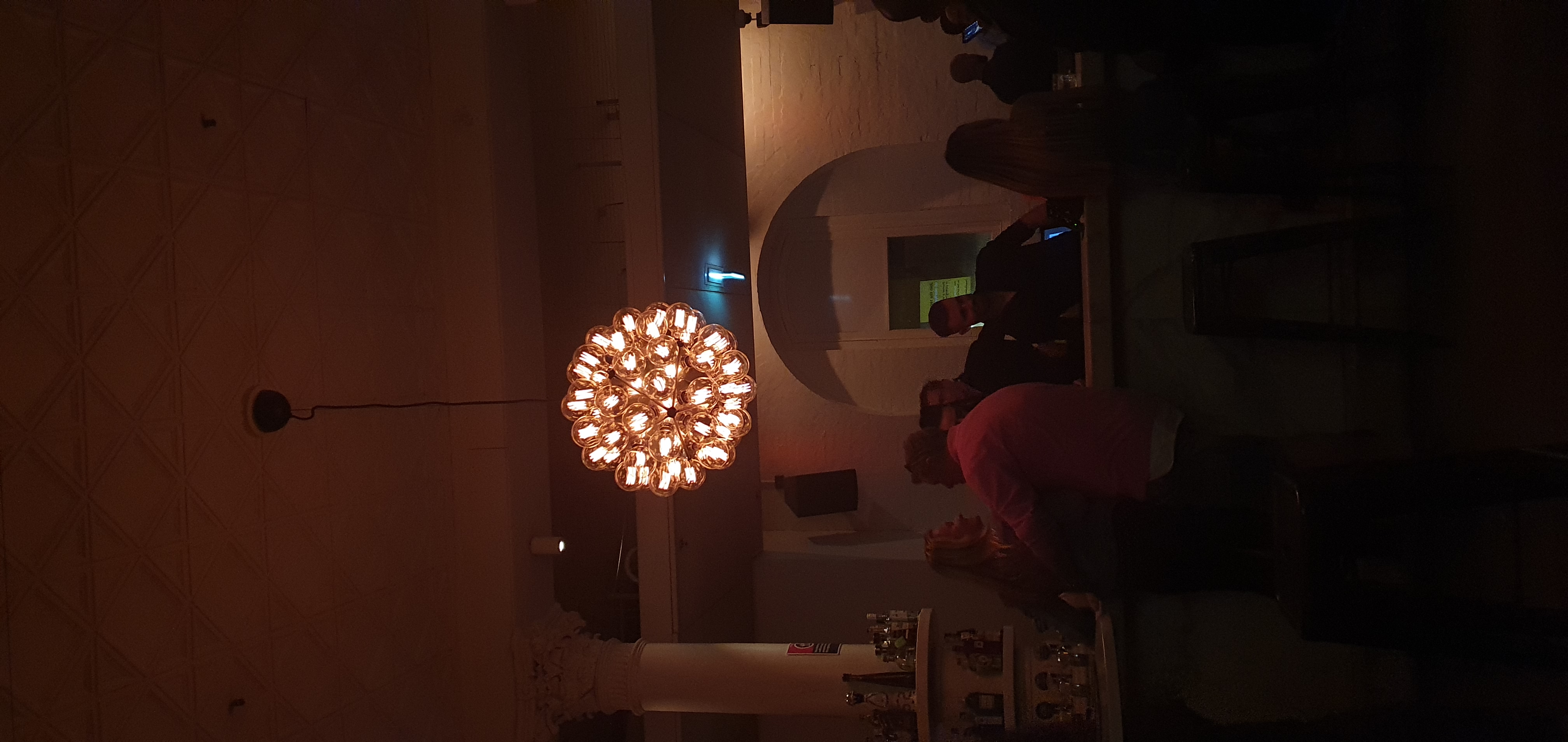 Another beer in our hand we settled down and watched a couple on the right of the photo. The bar tender looked like he was going to get lucky. The girls date looked like they were trying to get her attention but she was too busy chatting up the bar tender. Yes, we people watched. Sometimes it is best to just watch people to pass the time. And pass the beer. Place had good number of people drinking and getting ready for a night out. Clubbing most likely. Have not done that in ages. I think three years is the count.
It was cold but we wanted to have some ciggies so we were outside on their curb side seating. I was enjoying people watching again. A few cars were stationary shouting pleasantries at the both of us. Or at least that is what I thought, it was hard to hear cos there were so many cars.
We didn't end up going to Uncle Mings Dumpling Bar, the line was long. It meant the place was popular but we were there on a journey and staying stationary was not part or plan. So we ended up getting some hotdogs.
Hotdogs!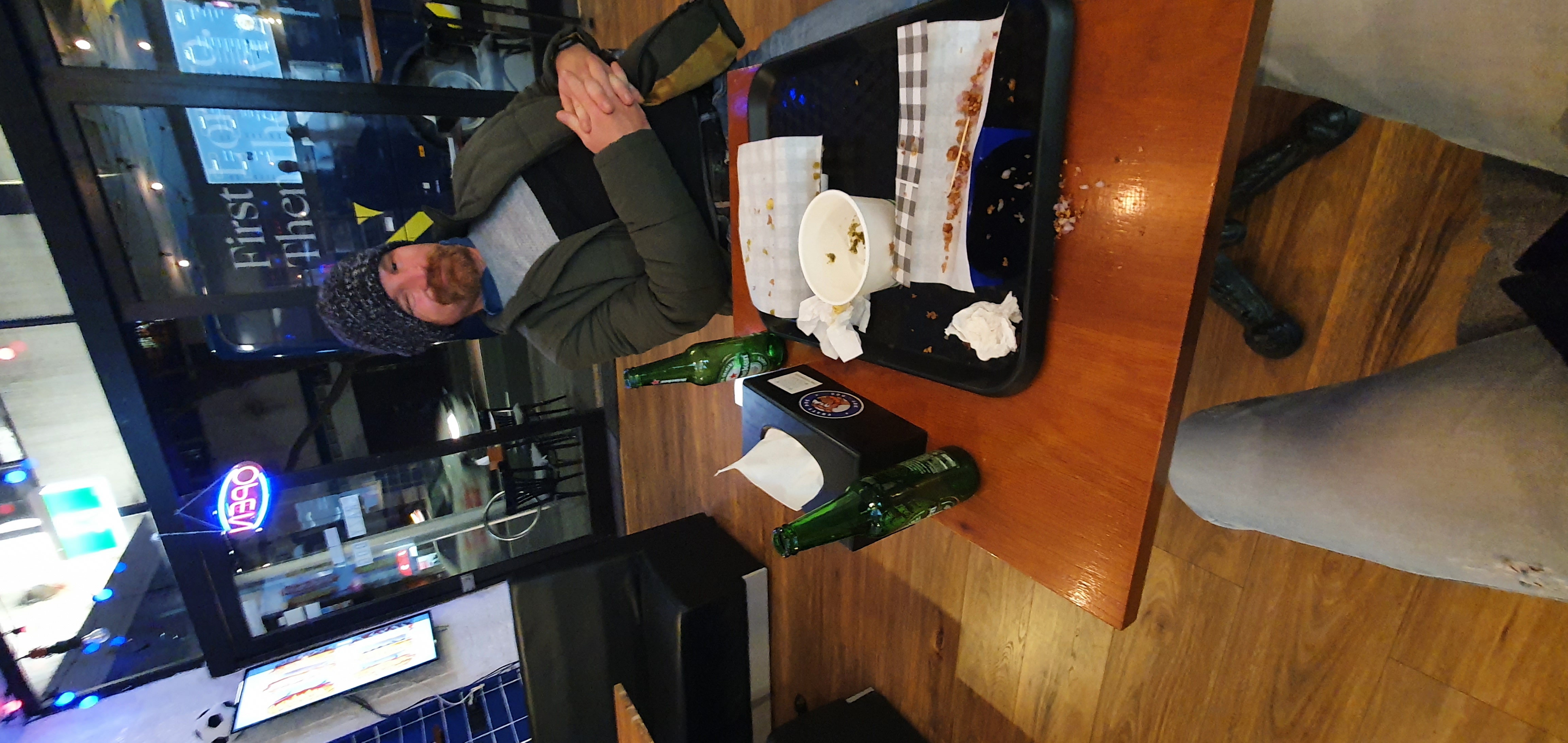 HAHA I just realised I took this photo after we already gobbled our hotdogs up. Oh well. I guess yo will just have to enjoy my friends silly face. I am sure you also notice we are having a beer. I love the theme of this post. Nothing can stop the beer flowing.
A classy whisky joint.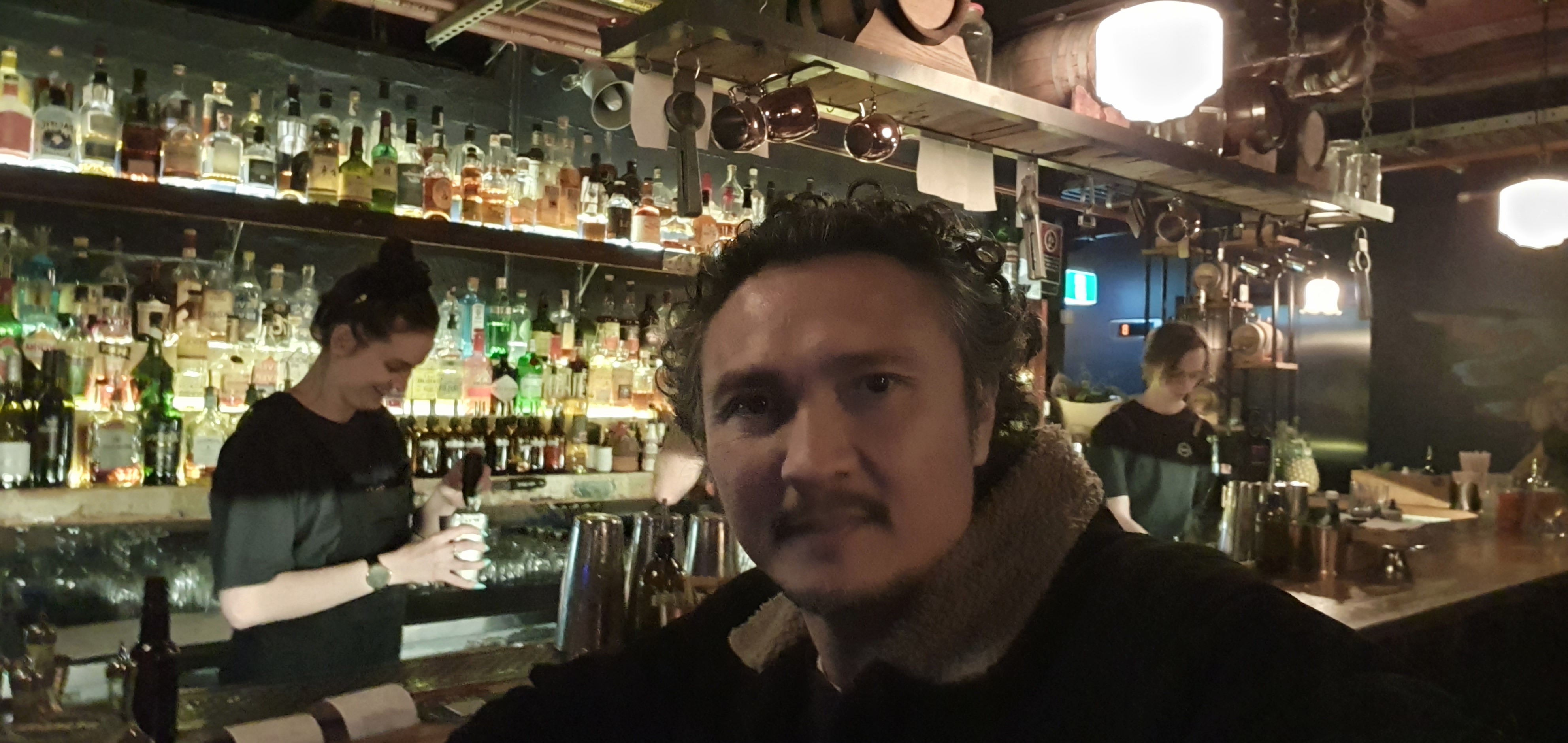 As we got out of the hotdog place we heard this music coming from a basement like place so we investigated and found it was a whisky bar. I think the place is called Stitch? I just googled it and I have linked the place. We drank this smoked whisky. It was very smoky flavoured. The oak taste was there but you could really taste that smoke taste. I didn't mind sipping the forty dollar shot. Dry. The girl told us to use the dropper to control how much water you add to the drink. It will bring out the nuance of the whiskies layered flavours. I tried it, but I think by this time I just really wanted to have a water chaser since it was not as smooth as Blue Label Johnny Walker. It was good though, just not smooth.
A hot ending.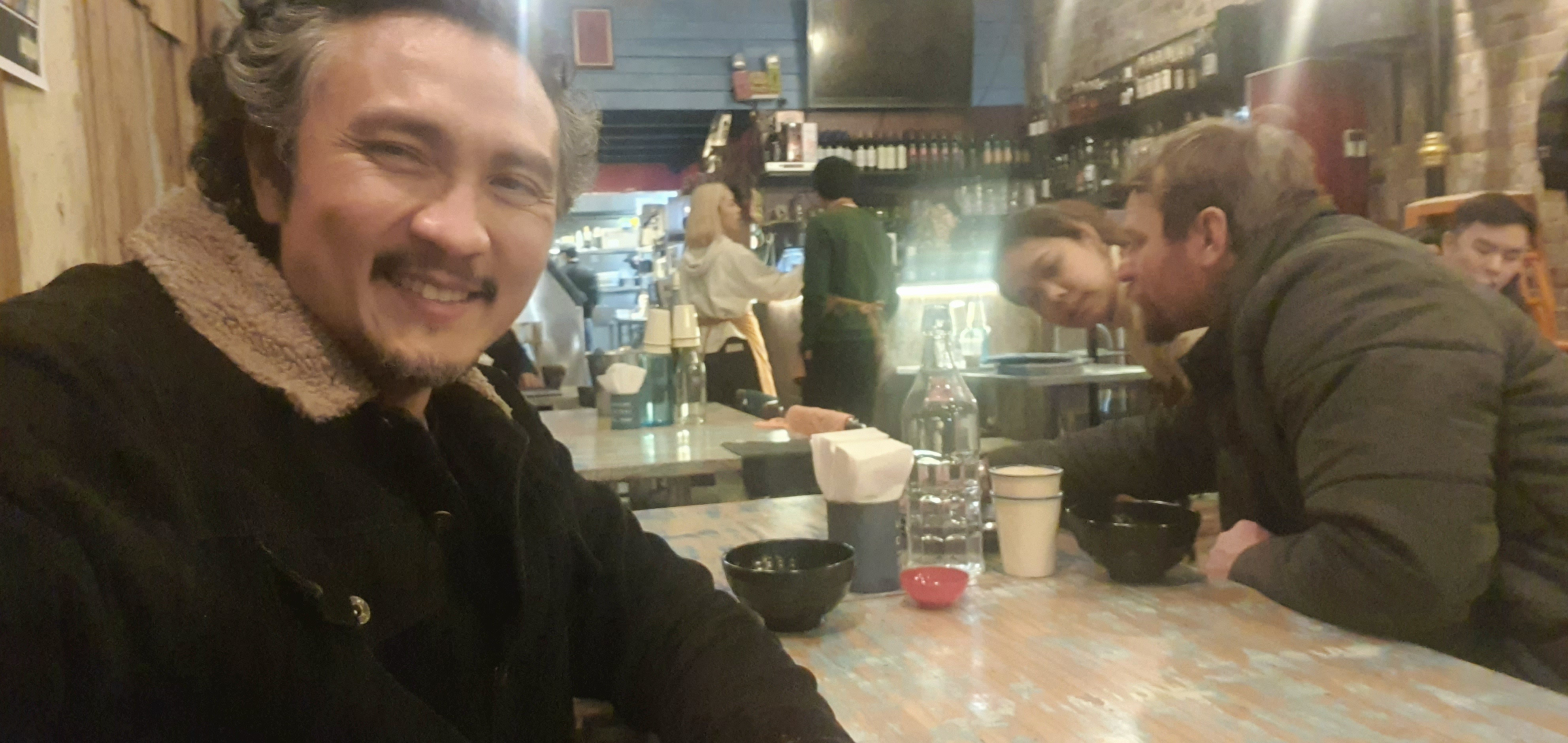 We visited a few more pubs along the way to Central station. By the time we were leaving we wanted to have hot soup. I am not sure if it will work. I think it didn't. Hot soup after a drinking session will prevent a hang over. It didn't help me this morning. I either drank too much. From my hazy memory I think in total we only drank ten beers and two shots of whisky. We ordered Tom Yum soup. My friend stated he wanted it extra hot so they piled the chilling on it. Dang I love hot chilli food but that was ridiculously hot. It burned from the time the soup touched my tongue all the way down my throat it was bloody hot. Plus the soup was heat hot. So you can just picture two guys struggling trying to consume the soup.
We were very loud and laughed all through out. Hopefully we were not bother some to the staff.
That's it. After there we caught the train home. It was uneventful. Other than the three teens telling us to shut up as we were both noisily talking. My friend didn't want trouble and he could tell I was getting pissed off so he pulled me away and made us move to another place on the train. I was pissed. But I think a cooler head prevailed for me.
And that's it ladies and gents. The time a friend and I went drinking in the city on a weekend.


Thanks for your time
If you enjoy my posts, and would like to support me with more than an upvote, thank you very much, see my links below.
---
Browse merch here.
---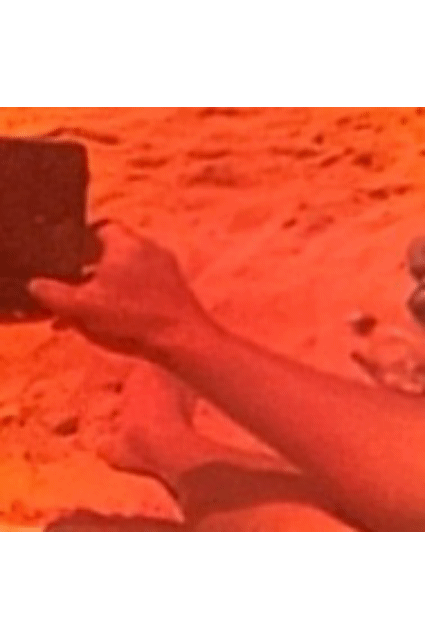 Geomining to a better future referral link if you decide to support me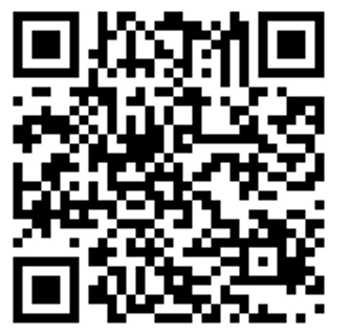 Shameless referral link to space game