Learning does not make one learned: there are those who have knowledge and those who have understanding. The first requires memory and the second philosophy.
- Alexandre Dumas, [From, The Count of Monte Cristo] -
---
---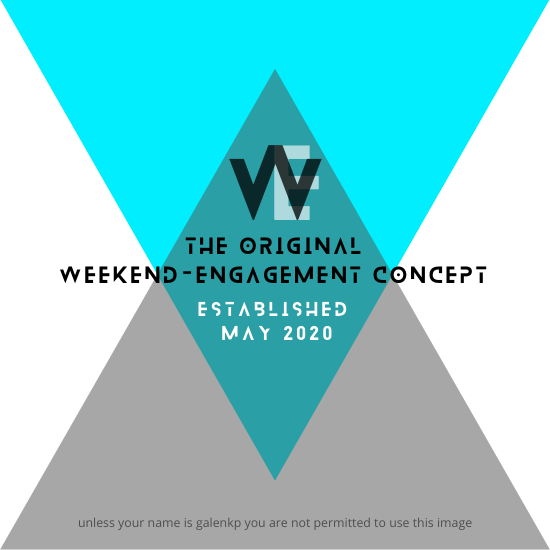 If you're looking for something to write about over the weekend take a look below for the #weekend-engagement options and do a post in my community, THE WEEKEND. If you follow the rules below you'll be eligible for some possible rewards on Monday and might get called out as one of my favorites of the week.
The concept guidelines to follow
Use #weekend-engagement as the first tag of your post
Post in THE WEEKEND community (do not cross-post)
Follow community rules - ENGLISH only (not bilingual)
Closes 08:00 UTC Monday 13th June (google UTC)
Link-credit stock photos and don't plagiarise text
---
Select something from below to write about
Private or public recognition
On the occasions you help others, or do positive things for them, do you like or expect public recognition or do you prefer private thanks or gratitude. Explain why in either case, and give an example.
Guilty pleasure
Write about some of your guilty pleasures, those things you probably shouldn't do or enjoy so much, but you do! List a few, explain why they're guilty pleasures and why you enjoy them so much.
Live again
You're dead, but have the chance to live again. Would you choose to live the same life you already had or would you choose to live a different life altogether? If so, who's life? Explain your answer.
Never met
Have you ever felt your life would have been better had you not met a particular person? Tell us about them, the situation, and why you feel that way. You don't need to name the person if you don't wish to.
---

---
Curation may happen on quality original content so proof read, use in-focus and interesting pictures and take pride in your post. Your posts are a representation and showcase of you - Give people a reason to visit your feed.
---
Design and create your ideal life, don't live it by default - Tomorrow isn't promised so be humble and kind

Any image(s) in this post are my own and are not for your use