Next week is Christmas, a time when, traditionally, people exchange gifts with friends and family. Faith and I don't usually do Christmas presents however we made an exception this year as her mum is suffering with a serious health issue and it may well be her last. We're not materialistic people, but wanted to create some memories so set a $100 limit per person and the three of us will exchange some gifts on Christmas day, take some photos and have some fun.
It made me think about gift giving and what it means to people. I tend to find it a little awkward being on the receiving end of gifts but I love giving them being quite generous by nature which sort of lead me to this weeks topic.
---
weekend-engagement topic week 28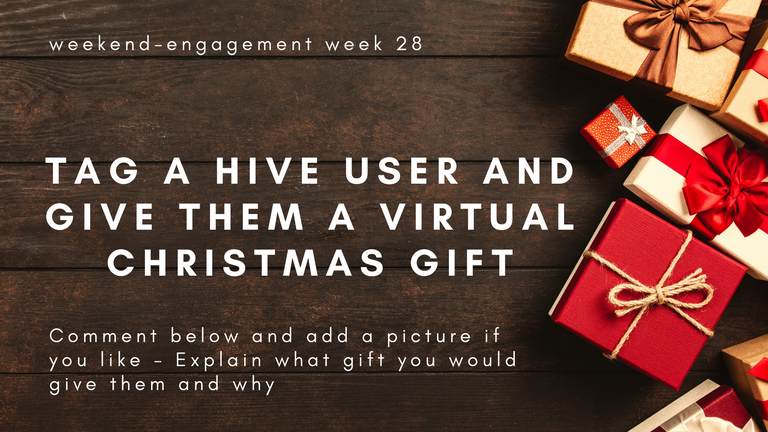 So...All you have to do is tag the hive user you'd like to offer a Christmas gift to, say what the gift is and why you chose that particular user and gift. If you want to, you can choose more than one.
Drop your comment and image below in the comments field remembering to tag that user.
If you would like to you can also do a post in the Engage the weekend Community making sure you tag #weekend-engagement as the first tag but don't just drop links into this topic post, it's for your comments and image...And engagement with others!
As always you'll have until late Sunday night your time to get your comment dropped below and make sure you stay around to engage with others! Also as always I'll be transferring some hive directly to some of the entries on Monday, those that hang around and engage with others, which is the purpose of this #weekend-engagement post in the first place.
---
I'm tagging two people who will receive a virtual Christmas gift from me:
Hey @bigtom13 and @hidave my virtual Christmas gift to you both is a return flight from America to Australia. (First class of course!)
I would like Dave to have this gift because he lived in Australia for a short time and loves it! He left a special little lad back here when he went back to America and he misses the little tacker very much. I'd like to reunite them.
With Tom I'd like him to have the chance to see Australia and to check out this vast and totally amazing country on a road trip around it. I think he would love it and would fit in here with us Aussies.
My gift contains an element of selfishness though; You see, I think both of these guys are legit people and I'd like to buy them some burgers and beers, sit around and talk about life, history, war, government, freedom, the future, human nature, adversity, failure and success, and tell some lies too as I think we're all three of us, good story-tellers. I think many hours could be spent hanging out with those two.
---
So there you have it, a pretty simple topic really. Tag the user, tell them what gift you'd send them for Christmas and why, the significance of it. You can be funny, serious or anything in between...Just get involved.
I'll see you below in the comments y'all, and feel free to share this post to get the word out, the more that get involved the better right?
Happy weekend to y'all and for those going to the VR HiveFest. I'll see y'all there.
---
Design and create your ideal life, don't live it by default - Tomorrow isn't promised.
Be well
Discord: galenkp#9209