A warm happy Friday to you hivers! We made it to the end of the working week and the weekend looms large...It's a four day weekend for me this week too, so I'm extra happy. I hope y'all have had a great week so far and that it finishes with a flourish.
It's #weekend-engagement topic time as always on Friday, and we'll get into it shortly; I want to first say thank you to everyone from last week...It was the pay it forward week and was really nice to see so many people get involved. You can see the post topic and all the replies for week 32 here - A big thank you to you excellent hivers for getting involved.
Now...Week 33 y'all...Inspired by a bad day I had on Thursday this week in which I got a flat tyre during my working day. You can take a look here if you're keen to know the story.
---
weekend-engagement topic week 33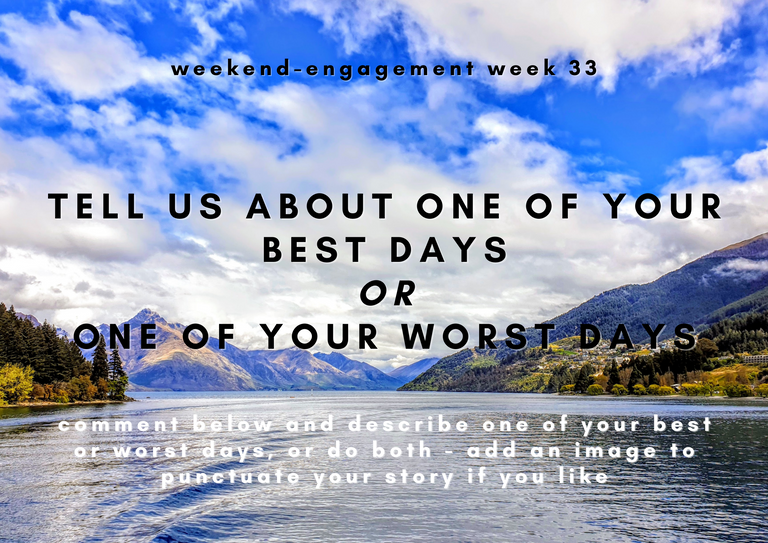 It's easy this week...Just tell us, in the comments section below, about one of your best or worst days and add a relevant picture to the comment if you'd like. You can also answer both questions if you wish. You need to comment below though, 👇 and not simply add a link to an external post.
Tell us about a holiday, an event, date-night, concert, sporting or musical moment, work-success or failure, gaming or financial triumph or failure...It doesn't matter - Just tell us about one of your best or worst days!
If you would also like to do a post about this weeks topic drop it into the Engage the weekend Community - A community dedicated to the weekend, and tag #weekend-engagement as the first tag (make sure you get the tag right: #weekend-engagement.)
On Monday I'll be transferring hive to the wallets of some who engage below in the comments so make sure you stay around and comment on other users - This is a good place to meet new people and open relationships which will help you draw more attention to yourself and build your profile, and account.
You have from right now to do so, and all weekend, to get engaged by placing your comments below, and commenting on other users, so there's ample time!
---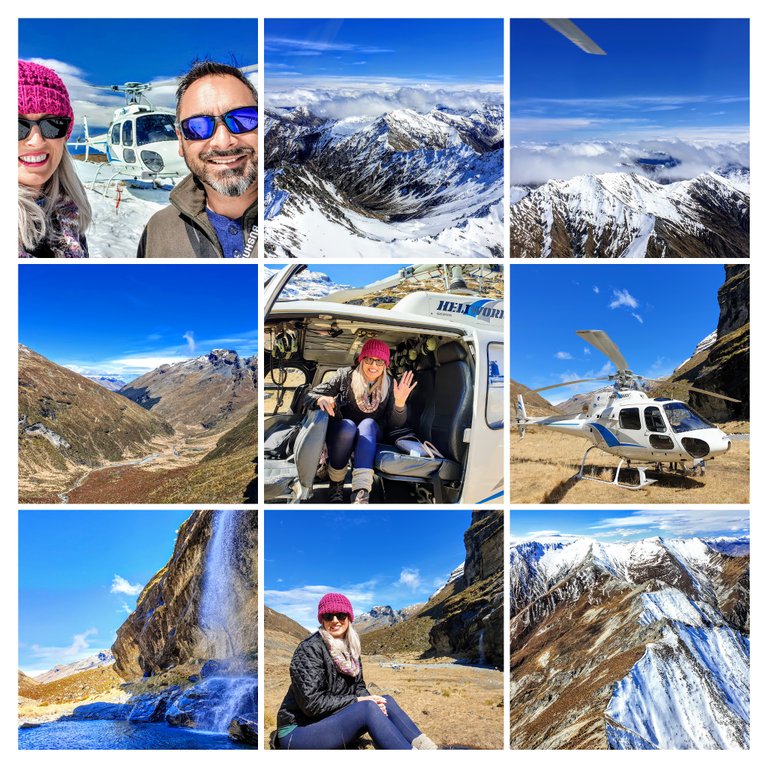 I've had loads of monumentally bad days but it's one of the good ones I want to focus on right now. Above are some images from one such day.
We were in New Zealand, the South Island, and decided to take a helicopter flight over the mountains to fly around and land at Mt Earnslaw Burn. A burn is a glacier-carved valley.
We took off from Queenstown airport and made a mountain-top snow landing for a stunning view over Queenstown then flew on to the Burn which we had completely to ourselves. It was an amazing day, costly sure, but completely unforgettable.
Above are some of the pictures I took...I'm no photographer though and these were actually taken with my phone camera so they're not the greatest. The day is written indelibly in my memory though and, that I got to spend it with the most amazing woman a person could ever ask for in a wife, I'd have to say it was one of my most memorable days.
Life is a mixture of good and bad and it's unlikely a person will get through it without experiencing both. Everything that happens to us is merely a thread woven into the tapestry of our lives and in my opinion the bad things make one appreciate the good all the more.
So, tell us about some of the threads you've woven into your own life down below in the comments and, if you like, please also do a larger post of your own in the Engage the weekend Community and tag #weekend-engagement as your first tag.
Have a nice weekend folks, and I look forward to seeing you down below in the comments.
---
Design and create your ideal life, don't live it by default - Tomorrow isn't promised.
Be well
Discord: galenkp#9209
All photos in this post are mine. The main image was taken whilst aboard the TSS Earnslaw, an Edwardian twin screw paddle steamer, that plies Lake Wakatipu, Queenstown, New Zealand.