Looking at the collage I made, I don't recognize this strange world myself... Rocks of bizarre shapes, huge tree roots, a fireplace in a wild place... Maybe it's Narnia or Middle-earth. Or do you know what kind of world this is? Write in the comments!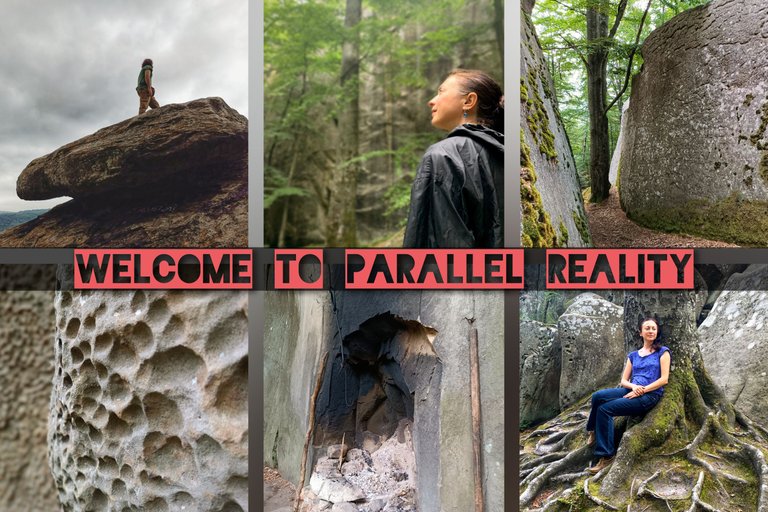 And I try to hold on to objective reality (although in difficult times I really want to run away from it) and invite you to join the special experience of hiking through the Carpathian forest on the rock of Dovbush. To do this, we are smoothly moving into the summer, because now in Ukraine, the autumn rainy weather has been very unpleasant for a long time...
This trip was like enchanted. Once we moved it due to the same rain as now outside my window. The next time our friend Arsen had a problem, his relative was hospitalized. Are the magical rocks not letting us in?
But everything was resolved and we drived to the mountains sometime in the evening.
I once wrote about the rocks of Dovbush. But that was a different time, a different company, a different situation in the country, a different me, and a different route. The fact is that you can get there in two ways, from Ivano-Frankivsk or Lviv regions. I knew the first option. But at one point I realized that Arsen, who was the driver, was taking us on another route...
Well, that's interesting! I put the initiative in his hands and it was great, because I was tired. According to his plan, we were supposed to spend the night on the bank of the river in one cool place. But the military didn't let us in there... We still have a war, friends, don't forget!!! It was almost dark, so we didn't hesitate to go to the village of Tyshivnytsia near Prince rocks!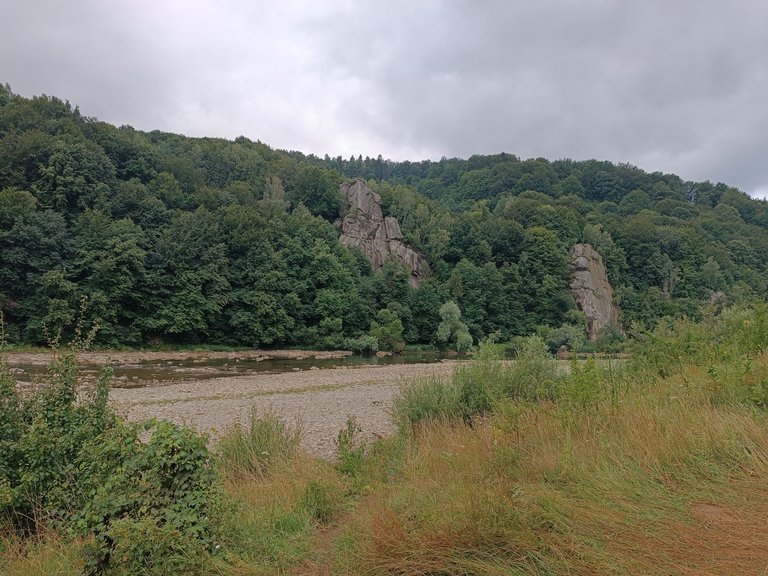 Prince's rocks. From above and from below. Our tent was somewhere near the cars.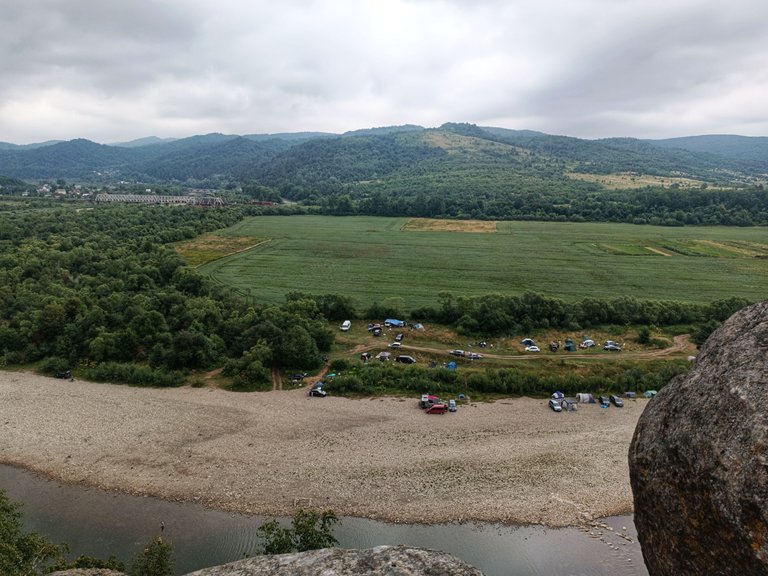 There were plenty of tourists, because the nearby river is not quite shallow and you can swim. It rained quite heavily during the night. Thanks to Olya, we stayed dry, because she miraculously pulled the protection from another tent over my tent... Since it was all done at night, I don't have a photo.
Sunday morning. It was drizzling, although it was not cold. But I really don't like humidity:( Bathing in the river was cancelled...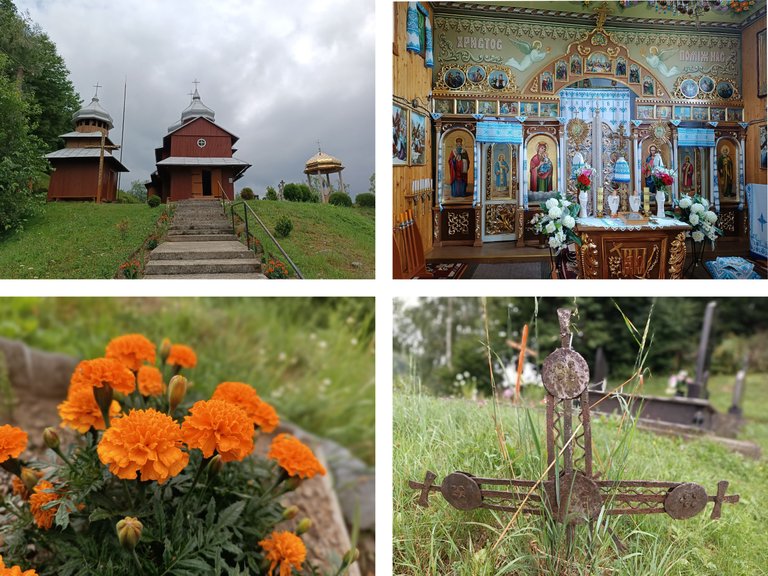 My friends and I decided to go to the Prince's Rocks first (it was supposed to be a kind of warm-up before a more powerful hike to the Dovbush Rock). My friends went ahead, and I ran for a minute to the little old church standing on a hill. Unfortunately, the service was over and the church was supposed to be closed, but they allowed me to come in for a few minutes. When you live in a village, you should wake up early...:)
It turned out that the church was built in the 90s, although it looks very old. After all, it is made in the traditions of folk wooden architecture. The cemetery near it is no less interesting. There you can find interesting tombstone crosses in the style of folk primitivism.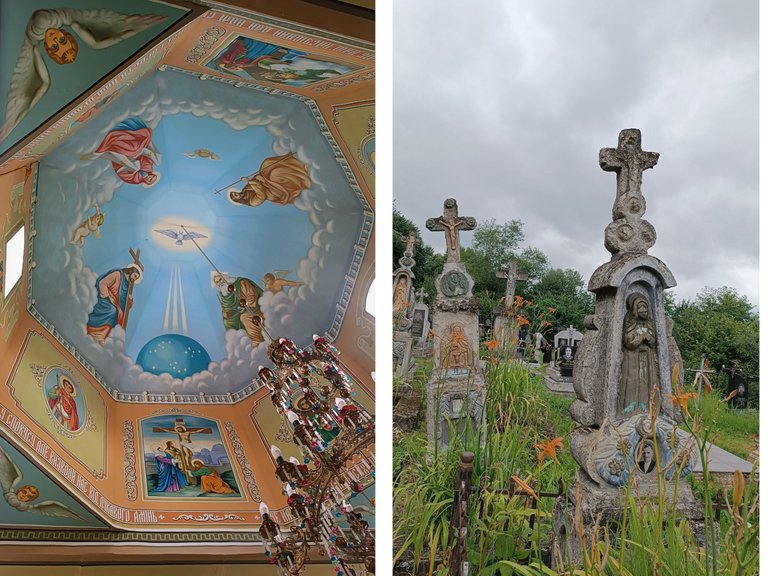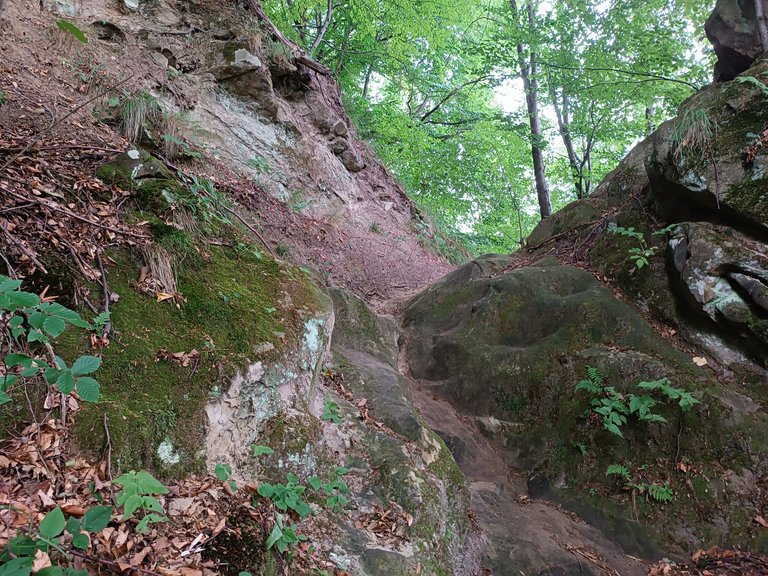 In a few minutes I was already in the forest and immediately came across large gray stones and trees trying to grow on them. The river roared below. There are several exits from the forest to these low cliffs and I saw my friends in the most picturesque place.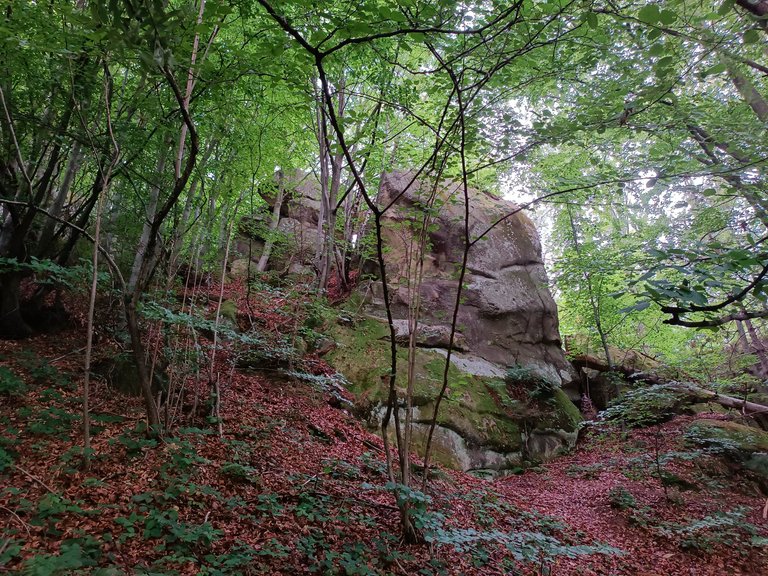 I was here once, but in sunny weather. And today it was gloomy and it was quite clear that it was raining down there, in the "real" mountains. Even if the storm did not reach us!!!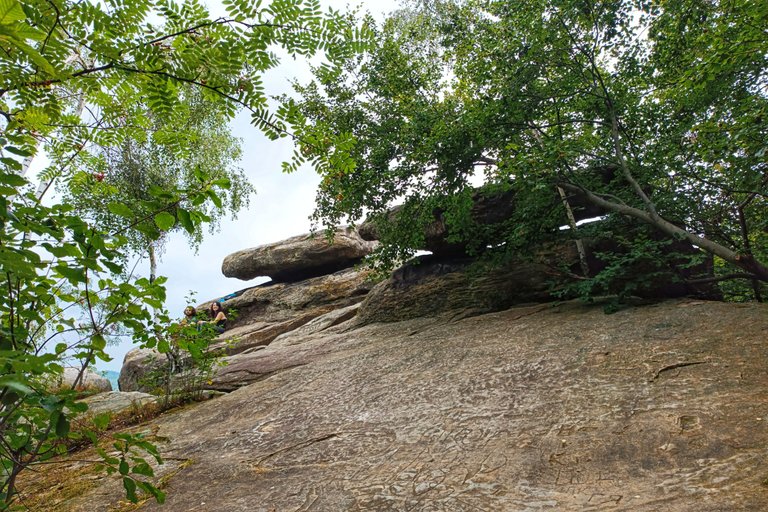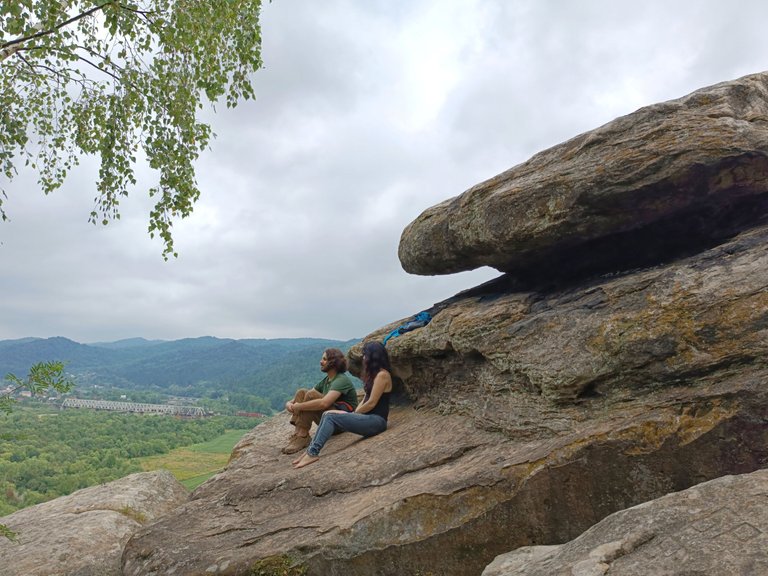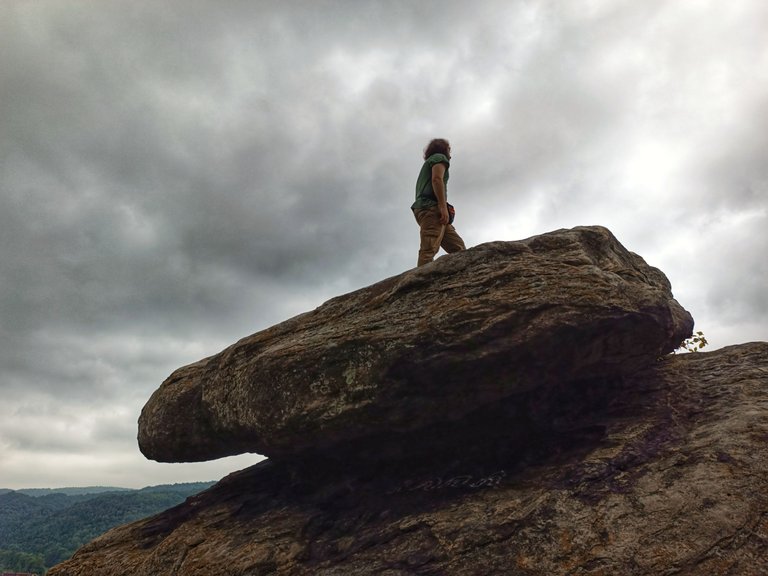 And I wouldn't be able to. I'm afraid of heights. And you?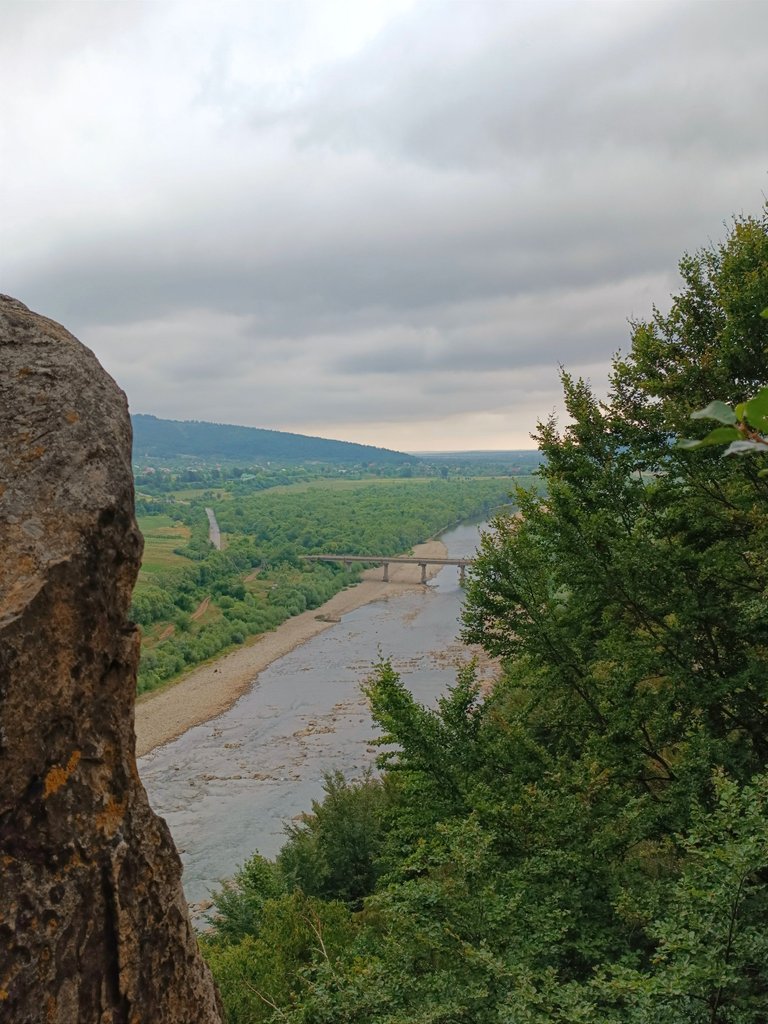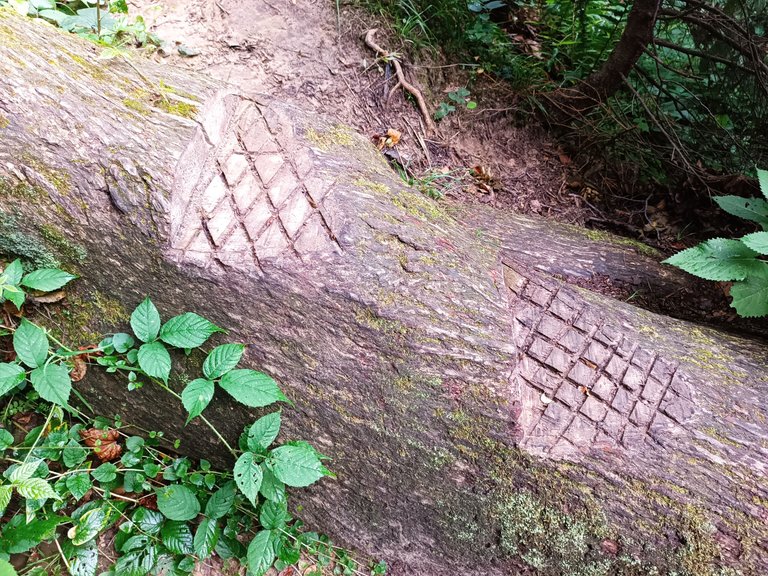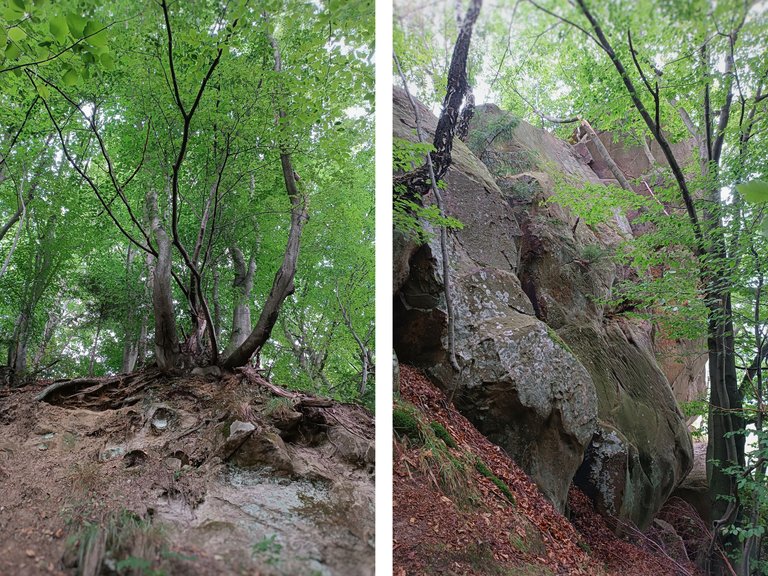 Later, we went to a nearby village, a few kilometers from here, called Trukhaniv. We drove deep into the mountains. I expected to see a very small and old village, so I was surprised to find that there are several two-story houses and a rather massive church, which I was also lucky enough to visit.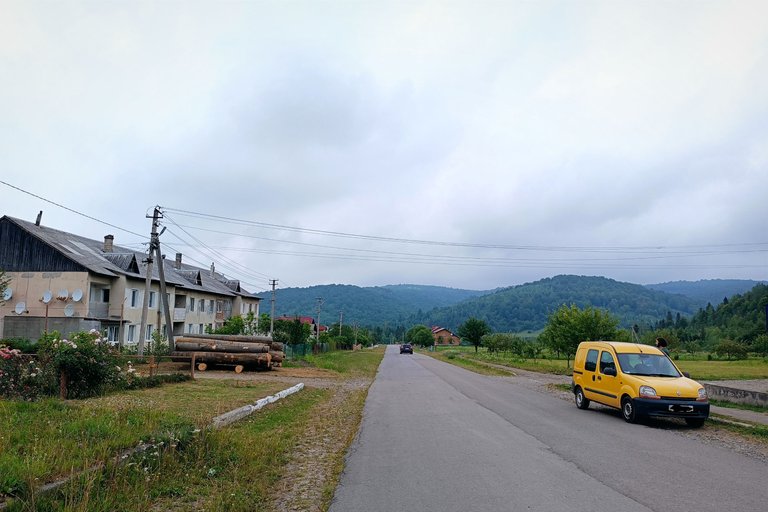 The doors were about to close there too, and they let me in for a few minutes. My attention was drawn to the fact that the temple is beautifully and sensibly built (because this is not always the case when people build something large), and the choirs (a place for singers) were not located above the entrance, as usual, but above the middle part of the temple. I wonder how that affects the acoustics?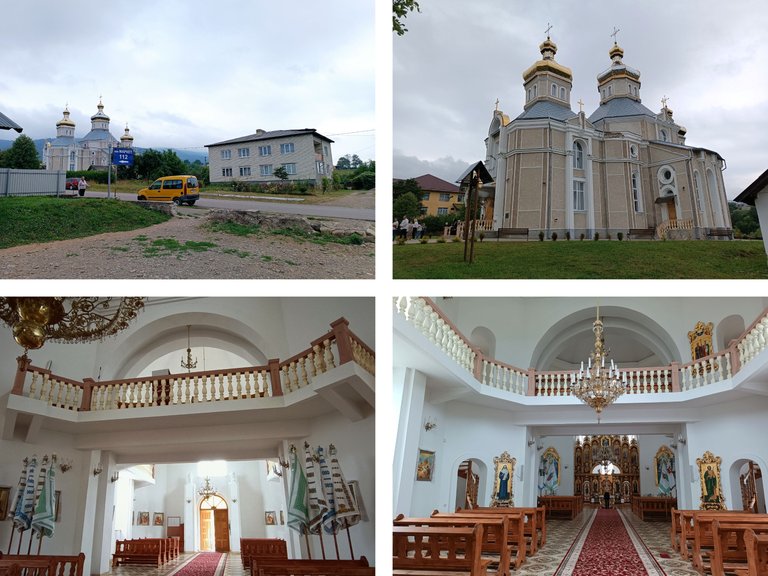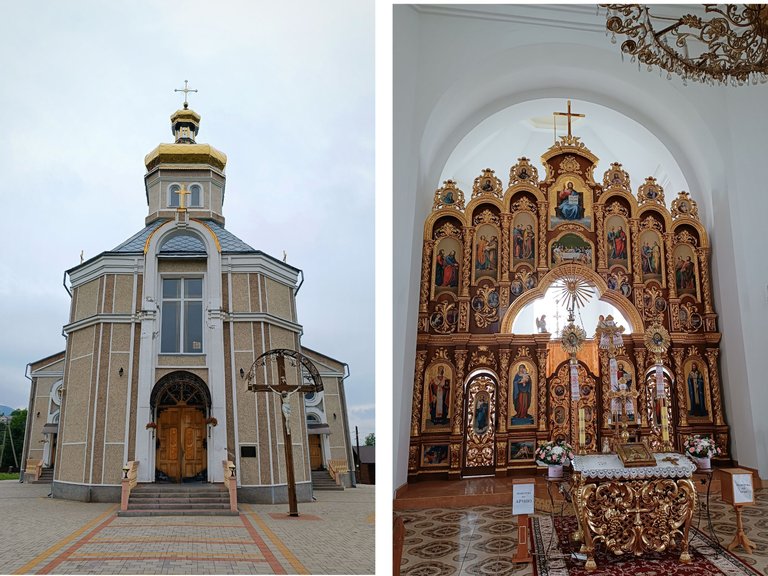 ---
We bought something tasty in the village store and using the navigator we drove to the end of the village and found a nice glade near the stream, because we could pitch our tents.
In order not to waste time, we immediately went to the rocks of Dovbush, to which, in my opinion, we should be about 3 km away. At one point there was a fork in the road and we went... guess where!!! Yes, we got lost:(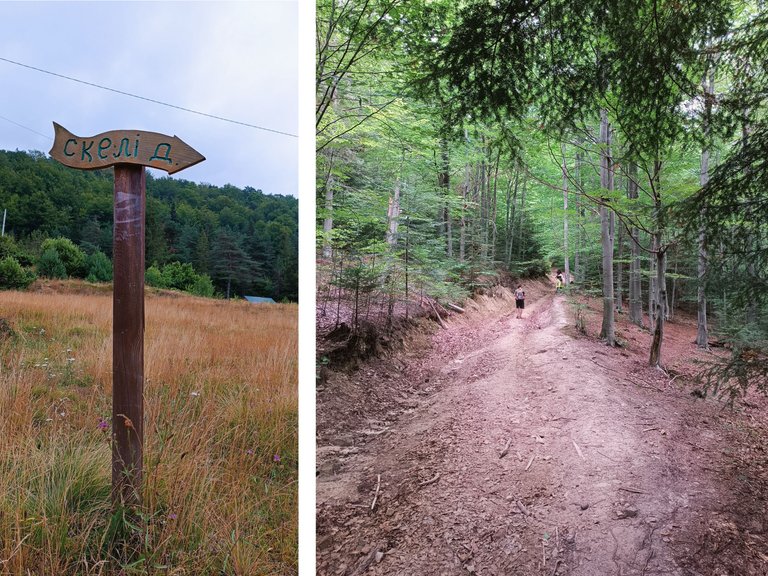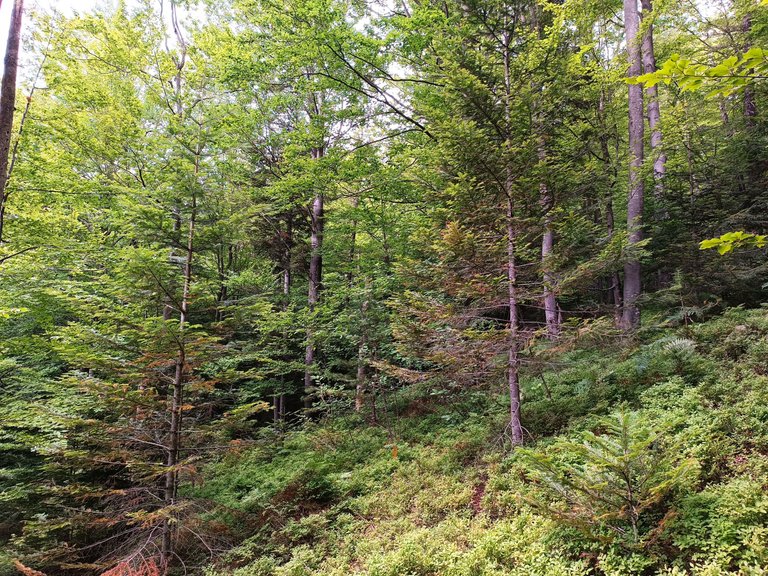 We went up a hill where there was just a clearing and apparently logging trucks made this road... We really didn't want to lose altitude, so we went across the slope (the internet was pretty bad, so the navigation didn't work).
We got out pretty quickly to the right trail.The surrounding was mainly beech forest with alone conifers.
(It should be remembered that the more traditional path passes from the side of another region, which is why there was no route marking here. But it is worth fixing.)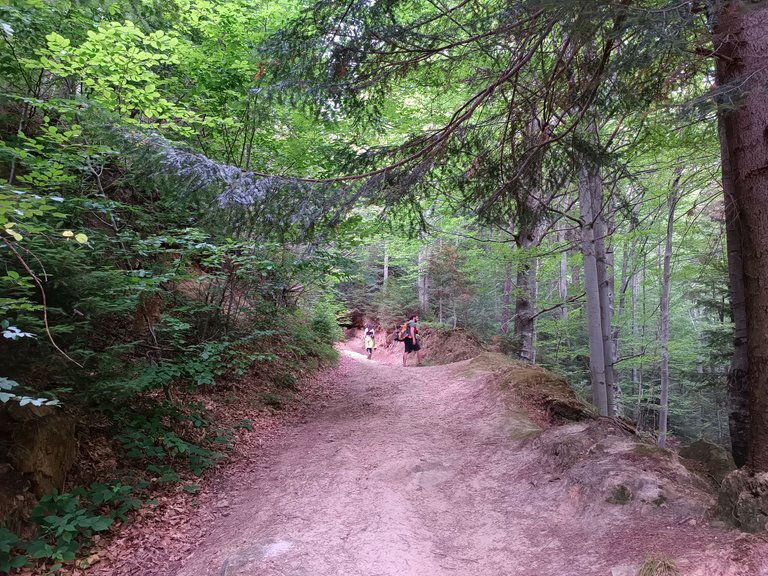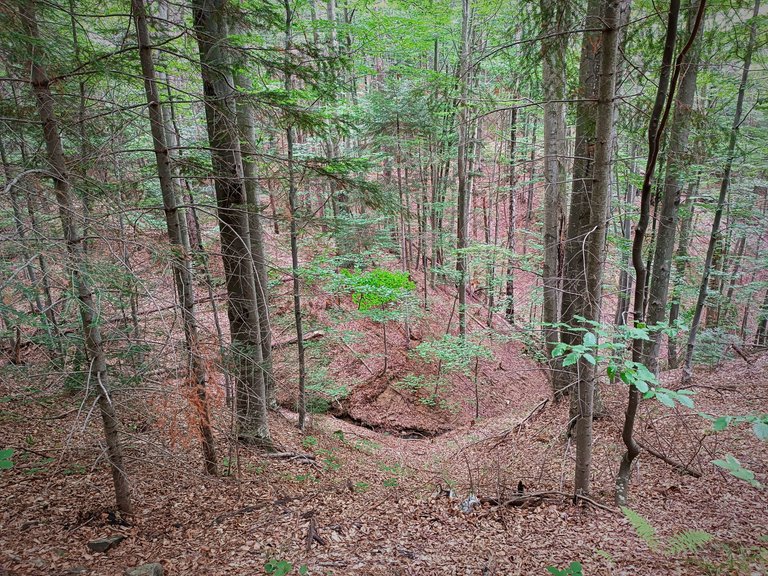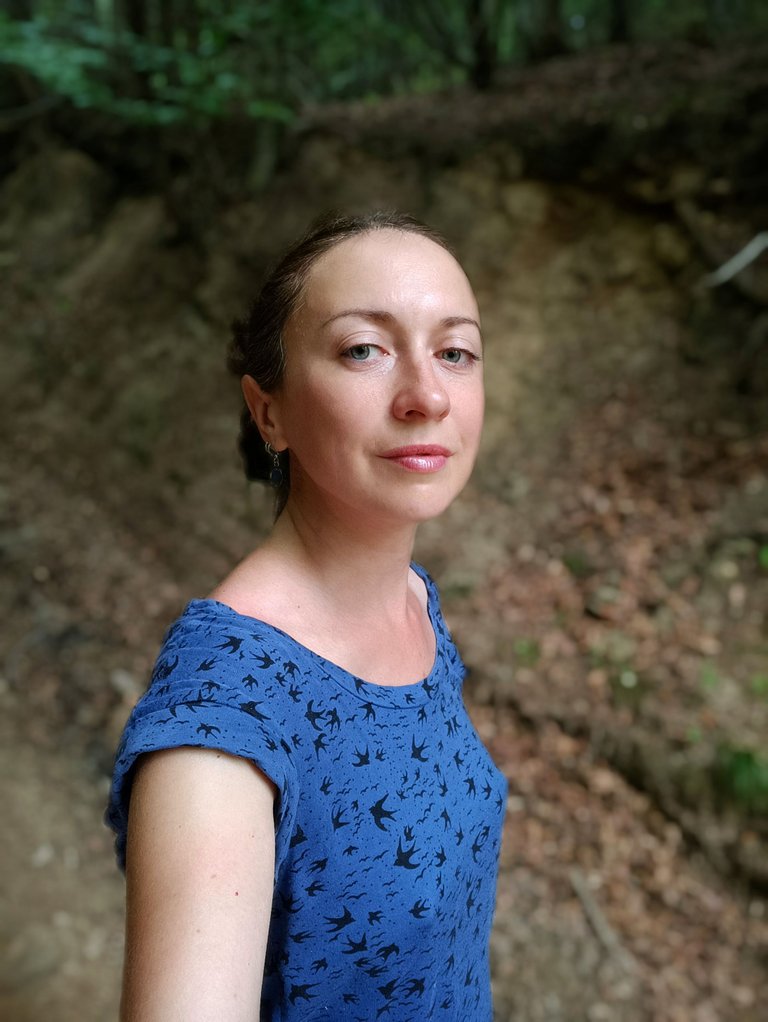 I'm the last to go. After all, I should have time to take a selfie and capture something beautiful and unusual in the frame. For example, this road slope with moss...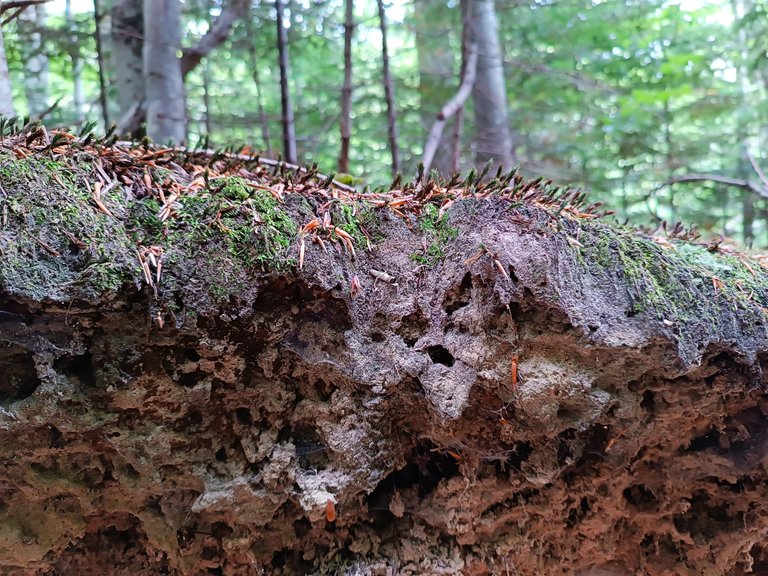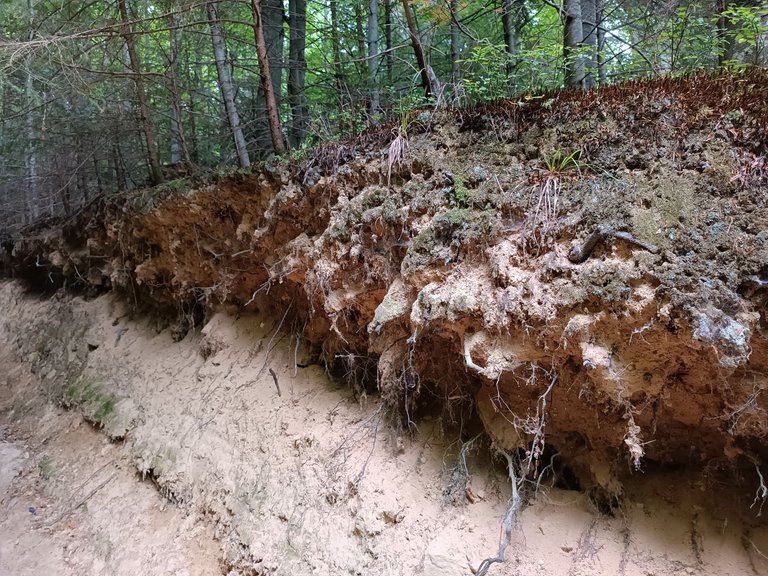 The weather was perfect for a walk, not hot and the rain clouds had gone somewhere.
Here is the First Rock. Of course, it is lonely and stands far from the main massif. We admired the interesting structure of the stone. How can nature invent this?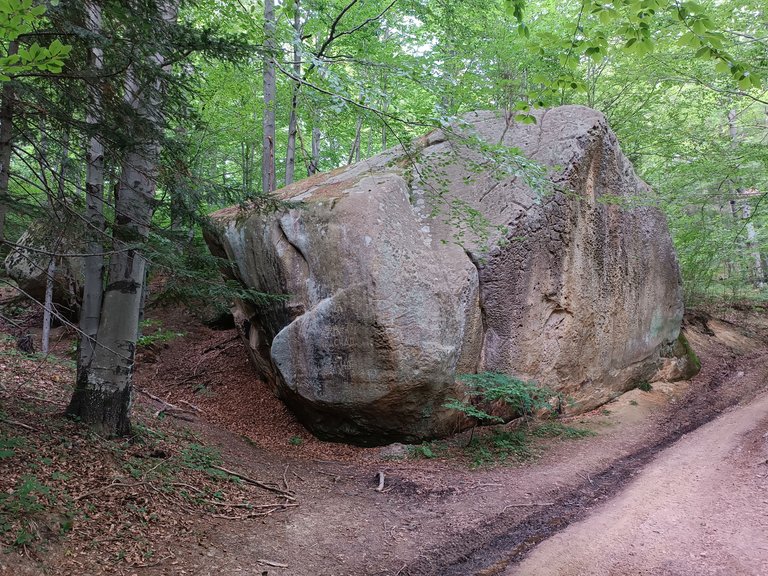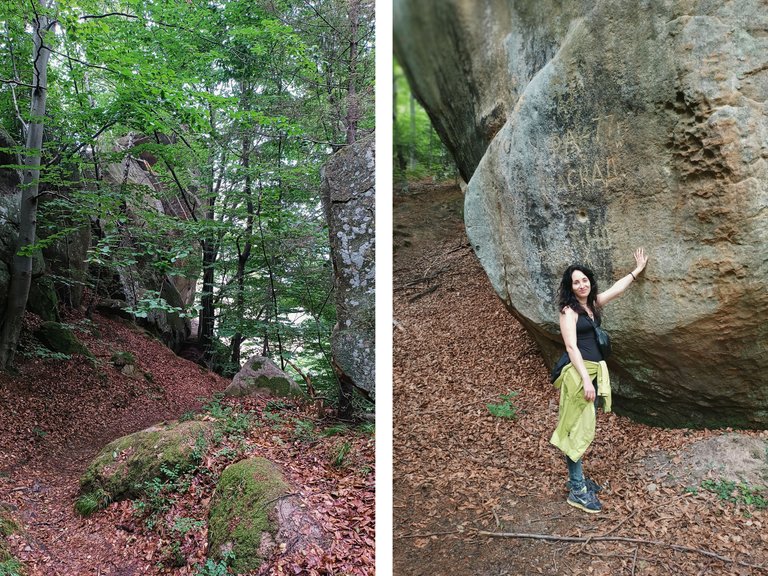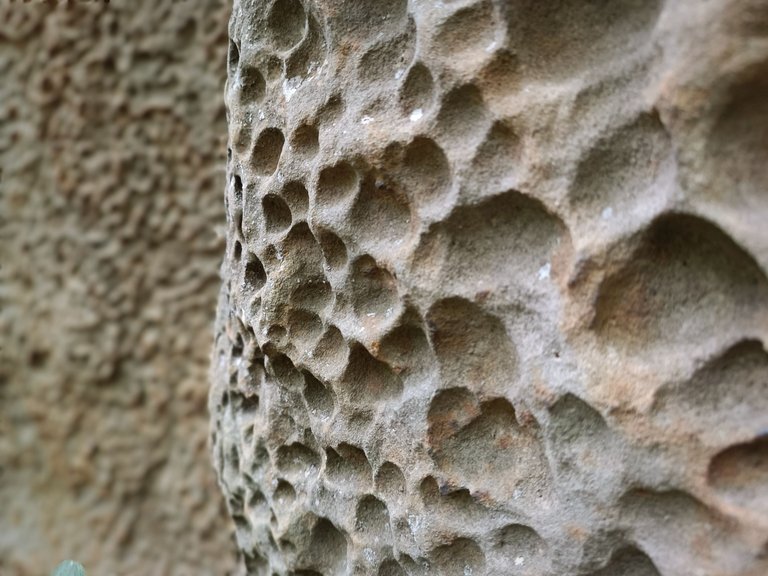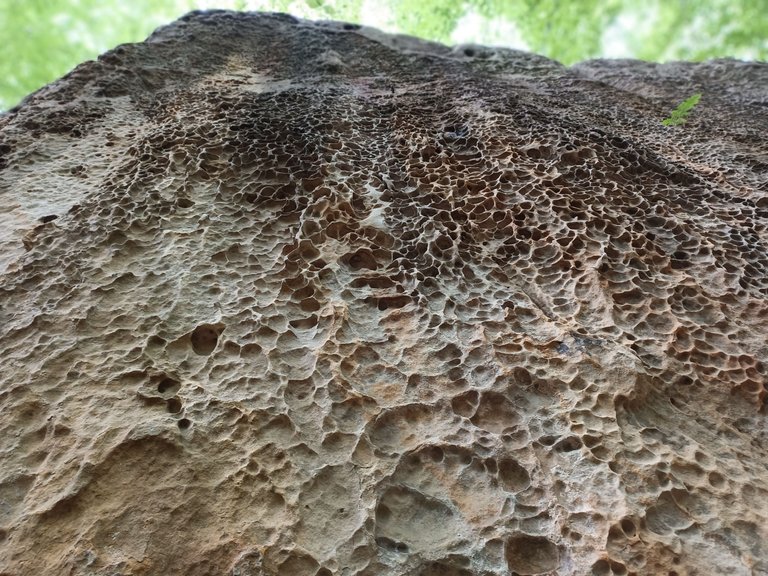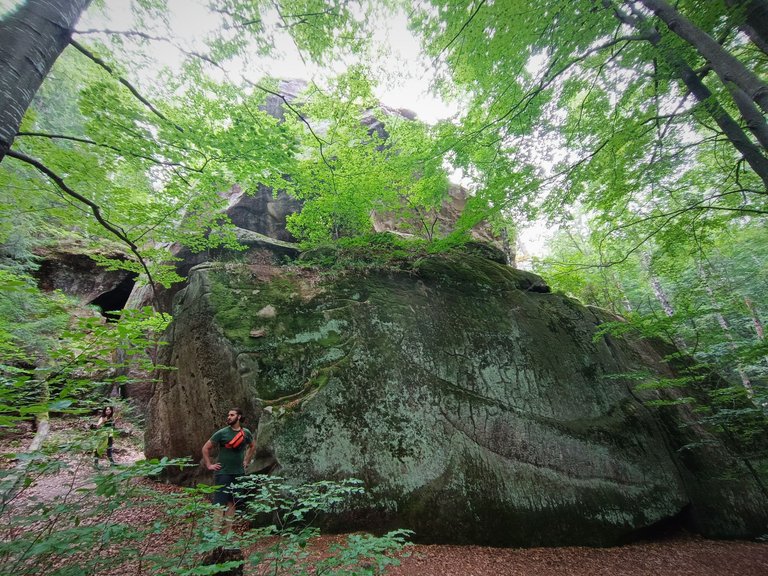 The road moved smoothly upwards, we did not meet tourists (most people go to the rocks from the other side, because there is access by transport almost to the rocks).
On the way we met two more massive rocks that beckoned us to come closer... It's a good thing that we didn't pass by! After all, we saw a small gorge between the rocks, and there was a table, a fireplace, a place for a small tent... Even a metal hook on which you can hang a cauldron!!!
---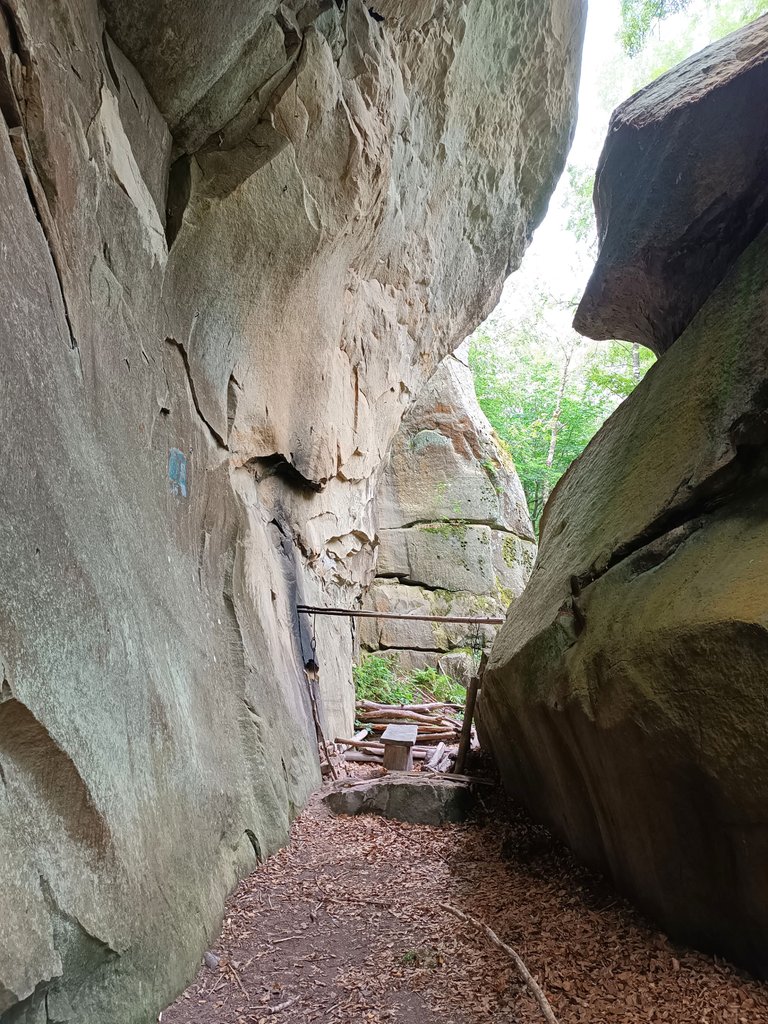 ---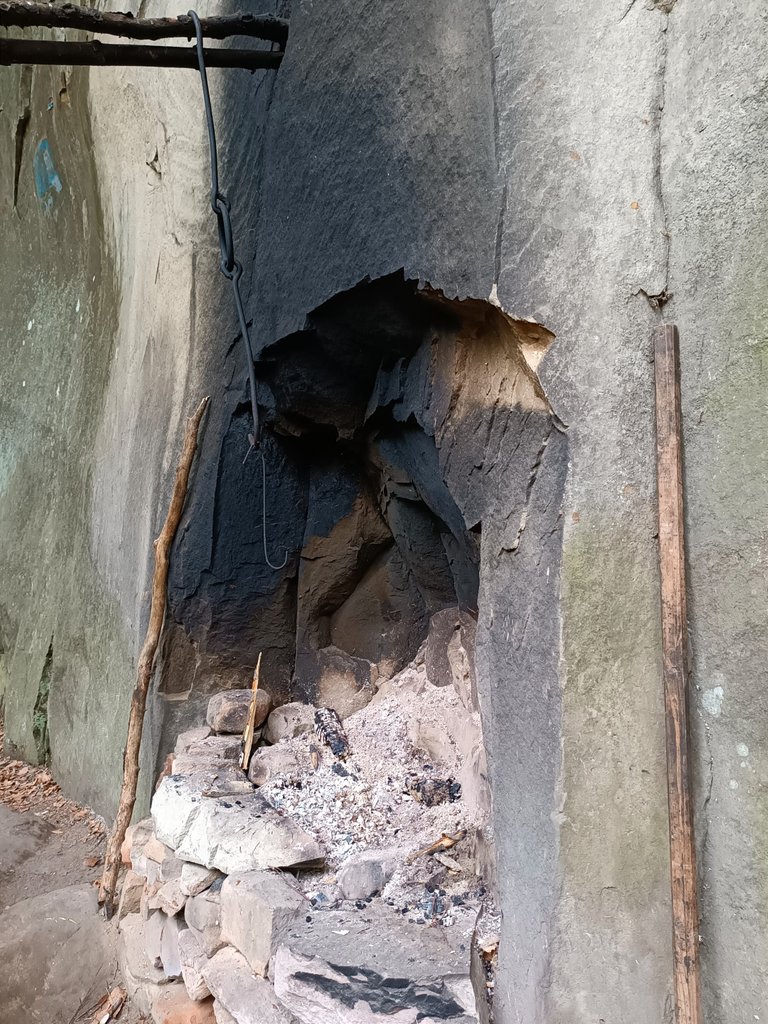 ---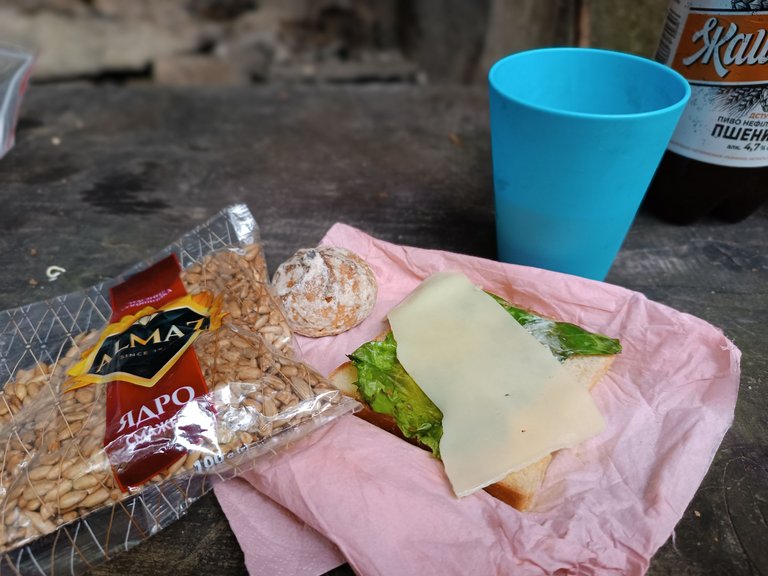 We sat at the table and had a snack. What an amazing place, it's really like being in a gnome's home! It is cozy in any weather, in some places you can hide from the rain...
I had a pleasant feeling here that I was under protection. Well, now in Ukraine, the feeling of security is something precious!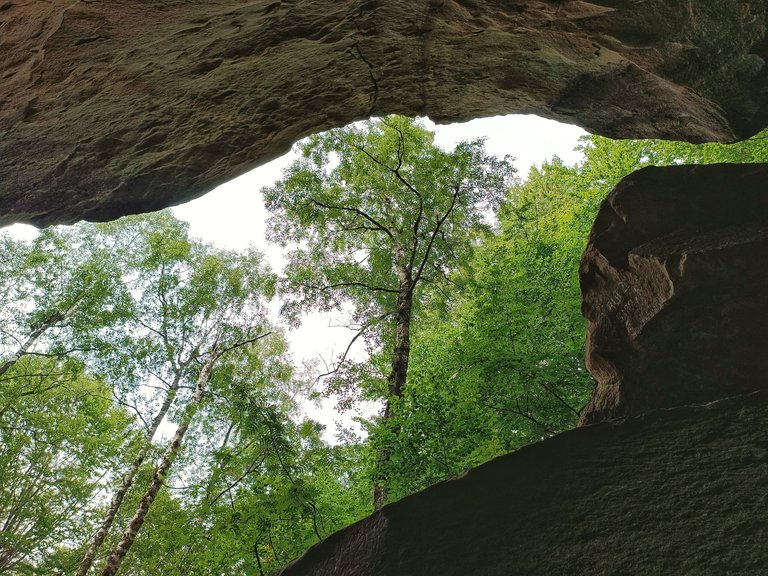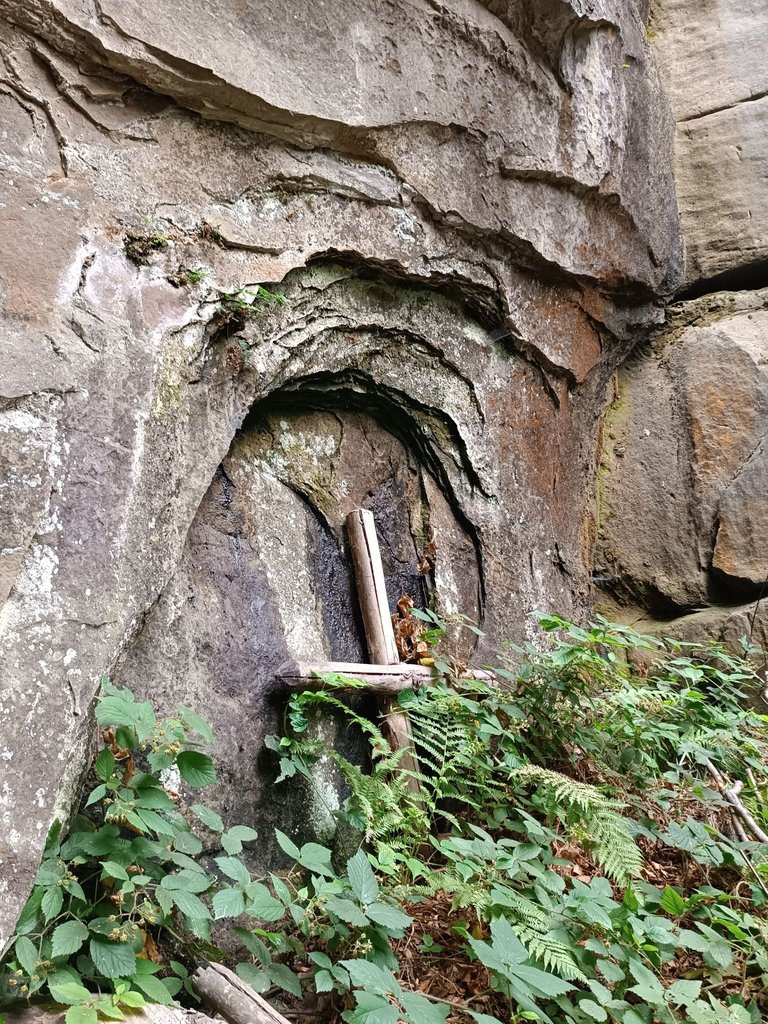 And this cross is probably a reminder that a climber died here. We will see similar crosses later...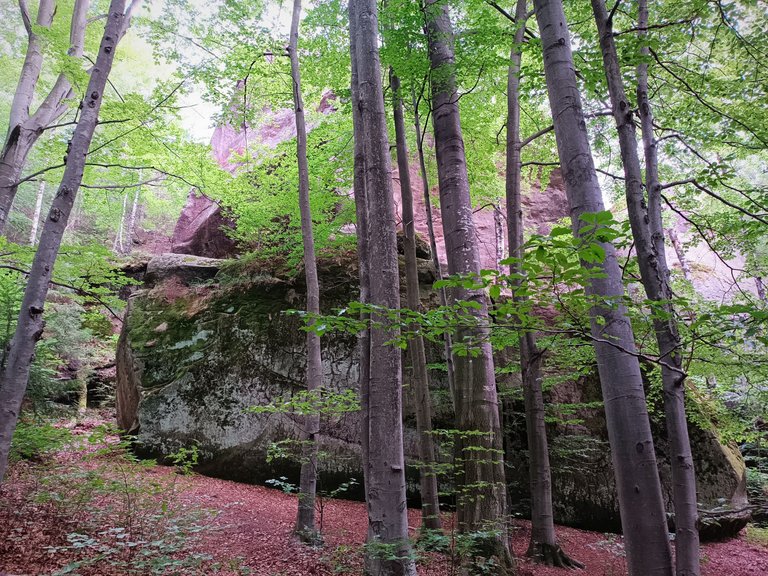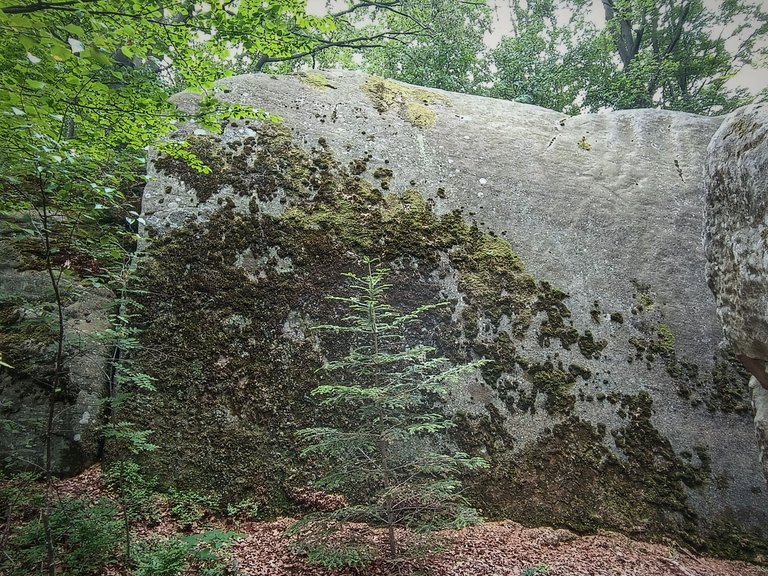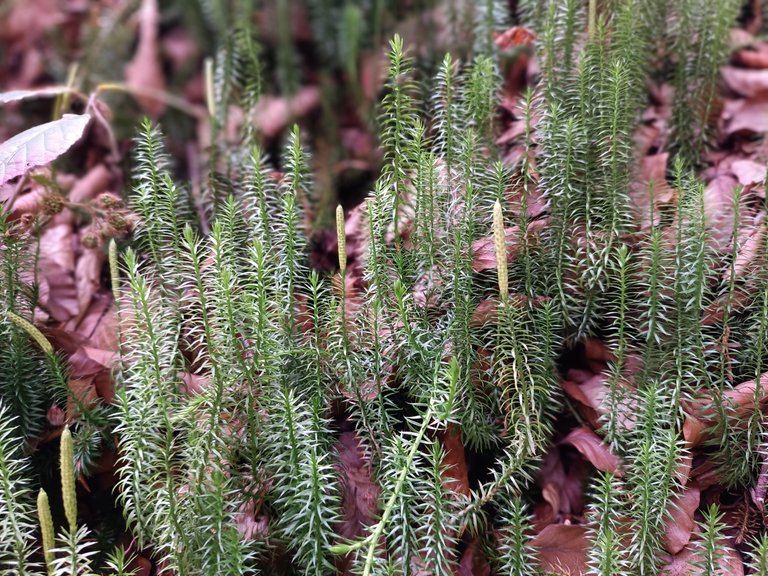 But the goal is still far away... We went forward and came across another good place. It is not as impressive as the previous one, but it has its own charm!
At first we saw two rocks with almost equal vertical surfaces. It really seems that they were hewn by some stonemason from the past. Not far from these "walls" we also saw a small hill, and on it there are small stones around the perimeter. They seemed to form a natural fence and a small clearing in the middle. "Place for meditation" - that's what I called it. Believe me, I would like to go back there!!!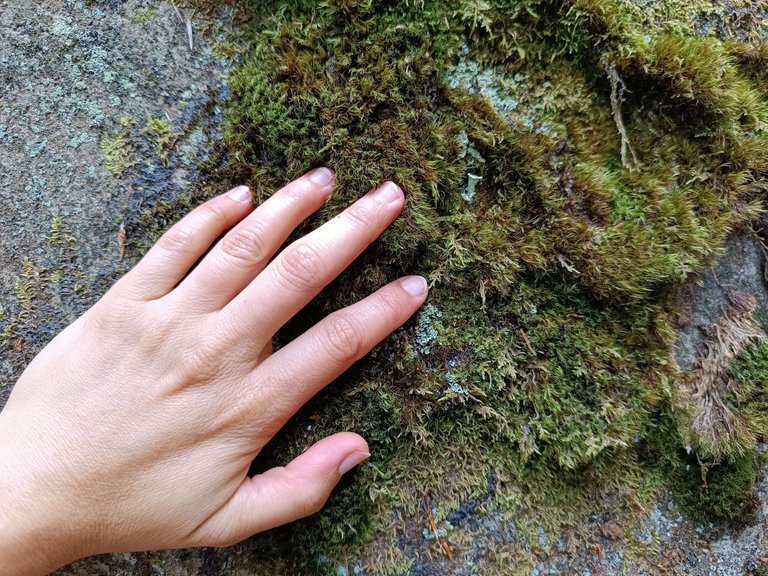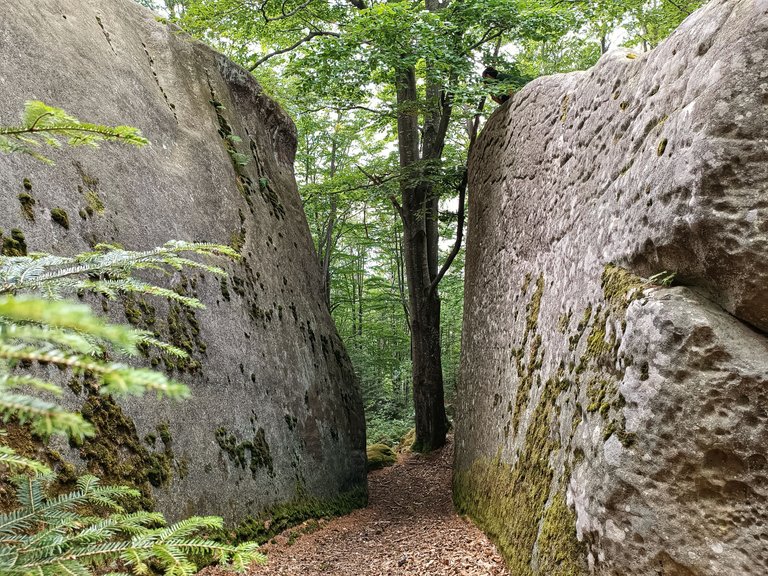 A few more incredible textures of nature...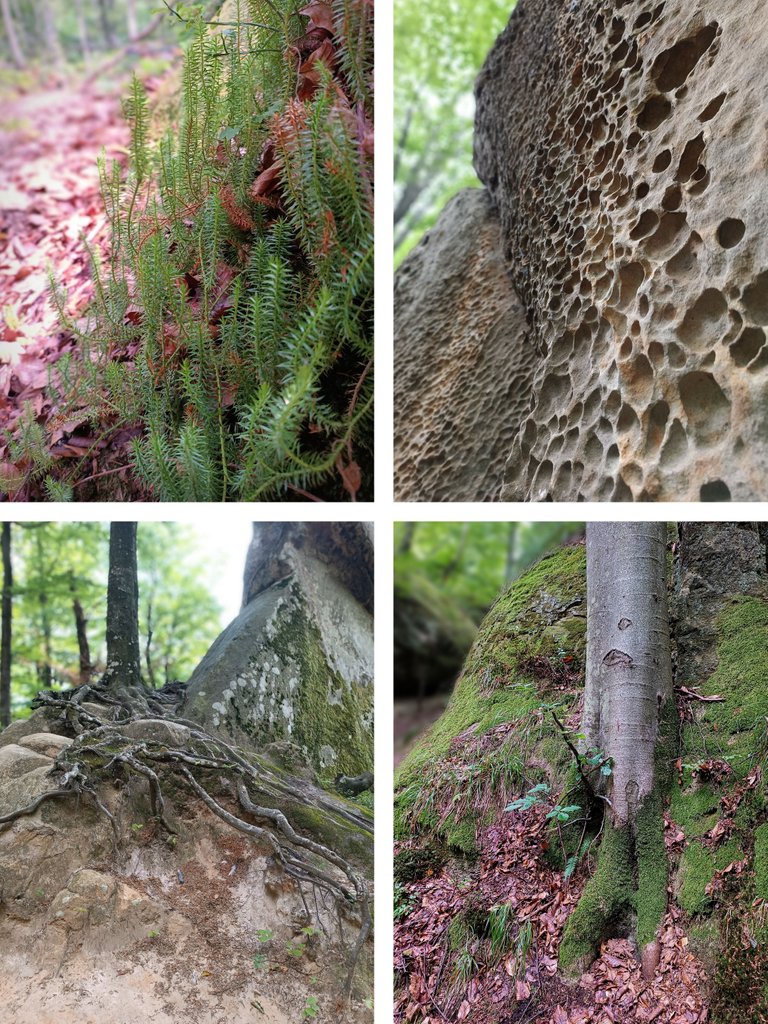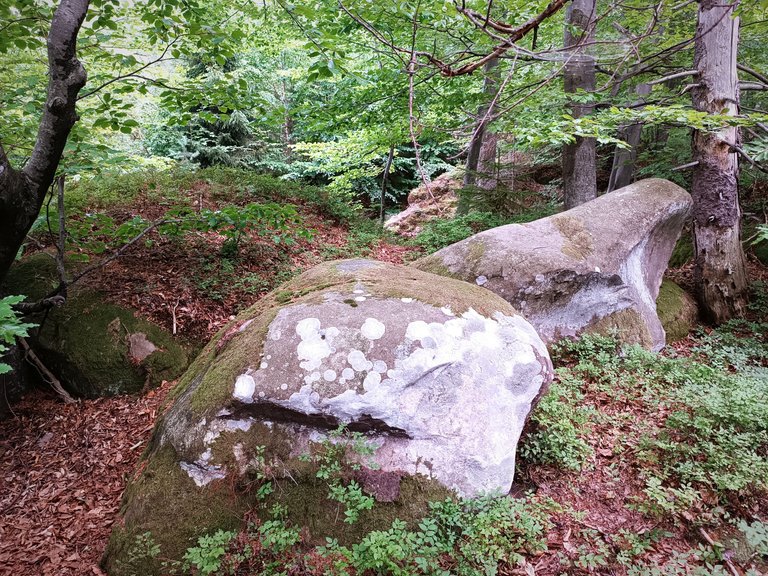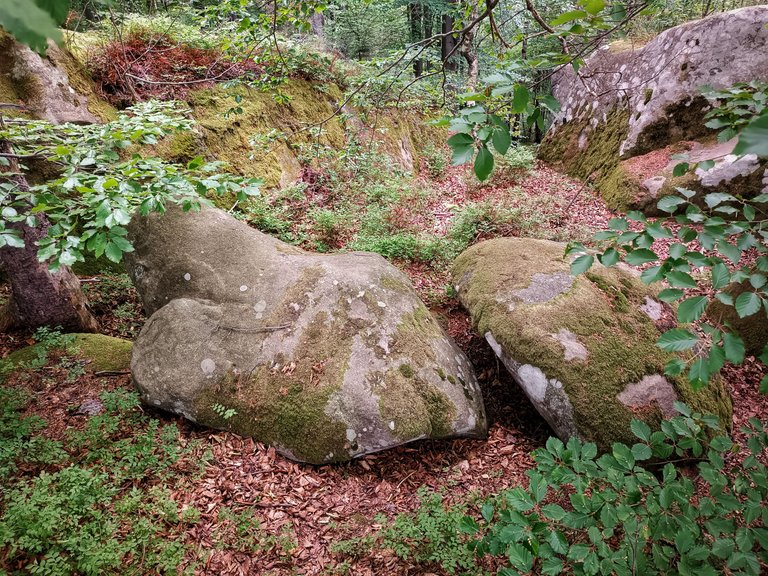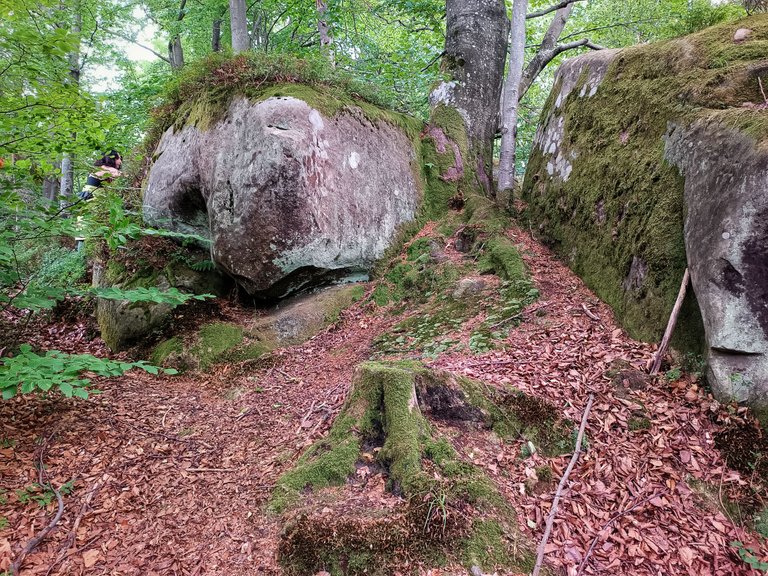 ---
And finally we began to hear the distant voices of people and saw a rock called Odynets (i.e. Alone) and ant people climbing up it. The rocks of Dovbush are a favorite place of beginner climbers!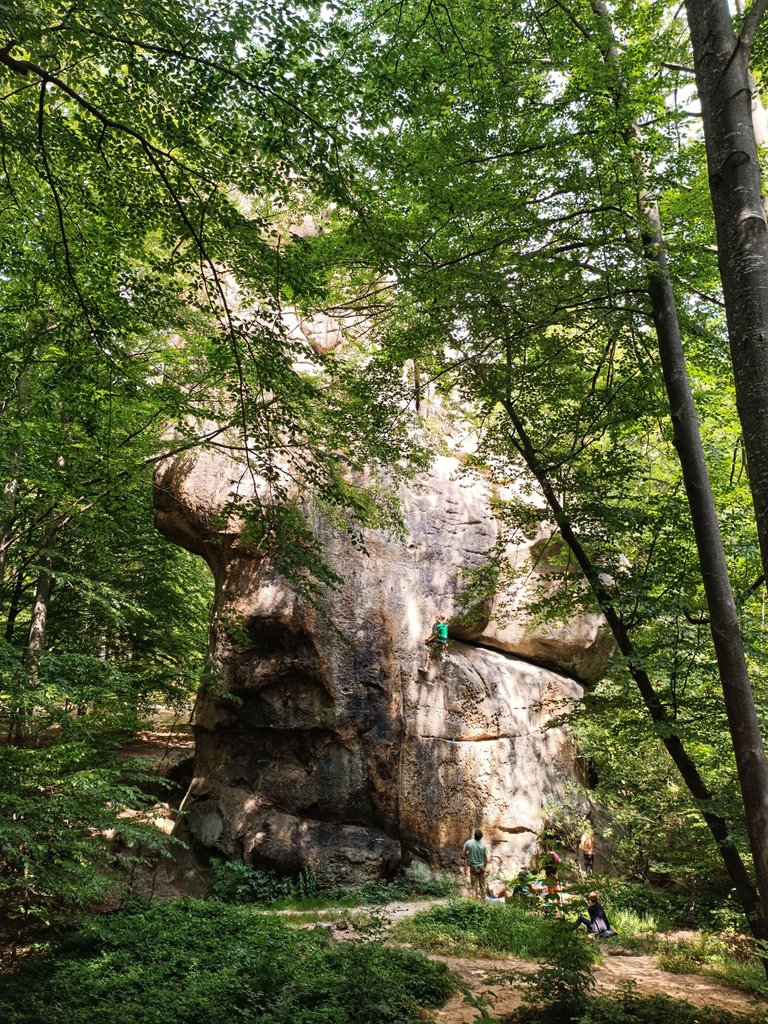 And here are the caves! This is the most popular place for ordinary tourists. And there are stalls with food on the fire, and horses with their owners who obsessively offer to ride, and tour guides... But this is not our goal today! Not a noisy party, but a search for mysterious places.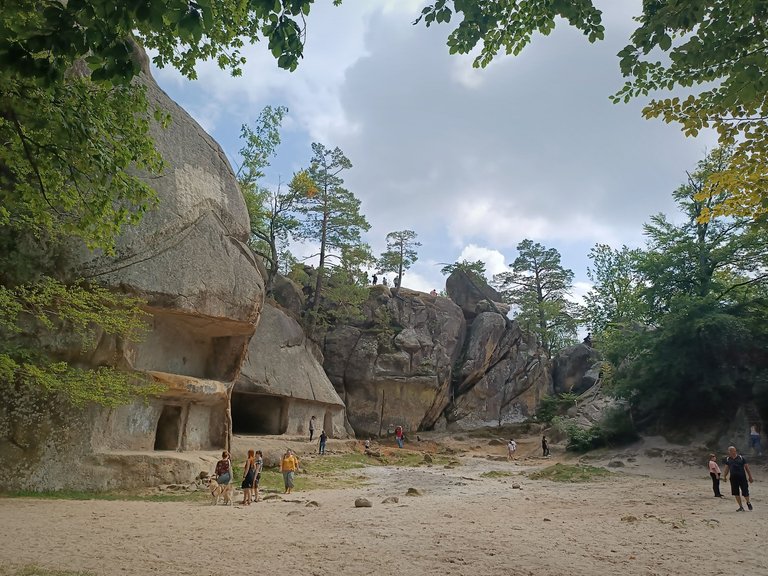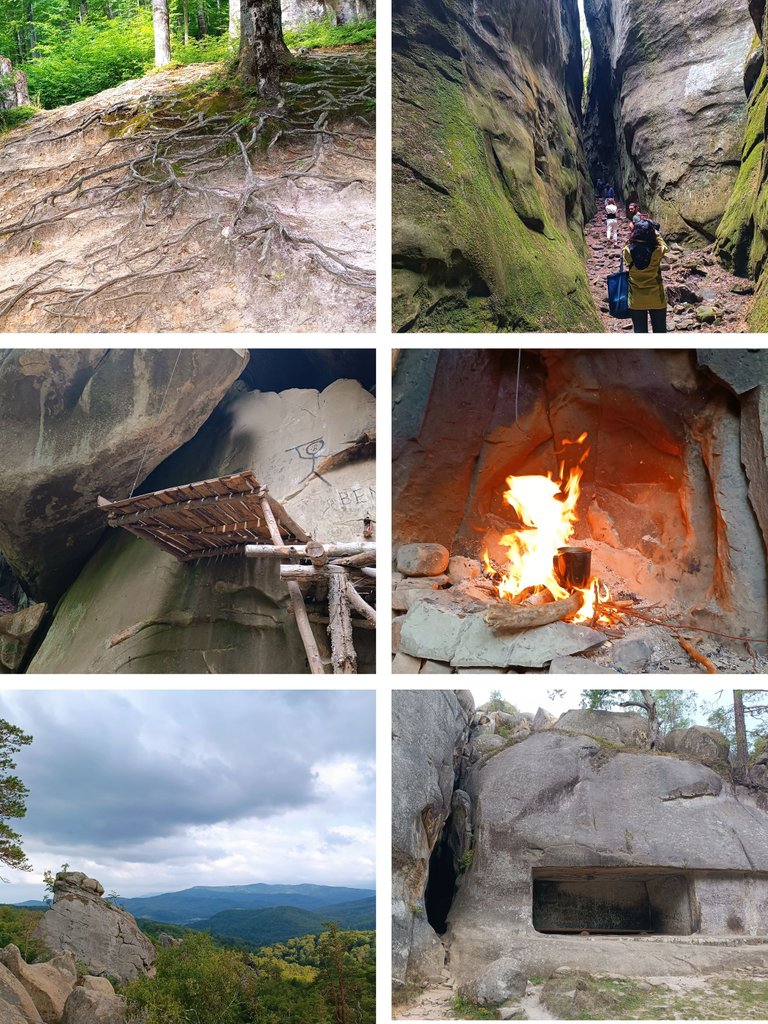 So, today I finish the first part of my story. We reached the beginning of the known route.
I remembered where we should go to see the steep stone maze, Purgatory gorge, trees with strange roots, and finally climb to the top of the cliffs to admire the views.
Here I made a collage, like an advertisement for my second part of the article, so stay close!!!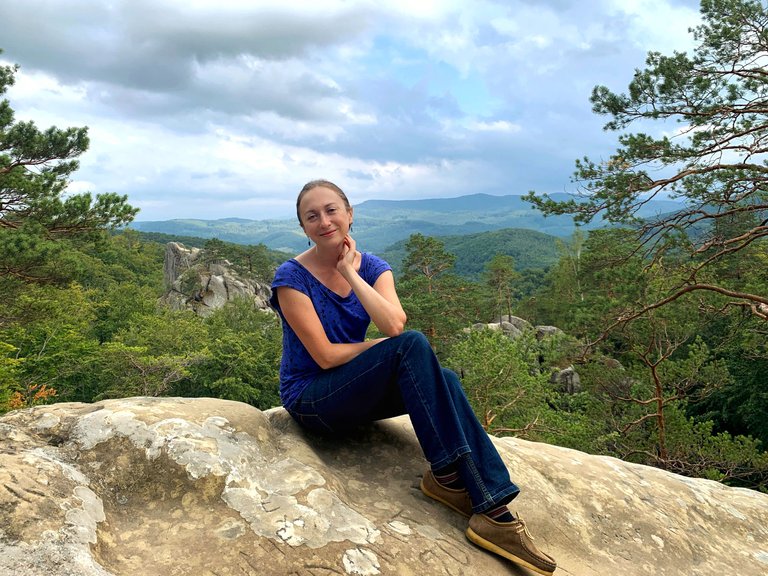 Thanks for your reading and support!