---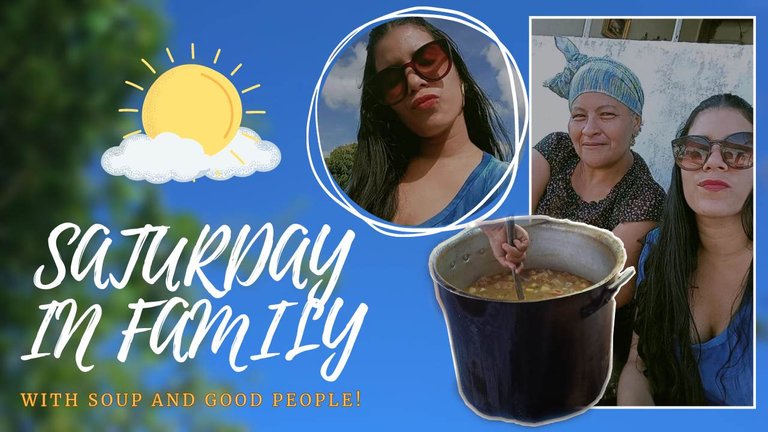 ---
Hi besties!💗
---
I hope you are all having a good Sunday off! I want to tell you a little bit about yesterday.
In honor of our aunt Miriam, my father's sister who passed away due to cruel cancer last February, yesterday, Saturday, we had a nice meeting with her children and some siblings and we remembered her memory by making one of her specialties and favorite meals: Mondongo Soup.
You may be wondering, what is that?🤔
Well, here in my country, Venezuela we colloquially call Mondongo to bovine guts, yup, I know it sounds not so appetizing and the truth is that I am not a big fan, but, Venezuelan grandmothers and mothers have a way of preparing it that makes it curiously tasty👌🏽, besides, according to what I grew up hearing is that it is beneficial and nutritious because it does not have high animal fat content.
My aunt loved to prepare this soup, accompanied by her loved ones and what makes me crazier is that no matter if it was close to 40 °C outside🥵, there we were all eating a boiling soup when we were close to a temperature where many would faint, because the heat is a very remarkable feature of the city where I live, Maturin.
I think this is a Latin culture, I don't know if in any other country outside the Caribbean, they do this. Here it is a custom that is practiced frequently, especially on weekends.
This Saturday was no exception, my family got together to honor my aunt's memory and we prepared a huge pot of hot soup. 🍲
---
---
Anyone who came by, even if we didn't know them, could have a good meal, that's what she liked, sharing and having a good time telling anecdotes and laughing.
---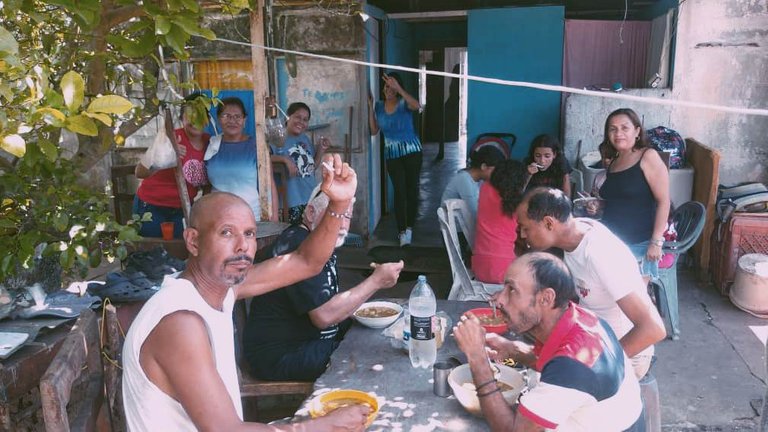 ---
It was be pleasant to see several cousins again, especially my cousin Yennifer who wanted me to meet her baby, who was about 4 months old.
I'm not very good with babies because I'm a little scared when they are that small, holding them and so on, but he was very well-behaved and liked to be cuddled, so we had a good time and she told me "You're going to put him to sleep".🥺
---
---
I wanted to take a picture of us, but she didn't want to because she didn't feel very pretty on this hot day, honestly, I didn't either, and after we had eaten a good bowl of soup both of us and had sweated until our sins as my aunt liked, even less. 😂😂
I asked her to take a picture of our plates and I told her that her face wouldn't show, so she accepted and here are our famous plates of boiling soup together with a good mango juice🥭🥤 prepared by my dad, that's his specialty, we were all flattering him.
---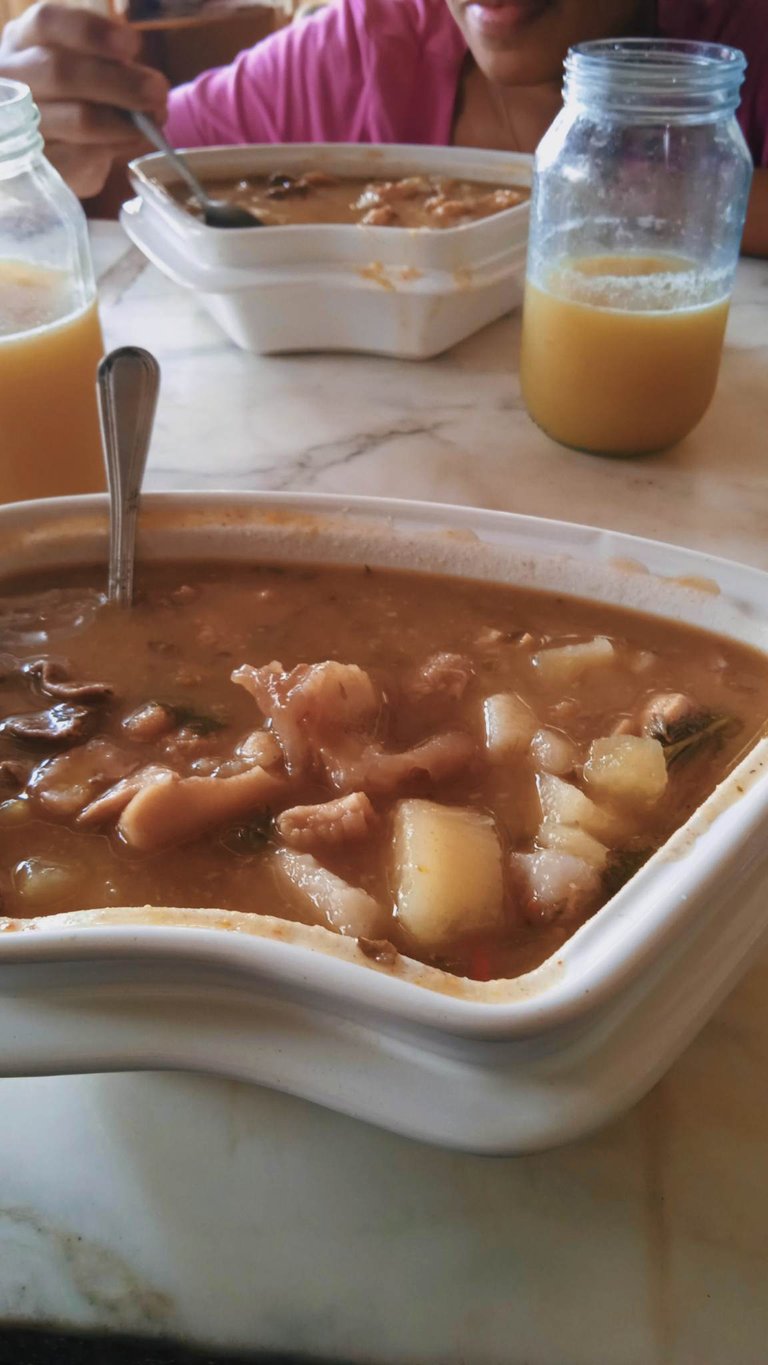 ---
After eating the soup, together with my cousin Yenni, we went to lie down for a while, gossiping and catching up because we had more than a year without seeing each other, fantasizing about taking a dip in a pool💦. After all, I swear that the more I spent the hotter it got, I did not check the weather on my phone because the signal was not very good, but I am very sure that we were close to 40 ° C yesterday.
One thing I do like about these days is that the sky is a beautiful, warm blue. ☀️☁️
---
---
It was getting close to the time to leave because transportation on the weekend is a bit complicated, at a certain time the buses stop running to my home, so I had to hurry no matter how comfortable I was. 😭
I took pictures with one of my aunts who had returned from visiting her children in Peru and I had not seen her for a long time too, she is a being of light, warm and loving. 💓
She told me that I looked very beautiful and I, although I didn't want pictures because I felt that my face was shining too much because of the sweat and heat, I couldn't refuse.
---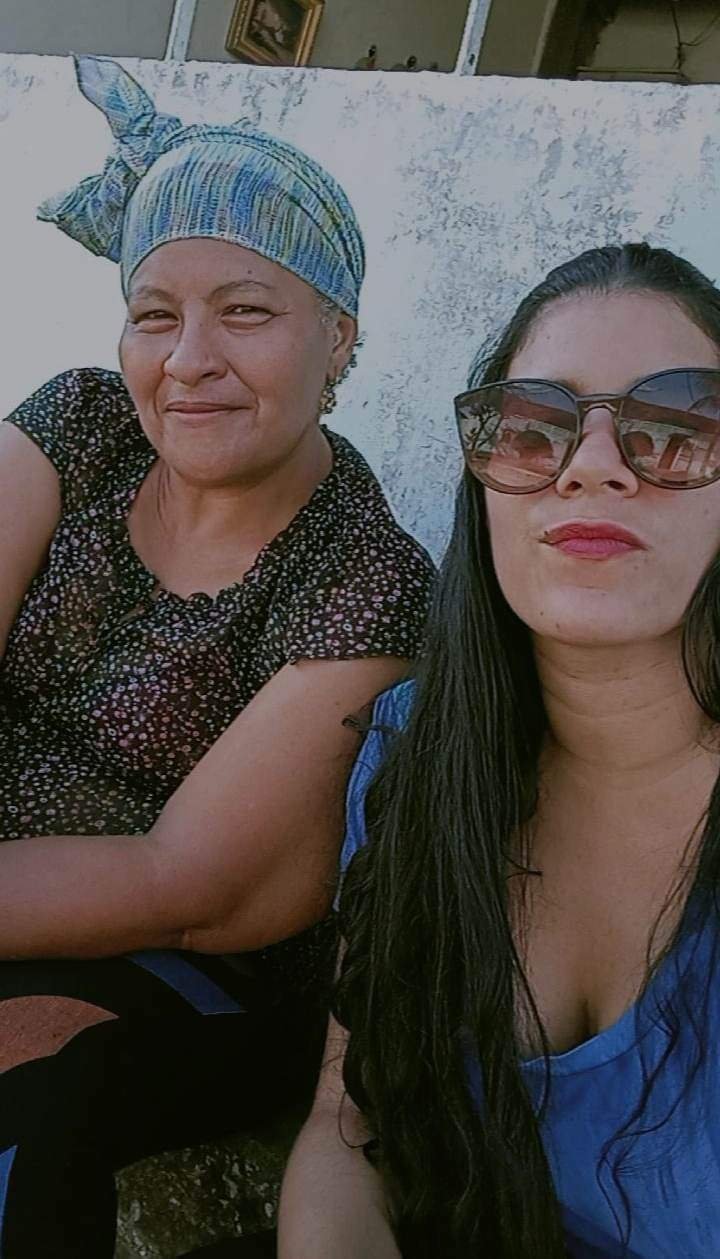 ---
When I got home I took a big shower with cold water and lay down thinking about everything we had shared, with a feeling of nostalgia.
This experience was very nice, to have shared with my family, and remembering my aunt Miriam, together with my dad, my uncles, and cousins, even her friends and neighbors, was something very beautiful.
Although the heat had us all dizzy and even worse after the soup😂😂, as I say, what is a hellish heat without a bowl of boiling soup to sweat even what you didn't know you sweat? remember the words of my aunt, we didn't disappoint her. 🤞🏽
Thanks for coming here and reading me! 💗💗
---
Have you ever eaten soup in high temperatures? What is your favorite soup?🍲
---

---
Original text by: @rosylisboa
All rights reserved/Rosy Lisboa.
The banner and front page were made by me in Canva and Picsart.
The images are from my personal gallery.